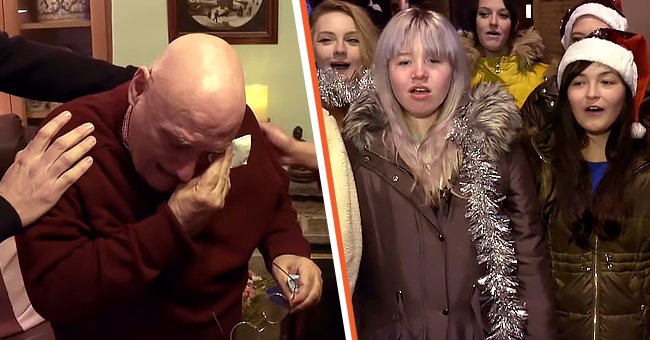 facebook.com/bbcnews
Pensioner Who Spent Last 20 Christmases Alone Brought to Tears by Students Carolling for Him
A lonely old man became teary-eyed when he received a heartwarming festive surprise. A group of college students gave him a Christmas tree, sang his favorite carol, and stopped by for some tea and a lovely chat.
Holidays are a perfect time to celebrate love and familial bonds. Sadly, some people have nobody around for the festive season, intensifying their loneliness.
Terrence loved spending Christmas with his mother. But for the last 20 years, he had been alone. He thought that Christmas 2019 wouldn't be any different until he had an unexpected visitor.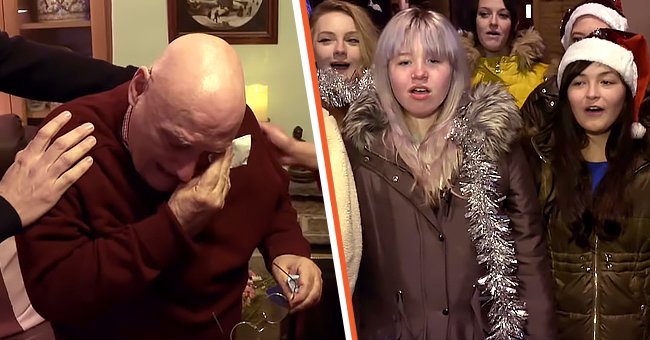 A teary-eyed Terrence. [Left] Oldham College choir singing a carol for Terrence. [Right] | Photo: facebook.com/bbcnews
AN AMAZING MAN
Around Christmastime in 2019, Terrence appeared on the popular show, "BBC Breakfast," hosted by Dan Walker. The elderly fellow confessed he didn't have a Christmas tree and had spent nearly 20 Christmases alone.
The heart-rending interview left many viewers teary-eyed, and several of them wanted to play their part in brightening up Terrence's holiday period.
So the very next day, Walker revisited Terrence in Oldham, Greater Manchester, UK. Before going inside, he told the viewers that Terrence was an amazing man who struggled with loneliness and didn't have a Christmas tree.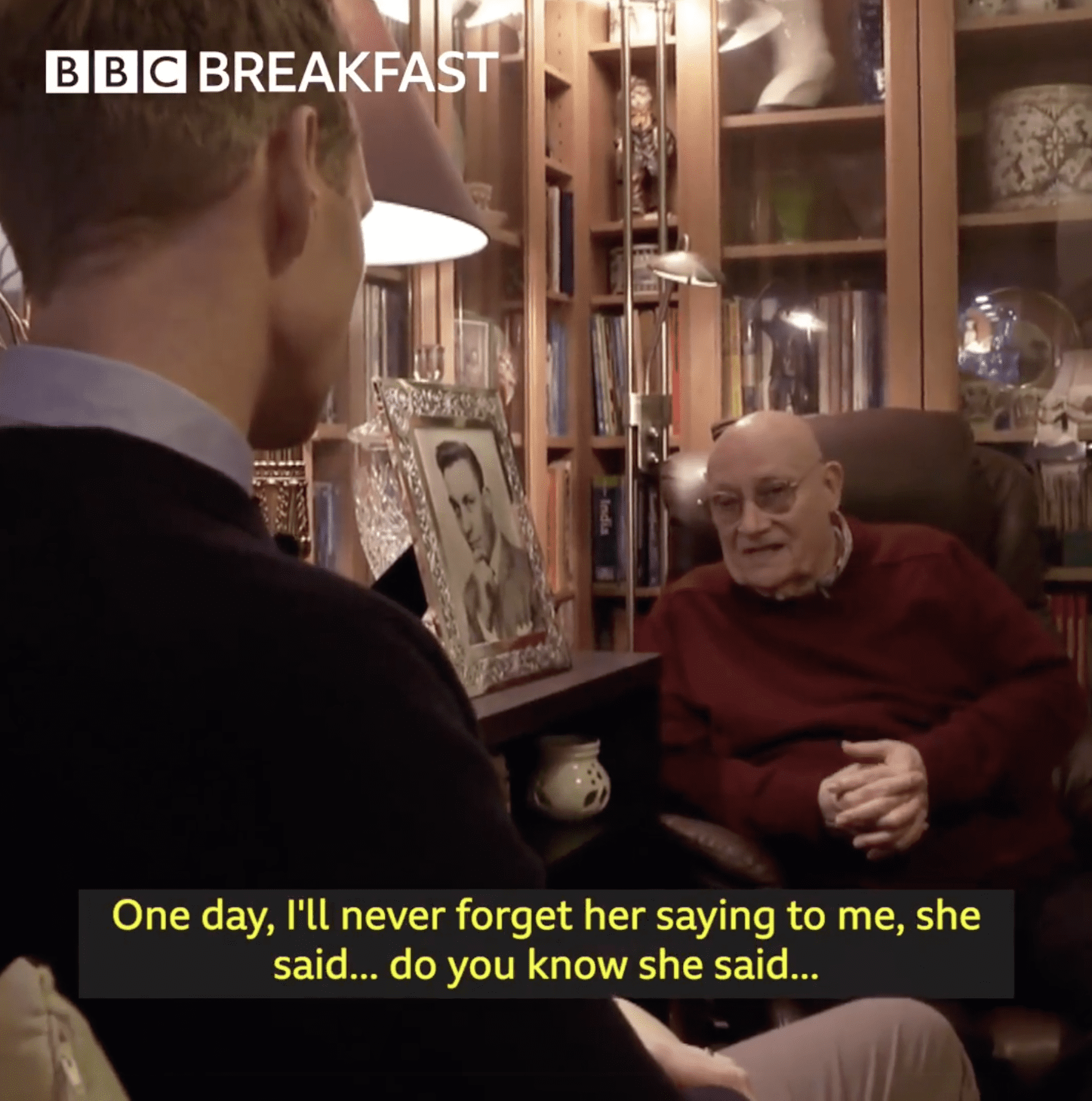 Terrence and Dan walker sat down for a lovely chat. | Photo: facebook.com/bbcnews
A SURPRISE VISIT
Walker then informed the audience that he had promised Terrence he would "sort things out for him." The BBC Breakfast anchor knocked on the 78-year-old man's door and was warmly welcomed inside.
Tears welled up in Terrence's eyes as the Oldham College choir performed their rendition of Silent Night.
As they sat down, Walker told Terrence that his interview had received an incredible reaction from the viewers. He further explained that people particularly related to the number of times the elderly fellow had been alone on Christmas Day.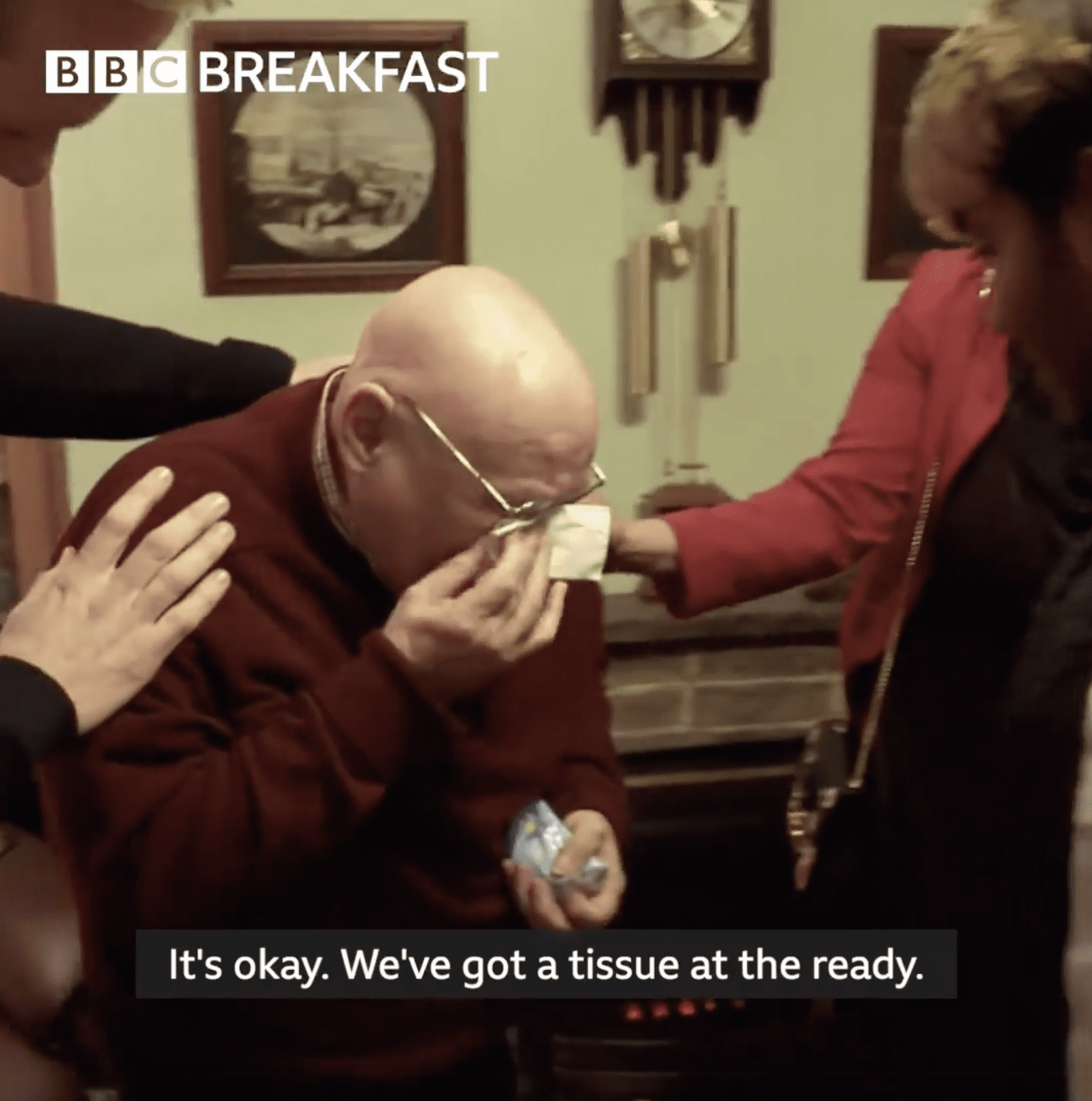 A teary-eyed Terrence. | Photo: facebook.com/bbcnews
A TRIP DOWN MEMORY LANE
Terrence recalled how he and his mother enjoyed 25 December together. He mentioned going to his mother's place, cooking a meal for her, and always surprising her with little things and Christmas goodies. The pensioner also revealed:
"I'll never forget her saying to me, she said 'Without you, bringing me my presents at Christmas, I wouldn't have any presents would I?' I often think about how people on their own now don't get any presents from people (sic)."
As the conversation progressed, Terrence shared with Walker that he would spend Christmas with a woman named Nancy, who he had met through his work with Age UK.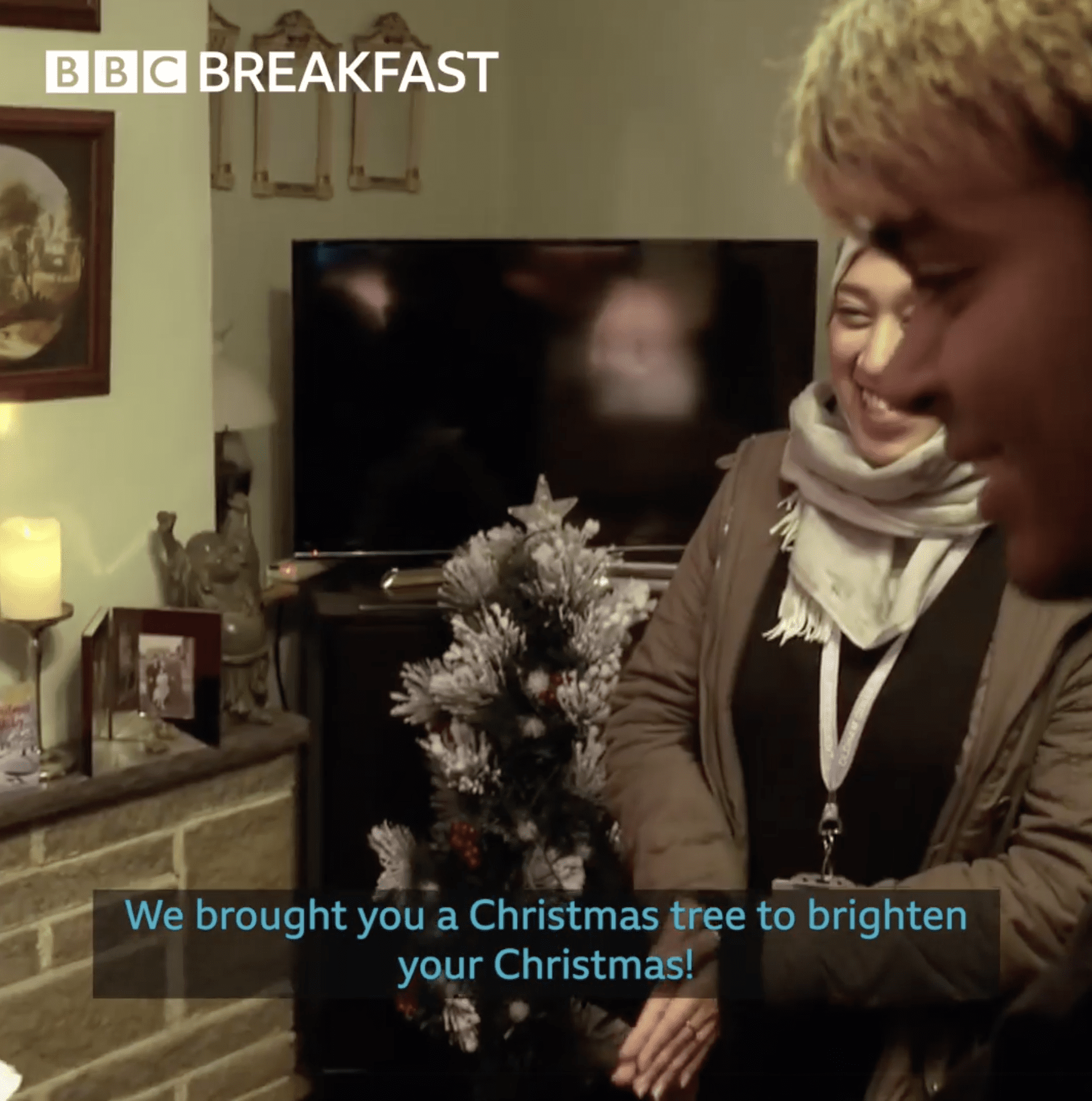 The Oldham College students brought a Christmas tree for Terrence. | Photo: facebook.com/bbcnews
ANOTHER SURPRISE
The older man explained that Nancy was 90 years old and had dementia but said that it didn't make any difference because he had dealt with many people with dementia. When Walker questioned him about loneliness, Terrence responded:
"I always think with anything unless you've actually been there you don't know what it's like."
Soon afterward, Walker took Terrence's permission and opened the front door, welcoming a group of students from Oldham College who had come bearing gifts.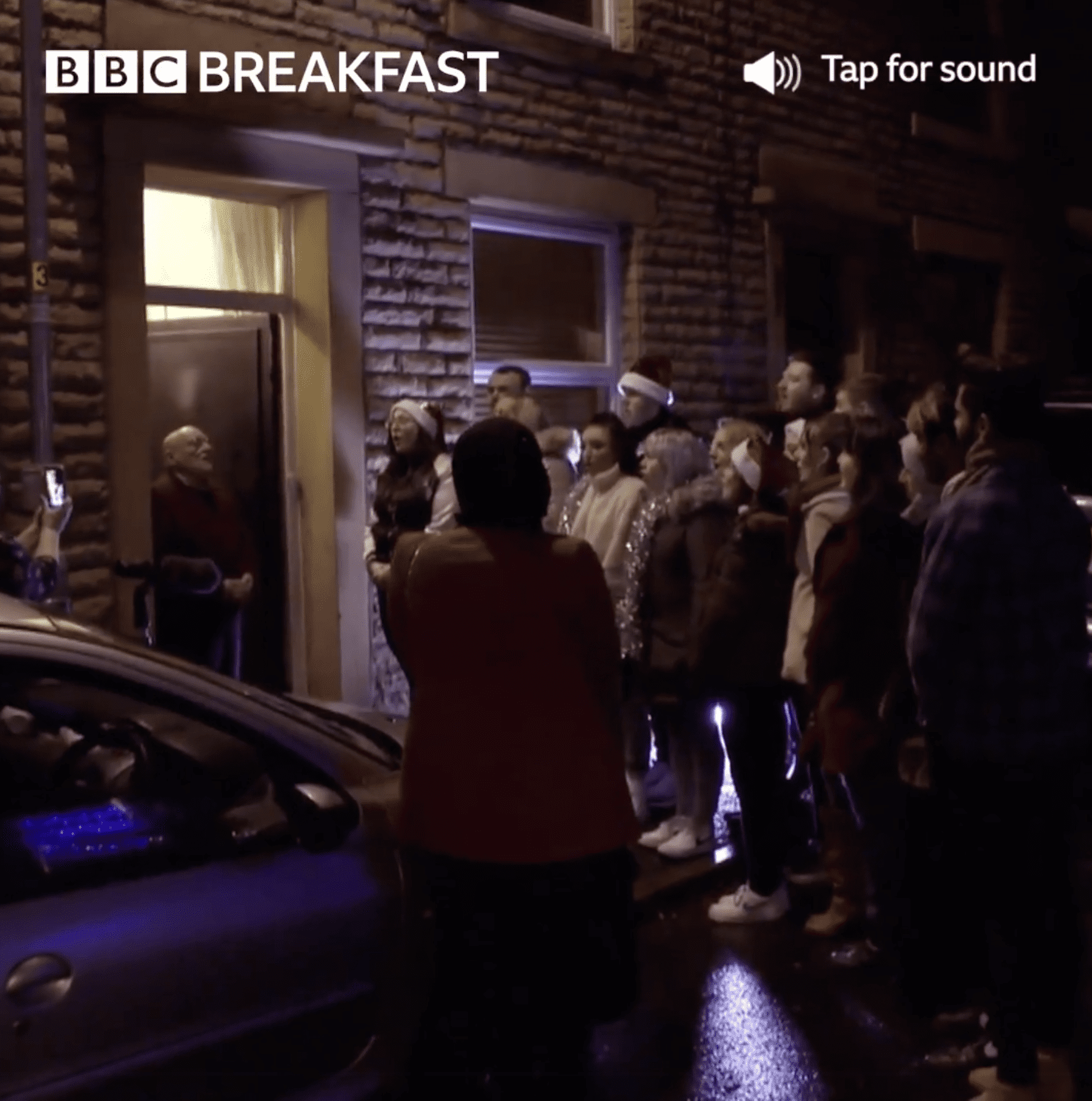 The Oldham College choir sang "Silent Night" for Terrence. | Photo: facebook.com/bbcnews
JUST IN TIME FOR CHRISTMAS
It turned out the youngsters had brought a Christmas tree for Terrence. As they decorated the tree with baubles and tinsels, a teary-eyed Terrence thanked them. Walker then asked Terrence about his favorite carol, to which he replied, "Silent Night."
As the show host helped the pensioner walk to the front door, what happened next was pure bliss. Tears welled up in Terrence's eyes as the Oldham College choir performed their rendition of Silent Night.
Walker also shared the heartwarming clip on Twitter. The caption read: "An update: Terrence is blown away by all the support and love. He has some new friends. The @OldhamCollege students stayed at his house and shared a 'chippy tea' with him."
NETIZENS' REACTION
As was expected, the touching video impacted several netizens. One user commented: "This is just beautiful. I've watched it several times this morning and needed tissues each time." A second one wrote:
"Could have done with a mascara warning for that one - now off to work with a tear-stained face. What a fab thing to do (sic)."
Indeed what Walker and the Oldham College students did for Terrence is incredibly heart-touching. With Christmas 2021 just passed, now is the time to reach out to people and make them feel a little less alone and a lot more loved.
Please fill in your e-mail so we can share with you our top stories!