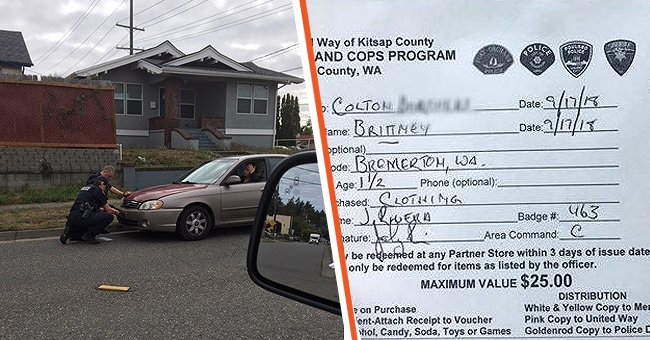 facebook.com/BremertonPD
Single Mom Stopped by Cop Is Almost in Tears after Getting Help Instead of a Ticket
After buying some milk for her toddler, a woman was headed home when she was asked to pull over. But instead of handing her a ticket, the cops did something that pleasantly surprised her.
It's not every day that we experience a stranger's kindness. But sometimes, someone's sweet gesture can help brighten our day in moments we need it the most. A mother experienced something similar one day while driving home with her child.
What could have been a rant about the officers in uniforms turned to be something completely different, as the happy mom raved about her delightful experience online.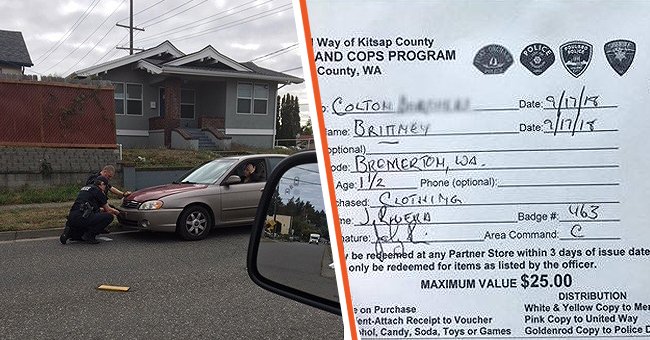 BPD Officers mounting the car plates for Brittany Payne. [Left] The $25 voucher given to her by the cops. [Right] | Photo: facebook.com/BremertonPD
AN UNEXPECTED HALT
Brittany Payne was driving home after her trip to the popular convenience store chain, 7-Eleven, in Bremerton, Washington, in 2018. Also in the car's backseat was her 15-month-old son.
Suddenly, she saw a police car turn around and flip its lights in the rearview mirror. Payne was astounded because she couldn't recall violating the traffic rules.
She had her seatbelt on and even adhered to the speed limit. The last thing she wanted was trouble at that moment, but having no choice, she pulled over.
A SURPRISING REACTION
A cop walked up to her, and when she asked what she had done wrong, he told her the plates weren't mounted (in the rear window). Payne explained that she was driving a new car and was a single mom who didn't have a proper wrench to mount them.
Officer Rivera mentioned that he had handed out $25 vouchers to people for many years.
The officer who pulled her over was Steven Forbragd from the Bremerton Police Department. He empathized with the single mother, and soon afterward, he asked two other officers who happened to be driving by to come over and help.
A KIND GESTURE
Officers Johnny Rivera, Jen Corn, and Forbragd mounted Payne's license plates on her car. But that wasn't all. Instead of giving her a ticket, Officer Rivera gave her a $25 voucher to buy clothes for her boy. Payne shared:
"I just thought it was going to be another kick to me and they definitely surprised me."
A teary-eyed Payne thanked the cops for being kind and understanding. She also shared the heart-lifting incident on Facebook and explained how the BPD cops' encouraging behavior restored her faith in the people who served the community.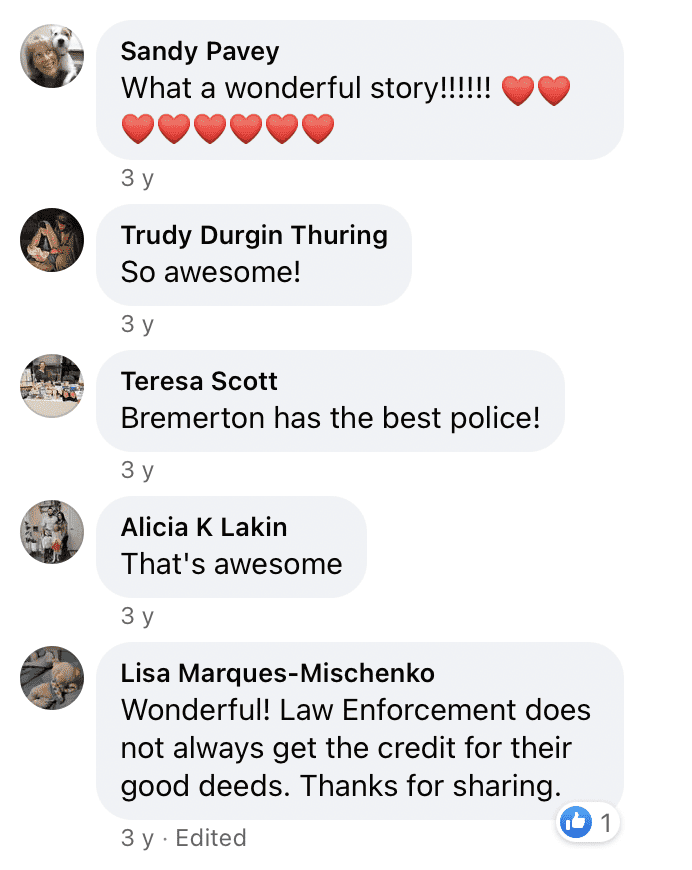 Netizens leave encouraging comments on BPD's Facebook post. | Photo: facebook.com/BremertonPD
THANK YOU, OFFICERS
In an interesting conversation, Officer Rivera discovered that Payne was a vet and had served as a gunner's mate in the Navy. The kind cop revealed he was a machinist's mate and thanked her for her service.
Officer Rivera mentioned that he had handed out $25 vouchers to people for many years. He said he received them from the United Way and wanted to give them to families in need.
No wonder people like these kind police officers have helped rekindle our hope in humanity. Such a heartwarming story! Please share it with your family and friends.
Please fill in your e-mail so we can share with you our top stories!