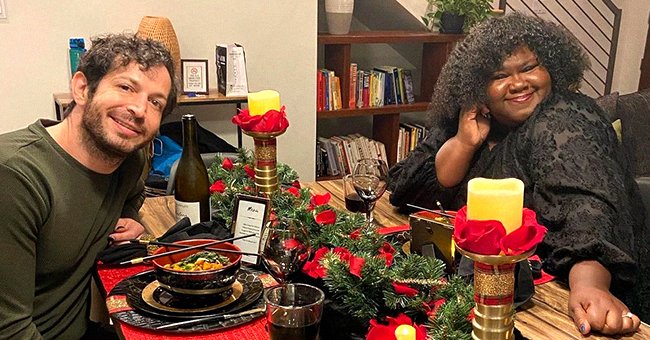 Instagram.com/brandontour
Gabourey Sidibe Glows in Matching Pajamas with Fiancé Brandon Frankel Who Recently Said He Can't Wait to Wed
Gabourey Sidibe has more than the holidays to celebrate this festive season. She is celebrating love! The Oscar nominee and her fiancé, Brandon Frankel, looked cozy in matching pajamas.
Gabourey Sidibe, 37, and her fiancé Brandon Frankel, 35, are having a lovey-dovey festive season. The "Precious" actress posted a photo of the two love birds, and they looked cute in matching purple vest-top pajamas.
The two lay on a couch in the Instagram photo as they stared up at the camera. But more than their matching clothes, they two donned beautiful smiles.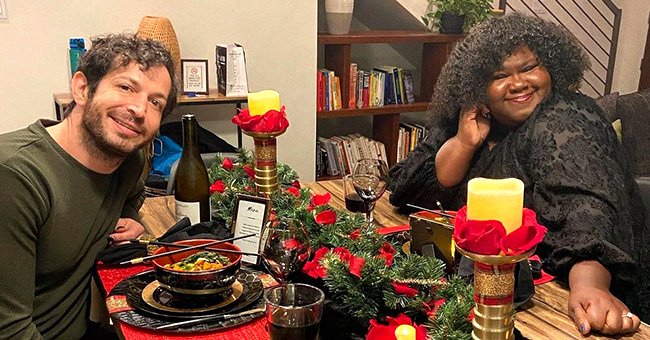 Gabourey Sidibe and her fiancé enjoying a holiday meal : Photo: Instagram.com/brandontour
The couple also seemed to enjoy the holiday seasons as they posted several sweet photos last year. In some, the two modeled their holiday looks together.
Frankel posted a picture of the "Antebellum" actress displaying her engagement ring in one photo posted after Christmas. He shared that even if 2020 had been a rough year for everyone, they had had a fantastic time.
"Continually thankful for this one right here. Excited to be ridiculous with you for the rest of our lives." He wrote.
HOW IT ALL BEGAN
Just before she began dating the man who would later become her fiancé, Sidibe had vowed to stay off men. She explained that it came to a point in her life when she got tired of the limitations placed on her for being a woman, so, in retaliation, she would not care about men.
But that quickly changed when she found herself in love with branding and marketing executive. The two are believed to have begun dating in early 2019 but chose to keep their relationship away from the prying public eyes.
The couple spent quarantine together in Los Angeles, and the time seemed to have cemented their love for one another. They seemed so homey and cozy with each other that they began sparking rumors that they were already married.
The rumors further spread when the couple was spotted wearing wedding bands during a romantic dinner date in Beverly Hills. However, the "Empire" star shut down the rumors, but soon after, Frankel proposed.
The couple first revealed they were engaged towards the end of November 2020, after Sidibe showed off her ring on Instagram, accompanied by the words:
"My BFF proposed, and now I get to hold him forever."
It also became apparent that Sidibe and Frankel had yet to walk down the aisle when Frankel captioned an Instagram photo, saying he couldn't wait for them to have their wedding.
Please fill in your e-mail so we can share with you our top stories!