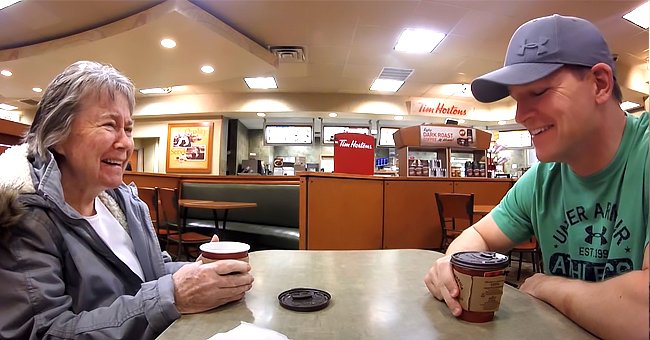 youtube.com/JoeJoe
Mother with Dementia Forgets Son despite Remembering She Loves Him in Heartbreaking Video
After his mom was diagnosed with dementia, a man started filming their conversations to raise awareness around the struggles of the disease. In the sixth episode of his video series, he experienced something genuinely heart-rending.
Nothing can be more heart-breaking for a child than seeing their parents suffer. One of the most common conditions people develop with old age is dementia, which is described as cognitive ability impairment.
People with dementia have a hard time recalling, thinking, deciding, and performing daily activities. They are pretty likely to forget important life details, like their loved ones.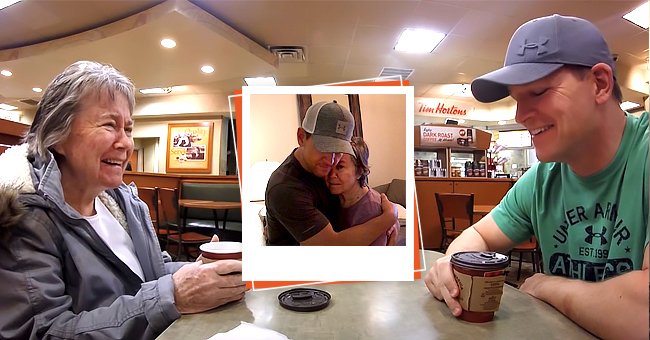 Molly and Joey Daley conversing during their time at Tim Horton's. | Photo: instagram.com/mollysmovement | youtube.com/JoeJoe
BATTLING THE ODDS
Joey Daley from Dublin, Ohio, experienced the same trauma when his mom, Molly, began forgetting things after her dementia diagnosis in 2015. She had Lewy Body Dementia (LBD) and couldn't do simple tasks like driving or sorting out her medicines.
Sadly, she even left her job. In 2017, Daley decided to capture his mother's soul-stirring dementia journey in a weekly YouTube video series. He shared how the videos proved to be life-altering for him and his family.
Daley took his mother to doctors for roughly eight years before being diagnosed with dementia. Molly then started living in a nursing home in Dublin, where Daley and the family members visited her daily.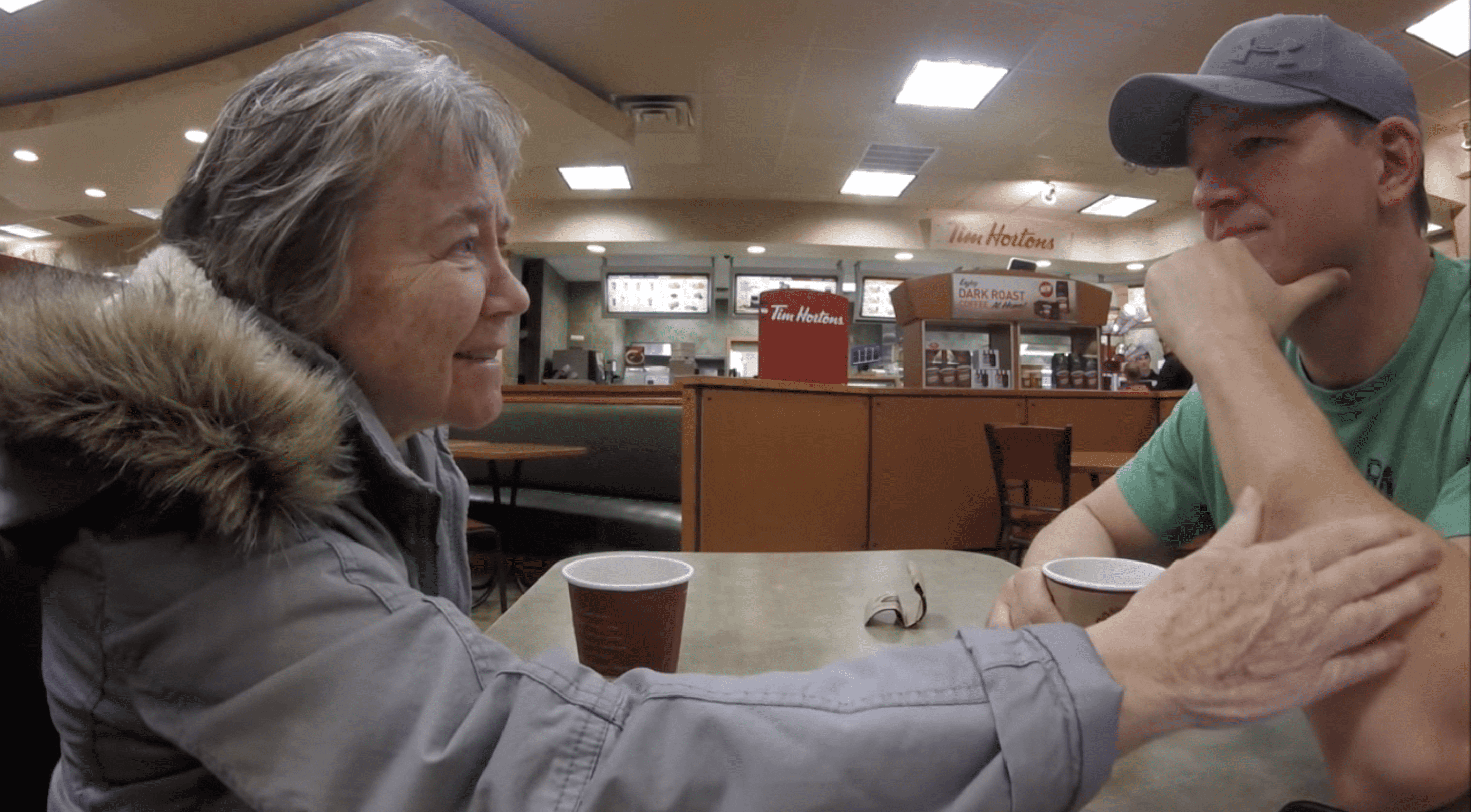 Molly lovingly stroked Daley's arm, telling him she loved him. | Photo: YouTube.com/Joe Joe
DOCUMENTING THE STRUGGLE
After her diagnosis, Daley started looking for more information and talked to people whose parents had the disease. When he failed to find enough information, he became a resource person by sharing a weekly video diary.
After dropping her off at the nursing home, Daley sat in his car and cried frantically.
The Ohio man revealed that he wished to become a voice for caregivers by chronicling the everyday struggles and pain associated with the disease. Daley said that visiting his mother and capturing their conversations became cumbersome over time.
THE UNCERTAINTY OF IT ALL
The family often took Molly shopping, on spa visits, and to dinner. Daley noticed that sometimes, his mom enjoyed spending time with her grandkids. But there were times when she was elusive and reserved. He told Daily Mail:
"It's as if I'm peeling an onion. She remembers older things more clearly than the newer memories. But sometimes she will realize she's going crazy, and that's hard to watch."
Daley never knew how his mother would behave on a particular day. Due to LBD, she sometimes struggled with explaining her feelings and even had hallucinations and nightmares.
A PAINFUL DISCOVERY
Currently, there's no cure for dementia. After Alzheimer's, LBD is the second most common type of dementia. On his project, "Molly Movement's" website, Daley expressed how reading about dementia is insufficient to understand its magnitude. He also added:
"These real-life videos help those dealing with dementia, those who have lost someone with dementia, and even people that have never heard of dementia."
While documenting his struggle in the sixth installment of his YouTube series, Daley experienced a heart-wrenching moment with his mom. After picking her up from the nursing home, he asked her questions about her family.
THE HEART-BREAKING CONVERSATION
He controlled his tears when Molly told him she didn't remember her husband and Daley's father. Daley then took his mom shopping and to the salon for a haircut. Afterward, the mother-son duo sat in Tim Horton's.
As she ate her ice cream, Daley asked, "So you weren't sure who my dad was. Do you know who my mom is?" Molly looked confused and responded, "No...I guess I don't know. Who is that?"
"My mom? You don't know my mom is," inquired Daley with a gloomy face. To this, his mother replied, "I have to think about it...tell me." Molly stared at Daley for some time and then asked him whether he was a friend and how they first met.
LOVE ALWAYS REMAINS
She then proceeded to ask whether she had met him at school. When Daley asked Molly if he looked familiar, she said she didn't even know she knew him. Fighting back his tears, he told his mom that he was her son. She then replied:
"I think it's my brain. It makes me feel sick to my stomach."
Molly caressed Daley's arm a few minutes later and said she loved him very much. After dropping her off at the nursing home, Daley sat in his car and cried frantically.
MOLLY MOVEMENT
With tears streaming down his face, he confessed how he would never forget the day when his own mother couldn't recognize him. He shared how he tried to make her remember him through pictures, but it didn't help. He also expressed:
"I feel like she just died."
Daley mentioned that being with his mom has taught him to be patient and not take his frustration out on her. Other than the videos, he also runs his project, "Molly Movement," on social media, hoping to help others through his mother's journey.
Please fill in your e-mail so we can share with you our top stories!
The information in this article is not intended or implied to be a substitute for professional medical advice, diagnosis or treatment. All content, including text, and images contained on news.AmoMama.com, or available through news.AmoMama.com is for general information purposes only. news.AmoMama.com does not take responsibility for any action taken as a result of reading this article. Before undertaking any course of treatment please consult with your healthcare provider.