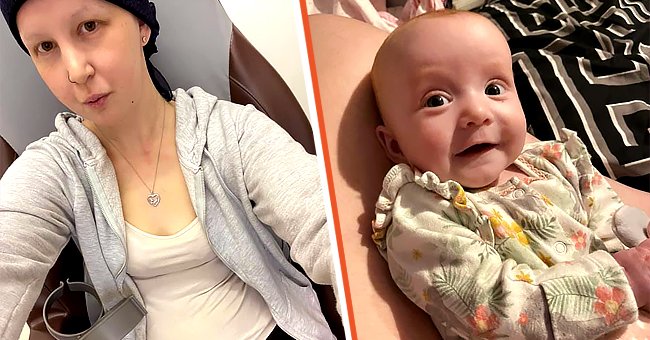 Kathleen Osborne and her baby. | Photo: facebook.com/kathleenswishandream | facebook.com/kathleen.osborne.12935
Pregnant Mother Diagnosed with Bone Cancer Sacrifices Her Leg to Save Unborn Baby Daughter
A mother from Cambridgeshire, UK, was only four months pregnant when she faced a difficult choice - aborting her baby and starting chemotherapy or amputating her right leg to eradicate the bone cancer.
Parents love their kids unconditionally and never think twice before jeopardizing their lives for them. A young mother did the same to embrace motherhood for the third time, never once wavering from her decision.
28-year-old Kathleen Osborne didn't hesitate to lose her leg if it meant saving her daughter's life. But despite her selfless act, she discovered that cancer had spread to her lungs, becoming inoperable and terminal.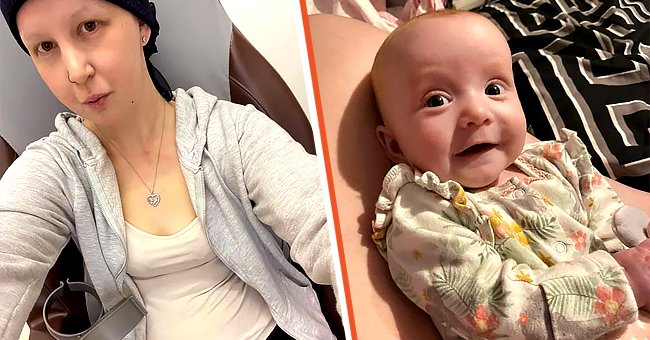 [Left] Kathleen Osborne. [Right] Osborne's baby girl, Aida-May. | Photo: facebook.com/kathleenswishandream | facebook.com/kathleen.osborne.12935
MOTHERLY LOVE
Osborne's worsening health indicates she might miss her kids' teenage years. But instead of wallowing in self-pity, she walks her two boys, Hayden, nine, and Leo, five, to school while pushing her nine-month-old Aida-May in her pram.
After sacrificing her leg, the mom-of-three uses crutches to walk and is adjusting to her new situation. She tries to bend down to smother her sons with kisses before they run off to class, despite the pain and trouble she experiences.
At 11, Osborne was diagnosed with osteosarcoma, a common type of bone cancer affecting teenagers and young adults where the cells growing new bone form a cancerous tumor. She received the diagnosis after noticing a soft lump on her right knee.
THE SHOCKING NEWS
When her mother took her to the doctor, he carried out scans and a biopsy and explained she had cancer. Osborne was shattered because she had lost her father due to a sudden heart attack a year before.
She cuddled her little princess and started chemo again after two weeks.
Following her diagnosis, she underwent an operation where most of her knee cap was removed, and two metal rods were inserted into her leg. After her chemo sessions, she struggled with walking and lost her hair.
FINDING LOVE
Luckily, Osborne recovered and resumed her studies. But at 17, she became pregnant with her partner, Darren's baby. The news came as a huge shock, but the young woman embraced it wholeheartedly. She welcomed Hayden on October 24, 2011.
Sadly, she and Darren parted ways when Hayden turned three. A year later, she found love again with an old school buddy, James. Soon, Hayden and James became close. Her son began seeing him as a father, which pleased Osborne.
In January 2016, Osborne and James welcomed their son Leo. Everything was going well when in May 2016, Osborne discovered her cancer was back and affecting her lungs. She received her diagnosis after being clear for 11 years.
THE HARD DECISION
She underwent a six-month-long chemo treatment and missed out on her kids' milestones, like seeing Leo walk. However, she mustered up the strength to drop Hayden on his first day at school.
After having the lower lobe of her right lung removed, she found a lump in her right thigh in August 2020. Unfortunately, cancer returned to her leg, and she was also expecting her third child.
Osborne was given a night to decide between amputating her leg or terminating her pregnancy. She sat with her friend, cried, and thought things through. Finally, the amputation took place on November 17, 2020.
NO HOPE OF RECOVERY
She told her sons her leg was terrible, so the doctors took it away, but they would give her a new one like the Transformers. Still, a part of her couldn't bear looking at the place where her leg once used to be.
Osborne was 32 weeks pregnant with her third baby when the doctors found cancerous cells in both her lungs. On March 12, she welcomed her daughter Aida-May, weighing 4 lb 3 oz. She cuddled her little princess and started chemo again after two weeks.
According to her oncologist, the cancer is so widespread that it has become terminal and inoperable. Despite being heartbroken, Osborne didn't ask her doctors how much time she had left and hasn't shared the news with her sons.
A MOTHER'S WISH FOR HER KIDS
The mom-of-three wishes to cherish whatever time she has left with her three bundles of joy. Talking to Daily Mail, Osborne shared:
"I worry that Aida is too little to remember me. But I hope the boys will talk about me and tell her how much I loved them and how I tried my hardest to always be there for them."
Osborne is caught up between teaching her kids to be strong and trying not to be too over-protecting. Nonetheless, she wishes for her kids to stay together and look after each other when she's gone. A genuinely selfless mother!
Please fill in your e-mail so we can share with you our top stories!
The information in this article is not intended or implied to be a substitute for professional medical advice, diagnosis or treatment. All content, including text, and images contained on news.AmoMama.com, or available through news.AmoMama.com is for general information purposes only. news.AmoMama.com does not take responsibility for any action taken as a result of reading this article. Before undertaking any course of treatment please consult with your healthcare provider.