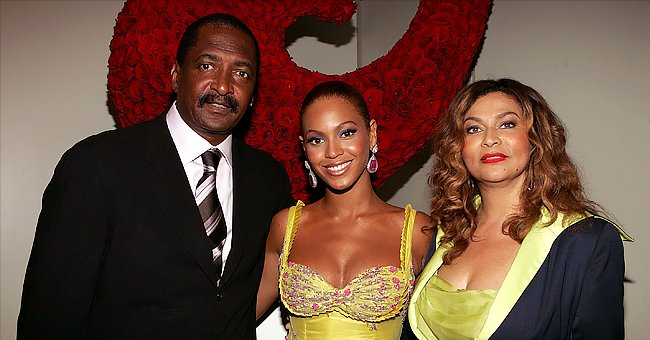 Getty Images
Ebony: Beyonce's Dad Said He Started Courting Her Mom Because He Thought She Was 'White'
Beyonce's father, Mathew Knowles, has always been open about racism and his thoughts on colorism. Previously, he revealed that he thought his ex-wife, Tina Knowles, was white until he noticed how in tune she was with her Blackness.
Racism has always been an issue in many parts of the world, but most prominently in America. Through the years, different figures have spoken about racism and how it has affected people's success and failures with varying skin colors.
One of the people that is vocal about such a topic is Mathew Knowles, father to pop singers Beyonce and Solange Knowles. The Texas Southern professor has been exposed to racism and violence in his life and does not hold back in sharing his thoughts and experiences.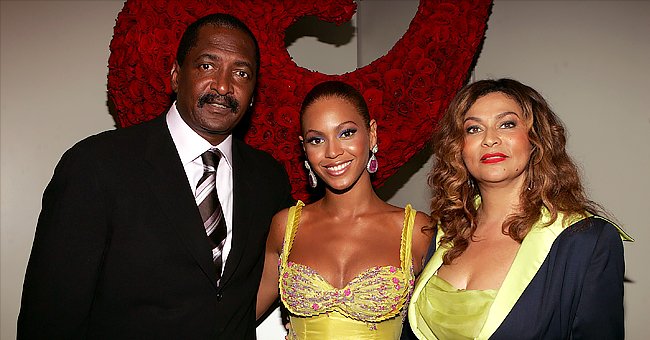 Beyonce Knowles with Matthew Knowles and Tina Knowles at the "Beyonce: Beyond the Red Carpet auction presented by Beyonce and her mother Tina Knowles along with the House of Dereon to benefit the VH1 Save The Music Foundation June 23, 2005 in New York City. The exhibition will showcase 18-24 costumes worn by Beyonce chronicling her film, television and video appearances. | Source: Getty Images
MATHEW'S CONTROVERSIAL CLAIMS
Mathew previously claimed lighter-skinned Black artists, such as Mariah Carey, Nicki Minaj, and his kids, are preferred. He said, "Programmers, especially at pop radio, have this imagery of what beauty looks like," adding that Whitney Houston's photos were made to appear as if she had a lighter complexion.
As her former manager, Mathew also believes that the prejudice towards lighter skin affected Beyonce's success. "I use Kelly Rowland as an example. She's a great example," he told SiriusXM, as told by Variety. He added:
"But you know, the great thing is, Kelly did exceptionally well outside of America, especially in Australia. Kelly sold over four million records. She just got off-script."
Another thing he revealed was that his eroticized rage led him to date Tina Knowles, whom he thought was white. In his book, "Racism: From the Eyes of a Child," he talked about having a breakthrough during therapy and realized he would typically date white women or high-complexion Black women. He said:
"I actually thought when I met Tina, my former wife, that she was White. Later I found out that she wasn't, and she was actually very much in-tune with her Blackness."
He further admitted that he saw dating White women as a means of "subconsciously getting even or back" for the racism he had experienced as a child. In actuality, Tina has a Louisiana Creole ancestry and is a descendant of Canadian leader Joseph Broussard.
TINA AND MATHEW'S DIVORCE
Although Mathew married Tina, their union ended in divorce in 2009. The pair released a joint statement at that time, revealing that their separation was amicable. "We remain friends, parents, and business partners," they said.
The "Single Ladies" songstress reportedly got tired of working with Mathew, who was accused of embezzling money from his daughter's tour.
Although they tried to keep their divorce peaceful, it was revealed that Mathew fathered two kids outside of his marriage. In 2010, his son Nixon, from Alexsandra Wright, and daughter Koi, from TaQoya Branscomb, were born.
It was undoubtedly a difficult time for Tina, but she received massive support from her daughters and stayed strong. In a previous interview on Own's "Girlfriend Check In" series, Tina talked about how "devastated" she was after her 33-year marriage and how her kids helped. She said:
"They were my balm. [...] They were like, 'Mama, you're a bad girl.' I won't use the word they gave me, but they were like, 'You've got so much going. You shouldn't be feeling like life is over for you [...]."
According to Tina, her daughters are the most significant blessings in her life, and that they have shown maturity beyond their years, even sometimes taking the role of a mom. "It's funny how the roles change," she said. "They became my mom, and I became the child."
MATHEW AND TINA'S NEW RELATIONSHIPS
Tina later found love for the second time around when she married actor Richard Lawson in 2015. They had a beautiful ceremony on a yacht in Newport Beach, California.
Beyonce and Solange were present during the all-white wedding but did not perform. According to the bride, she wanted her kids and their families to relax and have a good time instead. It seems that Beyonce also gets along well with her stepdad, who asked for her and Solange's blessing before marrying Tina.
Unfortunately, the same could not be said with Mathew as the sisters were noticeably absent from his wedding in 2013 with model Gena Charmaine Avery. "Unfortunately, Beyonce and Solange had previous engagements, which made it impossible for them to attend," he said.
Beyonce never publicly admitted her strained relationship with Mathew, but in 2011, she made a surprising decision to fire her dad as her manager. The "Single Ladies" songstress reportedly got tired of working with Mathew, who was accused of embezzling money from his daughter's tour.
Mathew denied allegations that millions of dollars disappeared under his watch during that incident. Beyonce and Mathew haven't had the best relationship considering all that has happened.
Beyonce has since replaced her father with her husband, Jay-Z's company, Live Nation. She has also been living her life privately, raising her look-alike daughters, Blue Ivy and Rumi, and her son, Sir.
Previously, the Grammy Award-winning artist gave her fans a treat and posted a rare photo of her family during an outing. As expected, viewers flooded the post with positive comments and words of support. They are all undoubtedly happy for the successful life and career that their idol has built.
Please fill in your e-mail so we can share with you our top stories!