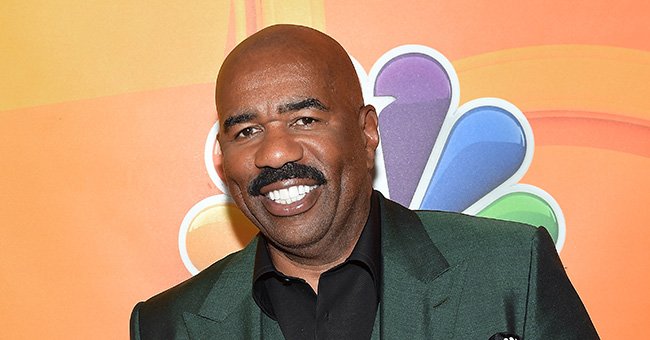 Getty images | Instagram.com/iamsteveharveytv
Steve Harvey's Family Stun in Matching Silky Pajamas Showing off Their Glamourous Christmas Celebration
The Christmas celebrations are here, and our favorite celebrities are doing it in style! The Harvey's mesmerized their fans in their matching pajamas.
While the Harvey's are known to go all out during the Christmas celebration, they took it to yet another level this year. In photos posted on Marjorie Harvey's account, the family looked glamorous in their matching pajamas.
The series of photos showed the family fully immersed in the season's spirit. In the first, the family members sat on a couch beside the Christmas tree in their red silky pajamas.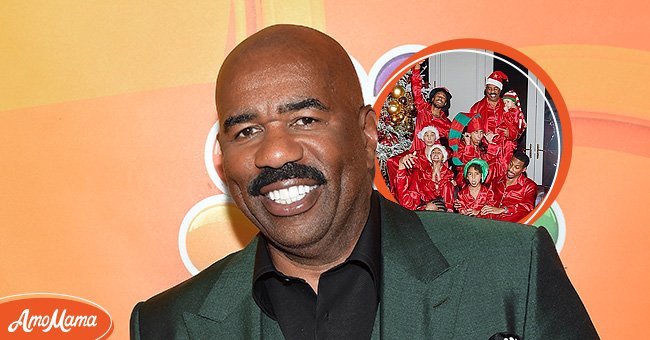 Left: "Family Feud" host Steve Harvey | Photo: Getty Images Inset: The Harvey family in matching pajamas | Photo: Instagram.com/iamsteveharveytv
A RIDE ON THE SLEIGH
In another, they faced the wall and showed off their names embroidered on their pajama tops. Other photos taken outside showed Marjorie feeding the reindeers.
The family also got to ride on Santa's sleigh as the reindeers fed on some hay in the backyard. More photos showed a team setting up the gorgeous Christmas tree in the corner.
MAKING FASHION STATEMENTS
The stylish Harvey Christmas is one of the many fashion statements that Harvey has been making lately. The 64-year-old TV show host and comedian has, in recent years, made headlines with his latest ensembles.
Even though the "Family Feud" show host is known to don bright colored suits, his latest fashion statements are turning heads.
From his mesmerizing peacoats to his monochromatic green sets to his cobalt jackets, Harvey has turned fashion into sparking memes and garnered praise from his social media fans.
Harvey created an uproar after stepping out in leather pants and a black turtleneck in October. He paired the look with a bright blue suede Berluti jacket and Bottega Veneta boots.
His wife complimented his ensemble with leather pants and coat as they had the time of their lives in Paris. However, his Paris trip is not the first time the comedian has made headlines for his fashion sense.
In 2020, Cedric the Entertainer thought Harvey was the best-styled comedian, and it's all thanks to his stylist Elly Karamoh, who he works with on "Family Feud."
SHARING THE CHRISTMAS MIRACLE
But away from making fashion statements, the Harvey family has impacted lives this holiday season. Harvey's daughter Lori partnered with LA Mission to deliver gifts to nine girls from the Dangerfield Institute of Urban Problems.
Loaded with sacks of gifts from Hammit Handbags, KimChi, and Chic Beauty, and her products SKN by LH, she visited the mid-LA foster home and made Christmas a season to remember for the girls.
Please fill in your e-mail so we can share with you our top stories!