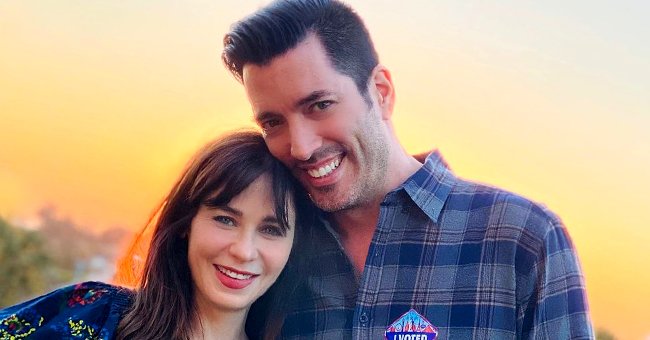 instagram.com/jonathanscott | Getty Images
Jonathan Scott Seen Holding Zooey Deschanel's Hand a Week after Her Divorce Announcement — Now They Bought a House
Things are getting serious between actress Zooey Deschanel and HGTV star Jonathan Scott with their newfound romance. Deschanel is a mom of two kids whom she welcomed with her former second spouse and will live with her and Jonathan in their new "dream home."
"New Girl" alum Zooey Deschanel, who split from her husband of nearly four years, was spotted cozying up with construction contractor Jonathan Scott two years ago, a week after announcing their divorce.
The lovebirds were spotted holding hands as they arrived at Little Dom's restaurant in Silver Lake, California, in September 2019. Hollywood Life obtained exclusive photos of their outing.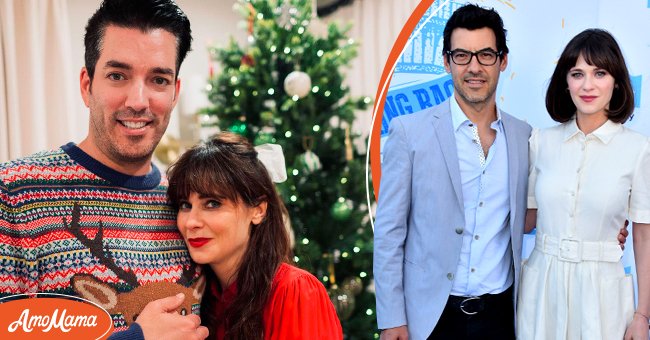 Pictured: (L) Actress Zooey Deschanel and HGTV star Jonathan Scott posing in an embrace in front of a Christmas tree. (R) Producer Jacob Pechenik and actress Zooey Deschanel attend the 2018 Heal The Bay's Bring Back The Beach Awards Gala at The Jonathan Club on May 17, 2018 in Santa Monica, California | Photo: Instagram/@jonathanscott and Getty Images
WHIRLWIND ROMANCE
In addition, an insider provided details about their overall interaction at the time, revealing that the Hollywood pair were lovey-dovey:
"Zooey and Jonathan kept looking at each other and smiling and sat closely, constantly cuddling throughout their meal. They looked happy and casual."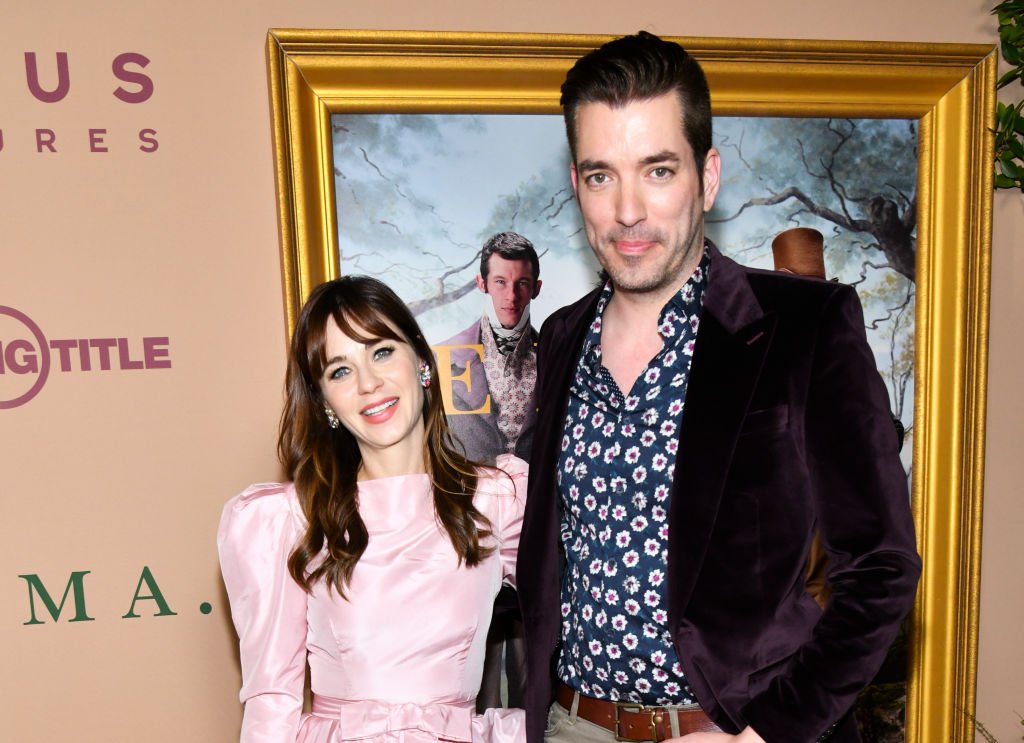 Zooey Deschanel and Jonathan Scott attend the premiere of Focus Features' "Emma," at DGA Theater on February 18, 2020 in Los Angeles, California | Photo: Getty Images
"They seemed giddy about one another and held hands as they arrived and whispered to each other often. It was sweet," the source continued.
The dinner date came a week after the outlet reported that the model and her second husband Jacob Pechenik had parted ways. The former couple shares a daughter and a son.
Deschanel and Jonathan met in August 2019 when filming an episode of a "Carpool Karaoke" segment for James Corden along with Jonathan's brother, Drew Scott. According to insiders, they hit it off instantly.
A source explained they started as friends, went out a few times, and intend on keeping their relationship under wraps, adding:
"They seem to like each other a lot, and Jonathan travels a lot, but they see one another when they can. They both seem happy and into it so far."
After bonding through similar interests and constantly texting and calling one another, Deschanel and the "Property Brothers" star's romance blossomed.
Since then, they have shared several significant milestones, having celebrated their first Thanksgiving together shortly after making their red-carpet debut as a couple, including New Year's Day.
PURCHASING THEIR DREAM HOME
The two recently purchased their dream home together and revealed the exciting news in the latest issue of the twins' magazine "Drew + Jonathan Reveal."
After an extensive search for a home, Jonathan and Deschanel fell in love with the Georgian-style house designed in 1938, which is currently under major renovations. The couple will share their new Los Angeles abode with Deschanel's four-year-old son and five-year-old daughter.
DESCHANEL'S BROOD
When it comes to family, the songwriter seldom shares images of her children on social media. Born in July 2015, Elsie Otter Pechenik is the eldest child of Deschanel and, according to her mom, has a particular sense of fashion:
"She likes to put together outfits, and she has very distinct opinions on what she will or will not wear. It's sweet to see her express herself."
Deschanel welcomed her youngest child, Charlie Wolf Pechenik, in May 2017. Not much is known about the little one apart from being given an animal-themed middle name like his big sister.
DIVORCE FROM JACOB
Deschanel and Jacob's divorce was finalized in June 2020, and they share joint custody. The exes mutually agreed not to have their retirement, pension, and deferred compensation split.
Jacob and Deschanel first met on Bill Murray's comedy "Rock the Kasbah." The duo got engaged in January 2015 and tied the knot that June.
Following three and a half years of marriage, they separated in January 2019, and nine months later, Jacob filed for divorce, citing "irreconcilable differences."
Please fill in your e-mail so we can share with you our top stories!