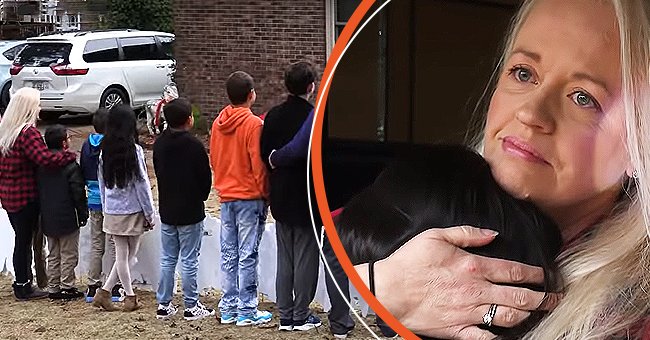 youtube.com/Columbus Ledger-Enquirer
6 Siblings Who Were Split Up in Different Foster Homes Get Adopted for Christmas: 'A Dream Come True'
In a Christmas miracle, a couple in their 40s who had three biological children decided to adopt six siblings, giving them a forever home. The couple became certified foster parents in 2019.
Adoption diaries are incredibly heartwarming. While they often have a tragic background story, they end happily, forging connections far more profound than blood ties. The story we're sharing today is soul-stirring and follows the true holiday spirit.
A 10-year-old girl wanted a cooking set, fake snow, and a few other things for her Christmas wish list. But she wrote her biggest wish in capital letters at the end: "get adopted." Fortunately, Christmas came early for her and her siblings.
A CHRISTMAS TO REMEMBER
Angela and Elliott Turbeville surprised their six foster children with the most heart-melting present for Christmas 2021. When the kids woke up on December 20 to go to school, they thought it was a usual Monday morning. Angela also shared:
"They have zero clue this is about to happen. They've asked for two years, 'I just want to stay. I just want to be adopted.'"
Surprisingly, relatives gathered outside the Turbeville house in Green Island Hills, Columbus, Georgia, ready to join in the celebrations. One of Turbeville's biological kids, Isabella, knocked on the door while holding a box of donuts.
Angela and Elliott Turbeville. | Photo: YouTube.com/Columbus Ledger-Enquirer
A GRAND SURPRISE
When one of the foster kids answered the door, the others followed. What they saw next was enough to astonish them. In their front lawn was a sign that read: "IT'S ADOPTION DAY."
After the court hearing, Angela stated that "it was a dream come true" to adopt the kids.
The children were dumbfounded, and one of them asked, "We're adopted?" Angela quickly responded, "Today, we're going to court to be adopted." After sharing emotional hugs, the Turbeville family posed for pictures in their front yard.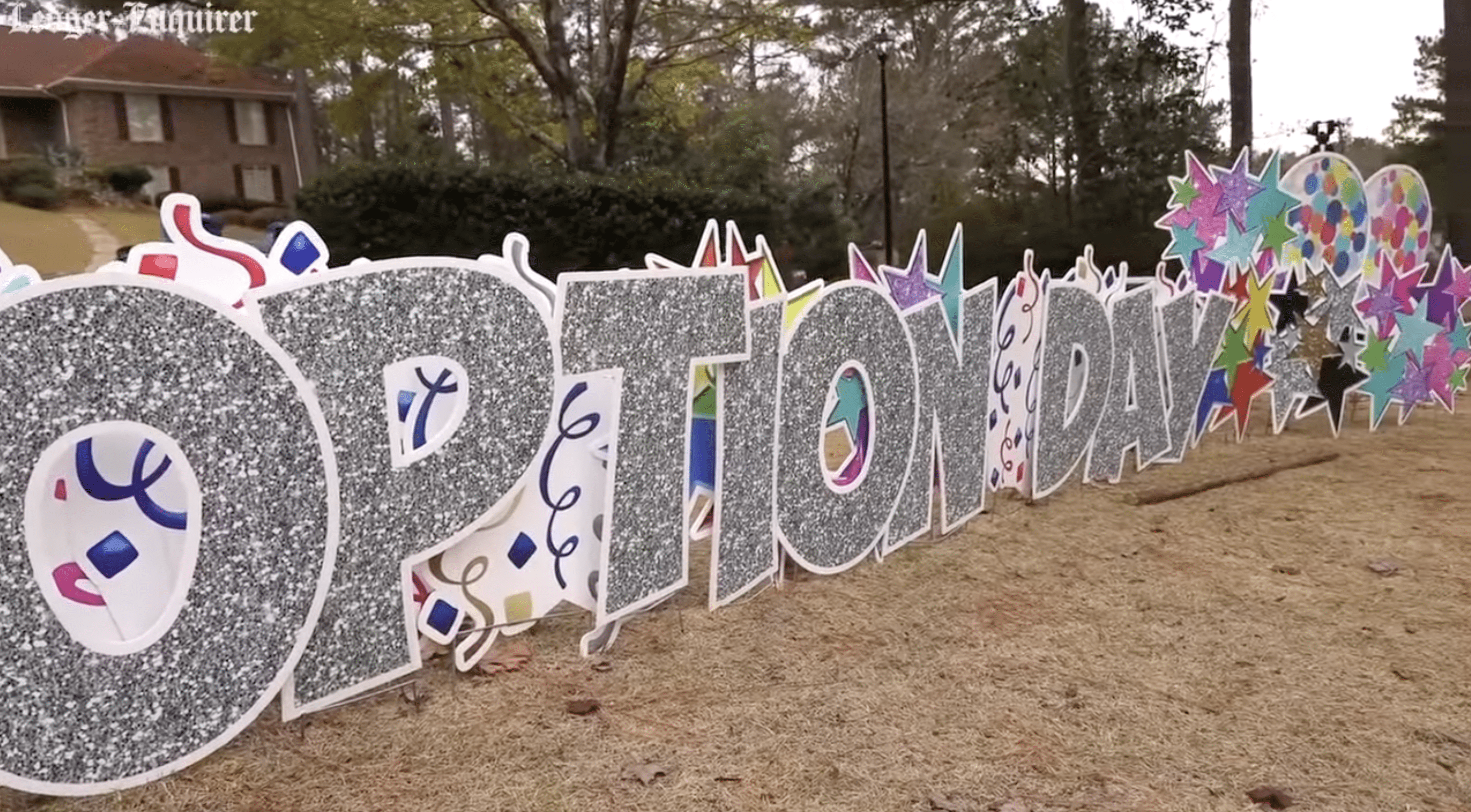 'IT'S ADOPTION DAY' sign placed in the Turbeville's front lawn. | Photo: YouTube.com/Columbus Ledger-Enquirer
CERTIFIED FOSTER PARENTS
Angela and Elliott had fostered the six siblings for two years. They were both in their 40s and had three biological children. When they realized they couldn't have more kids, they opted for fostering and adoption to help children who needed a home.
Angela was a former elementary school teacher and tutor, while Elliott was an associate director at Pratt & Whitney. They became certified foster parents in 2019. In October 2019, they received a call from Hope Foster Care that changed their lives.
Initially, the couple fostered four siblings, but they also took in the other siblings after a few days. During the pandemic, Angela home-schooled the kids, who are now in school and on the honor roll.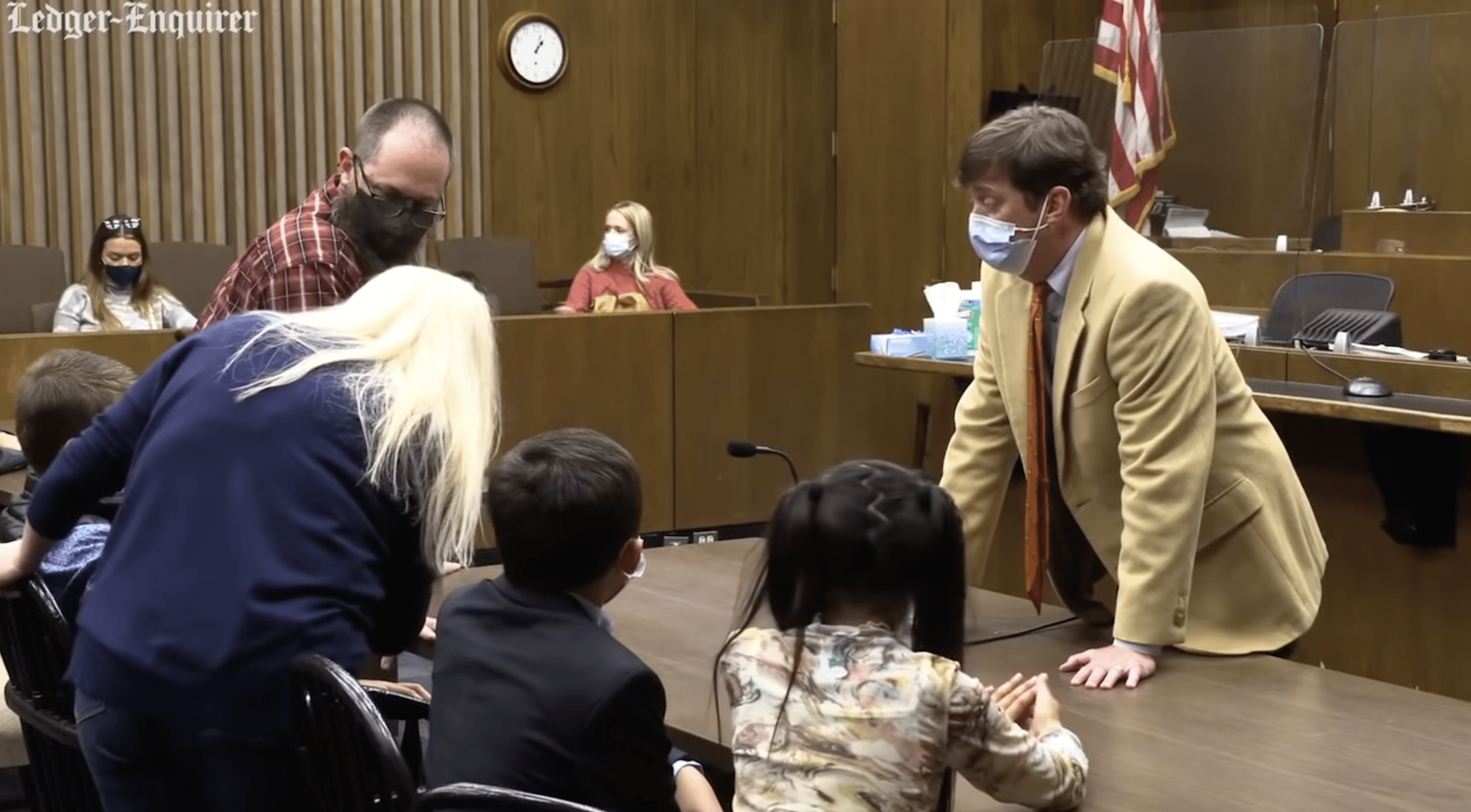 The Turbevilles with their foster children at the adoption hearing. | Photo: YouTube.com/Columbus Ledger-Enquirer
OFFICIALLY ADOPTED
The six siblings, one boy and five girls, ages 7-14, were ecstatic to have "Turbeville" as their last name. Instead of school, the family rode downtown in a chauffeured party bus to attend their adoption hearing. Angela also mentioned:
"Their mom was a foster child, so we're trying to break that cycle."
The couple's caseworker, Caytlin Merritt, appreciated their efforts to adopt older kids and keep the siblings together. The siblings were thrilled to become official members of the Turbeville family and expressed gratitude and love for their adoptive parents.
A PERMANENT HOME
The Superior Court Judge, Maureen Gottfried, finalized the adoption process. She praised the Turbeville's for opening their hearts and home to the children. Further, she added:
"Y'all are getting what you deserve as children, to be able to be raised in a happy house and taken care of, loving each other, loving your parents and just having everything be great (sic)."
After the court hearing, Angela stated that "it was a dream come true" to adopt the kids. She and Elliott expressed that they were glad the kids were safe, happy, and had a permanent home. The Turbeville's indeed had a memorable Christmas.
Please fill in your e-mail so we can share with you our top stories!