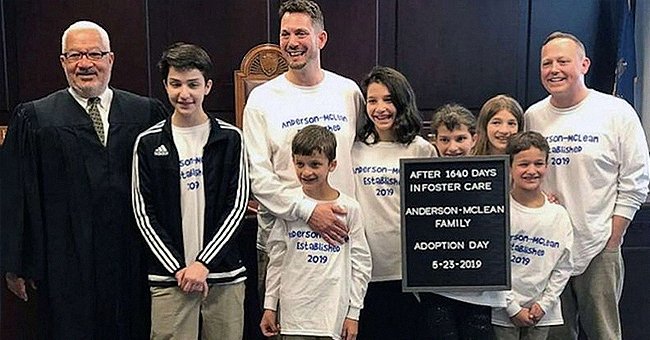 twitter.com/GMA
Two Dads Adopt 6 Siblings That Spent 5 Years in Foster Care: 'We Knew They Needed to Be Together'
Two Pennsylvania dads became a happy family of eight after adopting six neglected siblings who had spent 1,640 days in foster care. The same-sex couple discovered the children online in need of a forever home.
Some adoption stories are so heartwarming that they leave a lasting impression. One such adoption tale is of the Anderson-McLean family, whose life changed for the better in 2019.
Steve and Rob Anderson-McLean had been together for 18 years. They first married in a commitment ceremony in 2006 and were legally married in Maryland in 2013.
YEARNING TO BE PARENTS AGAIN
The couple from Pittsburgh, Pennsylvania, experienced fatherhood together as they raised Steve's two sons, 25-year-old Parker and 21-year-old Noah from his previous marriage.
But when the boys entered their 20s, the dads felt they weren't done being parents yet and began exploring adoption. Steve said he and his husband saw a moving story on television about a couple who had opted for adoption.
The American dads were so inspired that they began searching for U.S. kids in need of a home. In 2018, they came across a profile online featuring six siblings who had gone through neglect and abuse and had spent almost five years in foster care.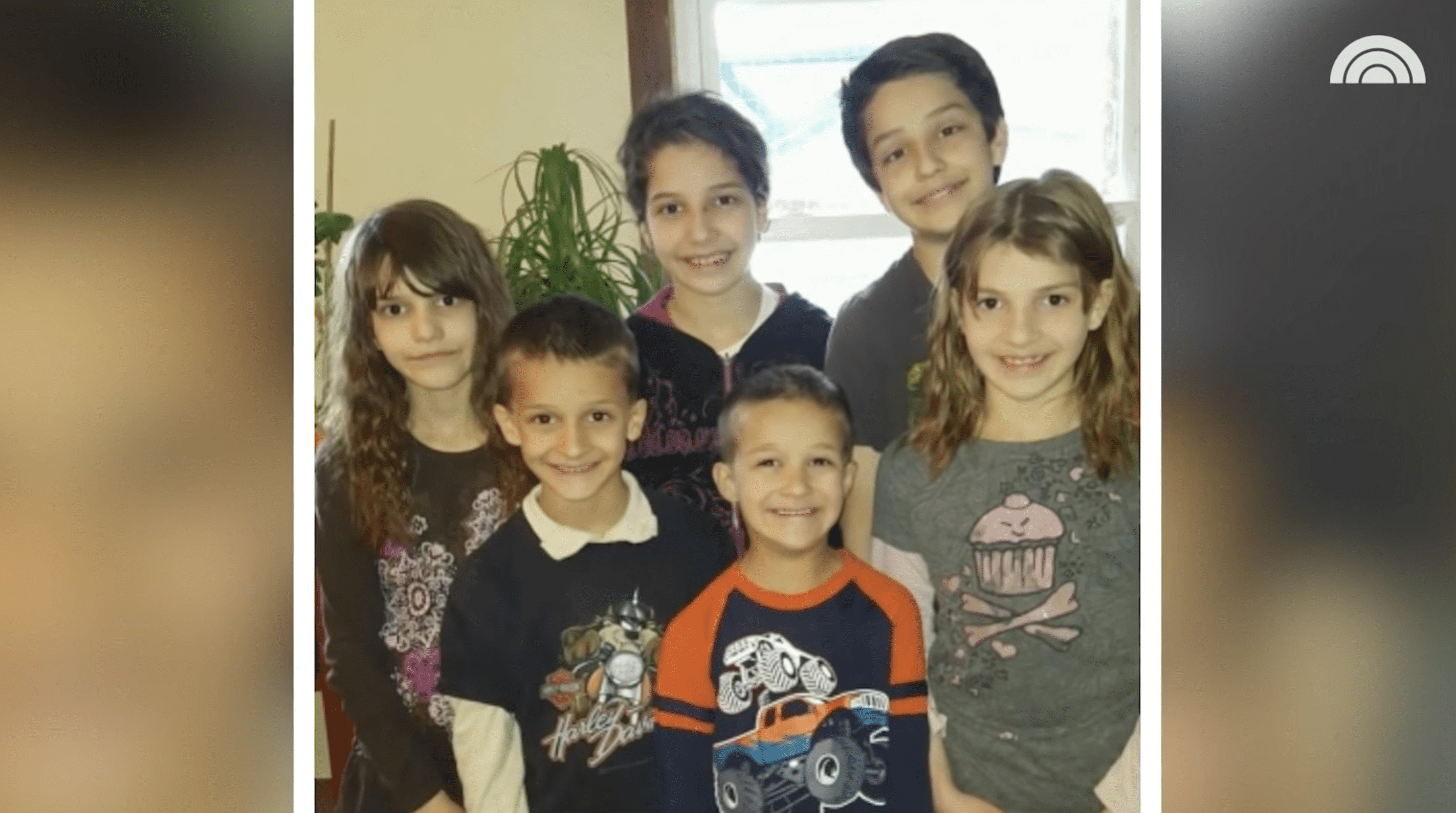 The six siblings. | Photo: YouTube.com/TODAY
INSTANT CONNECTION
Steve and Rob were well aware of sibling groups being torn apart due to several families wanting to adopt the younger kids. The couple shared they instantly fell in love with the siblings after seeing their picture. Rob told TODAY:
"Steve and I knew these guys needed to be together."
The six siblings first came to live with the Anderson-McLean couple in July 2018. Steve shared how he and Rob took the kids to the park and zoo and played with them in the yard. He said the concept of "having fun" was entirely new to them.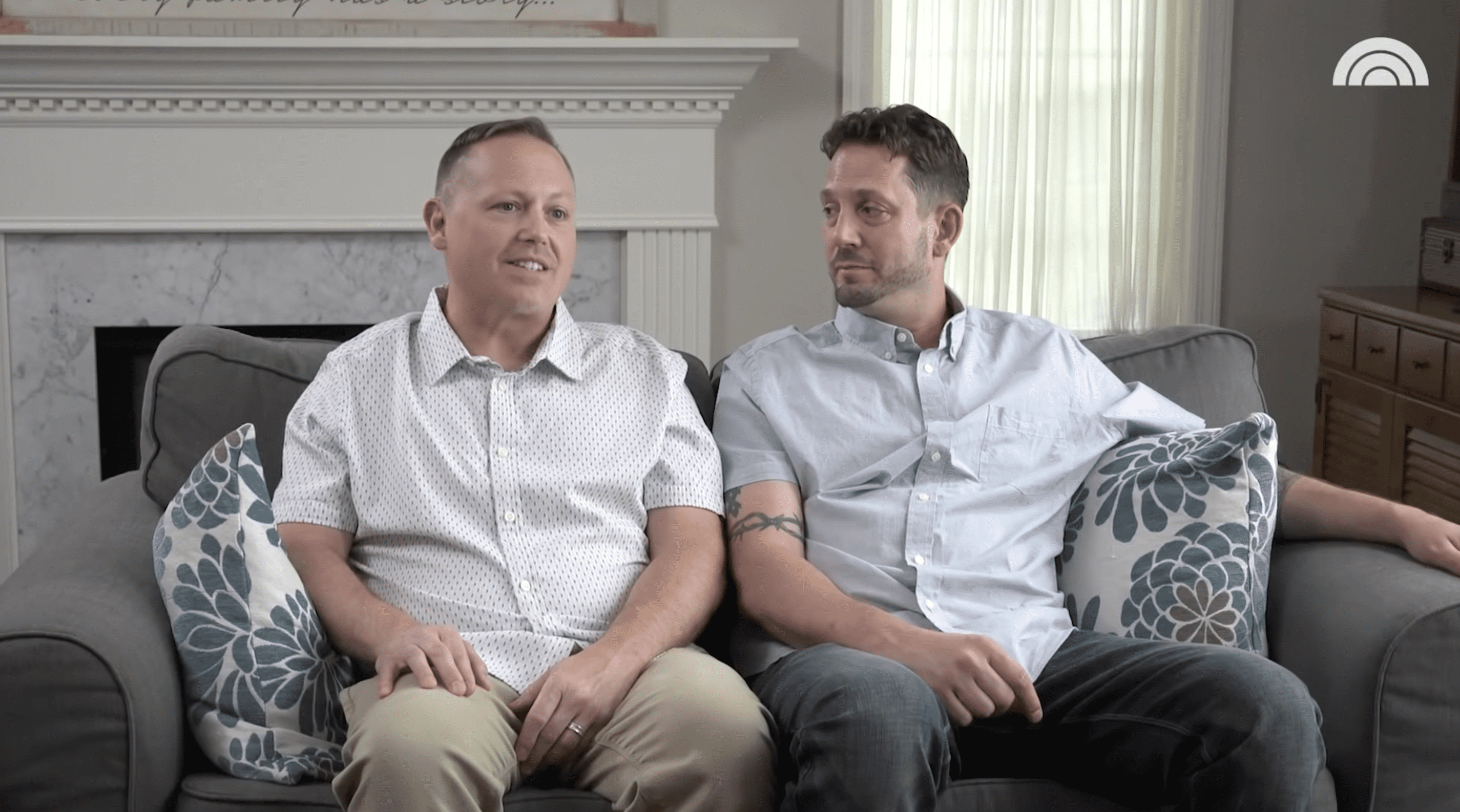 Steve Anderson-McLean and Rob Anderson-Mc Lean. | Photo: YouTube.com/TODAY
DOTING DADS
Soon afterward, Steve and Rob became so attached to the siblings that they welcomed them into their home and hearts. Finally, the blessed day came when they were present in the courtroom, minutes away from the adoption becoming official.
The six siblings soon realized they had nothing to worry about, as they had the Anderson-McLean name and two loving dads.
When the judge asked the two fathers if they considered the six siblings just as important as their biological children, they nodded in affirmation. Steve shared how emotional he felt when he looked up at the kids and realized how lucky he was.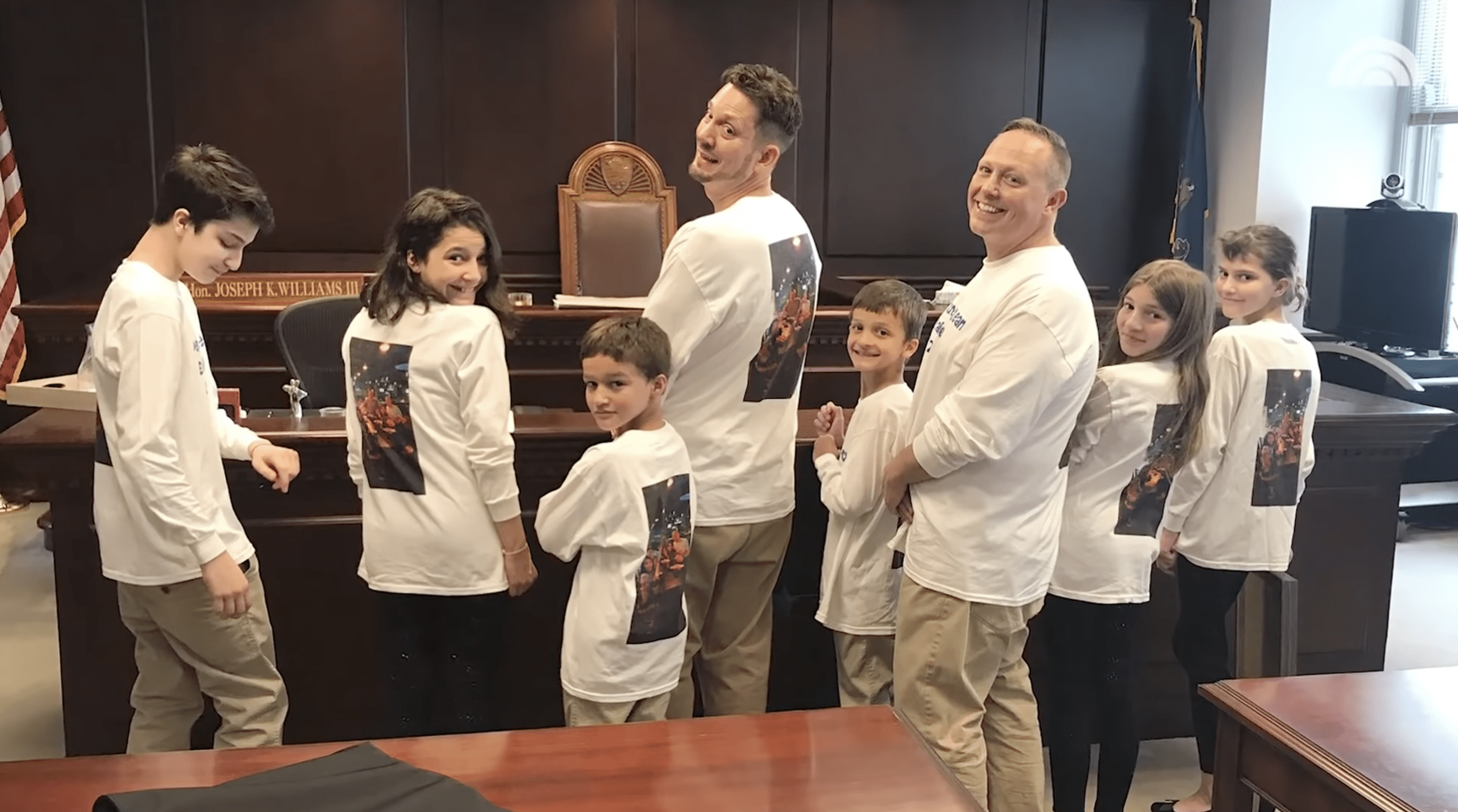 Steve and Rob pictured in their matching white t-shirts with the six siblings on adoption day. | Photo: YouTube.com/TODAY
OFFICIALLY ADOPTED
On May 23, 2019, Carlos, 14, Guadalupe, 13, Maria, 12, Selena, 13, Nasa, 9, and Max, 7, were officially adopted. To celebrate the special occasion, the family wore customized t-shirts that read "Anderson-McLean Established 2019." Rob told GMA:
"I'd say our kids have brought a great kind of crazy to our lives. It's heartwarming and so exciting to see how they connect with us and our extended family and friends."
The six siblings had experienced a challenging childhood and were subjected to sheer neglect and abuse from their birth family. In 2017, the birthrights were terminated, and there was hope for the kids to move out of the care system and get adopted.
HAPPY FAMILY OF EIGHT
But fortunately, after spending 1,640 days in foster care, the siblings became official members of the Anderson-McLean household. Steve and Rob spent the first few months reassuring the children they weren't going anywhere and were finally home.
The six siblings soon realized they had nothing to worry about, as they had the Anderson-McLean name and two loving dads. If this beautiful adoption diary of the Anderson-McLean family has touched your heart, feel free to share it with your loved ones.
Please fill in your e-mail so we can share with you our top stories!