instagram.com/kyliejenner | youtube.com/Kylie Jenner
Kylie Jenner's Fans Convinced She Already Welcomed 2nd Child after Baby Bottle Speculations
Kylie Jenner was a true pro when it came to hiding her first pregnancy and birth, and now fans are speculating that she is hiding the birth of her second child with rapper Travis Scott.
Fans are convinced that "KUWTK" star Kylie Jenner has already given birth to her second child. Fans have taken their speculation online, with many sharing the "clues" they believed show Jenner's second child has arrived.
The reality star's fans are not entirely out of line to believe Jenner would hide her child's birth as she kept her whole pregnancy and birth of her first child, Stormi, hidden until three days after Stormi's birth.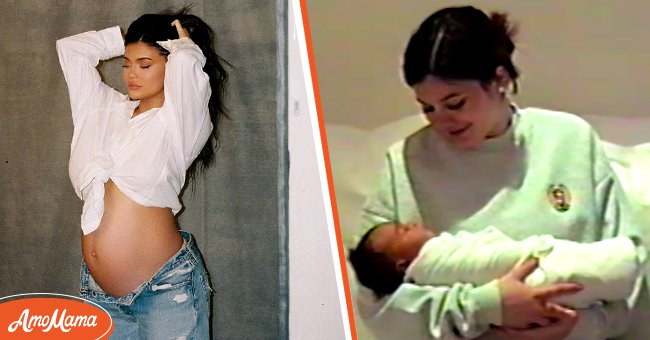 Kylie Jenner showing off her baby bump in a recent photo on Instagram [Left] Jenner holding Stormi as a newborn, 2018. | Photo: Instagram/kyliejenner & YouTube/Kylie Jenner
A few fans have taken it further and jokingly called out Jenner in the comment section of a recent Instagram post the Kylie Cosmetics owner shared in which she showed off her baby bump.
One Instagram user remarked that the businesswoman was "trying to convince" her followers she was still pregnant. Another exclaimed the photo was not "throwing" the fans off as they knew she was no longer pregnant. While one fan was excited to see the baby:
"Show us the baby Kylie. I know you had it."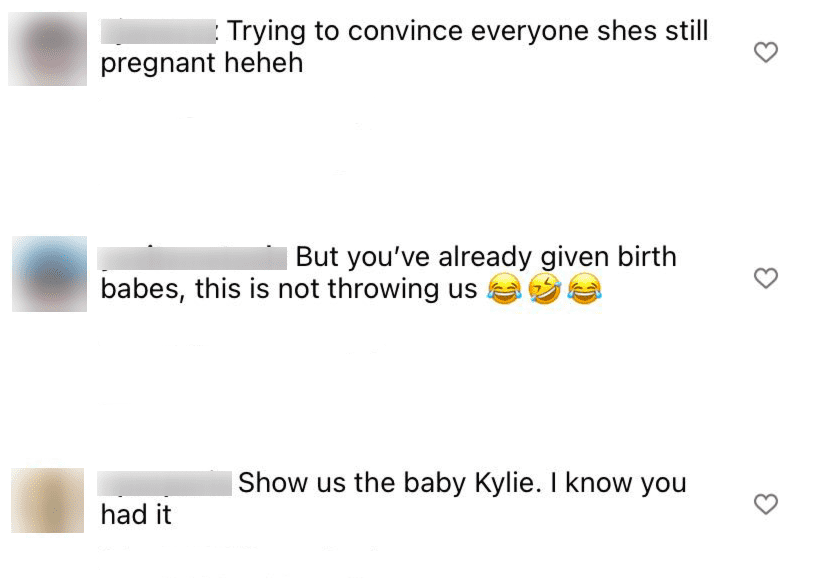 Fans' comments on Kylie Jenner's recent Instagram photo. | Photo: Instagram/kyliejenner
Speculation started after a few internet sleuths and media outlets shared some
interesting clues
that could prove that Jenner's family of three with Travis Scott is now a family of four.
On January 4, 2022, The Daily Mail reported that Jenner was spotted hiding under a blanket while exiting her private jet after a trip to Palm Springs with her mother Kris Jenner and Kris's boyfriend, Corey Gamble.
The outlet speculated that the odd silhouette under the blanket was created by Stormi sitting on her mother's shoulders. However, fans online reasoned the strange shape was created by Jenner carrying and bending over a baby carrier.
Another clue reportedly came from Kourtney Kardashian's fiancé Travis Barker's Instagram Story, which featured a baby bottle. Fans quickly pointed out that all Kardashian-Jenner-Disick children were too old to drink from a baby's bottle.
The bottle is the same brand Jenner used when bottle feeding Stormi, so perhaps she is using the same brand for her second baby. The jury is still out on who the bottle belongs to.
Jenner and Scott first shared they were expanding their family in September. At the time, the pair did not share the due date details. However, fans noticed Jenner did not drink alcohol in a TV special with Andy Cohen, filmed in April, so some assume the expecting mother knew she was pregnant then.
Please fill in your e-mail so we can share with you our top stories!