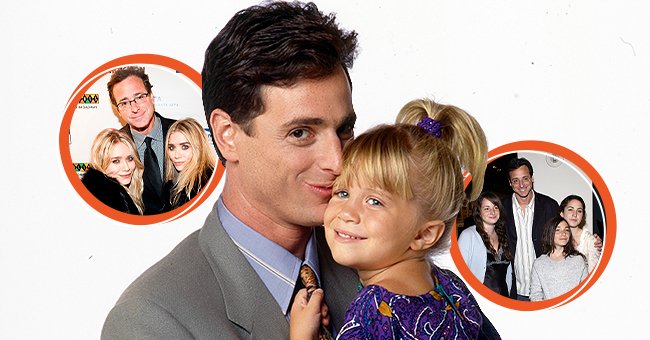 Bo Saget and the Olsen twins | Bob Saget with Mary-Kate Olsen | Bob Saget with his daughters | Source: Getty Images
Bob Saget Is Survived by 3 Daughters Who Once Thought He Was Cheating On Them with the Olsen Twins
Bob Saget enjoyed his years filming "Full House," where he bonded with the famous Olsen twins. However, this bond often got his children jealous. They felt he had betrayed their trust.
Widely loved as the funny patriarch Danny Tanner on the sitcom "Full House," Bob Saget was an incredible actor. Since his death was announced, fans have searched for pieces of news that could help them know more about him.
Saget, known for his bawdy comedy on stage and among his pals, originally became popular on family-friendly shows. On ABC's "Full House," he played a widowed father of three daughters before becoming the host of the network's "America's Funniest Home Videos" clip program.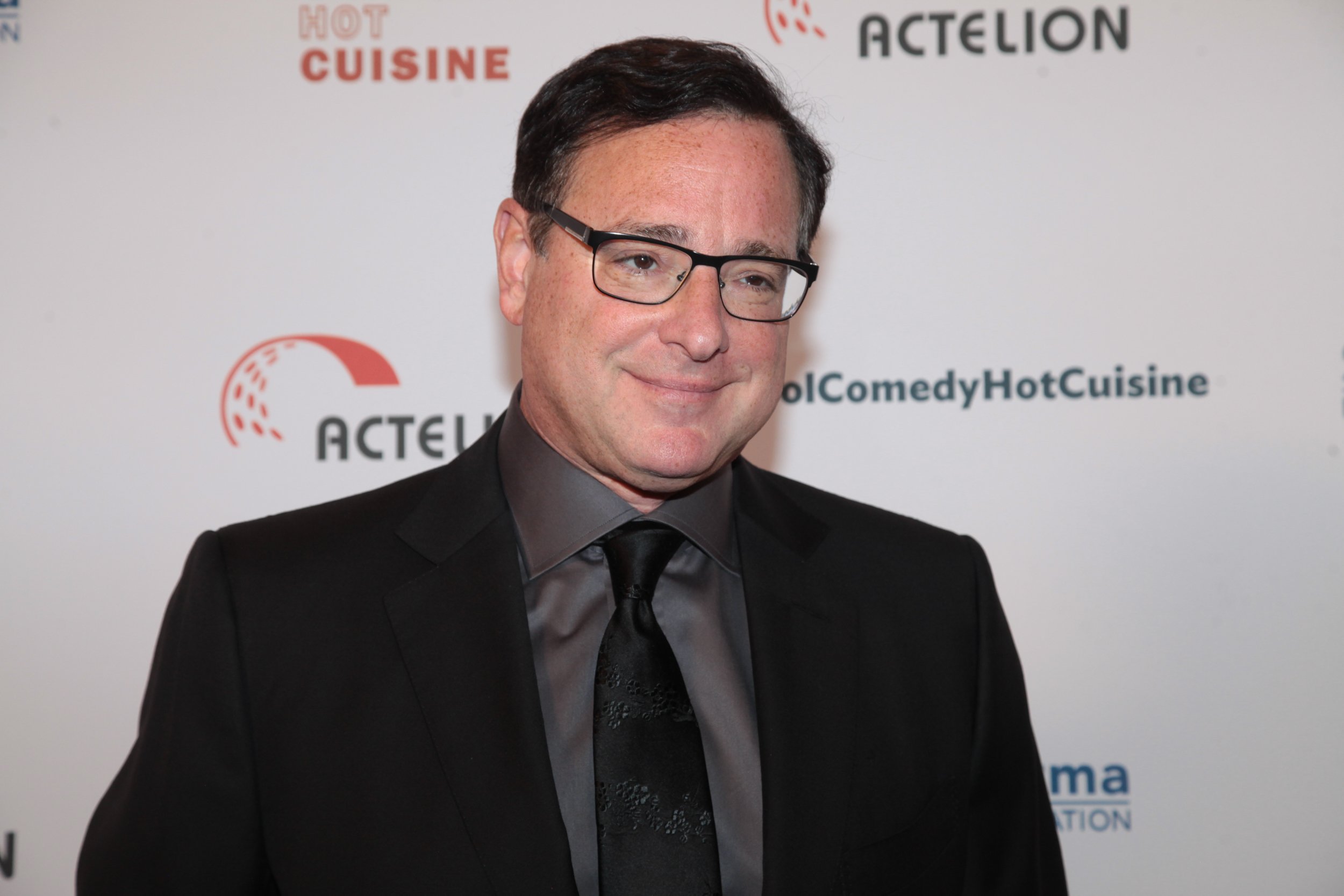 Bob Saget arrives at 30th Annual Scleroderma Benefit at the Beverly Wilshire Four Seasons Hotel on June 16, 2017 in Beverly Hills, California | Source: Getty Images
"Full House" lasted eight seasons and starred Candace Cameron Bure, Jodie Sweetin, and twins Mary Kate and Ashley Olsen. The family sitcom was a hit and possibly Saget's biggest work. It lasted so long that Netflix decided to make a spin-off in 2016, "Fuller House."
Saget once remarked that he maintained a close relationship with all the cast and did not take those eight years of his life lightly. However, his relationship with his on-screen children once left his biological kids feeling jealous.
The Bond with the Twins
The Olsen twins were among many fans left heartbroken by the news of Saget's sudden death. The twins shared a touching tribute in his honor where they described him as the most gentle and compassionate man.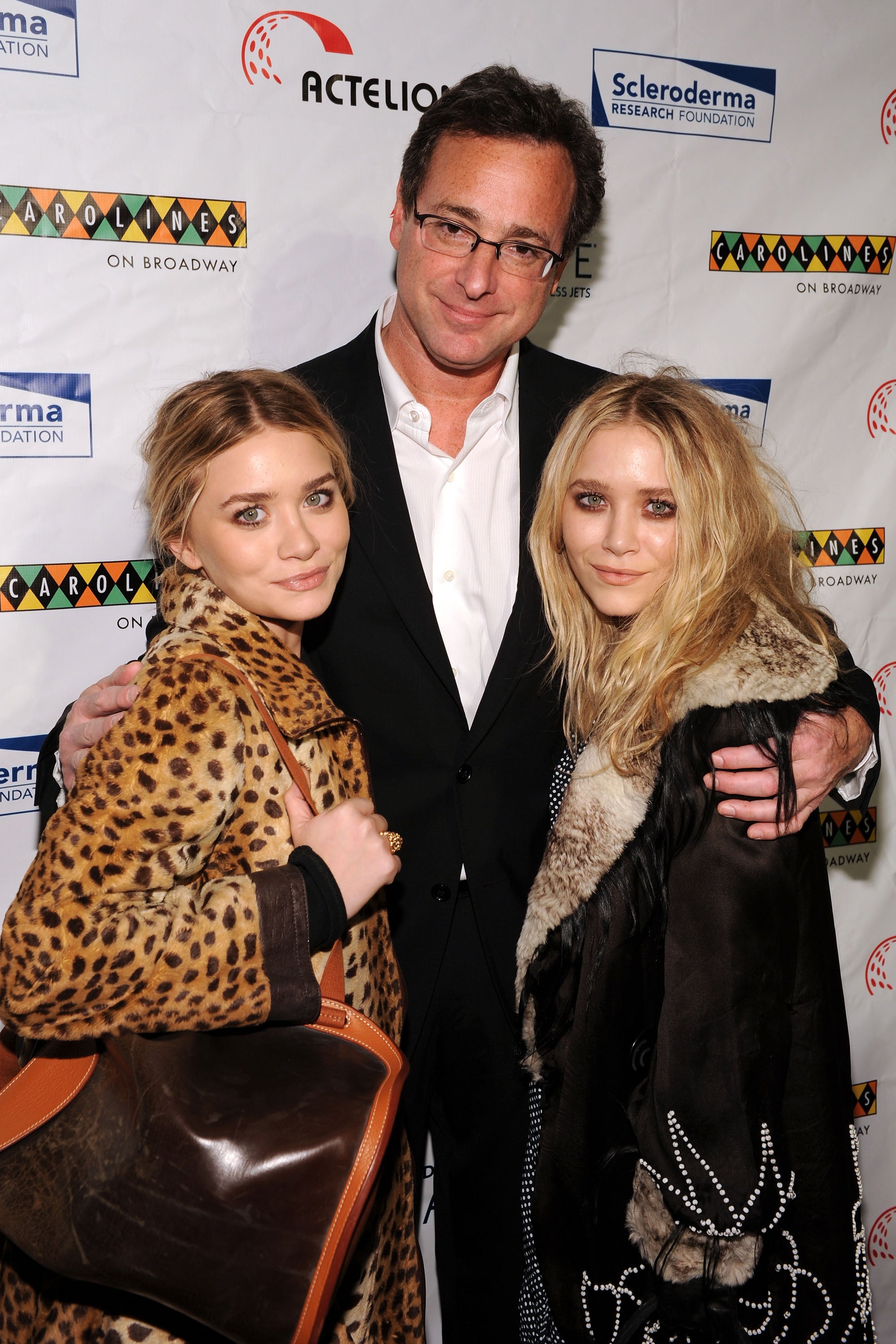 Actors Mary-Kate Olsen, Bob Saget and Ashley Olsen attend "Cool Comedy Hot Cuisine 2009" hosted by the Scleroderma Research Foundation at Carolines On Broadway on November 9, 2009 in New York City | Source: Getty Images
Mary-Kate and Ashley Olsen are known for their private life, but Saget's life was reason enough to go public. The girls confessed that they missed him and were sure of his support and guidance.
Saget and the Olsen twins first met in 1987 and remained close until Saget's death. When the show first aired, the twins were babies, and they alternated playing the role when one was drowsy or fussy.
Following the end of "Full House" in 1995, the Olsen girls were the only main cast members who did not feature in "Fuller House" reboot in 2016.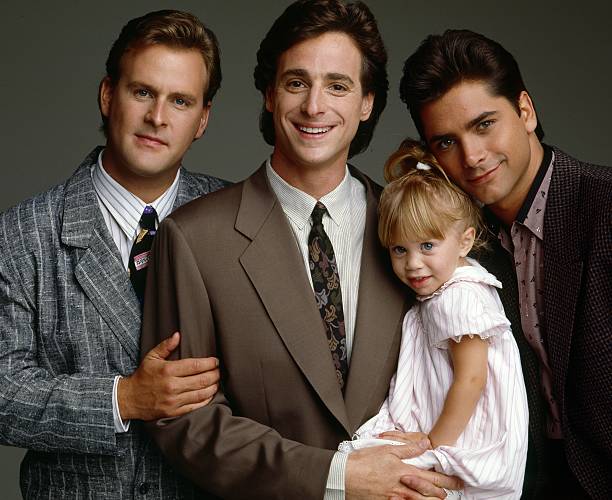 Publicity photo of the cast of TV show " Full House" on August 8, 1989 | Source: Getty Images
Saget's role as a caring dad became a hit. His relationship with his kids and vital family lessons such as forgiveness and communication made the show's popularity soar even higher.
Saget once discussed his personal friendship with the Olsen twins during an appearance on Michael Rosenbaum's "Inside of You" podcast. Fans had assumed there was animosity or problems between the sisters and the rest of the cast, but Saget put those thoughts to rest.
He remarked that he loved the girls like they were his children and made sure to keep in touch with them whenever they visited his city. However, Saget said he regarded them all as his when asked which of his on-screen kids bonded the most with him.
The Girls Are Jealous
Having a famous TV dad could have its ups and downs, and Saget's children felt like someone was competing with them for their dad's love and affection. Although, at the time, he played a father of three on "Full House," the standup comedian was also raising his three girls.
The late 65-year-old once remarked that his daughter would smell the other baby on his clothes after returning from filming and get jealous. She felt he was cheating on her.
Saget later described his now-grown-up daughters as the light of his life. The actor said he shared a close relationship with his children, and before his death, he was proud to see them follow their dreams.
Meet the Saget Girls
Sherri Kramer, the comedian's first wife, was the mother of Saget's adult children. The actor married the screenwriter in 1982, and their first child, Aubrey, was born five years later in 1987. Their second child, Lara, joined the family in 1989, and their youngest, Jennifer, was welcomed in 1992.
After 15 years of marriage, Saget and Sherri divorced in 1997, but this did not deter the "Fuller House" actor from having a wonderful relationship with his children.
The comic star previously stated that being a devoted father had no ifs or buts because having kids was the most incredible experience of his life. In a 2009 interview, Saget said he adored his girls and felt they had raised the bar in his life.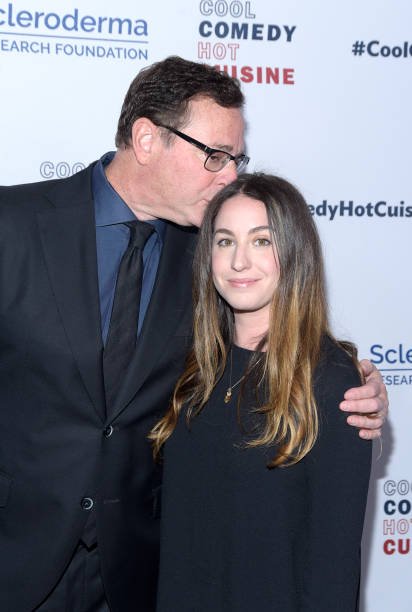 Bob Saget and daughter Aubrey Saget attend Bob Saget's Cool Comedy Hot Cuisine presented by the Scleroderma Research Foundation at the Beverly Wilshire Four Seasons Hotel on April 25, 2019 in Beverly Hills, California | Source: Getty Images
Despite the sweet memories he built with his girls, Saget confessed that he forbade his children from watching "Full House." He usually spent all morning filming the show and did not see any reason to return home to watch it.
What Are They up To?
Saget's girls are all grown up and get to do whatever they like. Thankfully, they made huge marks in their field. Aubrey's website shows that she holds a bachelor's degree from New York University, which she received in 2009. In 2016, she obtained her master's degree from New York University.
She's now an established artist whose paintings have gained attention. Her artwork has been shown in a variety of exhibitions and venues. Furthermore, in 2015, she was awarded a New York University Steinhardt Masters in Fine Art Scholarship Award Grant.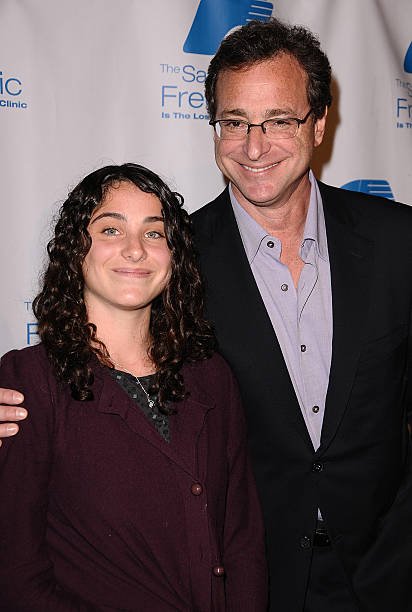 Actor Bob Saget (R) and daughter Jenny attend the 33rd annual Saban Free Clinic dinner gala at The Beverly Hilton Hotel on November 23, 2009 in Beverly Hills, California | Source: Getty Images
Lara, like Aubrey, is an artist who earned two bachelor's degrees in 2012 from Barnard College and Columbia University. She also bagged a master's degree in 2018 from New York University. Lara is a cofounder of Studio200, along with Aubrey.
Unlike her older sisters, Jennifer, Saget's youngest child, has spent most of her life away from the public eye. As a result, there aren't a lot of details about her personal life.
Despite her love for privacy, she made a few cameos alongside her renowned father throughout the years. She attended the premiere of "Hidalgo" with her entire family and was once spotted at a Beverly Hills event in early 2008.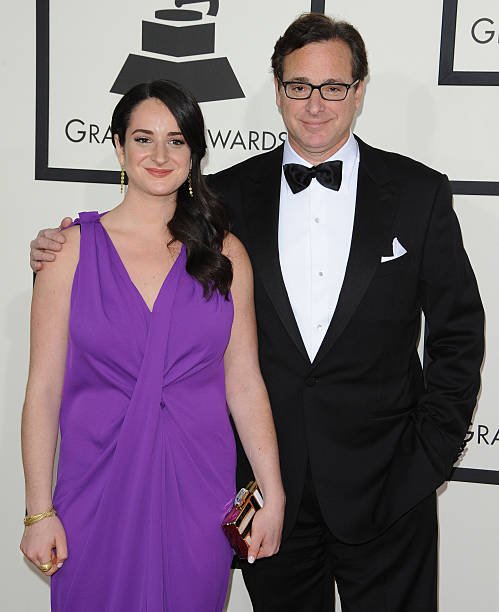 Comedian Bob Saget (R) and daughter Lara Saget arrive at the 56th GRAMMY Awards at Staples Center on January 26, 2014 in Los Angeles, California | Source: Getty Images
Death
The energetic comedian was found dead in a hotel room on January 9, 2022, at the Ritz-Carlton Orlando, Grande Lakes. Officials said they found no clues of foul play.
Saget was in Florida for a comic tour and had only shared a post about the show on social media before his tragic death. He is survived by his wife, Kelly Rizzo, and three daughters.
Please fill in your e-mail so we can share with you our top stories!