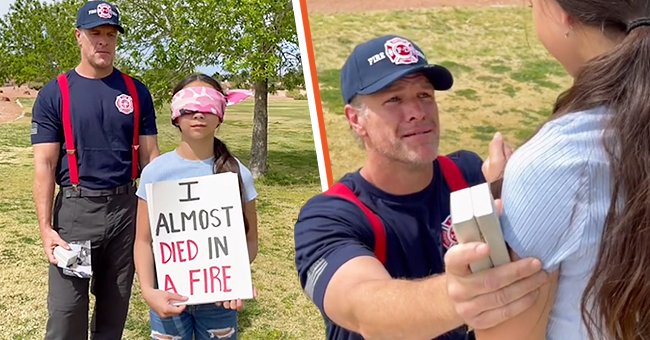 A firefighter presents a mysterious little white box to the girl he rescued from a fire accident | TikTok/m.sandiaa
Firefighter Saves Young Orphan, Presents Little Box with Her Parents' Items & Adopts Her
A little girl who lost her parents and everyone she called "family" to a fire accident gets the shock of her life when the firefighter who rescued her gives her a little box recovered from her burned house.
Firefighters risk everything to save lives every day—it's their job. Sometimes, they move on to their next mission and rarely know what happens to the people they rescue. Except in one case, a firefighter had to take home more than who he'd saved.
A TikTok video by user m.sandiaa went viral for all reasons, most exceptionally for the love of a firefighter for a young orphan he rescued from a burning building.
The video showed the girl named Andrea in ripped jeans and a blue top, blindfolded in a pink cloth. She's holding placards as a woman in the background says, "Are you ready for the surprise that we have for you?"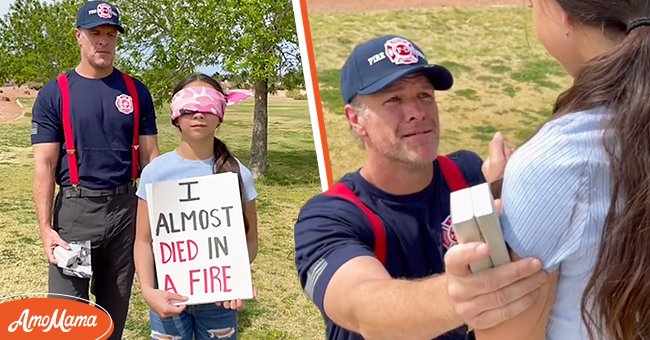 A little girl has an emotional meltdown after checking the contents of a little box | Source: TikTok/m.sandiaa
Andrea doesn't hurry and, in a soft tone, says, "Ummmm, I guess so," while holding a placard reading, "I ALMOST DIED IN A FIRE."
The narrator in the video sympathizes with her, while everyone around is well aware of the young girl's rocky past. However, Andrea remained clueless about the surprise just a couple of minutes away.
Some social workers participated in the touching video in the background while Andrea busily flipped the placards, causing everyone to get teary-eyed.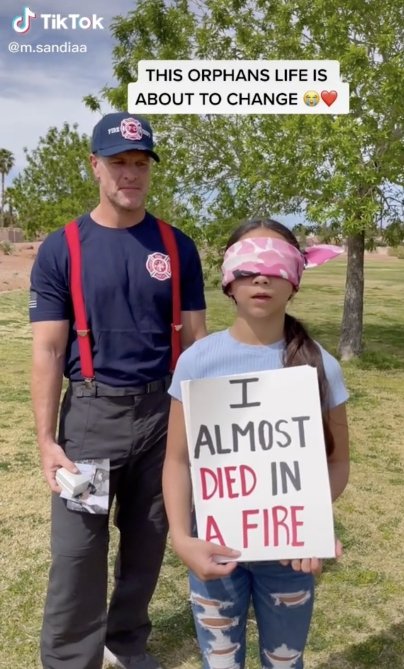 Andrea, the sole survivor of a fire accident narrates her story through signs | Source: TikTok/m.sandiaa
According to a bit of backstory, the girl in question lost everything after her house burned down back in the day. She lost her parents and dear sister to the tragedy, and being the sole survivor meant putting up with immense pain, particularly from all those memories she had of them.
"I HAVE NO OTHER FAMILY THAT CARES FOR ME," read one of the cards she flipped while a man stood behind her, gently patting her to ease her. But who was he? And how was he related to her?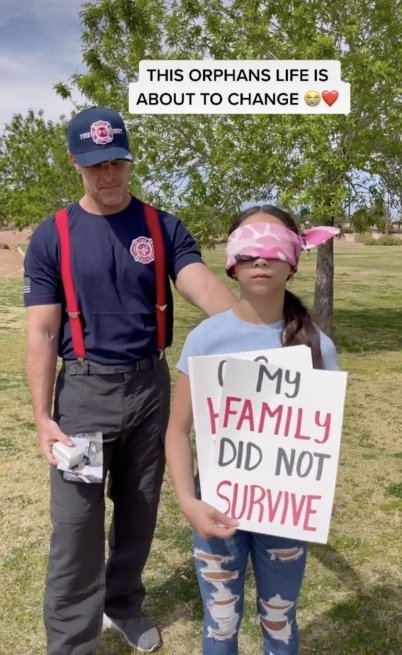 The girl lost her family one tragic night | Source: TikTok/m.sandiaa
The narrator then asks Andrea about her entering the foster care system, to which she shyly says yes. Behind those sheathed eyes of hers were several painful emotions waiting to be poured out.
"We're here for you, okay?" said the narrator while the little one once again answered "okay," flaunting the cards that read: "FIREFIGHTERS DID EVERYTHING TO SAVE US BUT MY FAMILY WAS TRAPPED."
However, the biggest surprise of all was yet to be unboxed.
The most painful moment came when the narrator asked Andrea if she had anyone to look up to since the tragedy. It was rightly timed when she flipped onto the sign that said, "THIS FIREFIGHTER FOUND ME."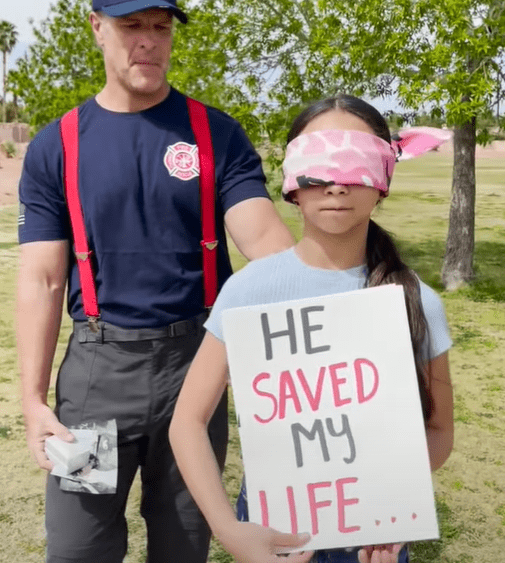 Andrea reminisced about the firefighter who saved her | Source: TikTok/m.sandiaa
Andrea said she looked up to a man named Marc. She recalled him saving her the night her family died in the tragedy.
"He saved me, and he's been there for me," she spoke in a soft, painful tone. The firefighter saved this girl and has often visited her since the accident.
He'd even introduced Andrea to his wife Laura and little Billy. "MY LIFE IS ABOUT TO CHANGE" read one of the last signs when the narrator finally announced the surprise they'd planned for her.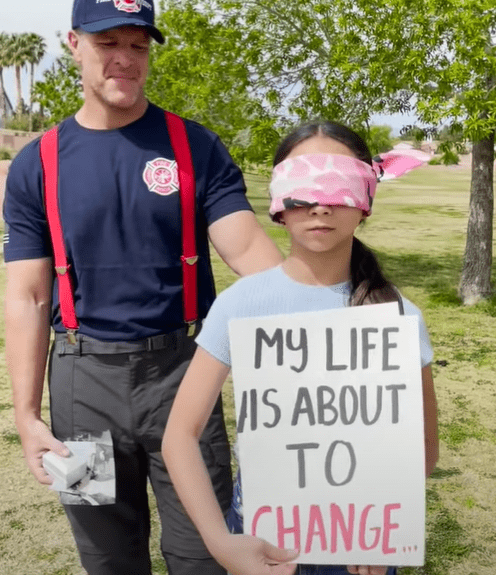 The young girl was unaware of fate's surprising twist that was just moments away | Source: TikTok/m.sandiaa
Stricken by curiosity, Andrea took off her blindfold and looked behind. "Look who we have," the narrator uttered as she turned to a familiar voice that said, "Hey squirrel!"
Andrea was overwhelmed and emotional as she hugged the man who saved her life. It was firefighter Marc all this while behind her! And not just that, he had a bit of a surprise for her.
Andrea expressed how hard it'd been for her since the tragedy. Marc sympathized with her and handed her couple of things that belonged to her parents, bringing gushes of emotions down her eyes.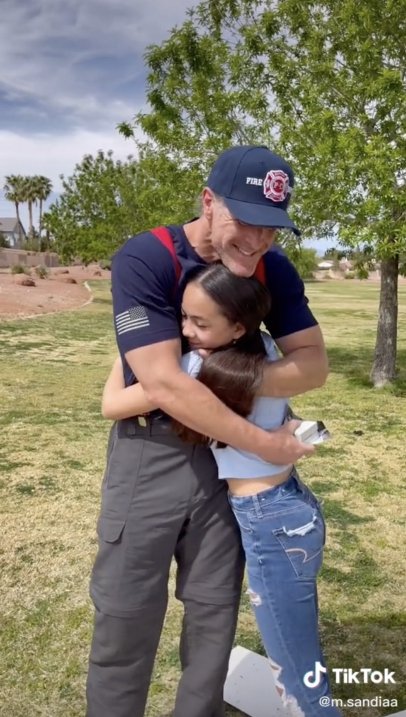 Andrea was ecstatic seeing her lifesaver | Source: TikTok/m.sandiaa
Marc gave Andrea a picture of her parents' wedding and then the one she took with her mom. The girl gaped at the photographs frozen in time, reminiscing about the good old times with her late family.
However, the biggest surprise of all was yet to be unboxed. "And, we also got something even better…and I think it's gonna really make you happy," said Marc, extending to her a little white box.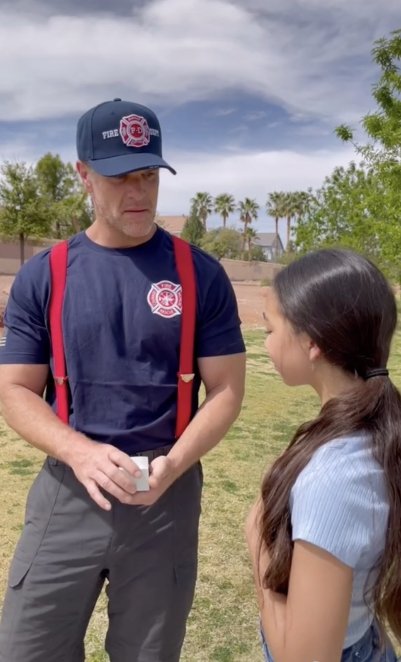 Marc showed the girl a little white box filled with tear-jerking memories | Source: TikTok/m.sandiaa
He gently flipped over the case and showed a couple of glistening ornaments. "This is your mother's wedding ring… and this is your dad's," he said as Andrea gasped in surprise.
He then gave the girl her mom's necklace, saying she should have them now. Andrea was staggered in joy as she held the special items close to her heart.
And just as she was lost in thought, Marc went on both his knees to comfort her. As she kept listening, he spilled the beans on a little "good news" for her, and the girl couldn't have asked for more.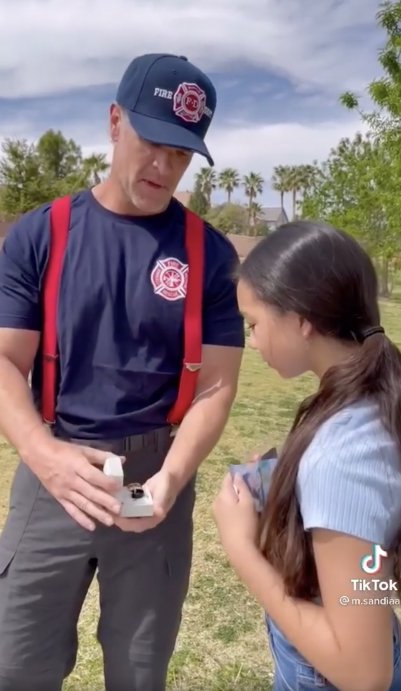 Andrea was dumbfounded on seeing the box's contents | Source: TikTok/m.sandiaa
Marc first told Andrea that he wanted to see how better she felt first. The girl gushed, "Oh my God," as though she knew what he was about to ask.
"We've been talking about adopting you," Marc told her while looking at her in the eye. "And, we want to be your guardian, okay?" he added.
A teary-eyed Marc wrapped his arms around Andrea, saying, "We want to take you home…we want you to share your life with us…Is that okay?"
Andrea, who was then drowning in a pool of hope and love, responded positively and hugged Marc, the man who was now more than her rescuer, a guardian, and a loved one!
Questions to Ponder:
Do you think time will heal Andrea's pain, and will she move on with her newfound family?
Andrea said that her tragic past placed immense strain on her present. And while she was doubtful of her future, Marc offered the most considerable comfort she needed with an adoption proposal. However, only time will tell if she'd get over her traumatic past and move on with her rescuer's family.
Had Marc's family not stepped forward to adopt Andrea, would she still have a bright future?
Andrea lost her family to the tragedy, and there was probably nobody she could turn to for support. She was almost on the verge of entering the foster care system and was relieved when Marc proposed adopting her. Needless to say, it's anybody's guess if she would've felt comforted without being adopted. At the same time, the question of her future remains cloudy unless she finds a good home and a lovable family.
If you liked reading this story, here's a touching story of an orphan girl and her little brother who find Christmas gifts on their doorstep.
All images are for illustration purposes only. Would you mind sharing your story with us? Maybe it'll change someone's life. If you'd like to share your story, please send it to info@amomama.com.
Please fill in your e-mail so we can share with you our top stories!