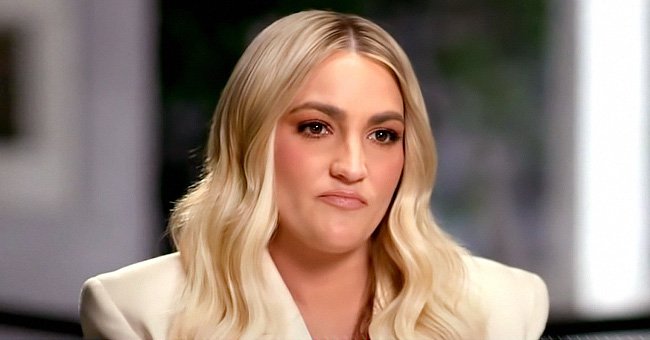 Getty images | YouTube.com/GMA
Jamie Lynn Spears to Separate from Family Including Sister Britney Who Used to Be Overprotective of Her
Complicated family dynamics are not anything new, and Jamie Lynn Spears recognizes this only too well. The actress and singer recently opened up about her need to separate herself from her family.
The "Crossroads" actress addressed her relationship with her older sister Britney Spears, saying she has always supported the "Toxic" songstress. However, their relationship fell apart following the end of Britney's conservatorship.
Britney first spoke out about her long-held conservatorship in June. The conservatorship was established 13 years ago, following her very public breakdown in 2008.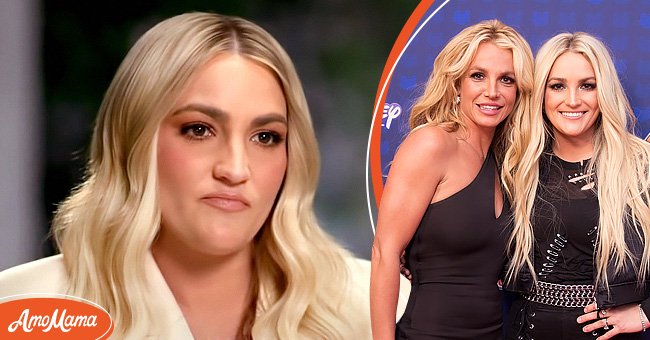 Left" Jamie Lynn Spears on Good Morning America | Photo: YouTube/GMA Right: Jamie and her sister singer Britney Spears | Photo: Getty Images
However, in November, a judge terminated the conservatorship, and since then, fans have attacked Jamie online, even sending death threats for allegedly not supporting her sister.
A sister bond that seemed unbreakable now hangs in the balance, and just last week, Britney unfollowed Jamie on Instagram. What exactly happened to the sisters who were inseparable only years back?
A LOOK AT THEIR ENVIABLE BOND
Despite being born a decade apart, the special bond between Britney and Jamie was always apparent. Being the older one, Britney always kept an eye out for her little sister.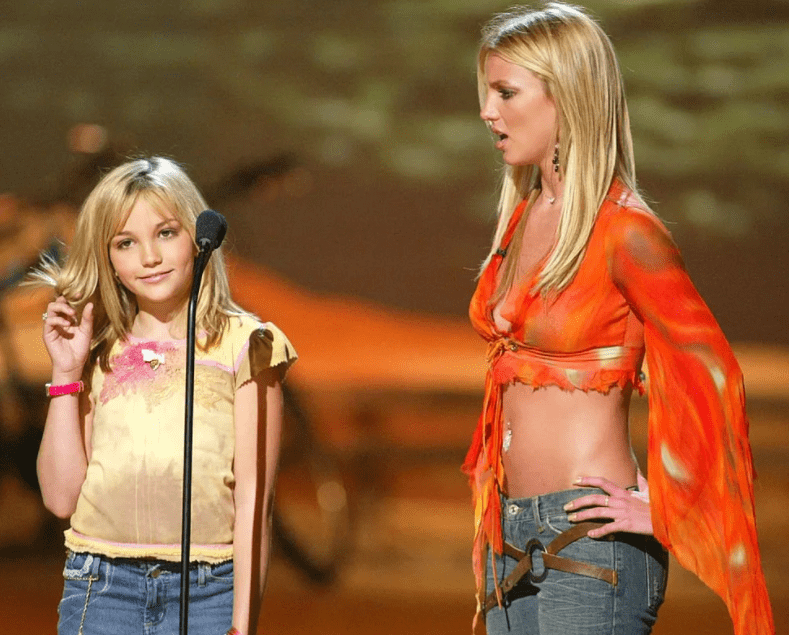 Britney Spears and Jamie Lynn Spears at The Teen Choice Awards, August 2002 | Source: Getty Images
When Jamie was just a kid, Britney disclosed that she was always overprotective of her. They were different in many aspects of their lives, but that did not stop Britney from being the loving big sister.
Britney often gushed over her little sister's personality, saying she would be excellent in the industry. And Jamie proved her sister right.
At only 11, she featured on Nickelodeon's "All That," then landed a starring role on "Zoey 101" in 2005. Their close bond remained strong, especially after Jamie became a teen mom.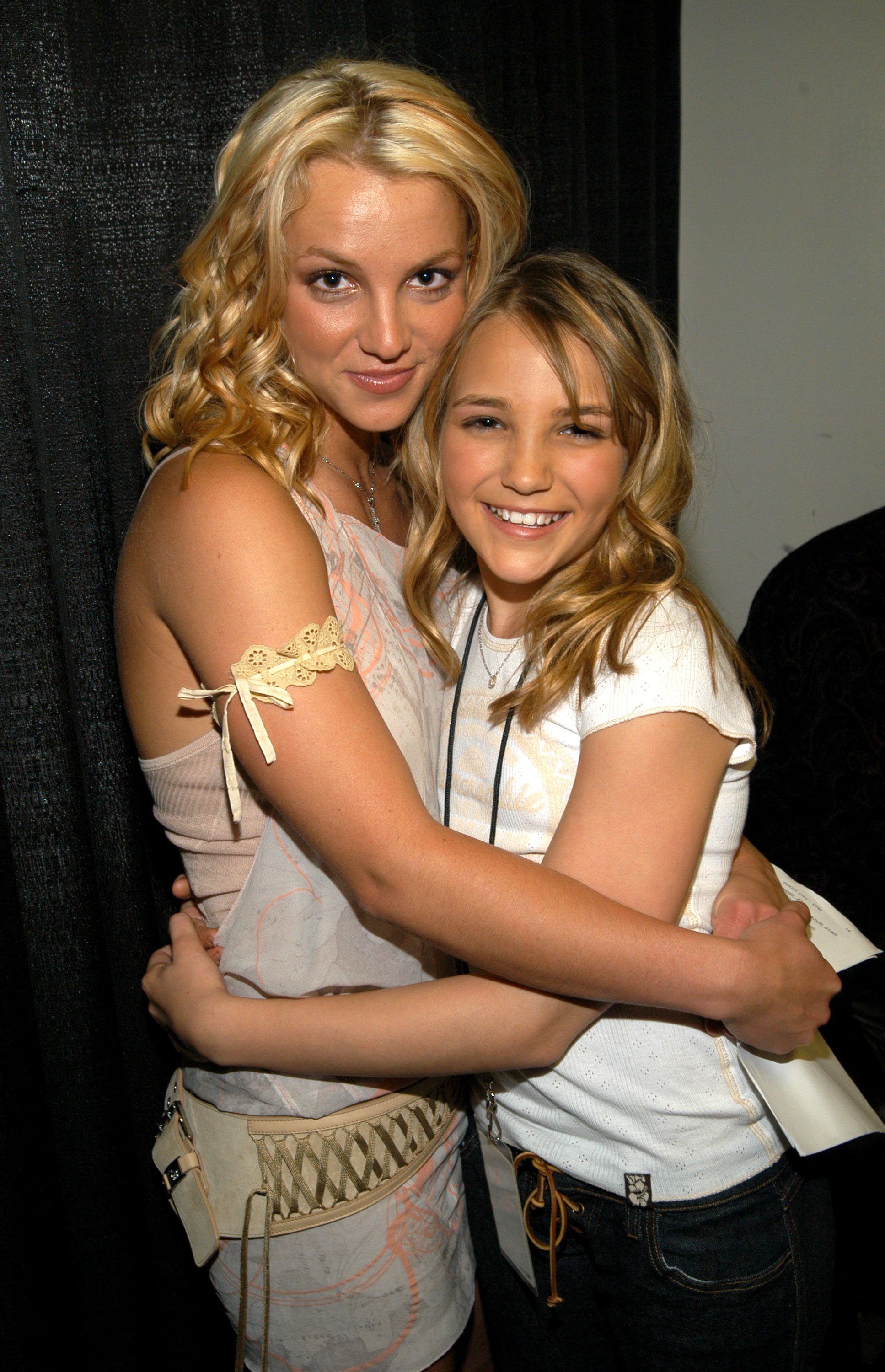 Britney Spears and Jamie Lynn Spears at the Nickelodeon Kids Choice Awards 2003 | Photo: Getty Images
The sisters had something else to bond over--parenting. As proof of their friendship, when Jamie's daughter, Maddie, hurt herself in an ATV accident and was hospitalized in critical condition in Louisiana, Britney flew miles to be with her sister and niece.
After keeping up appearances for years, Jamie confesses that no family is perfect.
Jamie doted on her nephews Jayden James and Sean Preston while Britney gushed over her sister's daughter. For a while, the sisters were inseparable.
WHEN DID ALL START GOING WRONG?
While the sisters always put up a united front, a deeper look into their relationship disclosed how many secrets the sisters kept from the world.
The explosive court testimony by Britney last June has put a clear perspective into just how strained their relationship has been over the years.
In 2018, The Blast obtained documents showing that Jamie had been secretly named a trustee in Britney's Trust. Being a trustee made Jamie responsible for distributing funds to Britney's children if the "Piece Of Me" singer died.
In 2019, Britney's long-time fans started a #FreeBritney movement, saying that the singer's conservatorship seemed to be affecting her well-being. Reports say Jamie criticized the initiative.
In 2020, Jamie reportedly filed for more control of Britney's Trust. All these seemed to strain the sisters' relationship, and in June 2021, Britney disclosed that she wanted to sue her family.
Addressing Britney's testimony in court, Jamie said she was proud of Britney for standing up for herself, adding that since she was born, all she did was love and support Britney.
However, fans were having none of it, and they came out to criticize Jamie, saying she had not offered support for the #FreeBritney movement. She even began receiving death threats.
Jamie has, however, defended herself, saying she was only a child when the courts established the conservatorship. She admits her sister was going through some tough times back then but reminds everyone that she had no part in what was going on.
"I was still a cheerleader, and I remember I'd go to games, and people would say stuff. I was so angry and sad and worried. I knew things weren't OK, but you don't know how to put that in words as a kid." She said.
As an adult, the court approached her again, asking her to be part of the conservatorship, but she declined, saying she wanted to remain Britney's sister and nothing more.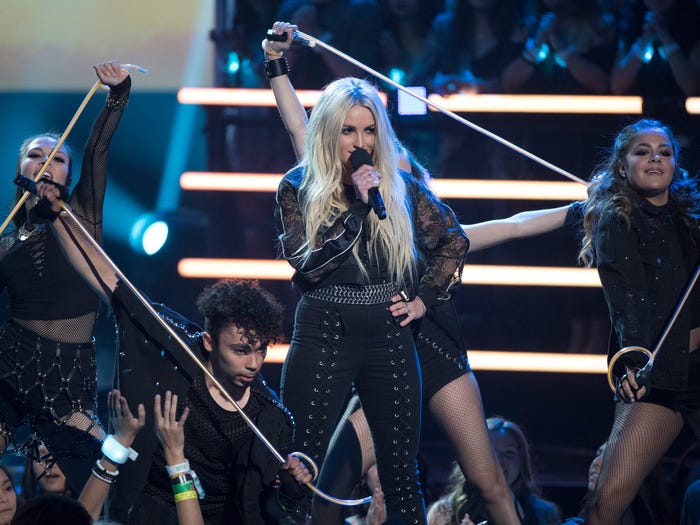 Jamie Lynn performed to remixed versions of Britney's old songs at the 2017 Radio Disney Music Awards. | Photo: Getty Images
Britney, however, appears to have a different opinion, and after her testimony in court, she slammed her family for not standing up for her.
In the since-deleted cryptic Instagram post, the "Circus" singer did not mention names, but the timing seemed to coincide with her mother and sister celebrating her win in court.
Britney wondered why they were going public with their posts when they did not support her when she was "drowning." She continued bashing and has been going at it for the last six months.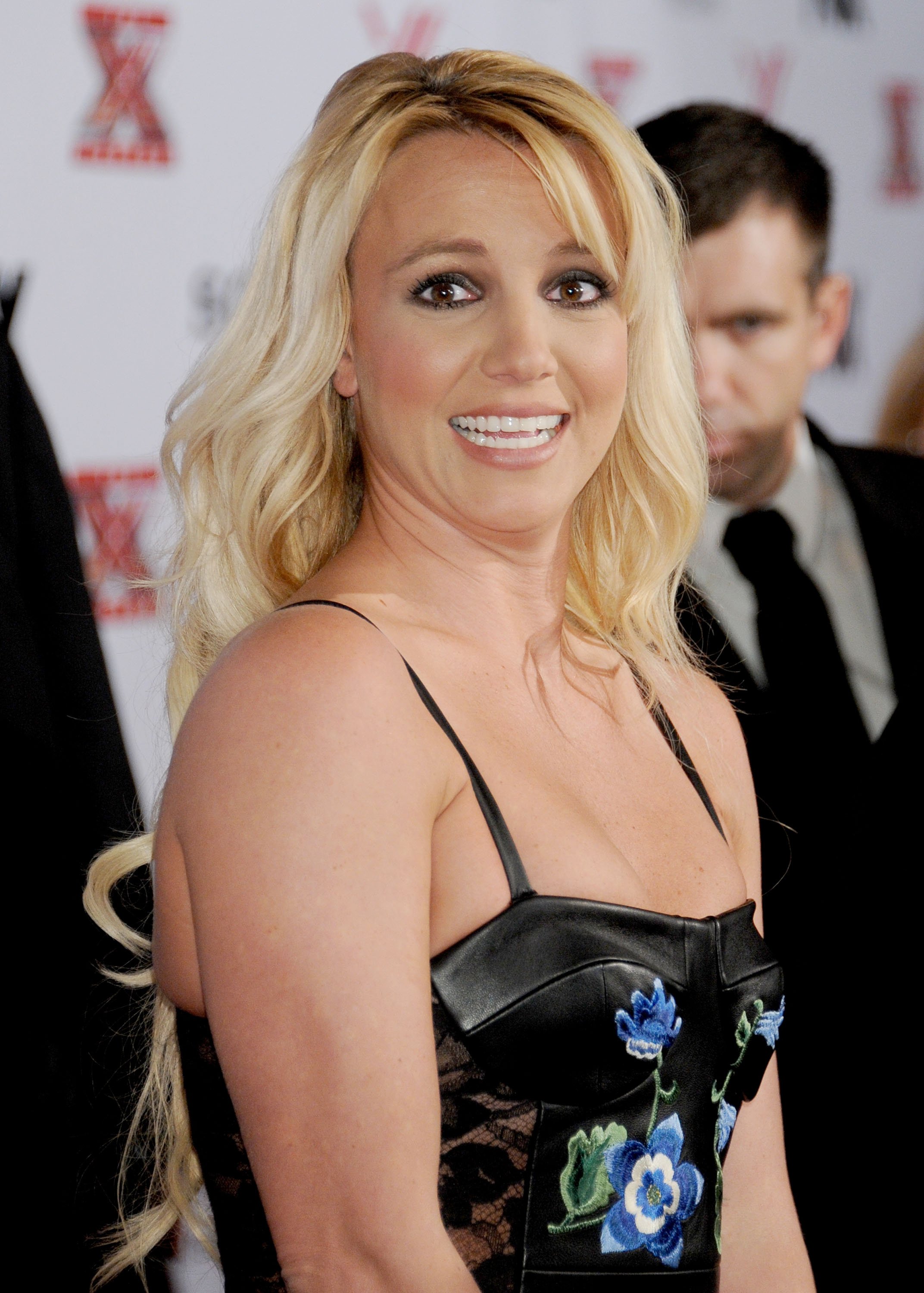 Singer Britney Spears arrives at FOX's "The X Factor" viewing party at Mixology101 & Planet Dailies on December 6, 2012 in Los Angeles, California. | Photo: Getty Images
In November 2021, Britney said that the authorities should jail her family for allowing the conservatorship to continue for as long as it did. She referred to the 13 years as degrading and demoralizing.
FOCUSING ON HER OWN FAMILY
Following Britney's outburst on social media and the subsequent criticism and threats from social media users, Jamie has disclosed that she will be separating herself from her family to focus on her own.
The "Sweet Magnolias" actress says she wants to pay full attention to raising her daughters Maddie, 13, and Ivey, 3. She says she is putting boundaries in place to protect her family.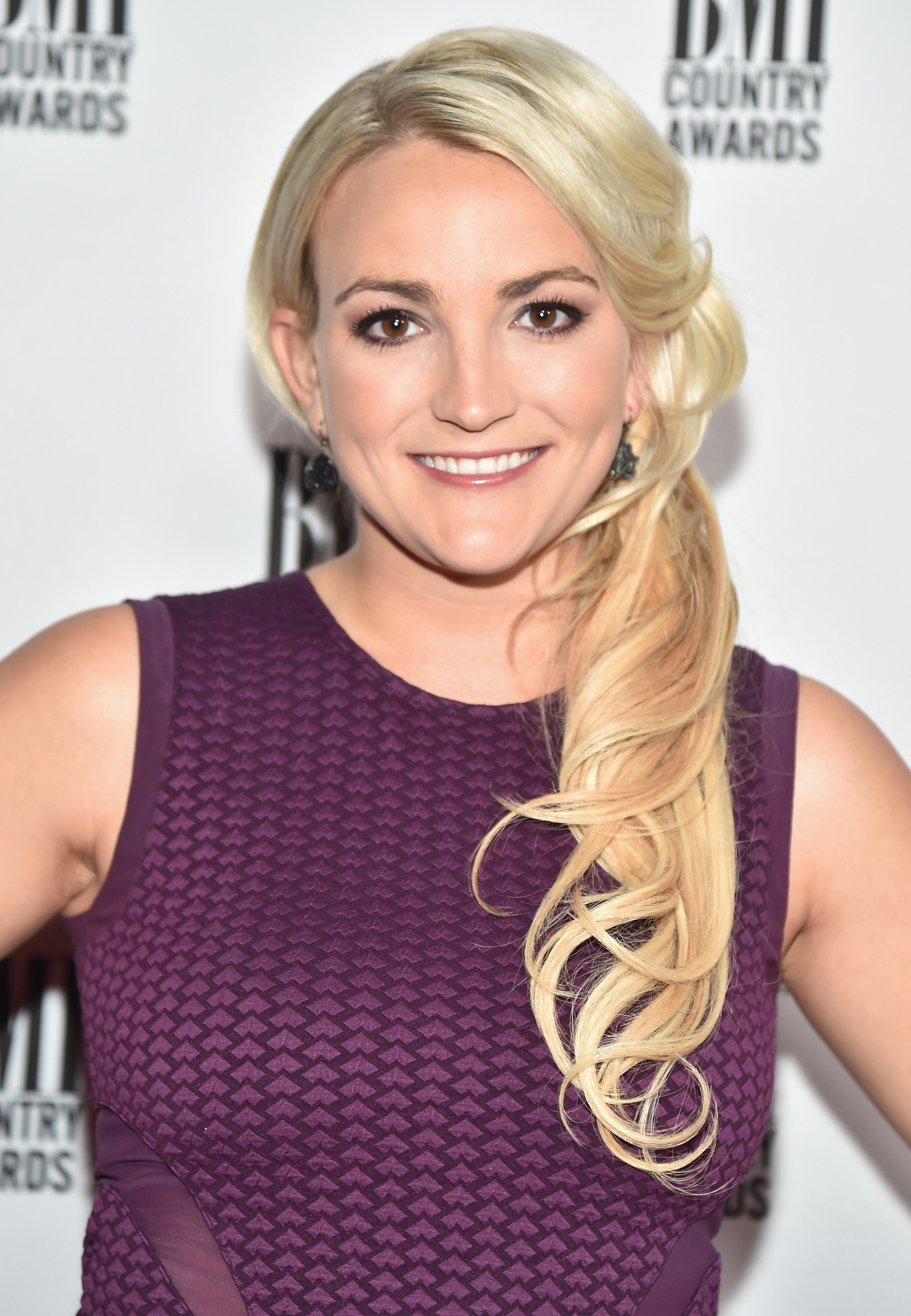 Singer-songwriter Jamie Lynn Spears attends the 64th Annual BMI Country awards on November 1, 2016 in Nashville, Tennessee | Photo: Getty Images
After keeping up appearances for years, Jamie confesses that no family is perfect. She declared, according to People:
"I am not my family. I am my own person. I fought very hard and worked very hard to establish myself and to build the life that I have today."
MEET JAMIE'S HUSBAND AND KIDS
Jamie was only 16 when she made the shocking announcement that she was expecting her first child with then-boyfriend Casey Aldridge. Aldridge was only 18.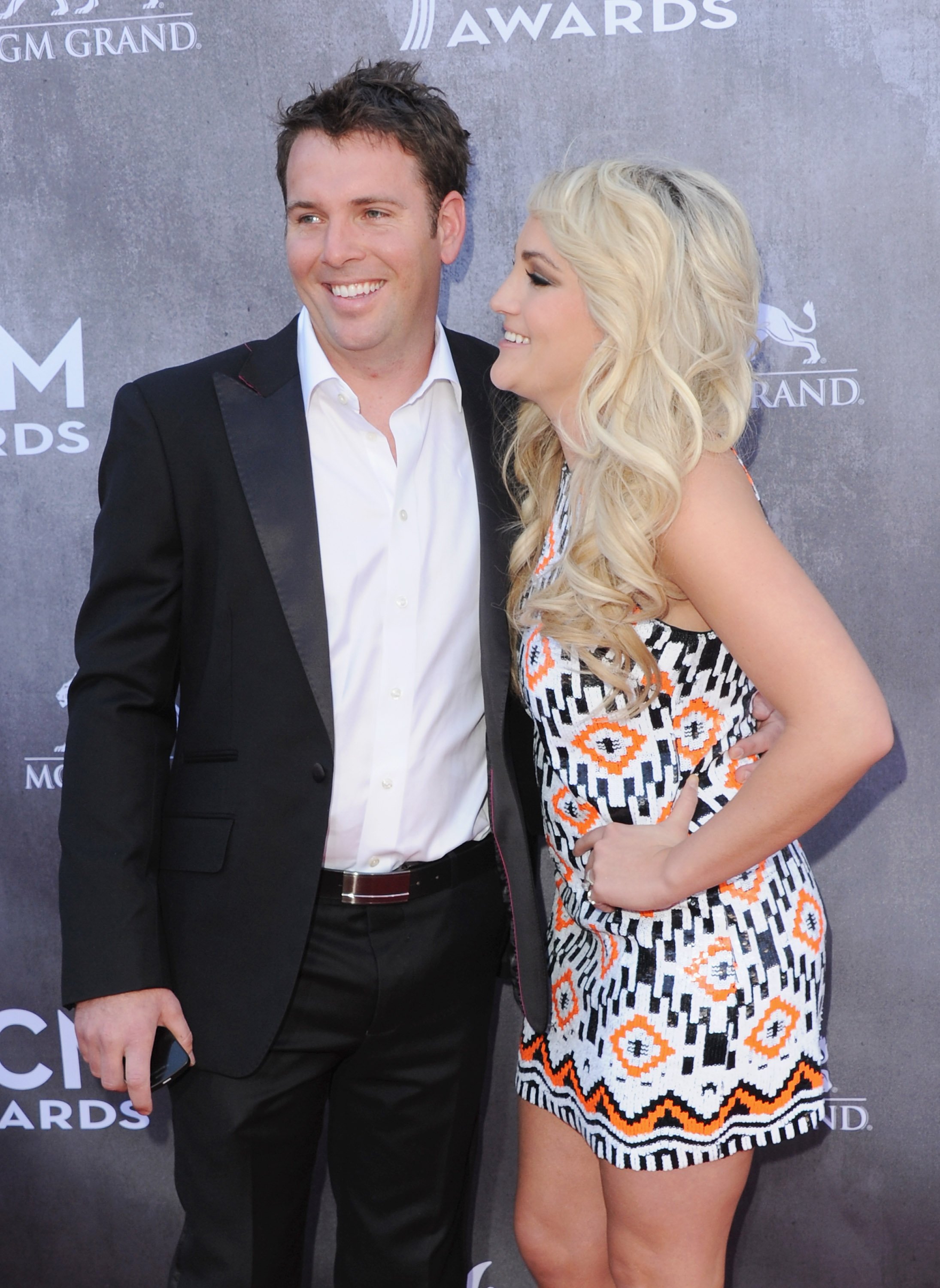 Jamie Lynn Spears and husband Jamie Watson arrive at the 49th Annual Academy Of Country Music Awards at the MGM Grand Hotel and Casino on April 6, 2014 in Las Vegas, Nevada. | Photo: Getty Images
The two had been going out for two years, and in March 2008, they got engaged. They welcomed their first child together, Maddie Briann Aldridge, three months later.
However, their relationship hit some hard time, and the following year, they called off their engagement. The "How Could I Want More" singer met her current husband Jamie Watson in 2010. They dated on and off before getting engaged in March 2013.
They got married in 2014 in New Orleans, and in 2018, they welcomed their first child together, Ivey Joan Watson. Watson is a businessman and the CEO of Advanced Media Partners.
Please fill in your e-mail so we can share with you our top stories!