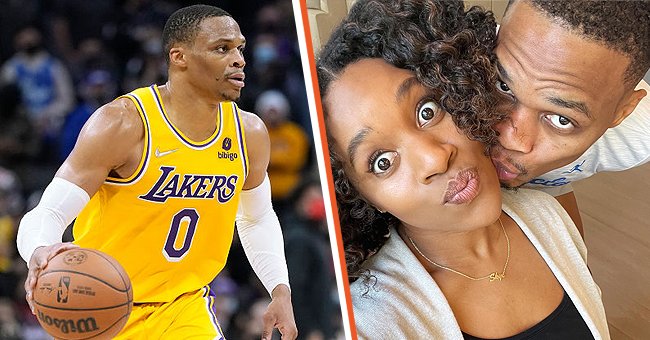 instagram.com/ninawestbrook | Getty Images
Russell Westbrook's Wife Is a Mom-Of-3 as Well as a Successful Family Therapist & Businesswoman
Basketball player Russell Westbrook's wife, Nina, stole his heart in University. The couple is happily married and busy raising their three adorable children and managing their impressive careers.
Los Angeles Lakers Point Guard Russell Westbrook has a beautiful family life with his wife, Nina Brooks, and their three adorable children, oldest son Noah and twins, Skye and Jordan.
The couple met when they played men's and women's basketball at the University of California, Los Angeles. They began dating, and in 2014, Russell proposed.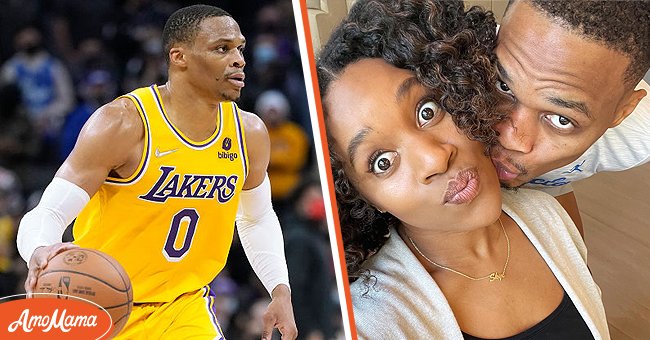 Russell Westbrook playing with the LA Lakers, 2021 [Left] Nina and Russell Westbrook posed for a sweet photo for Instagram [Right] | Photo: Getty Images & Instagram/ninawestbrook
At the time, Russell took to Instagram to share the exciting news by
captioning
a photo of Nina showing off her new ring with " "Nothing even matters.." 😘😍😘😍😘💎💍. @ninamari3_ forever, my lady! LOVE YOU!!!!"
The basketball-playing pair did not wait long to become husband and wife as just under a year after their engagement, they walked down the aisle and said, "I do." Their wedding was on August 29, 2015.
Two years later, the Westbrooks became first-time parents as their son, Noah Russell, was born on May 16, 2017. The following year in November, the couple welcomed their twin daughters, Skye and Jordan.
It is easy to tell Nina and Russell love being parents and spending time with their children as their Instagram accounts are filled with photos of their children from different celebrations and trips.
Although there is no doubt Nina is a doting mother to her children, she is not only a mother as she had made an impressive career for herself as a businesswoman and family therapist.
Nina founded two companies, Minibrook and Bene. Minibrook is a clothing brand aimed at young children. On their website, Nina shared her hope for the clothing company:
"My hope is to create stylish, well-crafted essentials that are responsibly crafted, comfortable, durable, and functional for your Mighty Mini's everyday adventures."
The clothing shop features t-shirts, pullovers, beanies, sweatsuits, and various bottoms, in timeless and contemporary styles that would add a chic touch to any child's wardrobe.
Her other company, Bene, is based on her qualification as a family therapist. The company provides workshops, tools, and resources for women and youth to help them through their journeys with wellness.
With two exciting companies, three incredibly beautiful children, and her loving and supportive NBA husband, Nina seems to be living a truly fulfilling and happy life. Fans can keep updated with her life through their websites and social media platforms.
Please fill in your e-mail so we can share with you our top stories!