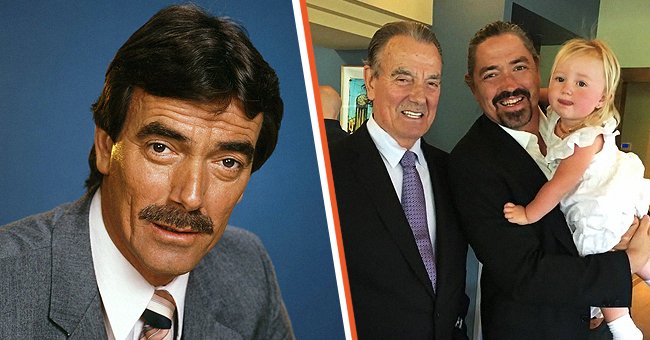 Eric Braeden | Eric Braeden with his son, Christian Gudegast, and his granddaughter. | Source: Getty Images | Twitter.com/EBraeden
Eric Braeden & Wife of 56 Years Who He Met in College Have a Son & 3 Grandkids
Eric Braeden found true love while he was in college. The actor married his college love in 1966, and now they have a son and three grandchildren. Slide down for more info on the new Braeden generation.
Famous for playing Victor Newman on the CBS soap opera "The Young and the Restless," Eric Braeden has had a tremendous impact on the movie industry. One of daytime's biggest and most successful stars, Braeden has it all.
From an envy-worthy career to his marriage that has been nothing short of blissful, Braeden lives a life many would wish for. Braeden's success credit doesn't go to his hard work alone but his wife's support which has been a great bust to his career.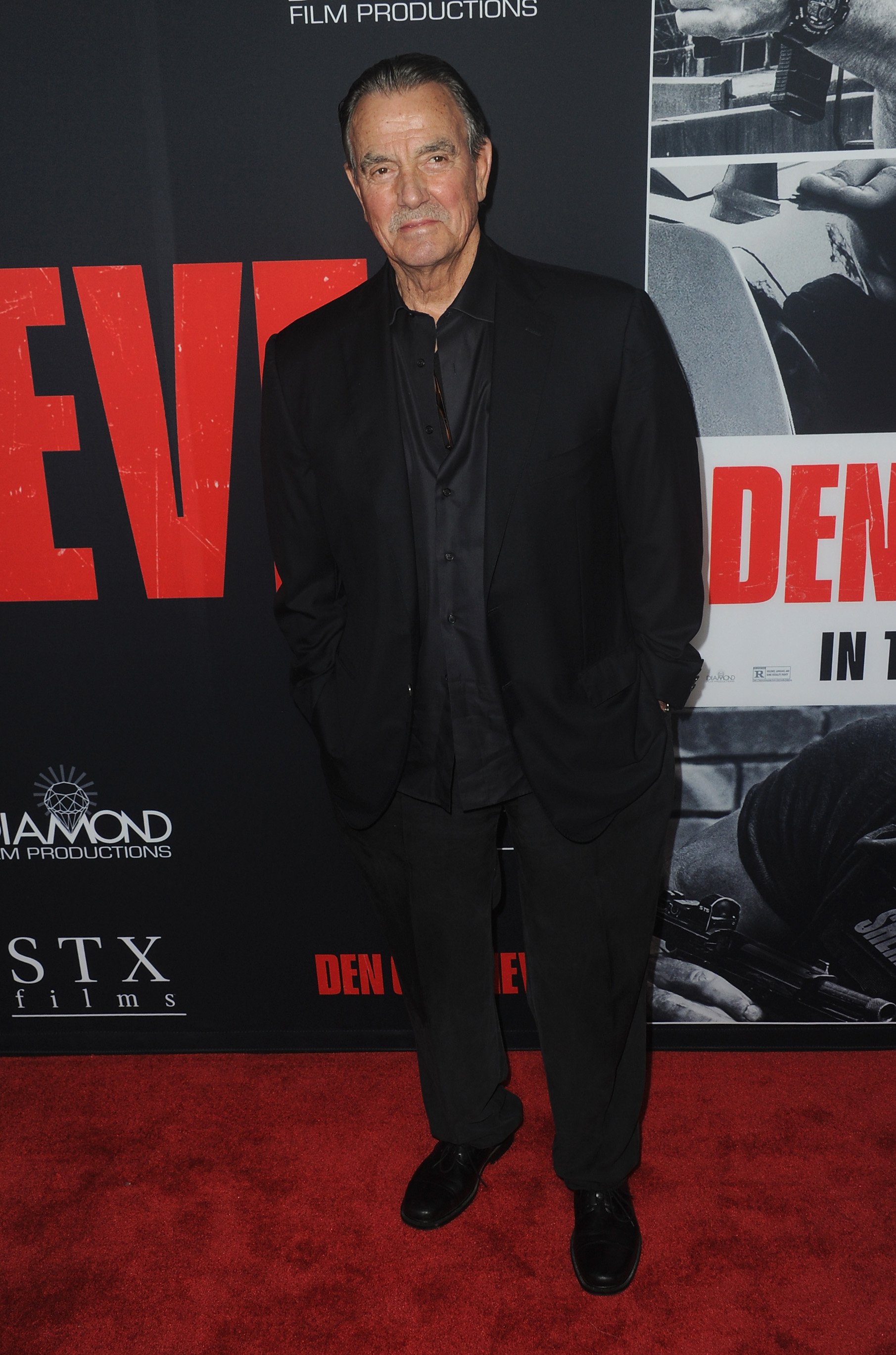 Eric Braeden pictured at the Premiere Of STX Films' "Den Of Thieves" held at Regal LA Live Stadium 14, 2018, California. | Source: Getty Images
Dale Suzanne Russell has been Braeden's wife since October 8, 1966. Although she keeps a low profile, the blond beauty is also an actor like her husband.
Born on June 21, 1942, in Los Angeles, California, Russell is most remembered for portraying a chauffeur in the film "Holiday in the Sun." According to certain sources, Russell had an estimated net worth of $0.1 million until 2019.
Since saying "I do" in the 1960s, Russell's marriage to Braeden has notably gotten stronger, withstanding the test of time. In 2019, the pair celebrated their wedding anniversary, with Braeden posting photos on social media to commemorate the day.
Over the years, Braeden has stopped at nothing in showering his wife with praises and publicly acknowledging her for her support that had helped their marriage and his career. The couple had only one son Gudegast, who is an actor in his own rights.
BRAEDEN ON 41 YEARS PLAYING VICTOR NEWMAN
While Braeden celebrated his 40 years on the hit series "The Young and the Restless," in 2021, he opened up about his life-changing role on the series, turning 80, and how he has remained fit. Reflecting on the 1973 series, Braeden said:
"I feel very loyal to The Young and the Restless, very beholden to Victor and very beholden to the audience who has supported us for all those years."
Braeden, who first appeared on the highly-rated daytime drama in 1980, went on to say he had always looked for "meaning in acting," but his years acting and his role on "The Young and the Restless" has made him understand that the essence of acting is to entertain the audience.
In addition to celebrating more than 40 years on the Emmy Award-winning series, Braeden celebrated turning 80 in 2019. The actor, who looks years younger than his age, acknowledged his good life as the reason for his fine health. But, on retiring, Braeden confirmed that wouldn't be happening anytime soon.
Braeden has notably been showing off his life as a grand-dad since the first time his son gave birth
However, the "Escape From the Planet of the Apes" actor wouldn't have achieved the success playing Victor Newman brought without his wife. During an interview on his memoir titled "I'll be dammed," Braeden reflected on Russell's support during id time on the daytime drama.
After introducing his book, the interviewer went on to ask Braeden to shout out to his wife for convincing him to continue his role as Victor when he wanted to chicken out after only one season.
However, during the interview, Braeden not only acknowledged his wife for encouraging him to resign on "The Young and Restless," but for her support through what he described as a "very tough business."
Meanwhile, it turned out Braeden didn't want to renew his role on the daytime soap opera because he didn't like soaps as it entailed too many scripts. But, Braeden made it known his wife helped him twice as she made sure he saw the long scripts as a challenge he had to face.
He also paid tribute to his wife for her support through the years on their 40th wedding anniversary. As the couple celebrated the special day, Braeden took to his Instagram page, sharing a photo of him and Russell with a caption that read:
"Through trials and tribulations our love has endured, our bonds have become stronger than ever!! And to think it all started in a strip club!! Happy 40th Anniversary to Mel!"
BRAEDEN'S LIFE WITH HIS FAMILY
Apart from a successful career, another thing Braeden is proud of is his family, which, as extended, his son Christian became a father of three. The "Titanic" actor's son, who he calls "the pride of my life," was born in Los Angeles, where he spends most of his time.
Christian Gudgeon, who attended UCLA's Film School, started his career in showbiz as a rap music video director before landing his first screenplay, "Black Ocean." Since rising to stardom, the screenwriter has had remarkable works in many productions.
Braeden is most proud of how his family has turned out. In recent times, the Hollywood icon who is now a grandfather looks forward to all the adventures that await him and his extended family.
Meanwhile, Braeden is enjoying life as a grandad these days. He once shared a photo on his official Twitter account, which featured Braeden's third generation. In the picture, Braeden, 81, posed alongside Hollywood filmmaker Gudegast and his little granddaughter.
THE BRAEDEN'S NEW GENERATION
Braeden has notably been showing off his life as a grand-dad since the first time his son gave birth. A photo uploaded by Scott crane on Facebook features the iconic grandfather looking all cool as he possed aside his grandkid.
Scott is Braeden's wife's nephew. His mother, Sigrid Valdis, was Russell's sister and an acclaimed actress who died October 14, 2007. She was known for the movies "Kraft Mystery Theater" and "Arrest and Trial."
The daytime big star's family has surely extended broadly, and some of his grandchildren are all grown-ups now. He once shared a photo of his eldest granddaughter and his son with a caption that got his 102k Instagram followers reacting with lovely comments.
Braeden's Instagram page also features a single snap of his eldest granddaughter. In the photo, she posed in a garden filled with lovely flowers wearing a blue top, dark shades, and blueprints skirt.
The doting grandad also has a photo of his "sweet grad daughter" on Twitter. The little girl was captured sitting on a house as she donned her protective helmet and boot, passing alongside a happy grandad. So for Braeden growing older has only been blissful.
Please fill in your e-mail so we can share with you our top stories!