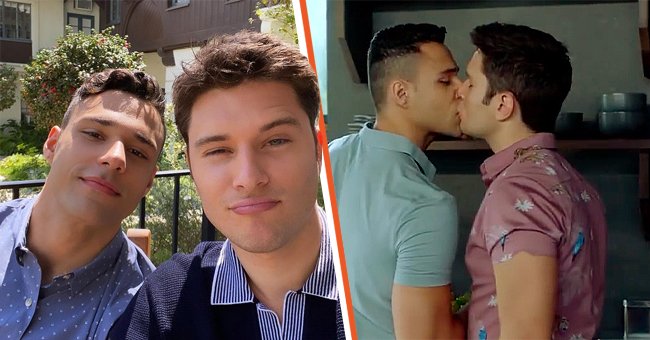 instagram.com/ronenrubinstein
Inside '9-1-1: Lone Star's' Ronen Rubinstein Personal Life Including Coming Out & His Girlfriend
Ronen Rubinstein's gay character, T.K Strand's personal life, stole the show in a recent episode of "9-1-1: Lone Star." However, Rubinstein's off-screen personal life is as interesting.
"9-1-1: Lone Star" Fans has fallen in love with Ronen Rubinstein's character, T.K Strand, Rob Lowe's character Owen's gay son on the beloved emergency drama.
Furthermore, the show's audiences have also enjoyed watching paramedic T.K. fall in love with the police officer, Carlos Reyes, played by Rafael Silva. He is openly gay in his personal life.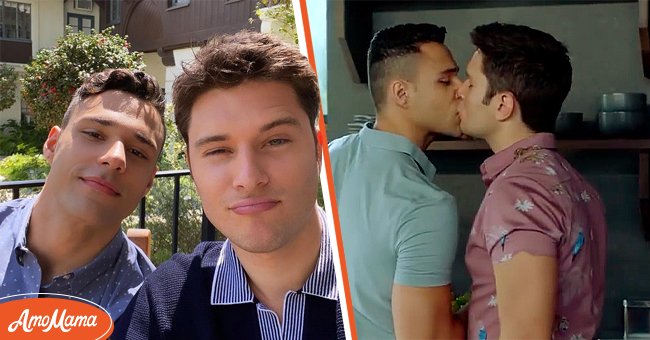 Ronen Rubinstein and Rafael Silva pictured together on Instagram, 2021 [Left] Rubinstein as T.K Strand and Silva as Reyes during a kissing scene in "9-1-1: Lone Star" [Right] | Photo: Instagram/ronenrubinstein
However, Tarlos (the T.V. couple's joint nickname) shocked viewers in a recent episode as they broke up without much explanation or context about what happened between them.
Moreover, the last episode left fans worrying about T.K.'s health as he is currently in a coma, while doctors have warned his family and friends that they might lose him.
Fortunately, during an interview with T.V. Insider, Rubinstein calmed the concerns about his character's health and love life as he said that the show would reveal more during the next episode.
In terms of T.K.'s condition, Rubinstein admitted T.K. does not die. However, the recent accident will affect him mentally and physically during the season as the showrunner, Tim Minear, did not want to issue to be resolved smoothly. Rubinstein explained:
"Our showrunner, the brilliant Tim [Minear], said that we're not just gonna fly by these sort of incidents anymore and we're actually gonna let them live and let them breathe."
Fans can also look forward to finding out the truth behind Tarlos's breakup and the reason behind it. Rubinstein is also optimistic that Carlos and T.K. will find their way back to each other.
The "Follow Me" actor said he does not think the characters will see other love interests. He shared Minear loves focusing on storylines that bring people together. Therefore, the show will probably focus on Carlos and T.K.'s journey back together instead of their breakup.
Rubinstein's real-life reflects his character as both have gone through a journey with their sexuality; T.K. is gay and falls in love with a man on the show, while Rubinstein recently decided to come out as bisexual.
During an interview with Variety in April 2021, Rubinstein said he identified as bisexual and was excited to talk about it because he finally felt comfortable being open about his sexuality.
His journey to self-acceptance was not easy as Rubinstein was used to seeing people treat the LGBTQIA+ community in a hostile and unwelcoming manner. He shared with the outlet:
"The biggest thing for me is where I come from, it's like people like me and people who have identified as bisexual or gay or as any part of the community, you're just not welcomed."
He explained that, in his experience, gay people faced being called profanities and slurs and the potential of getting beaten up. So he felt a lot of fear when trying to embrace himself.
Fortunately, portraying the other half of Tarlos made coming out a bit easier as fans of the pairing made Rubinstein feel safe and comfortable to embrace his sexuality and be happy about it.
The "Smiley Face Killers" actor shared with Variety that he wanted to share his coming out because he wanted people to know that his story is happy and hopeful.
He wanted others, especially queer youth, to know they were not alone and to feel okay to be themselves. Although his journey to self-acceptance was not easy, he hopes by sharing it, he can help others.
Another aspect of Rubinstein's life that made coming out difficult was his parents, Soviet Union immigrants. He opened up to People Magazine about his family in 2021:
"In the Soviet Union, the LGBTQ community was not welcomed at all, so I can't blame my parents for the way they were raised and what they were taught."
Fortunately, Rubinstein created his chosen family who supports him. His support network includes his costar Silva, his stylist Chaise Dennis and his longtime partner, Jessica Parker Kennedy.
Kennedy is a Canadian T.V. and film actress. She is known for her role as Lucy the Elf in "Santa Baby" and "Santa Baby 2." She also has T.V. credits for "V," "Undercovers," "Smallville," and "The Secret Circle."
The actress has supported Rubinstein since "day one." He can talk to her about topics he cannot speak to anyone else. The couple first discussed Rubinstein's sexuality after watching a steamy Tarlos makeout session.
Kennedy asked him if there was anything they needed to talk about, and Rubinstein used the moment as a way to come out to her. According to the "Dead Of Summer" star, Kenndy handled the news respectfully and graciously.
Although onlookers might wonder if Rubinstein's coming out negatively impacted their relationship, Kennedy and Rubinstein are still together and regularly share their support for each other online.
In May 2021, the in-love couple celebrated their fourth anniversary together. Kennedy posted an adorable photo of the couple cuddling under a blanket, which she captioned "4" to commemorate the milestone.
Two months later, Kennedy showed her how proud and supportive she was of Rubinstein's coming out journey as she shared a fantastic sketch of Rubinstein wearing a jacket in the bisexual flag colors, pink, purple, and blue.
Alongside the gorgeous sketch by artist Jay Halstead, Kennedy wished her boyfriend a happy pride as it was his pride celebration after coming out.
Rubinstein has also shared his love for Kennedy on his own Instagram page. In September 2021, he posted a photo of Kennedy and their two adorable dogs.
In the caption, Rubinstein described what his precious pets and beautiful girlfriend meant to him as he captioned it "My Family" and added there were more photos to come.
Fans of Kennedy and Rubinstein can keep up to date on their relationship and life through their respective Instagrams, where they share adorable photos and promote their recent projects.
Please fill in your e-mail so we can share with you our top stories!