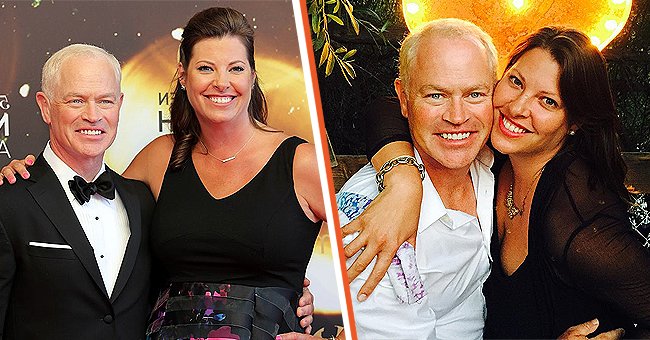 Neal McDonough with his wife, Ruve McDonough | Source: Getty images | Instagram.com/neal_mcdonough
Neal McDonough Was 'Crushed' & Lost House after He Refused to Cheat On His Wife for Movies
"Desperate Housewives" Actor Neal McDonough has appeared in several features. For the many years, he has thrived in Hollywood, the celebrity has not fallen prey to controversial stories in the hands of the media. Here are details of his lifestyle and family.
Neal McDonough is an iconic actor thanks to his peculiar acting skills, looks, and beliefs. The gentleman with numerous TV credits charms viewers with his fierce blue eyes combined with a dove-like smile.
It does not matter whether he plays the hero, villain, lead role, or a minor character in a film, Neal is incredibly talented at interpreting any character, which has earned him the hearts of many, including producers and fans.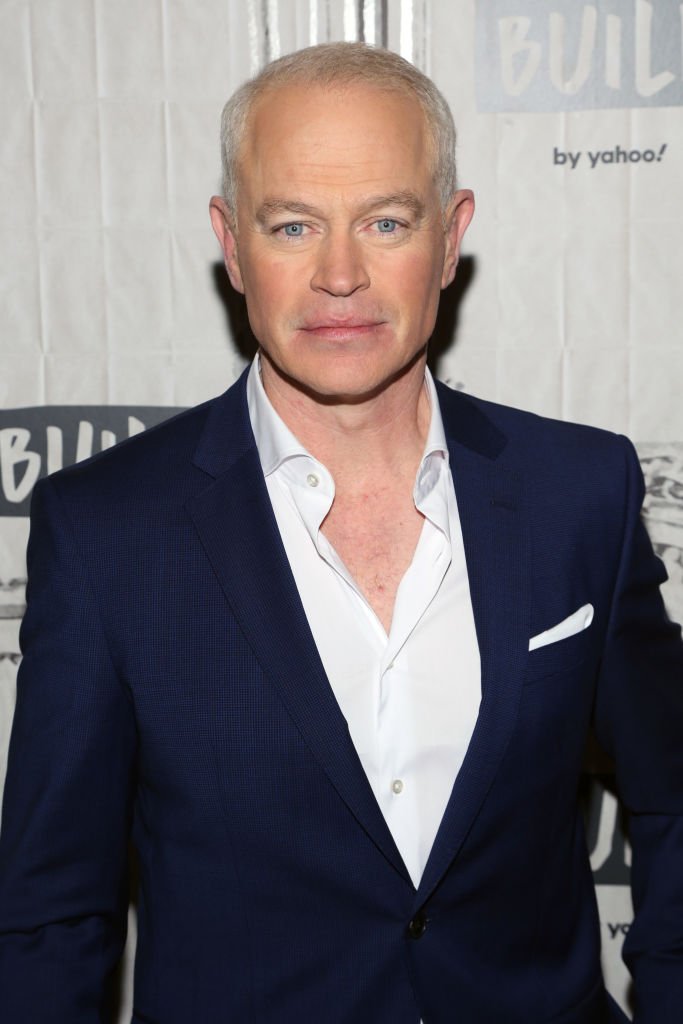 Neal McDonough attends Build Series to discuss "Project Blue Book" at Build Studio on January 16, 2020 | Source: Getty Images
Away from the movie world, the actor is a devoted Catholic who adores his family — a wife and five kids. Neal's family values, mixed with his religion, patterns his lifestyle.
At 57, with a happy family, popularity, and a stable paying job (acting), it would not be easy to believe that the actor once had it rough. Neal was fired from a show because he refused to cheat on his wife by playing a sexual scene.
Upholding his beliefs made it challenging to be accepted by producers, which pushed him on the unemployment line for more than a year. Thankfully, he held his phenomenal views firmly, and the actor is now an inspiration to millions of people worldwide.
HOW NEAL MCDONOUGH MET THE LOVE OF HIS LIFE
Neal, of Irish descent, has been married to his beloved partner, Ruve McDonough, for almost twenty years. Their admirable love story began in London when the actor was filming "Band of Brothers" in 2000.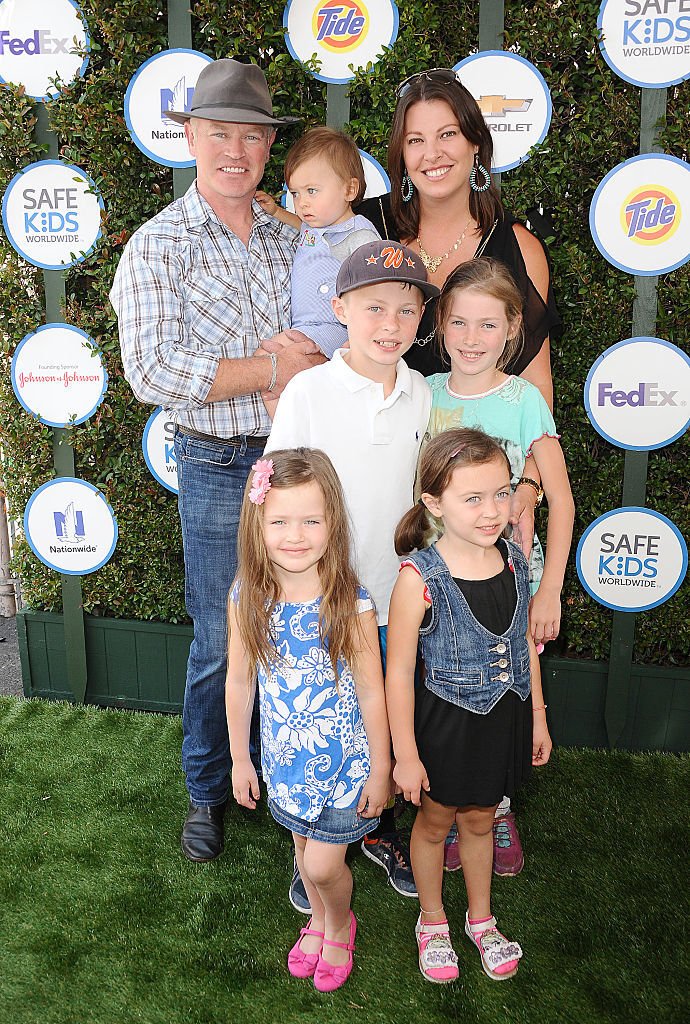 Actor Neal McDonough, wife Ruve McDonough and children attend Safe Kids Day at The Lot on April 26, 2015 | Source: Getty Images
The on-screen star had had too much to drink when he bumped into Ruve, a former six-foot-three model who worked with public relations. It was St. Patrick's holiday, and she commented on his height, saying, "You're tall."
To Neal, it was not a compliment, so he turned to walk away. The former model stopped him with her words, noticing his nationality. This birth a connection, and the pair became husband and wife three years later.
While it seemed like love at first sight, as he has often described it, their relationship came at a price. Neal had to end his romance with another woman he was dating before meeting Ruve. He did it over the phone; after apologizing, the movie star added that he had met his future wife.
Despite it being a hasty conclusion, it became a reality. The duo had a lovely wedding ceremony, followed by a seven-week honeymoon tour worldwide, including London, Cape Cod, Oahu's North Shore, South Africa, and Santa Barbara.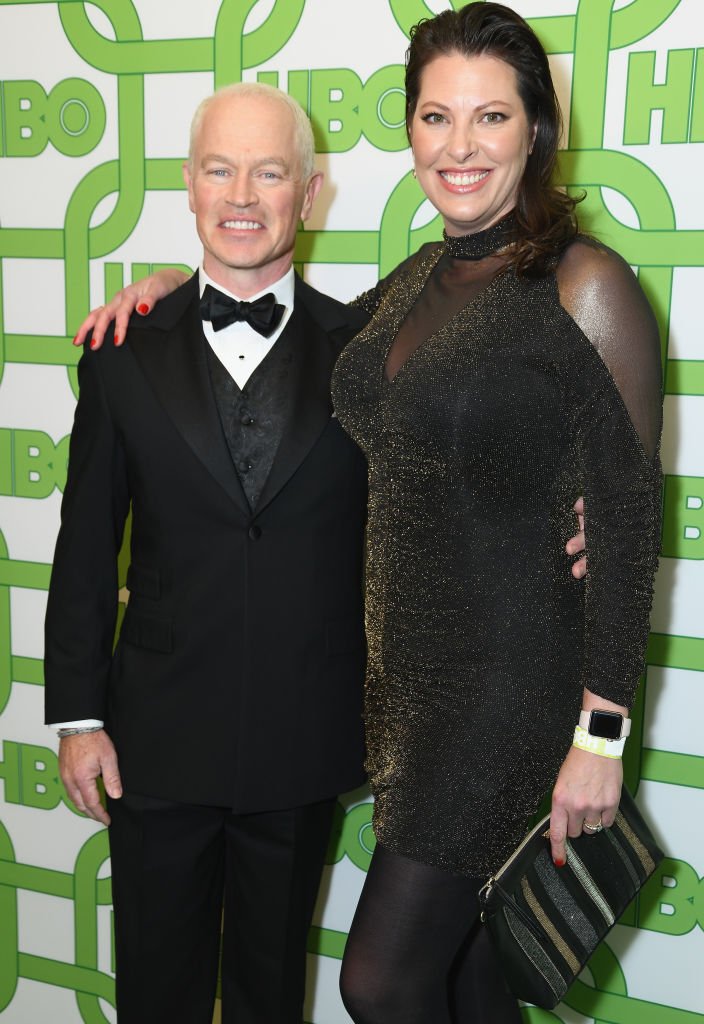 Neal McDonough and Ruve McDonough attend HBO's Official Golden Globe Awards After Party at Circa 55 Restaurant on January 6, 2019 | Source: Getty Images
Ruve worked as a bikini model in South Africa after attending Empangeni High School. These days, she is dedicated to her family and loves to keep fit while training her kids.
The couple share five kids. Neal joked that the number was somewhere in the middle of his family and Ruve's. His parents gave birth to six kids, while his wife had two siblings, hence five is in the middle of both numbers.
Their first child, Morgan Patrick, was born two years after their wedding, followed by Catherine Maggie, London Jane, Clover Elizabeth, and James Hamilton, who came in 2014.
NEAL'S WIFE IS HIS "STEAK AND WEAPON OF CHOICE"
Neal's 19-year-old marriage is one of the most talked-about in Hollywood. This is because it defines the roles he plays on TV. More than once, the actor has stated that he would never kiss another woman other than his lady.
A year ago, during a red carpet interview, the proud family man stood closely with his six-foot-three-inches wife and confessed that his marriage is "paramount" and worth molding. Neal also said:
"Why go out for a hamburger when I have a steak at home."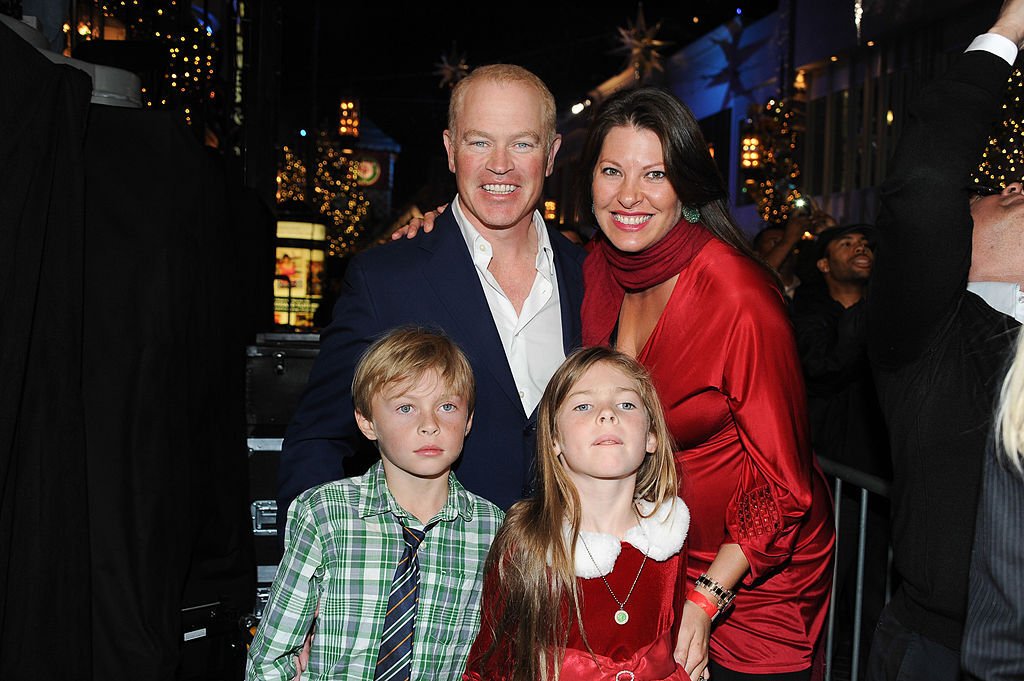 Neal McDonough and Ruve McDonough attend HBO's Official Golden Globe Awards After Party at Circa 55 Restaurant on January 6, 2019 | Source: Getty Images
Whether it is a story surrounding his undying love for his wife or a movie feature, Neal has a way of infusing his love life into it.
For example, in another refreshingly honest interview citing his all-powerful Damien Darhk character on "Arrows," when asked how he would fight to ward off zombies, the actor said he would fight with his wife as his weapon of choice.
Neal claimed Ruve could beat the bad guys and that she is very powerful before adding, "The love of my life. I am the luckiest guy in the world to have her."
Interestingly, the actor is very truthful and has admitted that their sweet love story has its struggles, like every marriage, where everyone makes mistakes. However, what distinguishes them is their ability to rise above their errors and be excellent role models to their kids.
This happens by the constant display of love, as well as exercising belief in God, who forgives all sins and gives multiple chances.
NEAL MCDONOUGH REFUSED TO CHEAT ON HIS WIFE
Neal's acceptance of his Catholic faith started at a young age. He refused to join the bandwagon of teenagers displaying troubling behavioral patterns from his days in high school.
Although it was not easy, he pulled through and never strayed from his faith. Years later, after creating his acting portfolio while getting ready to take the world by storm, he went through a tough time for his beliefs.
The producers of the ABC sitcom "Scoundrels" wanted him to kiss a woman on-screen because it was part of the script and would be suitable for their rating. Neal refused, stating that he was not comfortable with the idea and considered it cheating on his wife.
His excuses did not concern the network, as they fired and blackballed him. He lost his mansion in Los Angeles and was jobless for two years. It also affected his self-confidence, but Neal remained rooted in his belief. Decades after the disappointment, he told his audience at a Catholic Conference that:
"I was really crushed. They thought that I was some religious zealot, but to me, it was just that I didn't think it was the right thing to do. And also I really love my wife. These lips are meant for one woman."
THE ACTOR'S CHILDREN AND FAMILY LIFE
Ruve is not the only person who gets praised by the Hollywood star. The father of five is very generous with his love, especially for their large family. A few years ago, after the birth of their last child, he revealed that they would stop at five.
The actor compared his childhood, where having six kids was a norm, to the present, where the number had reduced. Still, he admitted to being in love with his phenomenal family.
Neal explained that he never liked being away from home and when he is out shooting a film, he feels miserable. However, after time on set, when the other cast members hang out to cool off, he goes back to the hotel room to Facetime his clan.
The "Arrow" star is an exceptional man with love for his family, religion, and career. Yet he shows that he would never sacrifice the first two for fame or fortune. To him, having a great family and God's approval is all he needs.
Please fill in your e-mail so we can share with you our top stories!