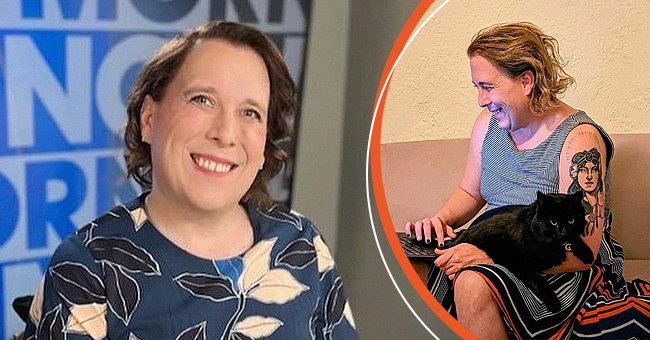 instagram.com/jeopardamy | twitter.com/Jeopardamy
Jeopardy' Queen Amy Schneider Was Married to a Woman, Now She Is in Relationship after 'Love at First Sight'
Amy Schneider celebrates another achievement on the quiz show, "Jeopardy." She currently has the show's second-longest winning streak. Here's more about her life.
Amy Schneider is the name on everyone's lips following her recent feat on "Jeopardy." Schneider, an engineering manager from Oakland, has broken several records on the popular game show.
The calm-looking female champion has enjoyed playing "Jeopardy" since she was a little girl. Her win is a turning point for the entire transgender community, which Schneider proudly belongs to.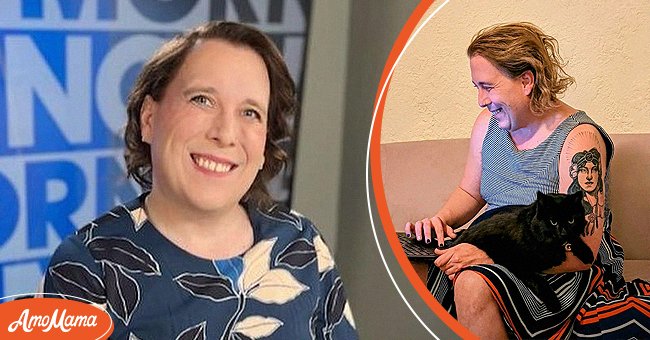 Photo of "Jeopardy" star, Amy Schneider on the show [left]. Photo of "Jeopardy" star, Amy Schneider working at home [right]. | Photo: instagram.com/jeopardamy twitter.com/Jeopardamy
Following her win, Schneider became "Jeopardy's" most successful woman, as well as the first transgender contestant to qualify for the Tournament of Champions and the highest-performing transgender person in its history.
THE BIG QUEEN OF JEOPARDY
Schneider is a competitor on "Jeopardy!" who just became the show's top female earner and only the fourth person to win more than $1 million in prize money. In her quest to become the new queen, Schneider broke Matt Amodio's record of 38 games. The record was only set in October 2021.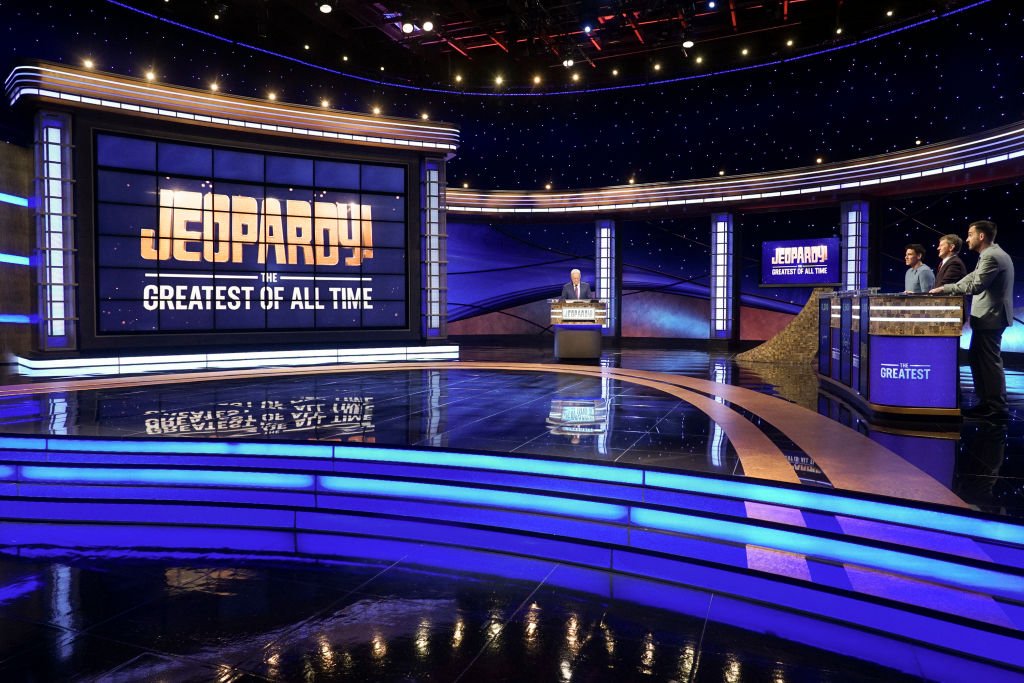 JEOPARDY! host Alex Trebek and contestants filming an episode of the show on December 11, 2019 | Photo: Getty Images
Ken Jennings, the winner of "Jeopardy's" Greatest of All Time tournament in 2020 and the present anchor of the televised quiz show, retains the record of most consecutive games with 74, set in 2004. However, Schneider's victory has placed her in an elite circle.
On the night of her victory, Schneider proved too much for her opponents, Joanne Mercer, a registered nurse from Toledo, Ohio, and Erin O'Leary, an attorney from New York City. The current champ racked up a whopping $37,600. Mercer and O'Leary followed suit with $4,200 and $800, respectively.
Schneider's total for the first 39 days is $1,319,800, putting her in the fourth position for regular season play winnings, almost $200,000 behind Amodio's $1,518,601. James Holzhauer is in second place with $2,462,216, just below Jennings' winnings of $2,520,700.
Unlike other high-earner champions like Holzhauer and Amodio, Schneider said in a recent interview with USA TODAY that her game is not down to too much strategy; instead, it's all about instinct and guts.
When asked about her secret, Schneider said, "I'm not really sure about a lot of it; I never expected to do this well, but I think the main secret is just being curious and spending my life learning a lot of stuff."
While she never expected her success, the signs of her fame on the popular game show have been there for ages. Schneider was voted the most likely to be on "Jeopardy," following her strong spelling skills and other abilities.
Following her record achievement, Schneider has a series of options available to her, and she intends to use her newly found fame to move her ambitions forward. For a start, she might consider publishing a book where she would detail her adventure.
Since she was a little girl, Schneider has always been different. But, now that she has found fame, the 42-year-old is bent on making a difference. Schneider uses her platform to raise awareness about transgender issues and her personal life.
Schneider said she suffered from identifying as transgender due to the stigma associated with being transgender in her native Ohio. Schneider said she thought only drag queens and prostitutes were transgender, which delayed her acceptance.
She told Yahoo, "that was definitely one of the factors that held me back from realizing I was trans for so long: I wasn't either of those things." Schneider complained about the bias transgender people suffer in society.
Schneider uses her Twitter page, which has about 20,000 followers, to share her life experiences, including her struggles growing up. According to the "Jeopardy" champ, her college years were spent fighting depression and were emotionally rough for her.
Schneider said she just wasn't functioning in college and did not realize it at the time. But living a fake life was a challenging experience. Her internal battles led her to believe she was anti-social, but she enjoyed her true social potential since she came out.
AMY SCHNEIDER WAS MARRIED
Schneider also revealed a huge part of her personal life to fans, who now admire her as a leading ambassador for the trans community. In a long thread on Twitter, the 42-year-old revealed she was once married before transitioning into a woman.
Schneider disclosed that despite the rough years in college, she never lost her passion for the stage. Shortly after college, she pursued her desire for a theater performance.
It was during this period that she met her wife. She wrote in one tweet, "I kept acting all this time, and after college, I met my wife while doing Taming of the Shrew.
She was playing the titular shrew, and I could make some joke about omens since we ended up divorcing, but that's unfair to a woman I loved for many years, and we're still friends."
Their romance ended in 2016, according to another Twitter post Schneider shared. Listing a series of events that made the year special, she added, "my wife and I split up, I realized I was trans, and Trump got elected. It was quite a year!"
There are some rumors that Schneider's ex-wife could be Kelly Anneken. However, the historic champ has found herself a new heartthrob. Schneider is in a romantic relationship with her girlfriend, Genevieve.
According to her, it was love at first sight. Schneider met Genevieve through one of her friends. Schneider opened up on how she felt when they first met in a Twitter post she shared.
She wrote, "Now, I'd never really believed in "love at first sight," and maybe I'm just retroactively projecting my feelings back onto that encounter, but I swear I knew when she walked in the door that she was going to be in my life for a long time."
According to Schneider, they did not start dating until February 2021. However, they shared a close bond and believed they had a future together. They completed their family in March last year after adopting their cat, Meep.
Please fill in your e-mail so we can share with you our top stories!