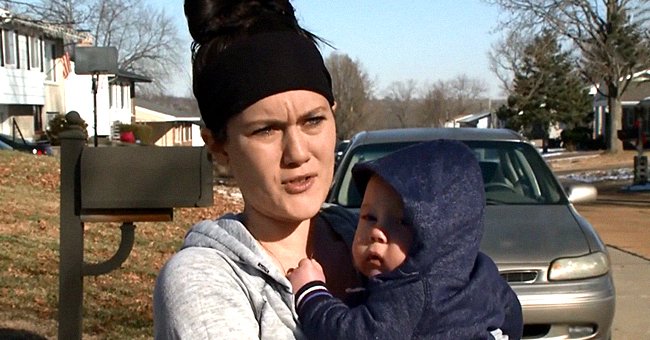 facebook.com/WPSDLocal6
Woman Hears a Knock and Someone Running, Opens Her Door to Find Baby on the Porch
Christmas took an abrupt turn for a couple when they heard noises outside their home in 2017. The husband rushed to the door and found an unexpected delivery.
Laura Rosener and her husband were getting ready to go out for a Christmas celebration when something outside caught their attention. Rosener's husband opened the door and was shocked when he saw a baby on his porch in St. Louis, Missouri.
He informed his wife that there was a child outside their door. Rosener initially thought someone was playing a prank in the neighborhood, but she soon discovered that was not the case.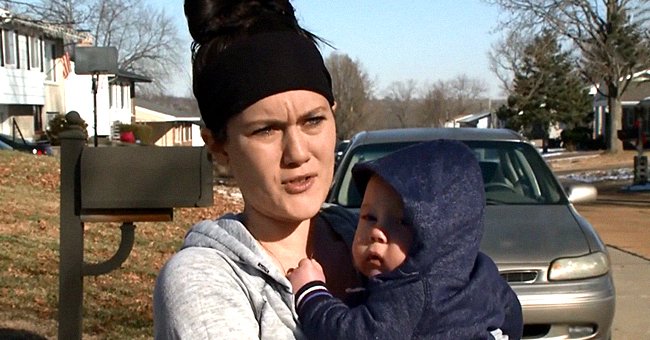 D'anna Williams and her young son who was in their vehicle when it was carjacked | Photo: facebook.com/WPSDLocal6
A BABY OUTSIDE THEIR DOOR
Rosener explained: "I'd just finished feeding my newborn, and there was a knock at the door, then footsteps running down the stairs, then, a car drove off quickly." The couple thought a hasty UPS delivery driver had dropped off a parcel.
However, they soon realized there was something else going on. The Rosener's did not see who dropped off the baby and knew they needed to do something, so they brought the baby inside and contacted the police.
Earlier that day, a woman who also lived in St. Louis was locking her house door and getting ready to leave when something terrible occurred—she was carjacked.
"I ran up to the door, opened the door, turned the knob and then heard a really loud car door close. I turned around and saw a guy in my car, I ran down the stairs ... This happened in 10 seconds."
Williams was horrified because her 6-month-old baby was already strapped into the backseat of the car. The mother revealed that she thought she would never see her child again.
Thankfully the carjacker, purported to be a 16-year-old boy, dropped the baby off before getting away with the car. He left the innocent infant outside a random house—the Rosener family home.
Thanks to the quick action of the police and the cooperation of Williams and the Rosener's, the little boy was reunited with his mother. Authorities also managed to track down the car and arrested the suspect.
It was a horrific day for the mother, and when her baby was returned to her, she was emotional. Rosener shared the moment and said:
"I can still hear the way she cried. Like, I had to cry, too."
ANOTHER BABY WAS LEFT OUTSIDE
Williams was lucky that her baby was dropped off unharmed and that she was reunited with him. Stories of babies being dropped on doorsteps occur more than many people think.
Mothers abandon their infants for various reasons and hope that the strangers who find them will take care of them. A resident in Orlando, Florida, was stunned when they opened their front door and saw a tiny baby in 2019.
They immediately contacted the authorities, who ensured the child was healthy and in a safe place. This is the best course of action any citizen can take if they ever find themselves in a similar predicament.
Please fill in your e-mail so we can share with you our top stories!