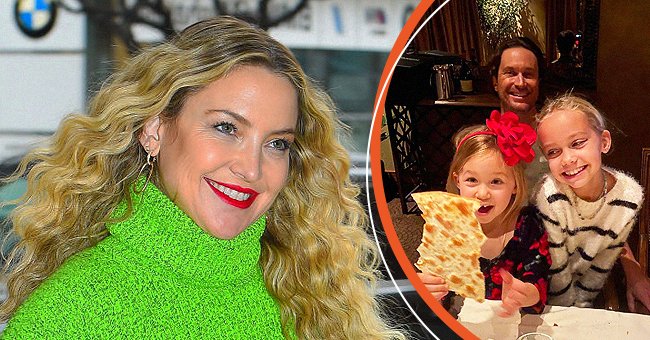 Getty Images instagram.com/katehudson
Kate Hudson Is Co-Parenting Her Children With Three Different Dads: 'I've Got Kids All Over The Place'
Kate Hudson's journey as a mom is notable. The stunning actress shares three children with three different dads, and despite this, Kate would not have it any other way.
Since her debut in the late '90s, Kate Hudson has earned her place as an adorable actress. Although she comes from a rich background of Hollywood royalty, being the child of Goldie Hawn and Bill Hudson, Kate has since proved her worth.
The 42-year-old began to melt hearts when she appeared in the 1996 TV drama "Party of Five." Kate's early years seemed to have prepared her for the significant demands in Hollywood. The actress is reputed for playing her roles with a little bit of extra sauce for her fans.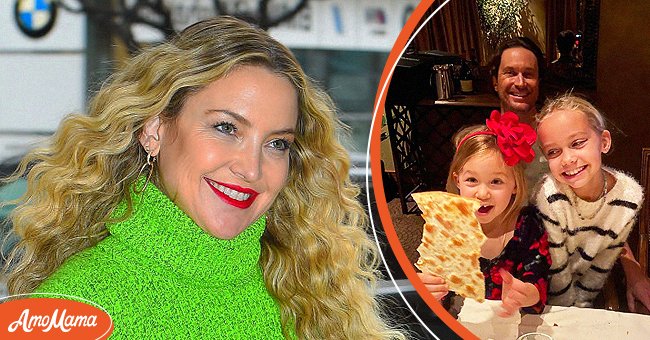 Picture of Actress Kate Hudson at an event [left]. Kate Hudson's husband, Danny Fujikawa and their kids [right] | Photo: Getty Images instagram.com/katehudson
Kate has since explored other areas of her life, including acting and writing, but her favorite remains her family life. The actress has three kids from three different fathers, yet everyone seems happy. Here's a look into Kate's blended world.
HER FIRST MARRIAGE AND FIRST SON RYDER
Kate has been linked with several star actors and singers, but her first marriage was in 2000 to Chris Robinson, frontman for "The Black Crowes." Since then, she's opened up about the highs and lows of their relationship, noting that it was volatile at first.
Kate and Robinson's romance began after they met at a gathering in New York City and moved in together a few days later. Kate was only 21 years old at the time, while Robinson was 34 years old.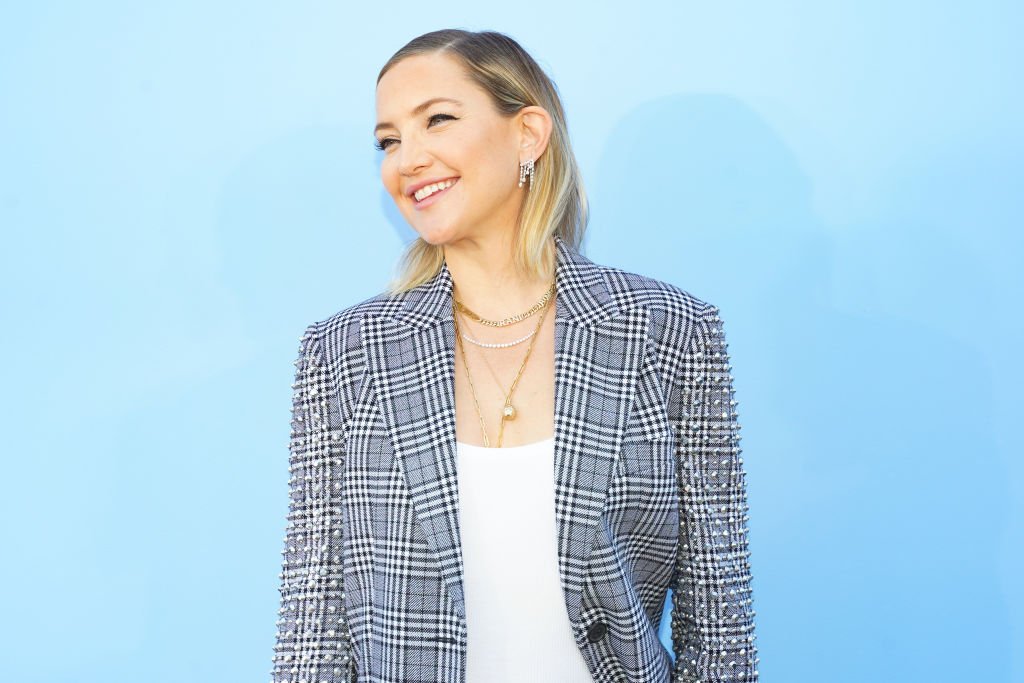 Kate Hudson at the Michael Kors S/S 2020 Fashion Show at Duggal Greenhouse on September 11, 2019 | Photo: Getty Images
At the end of their frenetic first week, Robinson gave Kate a diamond ring to signify his devotion to their relationship; however, it was not a proposal. They married in Colorado, only seven months after meeting.
A few weeks after their marriage, Kate won a Golden Globe for her hit movie, "Almost Famous," and her face glowed with joy as she thanked the singer during her speech. She said, "My husband, Chris Robinson. You inspire me every day." Kate also once said
The actress became fascinated with being a wife very quickly. Kate took a year off after receiving her Golden Globe to enjoy her first year of marriage, as advised by her mother, Hawn.
Kate often spoke highly of their young marriage during her press interviews, adding that divorce was not in the picture. However, the couple eventually made it to the courtroom a few years later.
Their marriage was well-publicized, and at the time, Kate thought she had found the perfect love. The couple welcomed their son, Ryder, in 2004. At the time, Kate was just 24-years-old
The couple's life wasn't always flawless. Kate confessed that the early stages of their relationship were marked by heated disagreements followed by a quick resolution of the problems.
Things got stable for the couple when their son, Ryder Russell Robinson, was born in 2004. According to sources close to the couple, the new parents' bond was strengthened by the arrival of their baby.
Motherhood was a thrilling experience for Kate. In an interview for the movie "Raising Helen," the mother of three confessed that motherhood was an incredible adventure, noting that she always wanted to be a mom.
She said: "It's incredible, and then some. It's overwhelmingly beautiful. Nobody ever tells you how hard it's going to be. It's like everybody keeps all the hard stuff away from you. It's amazing."
Kate continued: "I think the hardest part for me was going from being the kind of person that I was to having the baby, to the overwhelming sensation of love that you never knew you had the capability of feeling and then realizing that your life shouldn't change. You integrate your kids into your life."
She said, "I think the hardest part for me was going from being the kind of person that I was, to having the baby, to the overwhelming sensation of love that you never knew you had the capability of feeling and then realizing that your life shouldn't change."
Last year, Kate shared the good news that she was taking things to the next level with Fujikawa.
Things took a turn for Kate and Robinson after their split. They finalized their divorce in 2007 and remained in contact because of their 18-year-old son, Ryder. However, the former couple claims that things are better than when they first divorced.
MATT BELLAMY AND THE SECOND CHILD
After her first marriage ended, Kate waited a few years before announcing her next serious lover. By 2010, the "Something Borrowed" actress had met Matt Bellamy, they were engaged in April 2011, and their son, Bingham, was born in July of that year.
The lovebirds split their time between Bellamy's home country of England, New York, and Los Angeles. Romance with Bellamy became difficult as they could barely make time for each other.
The "The Four Feathers" actress said she and Bellamy needed to focus on making time for each other, and if they did marry, it would be for the children's sake. However, their romance never made it to the aisle. The couple later broke off their engagement in 2014.
Following their breakup, the star of "You, Me, and Dupree" said that she and Bellamy had opposing views on how to spend their lives. Even so, the move to co-parenting was painless, and they've kept it up until this day. Kate said Bingham gets to see Bellamy often.
Kate opened up on her relationship with Bellamy in an interview with Allure. She said, "Relationships ending are painful, and you can choose to carry that, or you can choose to reframe it. If Matt and I had a great relationship, we would still be together." She continued:
"But we chose to move on because we had different visions of how we wanted to live our lives. That doesn't mean, though, that we can't rebuild something that would be the best thing for the kids."
Kate went on to say that communication was key to her co-parenting success with both Robinson and Bellamy. It was necessary to be realistic that there would be good and bad days.
Kate was back in the single world after breaking up with Bellamy, although only for a short time. Danny Fujikawa, a musician, and the "Glee" actress sparked dating rumors in December 2016. Surprisingly, they had been acquaintances for 15 years before deciding to date.
Kate and Fujikawa welcomed their baby, Rani Rose, in October 2018, following a long dream of having a daughter. The actress announced on Instagram that Rani was named after Fujikawa's grandfather, which she described as an honor.
Last year, Kate shared the good news that she was taking things to the next level with Fujikawa. The couple announced their engagement after five years of dating.
Kate's life revolves around her three children, and the actress is glad to have supportive fathers surround her. According to her, a divorce should not stop couples from working for the best interests of their children.
For the 42-year-old, trust has been a great tool in keeping the large brood together and content—the mom of three trusts her three children's fathers. According to Kate, she focuses on making her children feel protected and safe in their blended home.
Please fill in your e-mail so we can share with you our top stories!