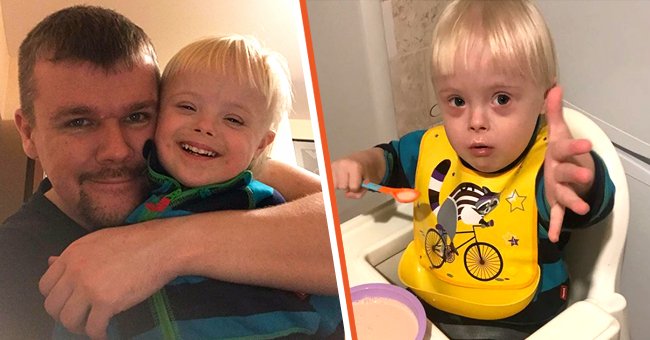 instagram.com/evgen_tyz
Dad Decided to Raise Son with Down Syndrome Alone after Mom Wanted to Give Him to Foster Care
A Russian father proved how much he loved his son after he decided to raise the child alone, following his wife's decision to divorce due to their son's health. Here is the whole story.
While some parents are willing to go to any lengths to give their children the future they deserve, others give up in the face of adversity. This is the case of a Russian mother who was ready to leave her child because he was born with Down Syndrome.
Thankfully, the baby's father, Evgeny Anisimov, chose to raise his son, Misha Anisimov, on his own and saved him from a childhood spent in foster care. Here is the touching story of the thoughtful father and his little boy.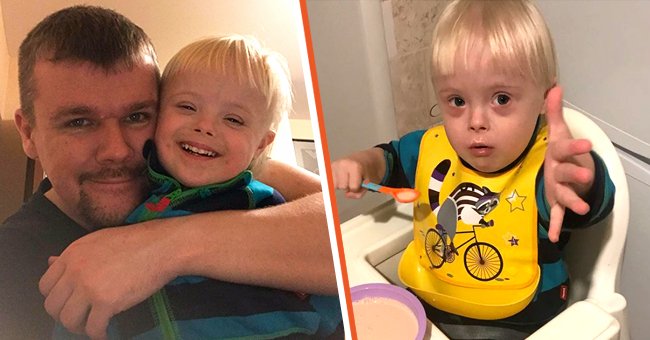 Evgeny Anisimov hugging baby Misha tightly [left] Baby Misha eating [right]. | Photo: instagram.com/evgen_tyz
Evgeny and his wife had tried to get pregnant for the longest time, all to no avail. However, after many years of trials, they would eventually experience the joy of parenthood. The pregnancy news was the best thing they had heard in a long time.
Like every expectant parent, the couple looked forward to the day their child would be born. The day finally came, and baby Misha was born in August 2018. A few seconds after the baby was born, Evgeny and his wife received terrible news: Their son had down syndrome.
The father explained that he did not know what to do when he heard the news. He recalled leaving the hospital, crying, and feeling embarrassed. Later on, Evgeny decided to support and care for his wife and give Misha the best life.
Sadly, his wife did not have the same thoughts. Misha was a child with special needs, and the thought of raising him was burdensome to the woman. So, her idea was to give her son up for adoption, but Evgeny would not have it.
Rather, he encouraged his wife, but every encouragement fell on deaf ears. Eventually, the woman filed for divorce, beginning Evgeny's journey to single fatherhood. At first, it was very difficult, as breastfeeding became a huge problem.
But in a short time, baby Misha had a breast milk donor, and Evgeny also received a ton of support and financial assistance from his friends. The man's mother also flew into Moscow to help raise her grandson.
Evgeny got a job and went on paternity leave, where he took mothers' courses to learn the basics of child care. With help from his mother, the father is giving his son a normal life. Despite his disability, Misha still goes to school with a speech therapist and relates with his peers.
In a similar story that took place in 2015, Samuel Forrest's life changed when his wife, Ruzan Badalyan, gave birth to a baby boy. However, the feeling of joy soon turned to shock after the doctors returned from the delivery room with big news.
Forrest was informed that his son had down syndrome. The man told ABC News that he had a few moments of shock when the doctors shared the news.
He went in to see his son, and three things crossed his mind: his son was perfect, beautiful, and he was keeping him. However, Badalyan did not agree. She told her husband that they would get divorced if he wanted to keep the baby.
Forrest did not heed his wife's warning, and she stood by her word. One week after baby Leo was born, Badalyan filed for divorce.
Forrest was forced to raise his son alone. He opened a GoFundMe page to raise money, get a part-time job, and look after his son. He also began working with disability awareness groups to enlighten parents on handling kids with special needs.
Please fill in your e-mail so we can share with you our top stories!