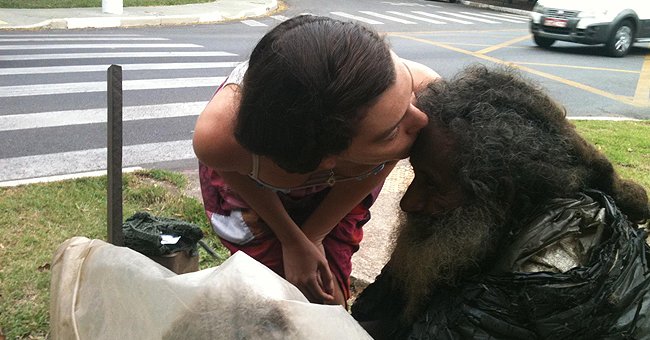 Woman Befriends Homeless Man, Helps Him Find His Long-Lost Family and Home
A waiting-to-be-discovered wordsmith was hidden in plain sight and yet ignored due to his tattered clothes. This was until a new friend helped him share his writings with the world, allowing him to connect with loved ones he thought he had lost forever.
An elderly Raimundo Arruda Sobrinho from Brazil ended up on the streets during the country's 1970's military-ruled dictatorship, remaining homeless for over three decades.
Although he appeared disheveled and dirty, with most individuals not taking the time to engage with him, Sobrinho had a hidden talent. His love for writing stories and poems kept him company during those lonely years without a home.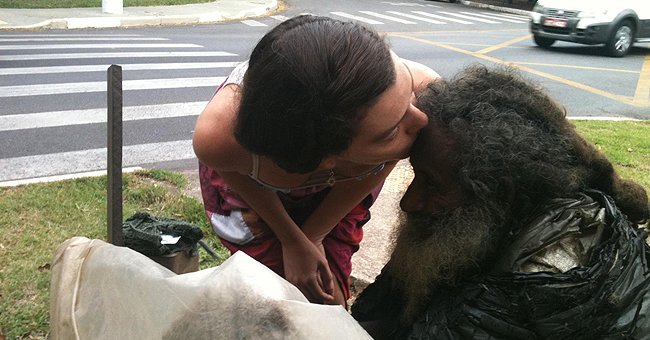 Shalla kissing her friend Raimundo Arrudo Sobrinho on the forehead. │Source: facebook.com/ocondicionado
He hoped that someday he and his passionately written poems and stories would both find their way off the pavement. Sobrinho wished that eventually, many eyes would become encapsulated by his words.
A celebrated documentary was made about his life.
However, none of this seemed possible until, in 2011, one woman, Shalla Monteiro, looked past his societal status and chose to befriend him.
Beginning with one simple conversation, Monteiro turned his life around. She not only helped him connect with the broader public but reunited him with the loved ones he had lost.
After becoming friends, she noticed that her companion was glued to his pen and paper. She eventually asked if she could read his work, taken aback by how gifted he was when he said yes.
Wanting to share her friend's fantastic verses with the world, Monteiro posted his pieces on Facebook, including Sobrinho's life story as well.
The post became viral, yet the most crucial individual who caught sight of it was Sobrinho's brother, whom he hadn't been able to connect with in ages. Speaking about this, Monteiro expressed:
"I feel privileged and honored to be his friend, having served as a channel for the reunion with his family."
His sibling, reaching out, asked him to move in with the family while his online following grew extensively. Eventually, a celebrated documentary was made about the talented writer's life.
TO BE REMEMBERED WITH LOVE
Even more touching is that he and Monteiro remained best friends for life until, sadly, he passed away on December 22, 2020. In August last year, she took to his Facebook page in honor of what would have been his 84th birthday and penned:
"I remember you, our conversations, your smile, everything so magical (yes life is magic!) that I lived through our friendship. [sic]"
Friendship certainly has no bounds -- connecting Monteiro and Sobrinho despite their apparent social ranking.
Beyond friends, family bonds also do not have to fit into the strict measures that society has laid out for us -- and we can meet our new and true relatives in the strangest of places. Even hospitals.
In 2019, a 27-year-old autistic man from Georgia faced a life and death predicament, with no one around to help him out. With no reliable family members, Jonathan Pinkard could not be approved for a heart transplant.
This refusal was because one of the requisites for the operation is to have a support system to look after you following the procedure.
Luckily, one I.C.U nurse, Lorinda Wood, decided that this was unacceptable and adopted him after only two days of knowing him. This allowed him to get the surgery he so desperately needed.
Compassionate strangers saved both Pinkard and Sobrinho's lives -- one through a new heart and the other through the gifts of poetry, stories, and family.
Please fill in your e-mail so we can share with you our top stories!