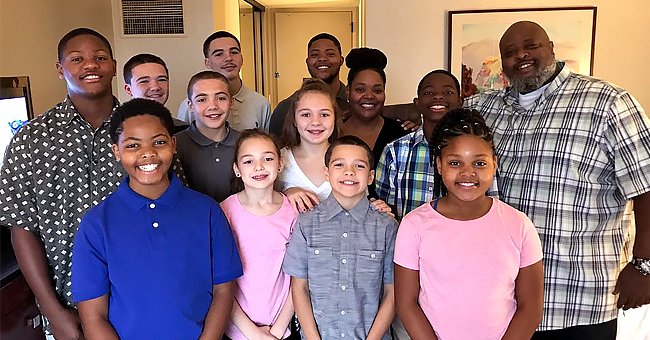 The Sanders family | Source: Facebook.com/sandersfamily13
Black Parents-Of-5 Adopt 6 White Siblings Who Choose to Change Names to Match the New Family
When a black couple opened their home to foster kids, they made a deal — whoever they took in would stay with them forever. They made good on their promise when they welcomed six foster siblings, all together and on the same day.
Adoption diaries are profound because they change the lives of adoptees and adoptive families. They offer people a renewed chance at life and a reason for survival. There is grace in traveling off the beaten path and choosing foster care and adoption.
Most importantly, couples who choose adoption teach the world that love transcends all boundaries and can bind people forever. A Cincinnati couple embodied the same spirit when they decided to expand their family of seven.
A Yearning for More
Christina and Christopher Sanders from Cincinnati were a loving black couple with a beautiful family. Their home was filled with children's laughter, so nothing was lacking in their lives. Still, they craved for more.
They had five biological children, Christopher Jr., Cameron, Caden, Chad, and Caitlyn. In 2014, they started fostering six more children, all siblings and white, giving them the tenderness, love, and care they so rightly deserved.
The Sanderses were thrilled to welcome the brood, and soon, they became an integral part of the family. Christopher noted that the siblings yearned for normalcy and were tired of false hopes, caseworkers, and constantly moving around.
Welcome to the Family
The siblings wanted a forever home, and their dream was realized three years later. On April 27, 2017, the Sanders's officially adopted Coby, Christian, Caleb, Caylee, Carson, and Chloe, at the Hamilton County, Ohio, Adoption Court.
Like the Sanderses, a single black mother opened her heart and home to three white children, citing her only preference as "love."
When the couple opened their home to foster kids, they agreed that whoever they took in would stay with them permanently. They waited until their oldest son, Christopher Jr., was in college, so there would be enough space in their six-bedroom Forest Park home.
Adopted Together
Resultantly, all six Ohio siblings were adopted together on the same day. The kids even changed their names to embrace their new lives fully. Christina stated that the children wanted a change, and the caseworker said they could do it. Christopher mentioned:
"Everyone in our family has the initials CMS, and the kids, without us knowing, asked their case worker if they could change their names to match our initials! She said 'Yes you can.'"
The Forest Park couple stated that their family rarely receives harsh comments despite people's glares on the street. "People on social media will say, 'With so many black children in need of adoption, why not adopt black children?'" said Christopher.
The Doting Parents
However, the Sanders's never doubted their decision and continued to love their children wholeheartedly. They never considered race an issue and only wanted to keep the six siblings together.
Parenting eleven children can be challenging, but Christina and Christopher use "patience and love" to handle the kids. The Cincinnati couple ensures their kids are growing up in a supportive environment, with Christina spending exclusive "mommy time" with them.
While the children had typical brother-and-sister tussles, they got along perfectly and supported each other. The Sanders's adopted the kids out of the goodness of their hearts, but their kind gesture moved several people far and wide.
Going Viral
Soon, their story became a viral sensation, and the general public and national media praised them. In November 2018, the Sanders family flew to California to appear on the famous "Ellen DeGeneres Show," aired in Warner Bros. Studios in Burbank.
DeGeneres gave them a whopping $50,000 check from Walmart. A month later, the couple sat amongst the audience and received gifts as part of the segment" 12 Days of Giveaways" They were ecstatic to meet DeGeneres in person.
The couple welcomed two more foster children, an infant girl, and a five-year-old boy, the same year. With an overwhelmingly large brood, one could have expecSanders'sanderses home in complete mayhem. Surprisingly, Christina thought otherwise.
Only Love Matters
She said her house was chaotic when the boys and her husband were watching a football match. There is never a dull day in the Sanders household, with Christopher turning into a barber for his sons when needed.
Undoubtedly, Christina and Christopher have proven that parental love doesn't discriminate between biological and adoptive children, and love is the most powerful feeling in the world.
Like the Sanderses, a single black mother opened her heart and home to three white children, citing her only preference as "love." But people's criticism, she never once wavered in her decision. You can read her complete story here.
Please fill in your e-mail so we can share with you our top stories!