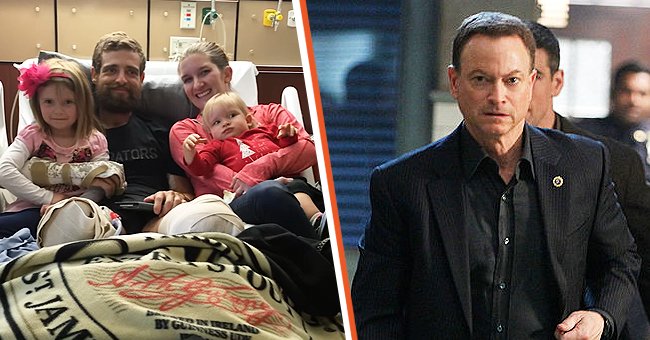 Getty Images youtube.com/GarySiniseFoundation
Gary Sinise Once Called a Disabled Vet & Father of 2 Struggling With Easy Tasks - He Got a Smart Home Later
Gary Sinise is one of the few Hollywood stars whose reputation goes beyond the movie industry. The "CSI" star is a renowned humanitarian and is building a legacy in the hearts of his fans.
Gary Sinise has made a mark as a successful actor, director, and producer. The 66-year-old has a career spanning over three decades, along with several nominations and awards.
However, Sinise's greatest achievements lie away from Hollywood. The Emmy award-winning actor is passionate about humanitarian activities, especially helping soldiers and other veterans receive aid and attention.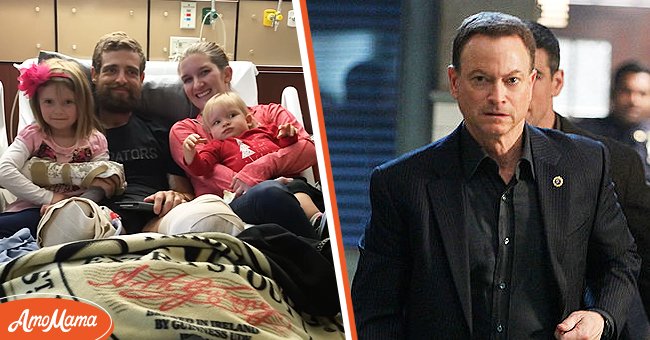 Wounded hero US Army SFC Caleb Brewer and his family [left] Gary Sinise prepares to shoot a scene for the ninth season finale of "CSI: NY" [right] | Photo: Getty Images youtube.com/GarySiniseFoundation
Sinise is more than an advocate of humanitarian efforts; he plays a huge role by contributing from his earnings. The Chicago-born actor once entertained soldiers at the "United Service Organizations," raising funds for disabled veterans.
Sinise has earned various medals, including the Presidential Citizens Medal, for his humanitarian efforts, including supporting the US military and numerous veterans' organizations.
The Golden Globe-winning actor and philanthropist builds a legacy and uses his star power to advance a greater good. Sinise's efforts would surely see him go down as one of Hollywood's loveliest men. However, things did not start smoothly for the actor.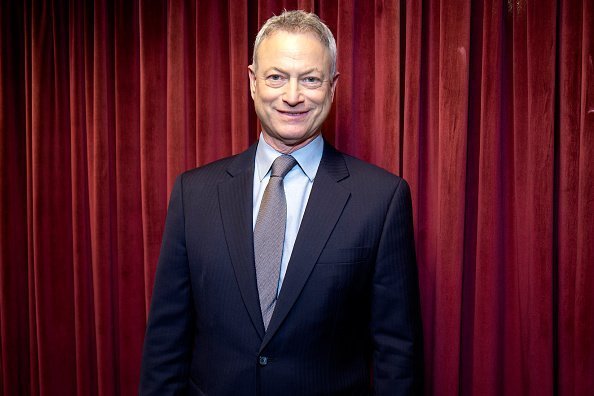 Gary Sinise visits SiriusXM Studios on February 11, 2019 in New York City. | Photo: Getty Images
The "CSI: NY" star was not always the perfect gentleman. Sinise rose from a troubled childhood to symbolize hope and inspiration to his fans. Here's a glimpse into the actor's stunning transformation.
GARY SINISE'S STUNNING TRANSFORMATION
While many fans admire the man Sinise has become, the actor was far from who he is now in his early teens. In his book, "Grateful American: A Journey from Self to Service," the "Forrest Gump" actor detailed his stunning transformation from a bad boy to a man of character.
Growing up in Chicago, Sinise was trapped in the street-based lifestyle of most kids his age. The actor described himself as a thief and a liar. In addition, his grades were poor as he paid little attention to his studies.
Instead, he made a series of bad choices that included doing drugs, partying, and car theft. However, a high school theater program turned Sinise's life around.
According to the philanthropist, the program pointed him toward redemption and helped inspire him to co-found the famous production company, Steppenwolf Theater Company, with some of his friends.
Despite being a great actor and a notable humanitarian, Sinise is a devoted family man who is still madly in love with his wife of 40 years, Moira Harris. The couple shares three children, grandchildren, and a beautiful love story.
The couple's history began more than forty years ago. They met in 1976, while Harris starred as Laura in "Cat on a Hot Tin Roof." Their first meeting struck an impression on the young actor's mind, and he remarked, "It's a good way to first see your future wife."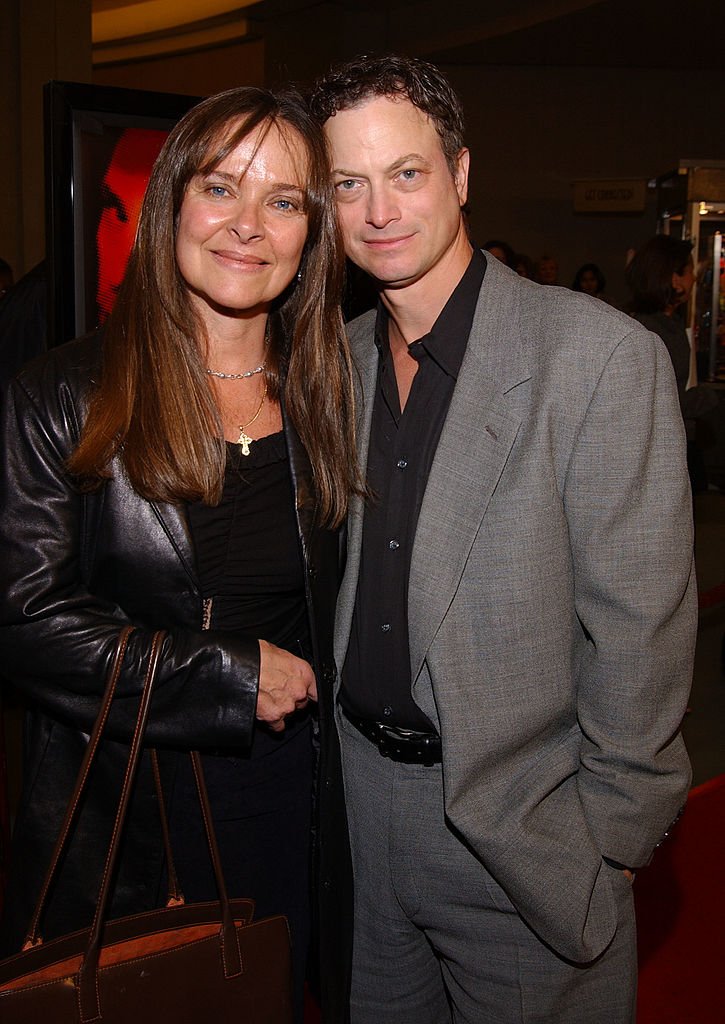 Gary Sinise and wife Moira Harris on January 24, 2002 in Los Angeles, California. | Photo: Getty Images
Harris had captured Sinise's attention and was unlike most young talents at the time. The smitten actor described her as a wonderful, beautiful young actress, and it didn't take long for them to fall in love, so he asked her to date him.
For Harris, there was a good reason for falling for the attractive actor. She remarked that she liked him because he was quiet and shy, despite his good looks.
Sinise and Harris, like most couples, have had their share of relationship conflict. The couple had a shaky relationship during their younger days. According to the 66-year-old, their contrasting personalities caused them to date on and off before getting married.
One of their biggest problems was their canceled wedding. The couple had already made plans for their first wedding, placed food orders, and sent out invitations before Harris shockingly canceled the wedding.
The couple blamed their inexperience and fear of commitment for their failed wedding plans. However, after a short split, they returned together and finally walked down the aisle in 1981.
While married, they faced another difficult moment following Harris's struggles with alcohol. Yet, Sinise stood by her side and helped her become sober.
Having stayed together all these years, the couple undoubtedly has a secret recipe for a successful marriage. According to Sinise, "A sense of humor. My wife's a loving, funny, Irish-spirited person, and I'm still surprised at some of the things she says. She makes me laugh every day."
Since featuring in "Forest Gump," Sinise's heart has belonged to veterans and other humanitarian endeavors. However, one of the most significant moments of his life was meeting and helping one disabled veteran, Caleb Brewer.
Brewer was the oldest of three brothers and was motivated to join the military during his high school days. He entered the Army Reserves as an intelligence analyst in 2005.
Brewer was chosen to attend Special Forces training to obtain his Green Beret after deploying to Iraq in 2008. He spent some of the most impactful moments in his life training and serving worldwide after graduating from the Special Forces Qualification Course in 2012.
While serving in Afghanistan in 2015, Brewer suffered a severe injury that left him disabled. He and his team were on a mission to clear out a weapons factory. However, one of the IEDs detonated and left him critically injured.
After getting treatment and a prosthetic leg, life never remained the same for the former soldier. However, things changed when he received a call from the famous Sinise, offering to help him.
Sinise reportedly reached out to Brewer, offering to help him. He encouraged the injured vet to apply to the Restoring Independence Supporting Empowerment program(RISE), which aims to build smart homes for injured soldiers and help them live comfortably.
Later on, Brewer received a call from Sinise's foundation informing him that his smart home had been completed. The apartment has smartphone controls like monitoring the house, adjusting the music volume, opening and closing the blinds, and tilting mirrors and pocket doors.
Brewer has no trouble moving around or assisting himself around the house. The father of two and his family were thrilled to have their lives touched. Reacting to the kindness, the vet said, "It's incredibly overwhelming in a good way. It doesn't feel real. I never would've expected it in a million years."
SINISE'S PASSION FOR VETERANS
Sinise's passion for veterans led him to launch The Gary Sinise Foundation Avalon Network for defenders, veterans, and first responders. The actor's love for helping soldiers and other defenders spans more than two decades.
Speaking of his love for philanthropy, Sinise told Forbes via an email, "It's critically important to me that our military service members, first responders, and their families all know how deeply we are here for them. We are not going to forget them, and we will always do more to protect and support them."
Sinise began supporting local Vietnam support groups in his early days as an actor, and it has since grown to become a passion for him. His zeal for servicemen was later fueled by his role as Lt. Dan in "Forrest Gump" and the 9/11 attack.
Sinise grew up in the heat of the Vietnam War, and he witnessed firsthand the pain some soldiers went through on their return from war. Since then, the actor has made a mission to ensure that servicemen and women are cared for and given love.
Please fill in your e-mail so we can share with you our top stories!