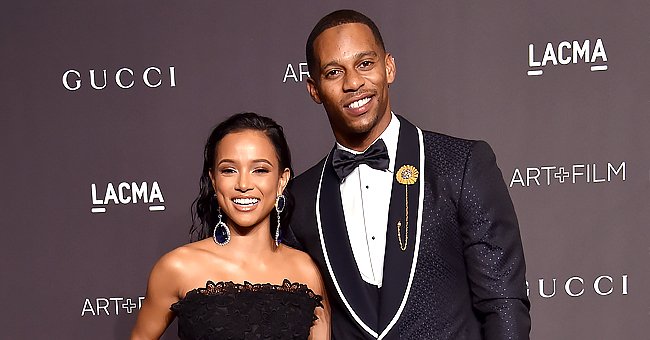 Youtube.com/TamronHallShow | Getty Images
Karrueche Tran Chose to Cut Men Out of Her Life in 2022 despite Recently Being Seen with Her Alleged Ex
A little while after ending her relationship with Victor Cruz a year ago, "Claws" actress Karrueche Tran is looking to cut out men from her life because they are a "distraction."
Many fans recognize Karrueche Tran as the face of women's urban clothing and fashion house Lady Crooks and for playing Virginia Loc in "Claws." Her other film credits include "Embattled" and "A Weekend With The Family."
While she has worked hard at building a career in film, she has not been as successful with her relationships. The actress has been in some high-profile romances, but now, she says she is "cutting men out of her life." We look at the reason behind her decision.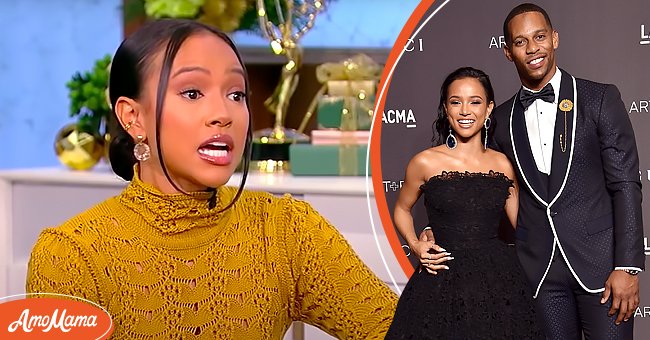 Left: "Claws" actress Karrueche Tran on the Tamron Hall Show in December 2021 | Photo: Youtube.com/TamronHallShow. Right: Tran and Victor Cruz attend the 2018 LACMA Art + Film Gala at LACMA on November 03, 2018 in Los Angeles, California. | Photo: Getty Images
A THREE-YEAR RELATIONSHIP WITH VICTOR CRUZ
The actress and her Super Bowl champion beau Victor Cruz first confirmed the dating speculations in December 2017 when they went public with their then-budding romance.
The couple soon became a red carpet staple after stepping out hand-in-hand during an LA date night. They attended numerous events, including New York Fashion Week, the BET Awards, the MTV Video Music Awards, and many other Hollywood events during their time together.
The happy couple made everyone envious of their beautiful relationship, especially after photos of the two having fun at a beach in Miami in 2018 surfaced. A source told Us Weekly:
"Karrueche feels supported by him and thinks they are the real deal. She's very into him, and he feels strongly about her too."
Even when the coronavirus hit and the restrictions forced the lovebirds to live apart, their relationship only grew stronger. Cruz was stuck in New Jersey with his daughter Kennedy while Tran remained on the West Coast.
The couple turned the situation around to work in their favor. Then, more than ever, the duo embarked on a journey of discovering each other more through numerous phone calls every day.
However, despite their seemingly happy relationship, the couple split in January 2021, shocking fans who were rooting for their budding relationship. A source spoke to E! News of the breakup:
"Right now, they are focused on continuing to grow their successful careers. There are no hard feelings. This is just a case of two people moving forward in life separately."
Despite the failed relationship, the couple has no bad blood between them, and they always wish the best for each other in their respective endeavors.
DATING MIGOS' FRONTMAN QUAVO
Before she dated Cruz, the "Never Heard" actress was romantically involved with Quavo, real name Quavious Keyate Marshall, of the influential hip-hop group Migos.
The couple was linked romantically in 2017, a few years after the actress and model broke things off with "Loyal" singer Chris Brown, who she dated between 2011 and 2014.
Following news that Tran was involved with Quavo, Brown reportedly was upset that despite helping the rap group with their hit album, "Culture," Quavo went behind his back and began dating his ex-girlfriend.
Brown claimed that he and Quavo had a business and personal relationship, collaborating on songs with Migos and supporting the rap group throughout their success.
Brown was reportedly livid, especially since Tran got a temporary restraining order against the singer, claiming that Brown often harassed her since they broke up.
On the other hand, the "Look At Me Now" singer claimed it was no coincidence that Tran got the restraining order at the exact time when the rumors came out about her dating Quavo. TMZ reports that Brown felt betrayed by Quavo.
Despite the claims, Brown denied being upset with Quavo dating his ex-girlfriend, saying that no one should believe any reports from TMZ, who featured the story.
Quavo and Tran's relationship was short-lived, and that same year, the "106 & Park" co-host began dating Cruz while Quavo moved on and started dating rapper Saweetie in September 2018.
Following Tran's tumultuous relationships in the past decade, the actress recently disclosed that she would be taking a break from men, saying she was "cutting them out."
Sharing her sentiments on the Tamron Hall Show in December 2021, the actress told the host that she wanted to focus more on her career and create a more prominent name for herself in the industry, a goal she had worked extremely hard to achieve. She shared:
"I just wanted to really focus on my career and myself..."
The Emmy Award-winning actress also resonated her sentiments through a post on Insta stories. The post alluded to Tran taking time off the dating scenes and focusing on dedicating her time and energy to becoming a better version of herself.
The actress declared that while she does not hate men, she believed in the power of being alone and content and not being dependent on a man for validation or to feel good about herself.
In the 2021 video titled "cutting men out of my diet next year," the actress said that while she loves the attention from men, she finds it unnecessary and distracting. In a second slide of the post, the actress wrote:
"Let's see how long I last, lmao."
The comment was about her decision to stay single and had her followers rolling with laughter. One commenter thought the statement meant the actress stood no chance at saying single.
While the comment may have been for the sheer fun of it, it might turn out to be true. Just recently, and only weeks after the actress declared she was cutting men off her life, rumors have begun circulating that Tran is once again involved with Quavo.
On January 7, 2022, Quavo and Tran's online fans noticed that the two artists kept posting each other on their respective Instagram stories as they vacationed in St. Martin.
From the videos and shots of their vacation, the two have featured each other in their separate accounts, and fans are hopeful that they are working on getting back together.
However, neither has declared their relationship status, but reports say they spend plenty of time together. Could this mean they be rekindling their old flame? Only time will tell!
Please fill in your e-mail so we can share with you our top stories!