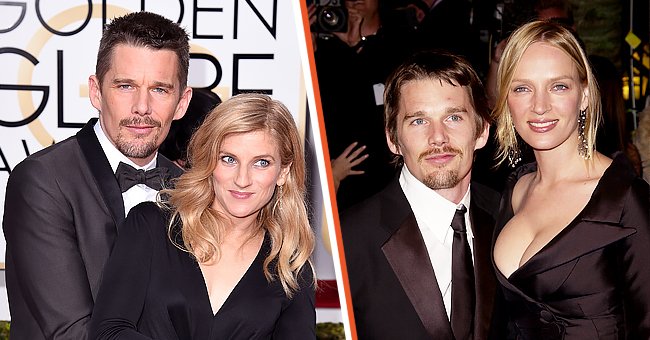 Getty Images
Ethan Hawke's Current Wife of 14 Years Was Originally Hired by Ex-wife Uma Thurman as Nanny for Their Kids
One of Hollywood's biggest stars, Ethan Hawke, is currently in love with his wife of 14 years, Ryan Shawhughes. However, their romance began in the most unlikely of ways.
Ethan Hawke was born in Austin, Texas, on November 6, 1970. He is one of the most accomplished actors of his era, with a prolific acting career lasting more than three decades and important contributions to writing and directing.
After playing as a prep school student, Hawke became a household name in the classic film "Dead Poet's Society." He went on to act in several top roles.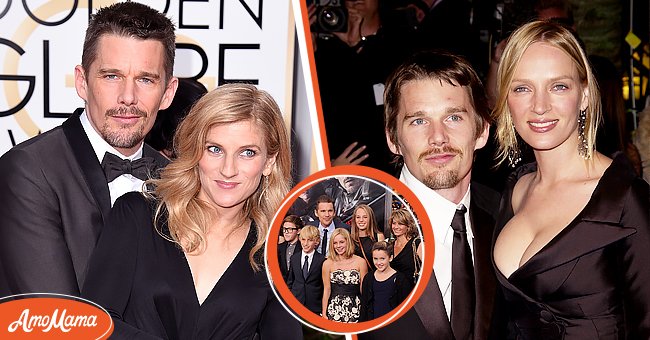 Ryan Hawke and Ethan Hawke at the 2021 Gotham Awards Presented By The Gotham Film & Media Institute on November 29, 2021[right] Ethan Hawke and kids Roan Thurman-Hawke and Maya Thurman-Hawke attend the Los Angeles premiere of "Getaway" at Regency Village Theatre on August 26, 2013 [center] Ethan Hawke and Uma Thurman at the Vanity Fair Oscar Party Hosted by Graydon Carter - Arrivals in 2002 [left]. | Photo: Getty Images
After several years of featuring on the big screen, Hawke took time off to focus on his writing skills. In 1996, he released his debut novel, and in 1997, he returned to acting with "Gattaca."
Hawke went on to star alongside Denzel Washington in the highly acclaimed thriller "Training Day," in which he received his first Academy Award nomination. After that, he would be nominated for another award for roles in "Before Sunset" and "Before Midnight."
Aside from his prolific career, Hawke was involved in one of Hollywood's most prominent celebrity marriages. The actor was married to Uma Thurman, and the duo was widely seen as a power couple.
However, their marriage seemed doomed to fail from the start, as Hawke was never intent on keeping his vows. He felt he was too young to get married.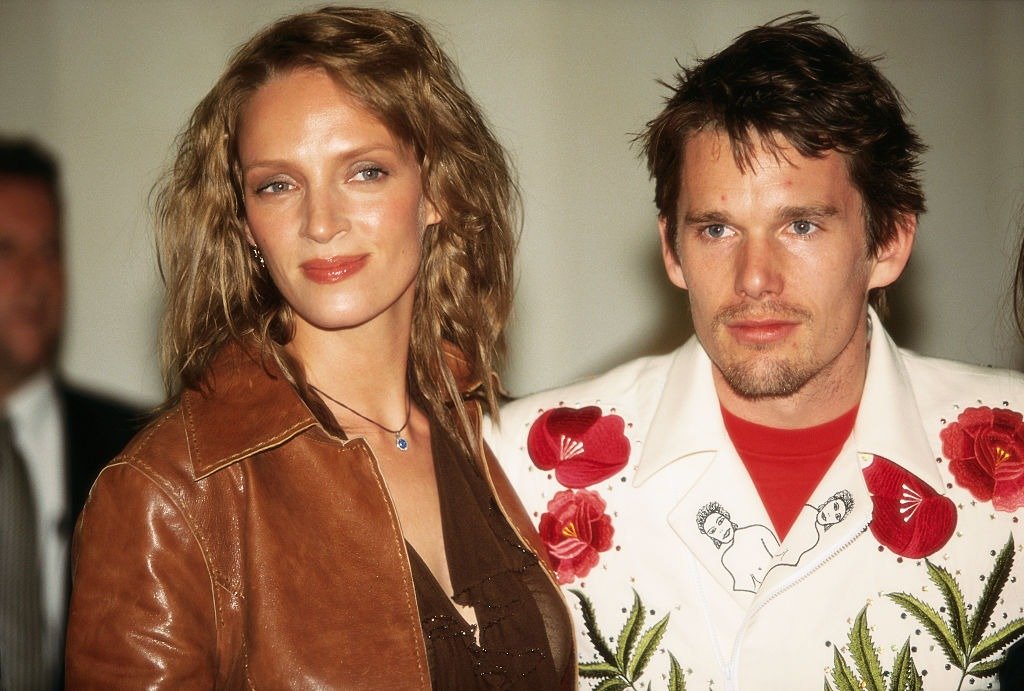 Uma Thurman and Ethan Hawke. | Photo: Getty Images
HAWKE AND THURMAN'S MARRIAGE
Hawke was only 27 years old when he featured in the thriller "Gattaca." Apart from making him a superstar, the show also brought the 51-year-old into contact with Thurman, his first wife.
The pair met on the movie's set and tied the knot two years later. At the time of their relationship, both stars were at the height of their fame. Their first daughter, Maya, was born in 1998. The couple later welcomed their son, Levon, in 2002.
In a 2013 interview, Hawke confessed that being in love with Thurman was a thrilling experience. He stated that they tried as much as possible to be optimistic, but sadly, things failed to work.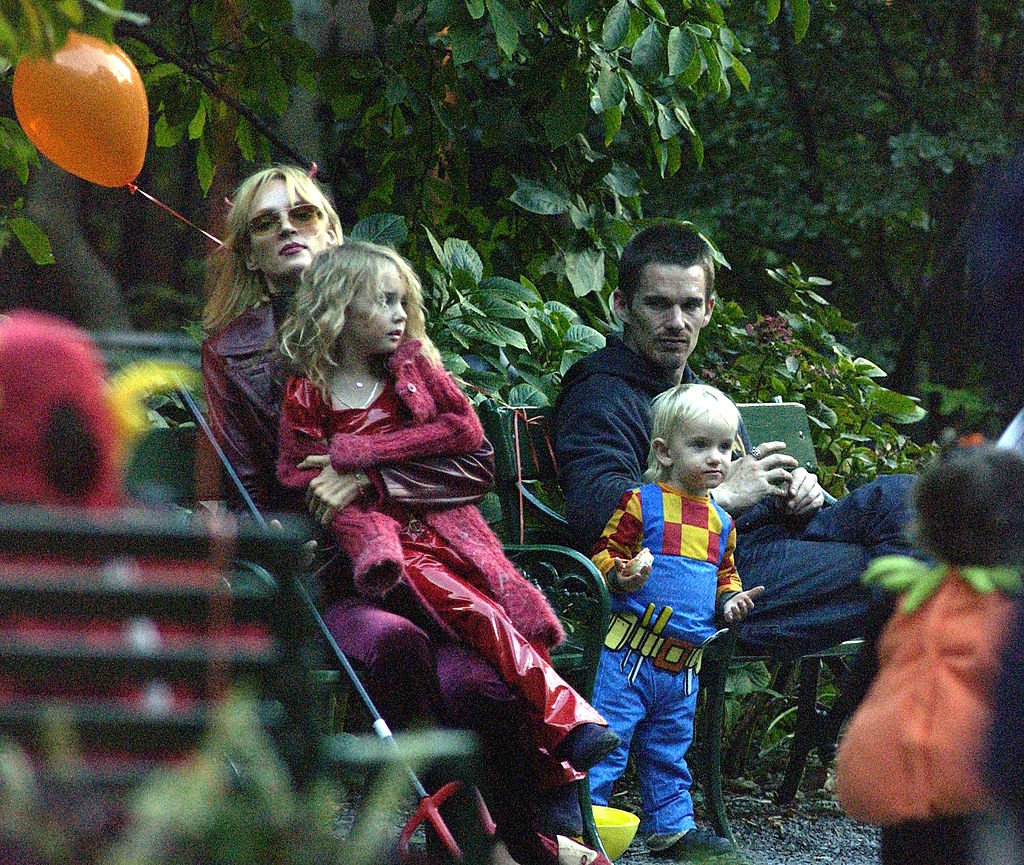 Ethan Hawk visits Uma Thurman and his kids for Halloween October 31, 2003 | Photo: Getty Images
Shortly after welcoming their second child, Hawke and Thurman announced their separation in 2003. There were several rumors of the failure of their marriage, and each party gave their side of the story.
The couple finalized their divorce in 2005, but the pain from their divorce was still fresh in their hearts. Thurman went on to date hotelier Andre Balazs. However, she was still healing from the split at the time.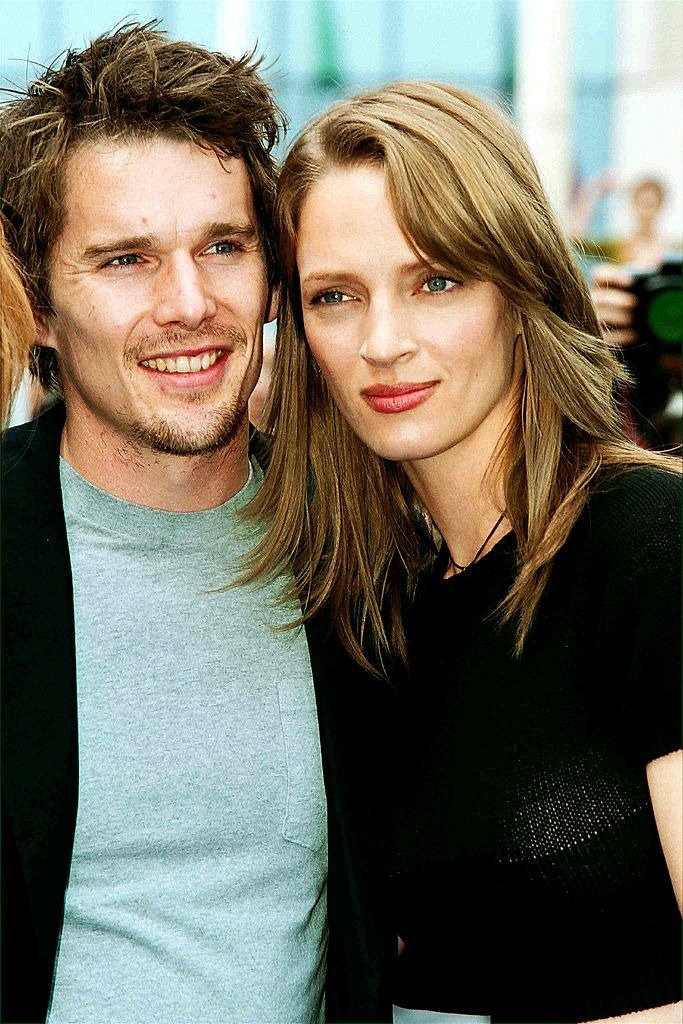 Ethan Hawke & Uma Thurman circa 2001 | Photo: Getty Images
The mom of three confessed that co-parenting with Hawke was difficult as they had trouble communicating, noting that there was lots of healing and recovery left to do. But, she said:
"You try to talk, and you reach out, and then, like, you bump into these little things where it's clear that there's a lot of unfinished damage and baggage and stuff that's still in the way."
Thurman had a chat with Oprah Winfrey over the split. When the show asked her to clarify the rumors of infidelity and betrayal, the 51-year-old actress confirmed that such events took place toward the end of their marriage.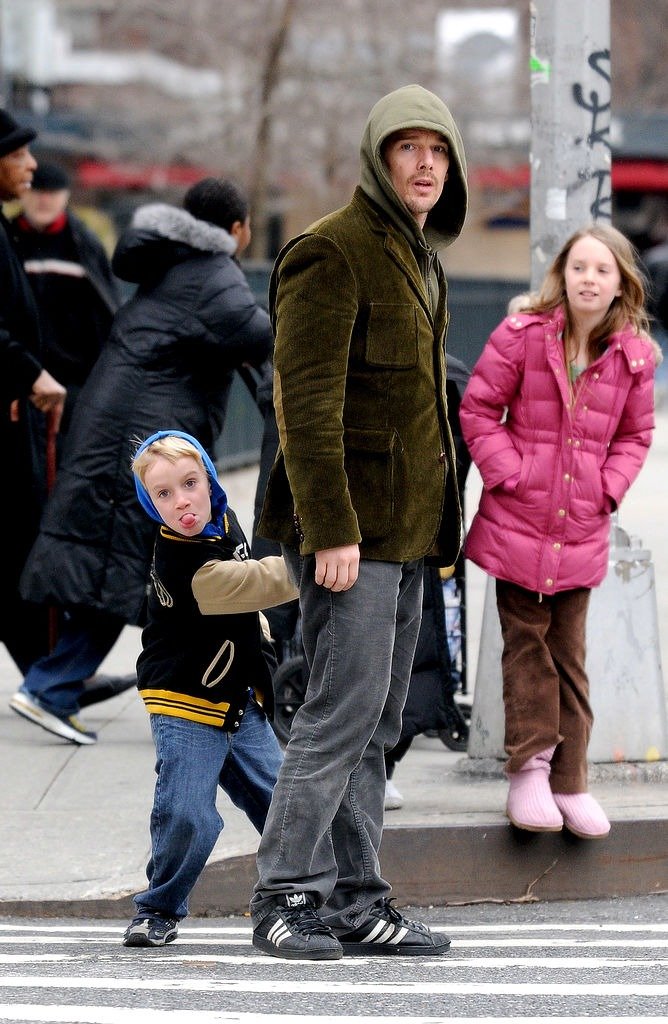 Ethan Hawke stroll across the West Village with his children on March 8, 2008. | Photo: Getty Images
Thurman further claimed that they were both going through a difficult phase in their marriage, which was further strained by her return to work. The actress took a break from acting while raising her kids, but returning to a demanding career made it difficult for her family.
The "Kill Bill" actress went on to take full responsibility for her failed marriage, adding that playing blame games did them no good. She said:
"Our marriage failed. I should take full responsibility for the failure of my own marriage."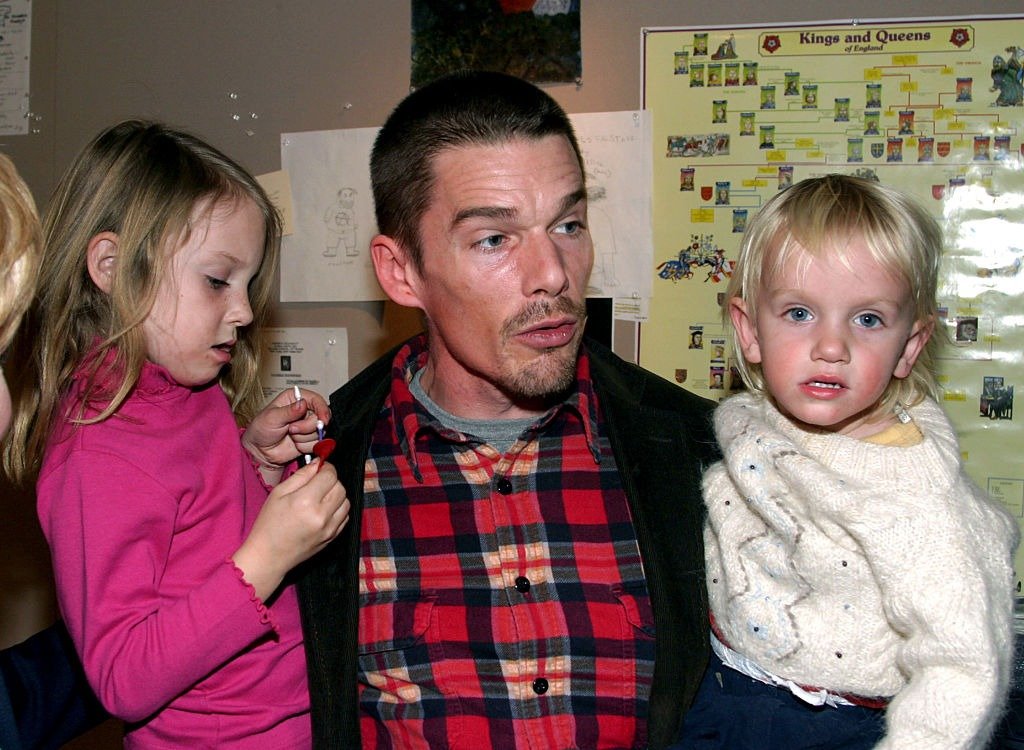 Maya Thurman Hawke and Roan Thurman Hawke with their father, Ethan Hawke few years ago. | Photo: Getty Images
Winfrey went on to ask Thurman if she had any regrets over the failed marriage, and she confessed that she had several regrets. However, when the show host talked about reconciliation, the "Pulp Fiction" star said she was unsure.
Thurman said she would only consider a reconciliation with her "Gattaca" co-star if she could trust him. However, the events leading to their divorce left her uncomfortable with her former man.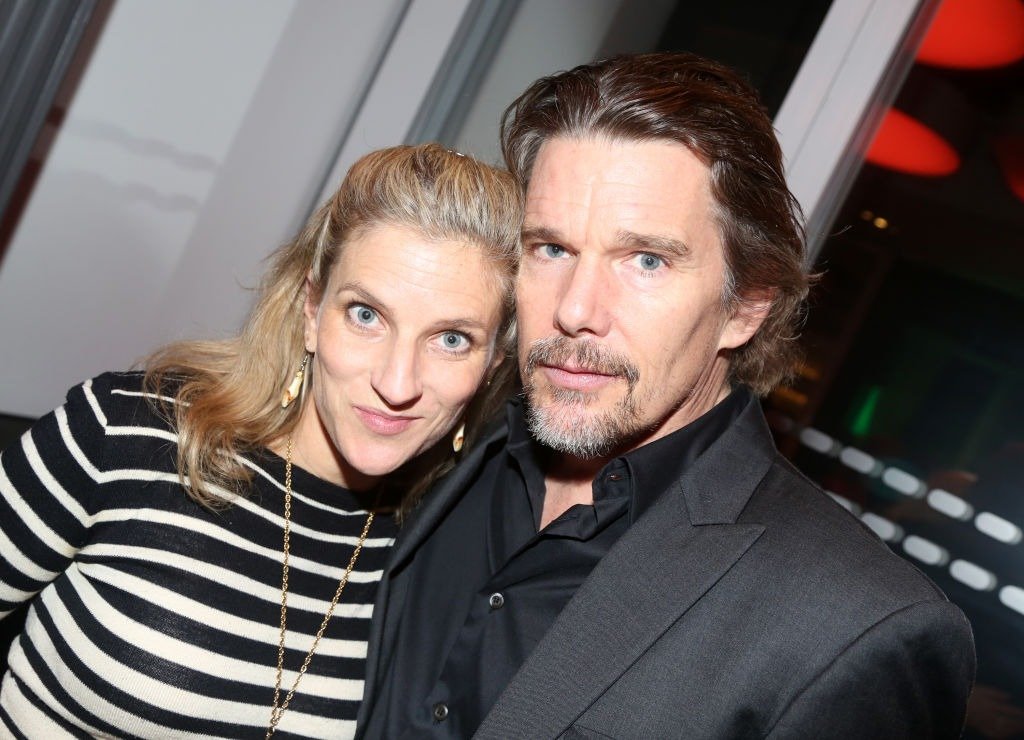 Ryan Hawke and Ethan Hawke attend the opening night party for the new musical "Bob & Carol & Ted & Alice" at Green Fig Urban Eatery at Yotel on February 4, 2020. | Photo: Getty Images
HAWKE DENIES INFIDELITY CLAIM
Hawke shared his story, hoping to set the records straight following the intense criticism he received from several corners over his alleged infidelity with his children's nanny.
Hawke claimed the breakdown of his first marriage was due to the pressure and difficulty of marrying someone more successful than he was. However, he banished any idea that he cheated on Thurman.
The "Black Phone" actor described his new wife as a source of healing rather than a symbol of division or a homewrecker, as some publicly called her. Hawke said he was introduced to Shawhughes by his literary agent.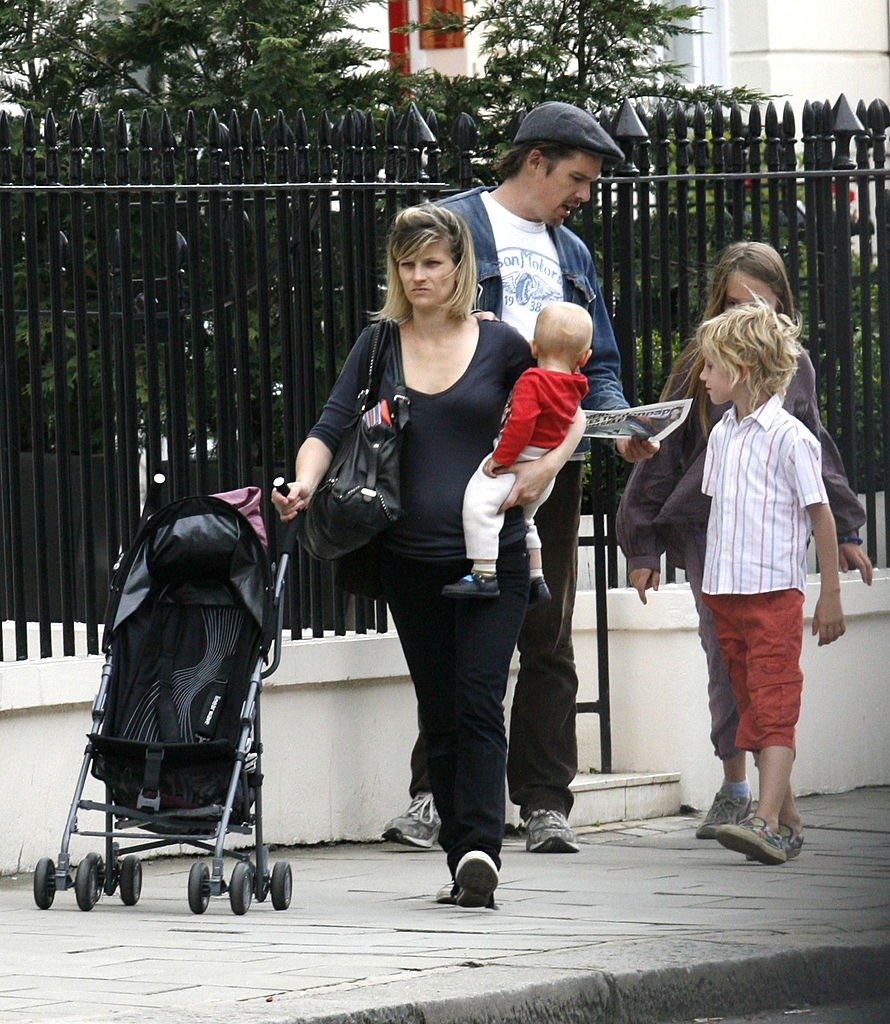 Ethan Hawke with wife Ryan Shawhughes and family in London on July 29, 2009. | Photo: Getty Images
He acknowledged that she worked as a nanny for his family during one of his shoots but claimed she left the family to pursue other interests. Hawke then added that his marriage to Thurman was already on the brink of failure, which had nothing to do with their former nanny.
Hawkes reconnected with Shawhughes a year after his split from Thurman, and things started amicably and gradually evolved into a full-blown romantic relationship.
The actor reportedly claimed he was not interested in a relationship at the time they met, but, in a twist of events, he ended up realizing they were compatible and had a lot of similarities.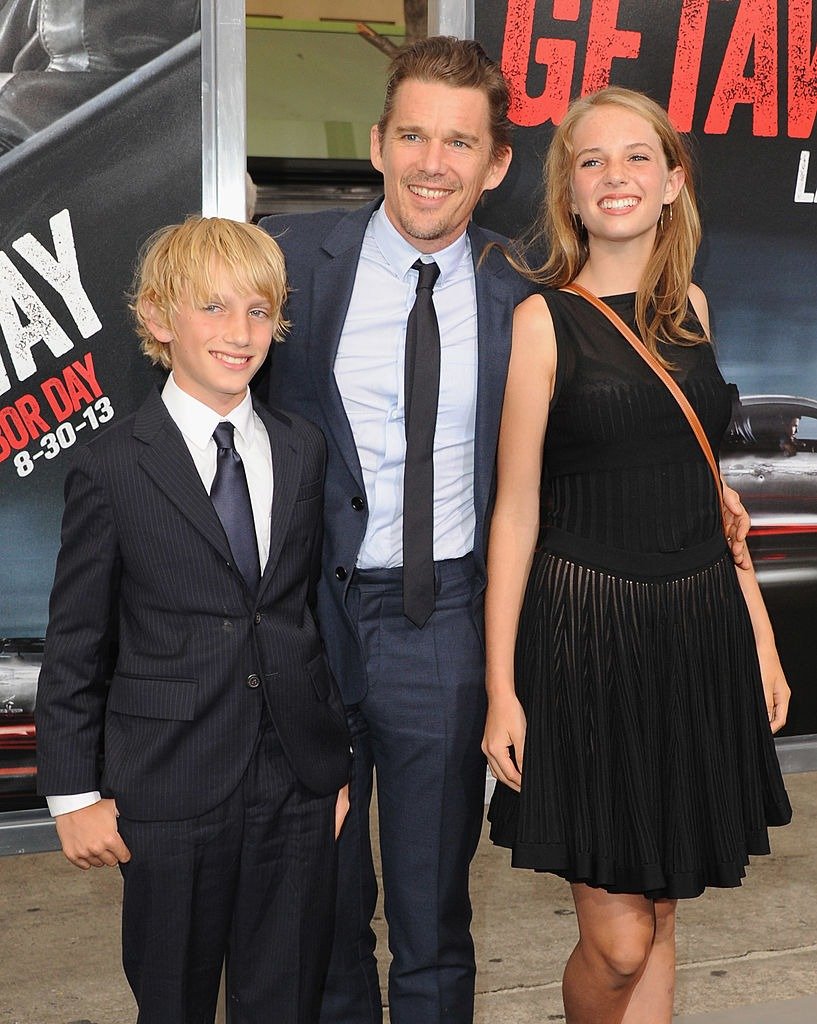 Ethan Hawke and son Roan Thurman-Hawke and daughter Maya Thurman-Hawke attend the Los Angeles Premiere "Getaway" at Regency Village Theatre on August 26, 2013. | Photo: Getty Images
The 51-year-old slammed ideas that infidelity could lead to a breakup. According to Hawke, an entire marriage could not be built on sexual fidelity. He went on to describe humans as sexual beings, calling for more recognition of the fact that humans are not monogamous.
Hawke and Shawhughes tied the knot in 2008 and raised their own family. In addition to having two kids, the couple has collaborated in some movie ventures. However, the couple is rarely seen in public and lives an ultra-private life.
Hawke acknowledged that he required some healing from his broken marriage despite his new, happy life. According to him, the split pulled his life apart. But thanks to his work and children, he bounced back stronger.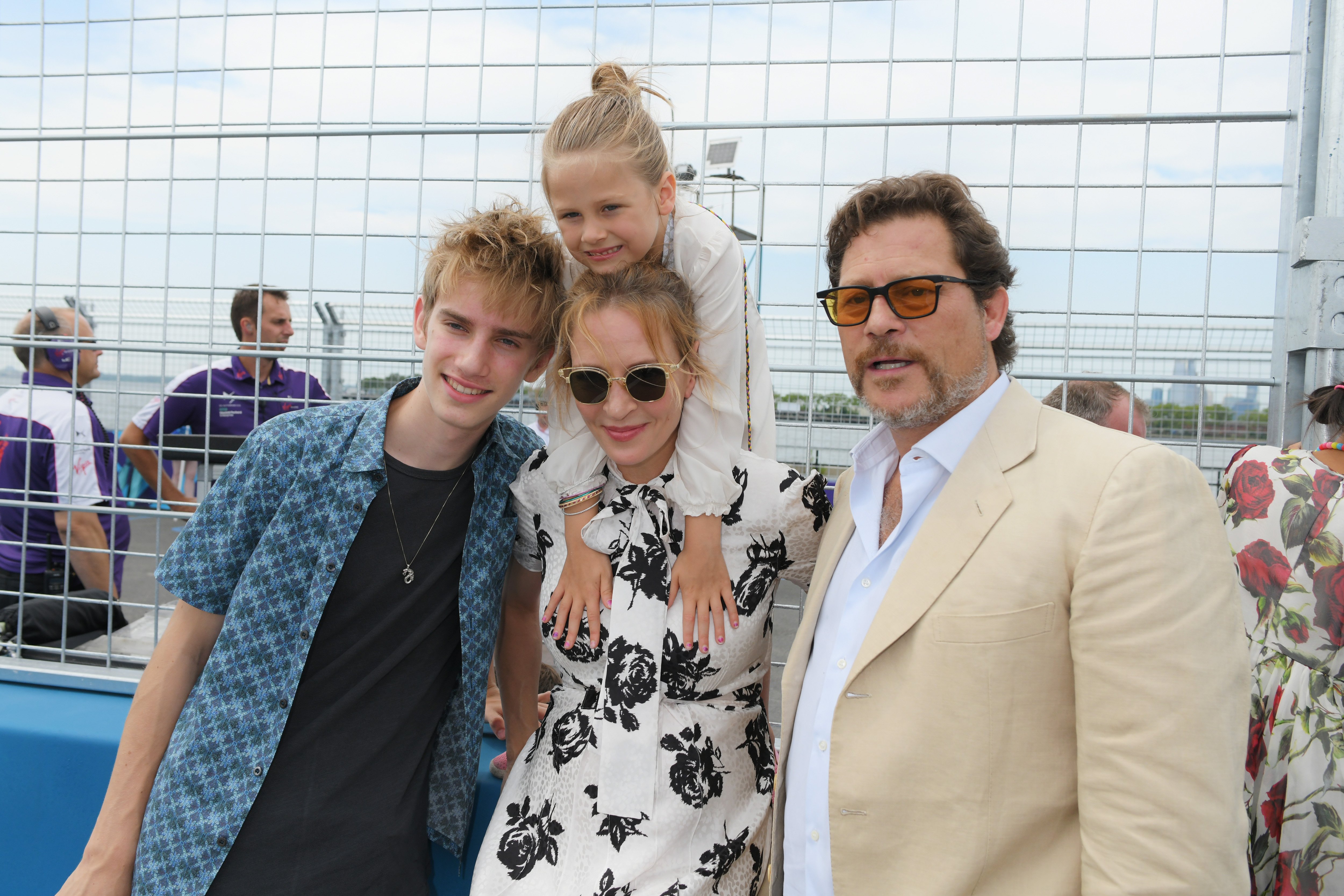 Levon Thurman-Hawke, Uma Thurman, Luna Thurman-Busson and Arpad Busson in New York City at the Formula E 2018 Qatar Airways New York City E-Prix on July 15, 2018. | Photo: Getty Images
While Hawke was able to walk down the aisle once again, his former flame, Thurman, remained unmarried but has been in a series of relationships and even welcomed a baby with financier Arpad Busson.
Thurman and the affluent investor became an item in 2007, and after a while, they split up, only to reconcile later. The actress credited Busson with the joy she experienced after her heartbreak.
Life with Busson came to an end in 2014, and Thurman was recently reported to be dating Bloomberg Media Group CEO, Justin B. Smith. The actress seems to have found a good blend between her love life and her successful career.
Please fill in your e-mail so we can share with you our top stories!