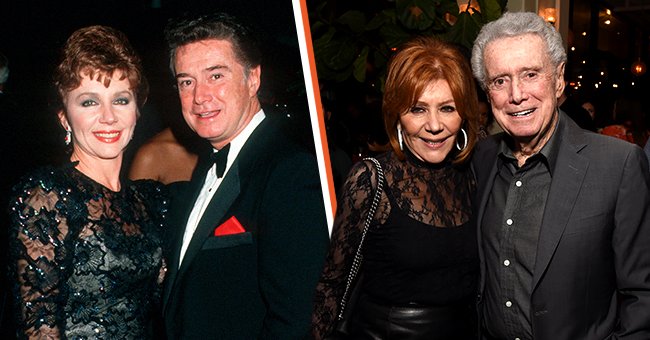 Getty Images
Regis Philbin's Wife of 50 Years, Who Sang to Make Him Happy, Once Tried to Avoid Him on Air After an Argument
Regis Philbin and his wife, Joy, often shared their arguments with their audiences. Their rifts never came between them, and even though Joy was often confused with someone else, she stayed with her husband for years.
Before Regis Philbin met and married the woman who would be with him until his death, his first wife was Catherine Faylen at age 38. They tied the knot in 1957 and had two children: Danny and Amy.
The couple divorced in 1968, and two years later, Philbin married Joy Senese. The destined pair met while working for Joey Bishop, with Senese employed as the talk show host's assistant.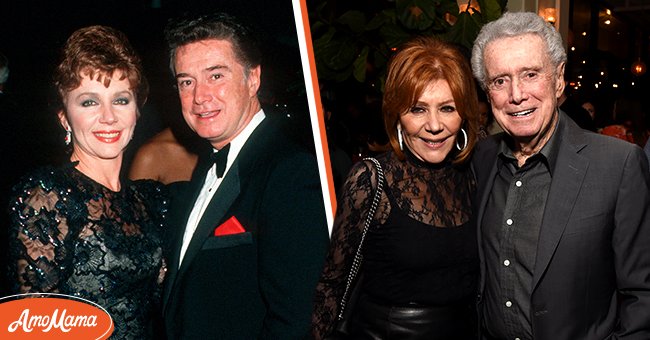 Joy and Regis Philbin at Forbes Magazine's 70th Anniversary Celebration in Far Hills, New Jersey on May 28, 1987, and the couple at the Los Angeles screening of "BURDEN" on February 27, 2020, in California. | Source: Ron Galella, Ltd./Ron Galella Collection & Michael Kovac/Getty Images
On the other hand, from 1967 until 1969, Philbin played the sidekick role and the announcer on "The Joey Bishop Show." The show's aim was ABC's attempt to take rating dominance against NBC's "The Tonight Show," hosted by Johnny Carson.
During her marriage to Regis, she welcomed two daughters: Joanna in 1973, and Jennifer "J.J" was born in 1974. Philbin was blessed to have his second wife stay and support him until his death.
INVOLVING AUDIENCE IN THEIR QUARRELS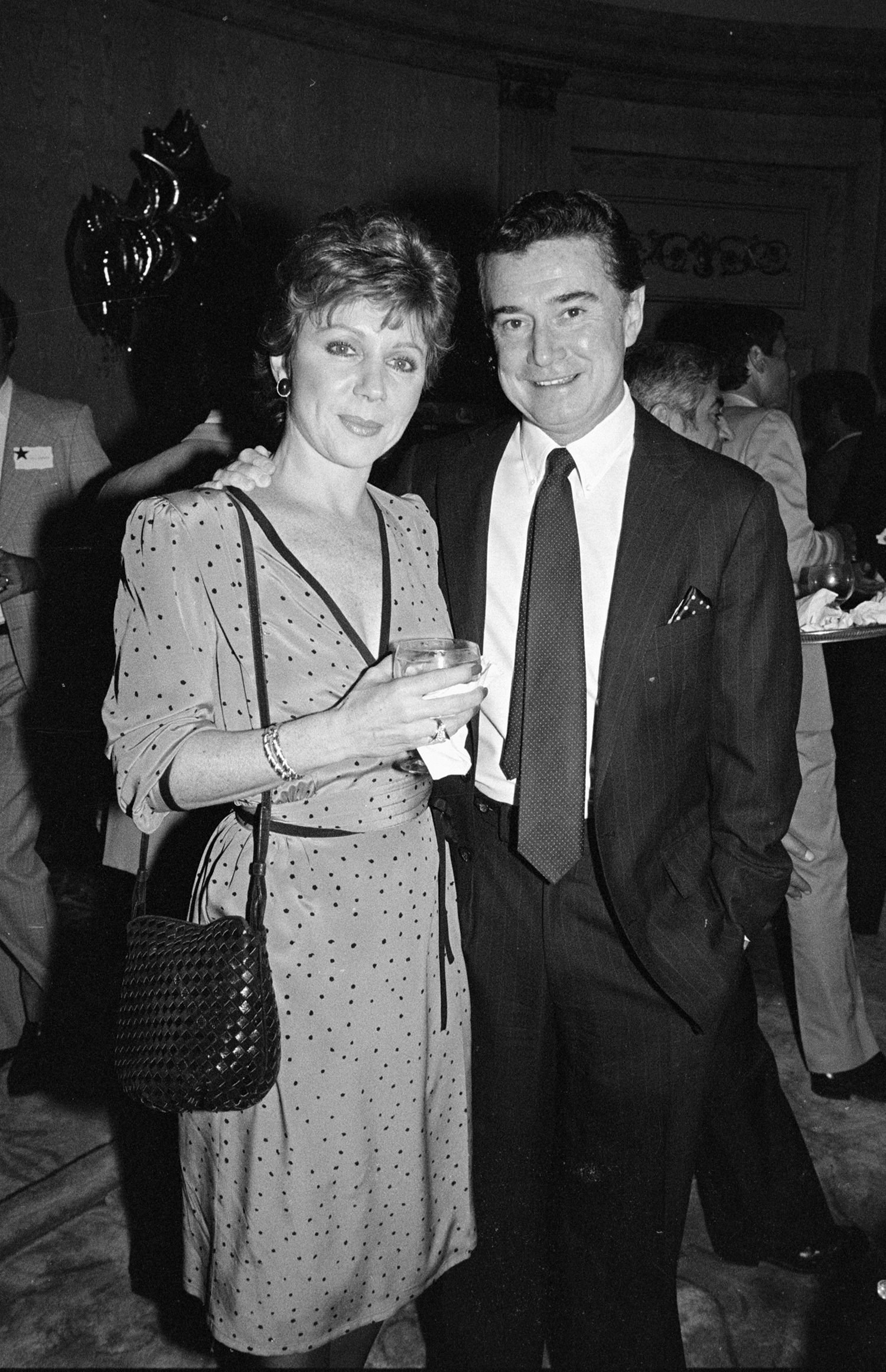 Joy and Regis Philbin in a black-and-white image. | Source: The LIFE Picture Collection/Getty Images
Years later, Philbin and Senese were able to work together on "Live! with Regis and Kathie Lee" as co-hosts. Speaking to CT Post in March 2015, Senese shared an exciting story about one of the times they hosted together.
The couple was quite honest with their audience, and Philbin's wife confessed that they never knew what one of them would say to the other. One night, the couple had a disagreement.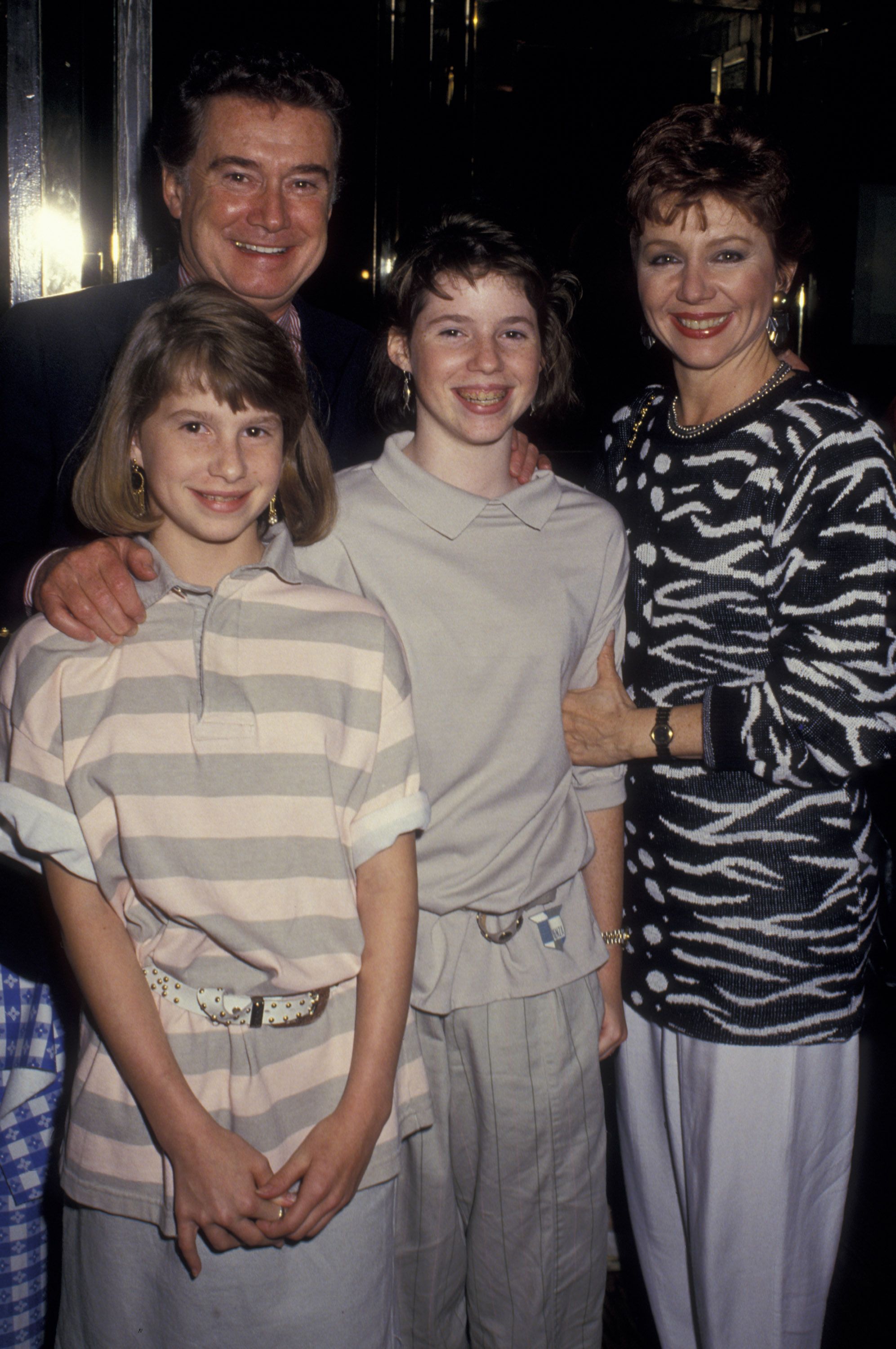 Regis, Joy Philbin, and daughters Joanna and Jennifer Philbin at the premiere party for "The Monster Squad" on June 3, 1987, in New York City. | Source: Ron Galella, Ltd./Ron Galella Collection/Getty Images
Senese wasn't talking to her husband when they got on stage the following day. The show was live, and their tension was evident because they couldn't fake their feelings in front of cameras.
So the duo involved the audience in their quarrel by telling them exactly what had transpired! Afterward, they let them vote to decide who they thought was right, and Senese came out on top!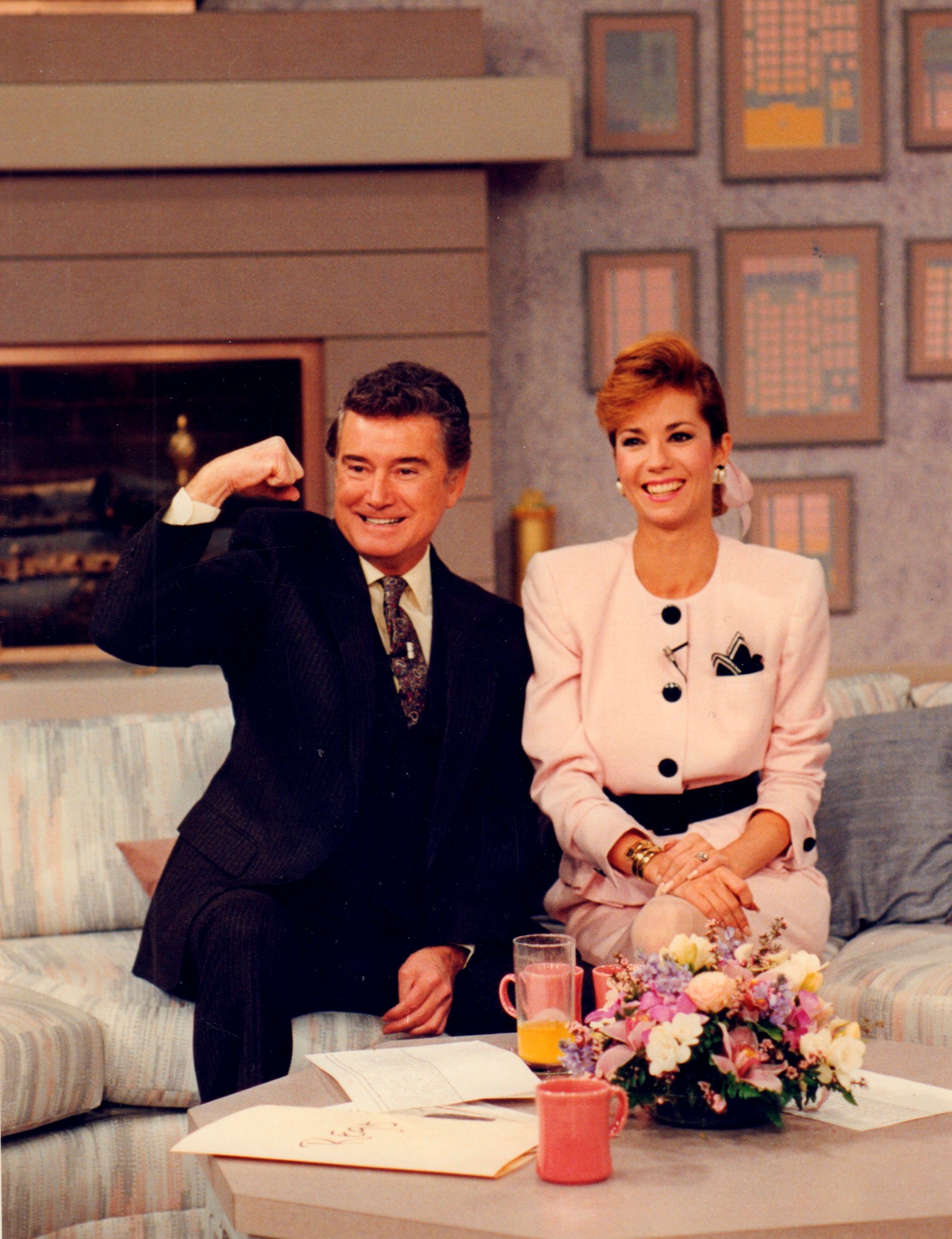 Regis Philbin and Kathie Lee Gifford on the set of "Live! with Regis and Kathie Lee" in New York on April 25, 1988. | Source: J. Michael Dombroski/Newsday RM/Getty Images
Another thing that came up when Philbin worked with Kathie Lee Gifford on "Live!" was that their chemistry and her looks got her mistaken for his wife and vice versa! During the July 2020 "Regis Philbin: The Morning Maestro – A Special Edition of 20/20" screening, Senese addressed the matter.
She revealed how people often called her by Gifford's name because they resembled each other. Gifford having the same red hair as Senese meant people would see him with his wife and think it was Gifford!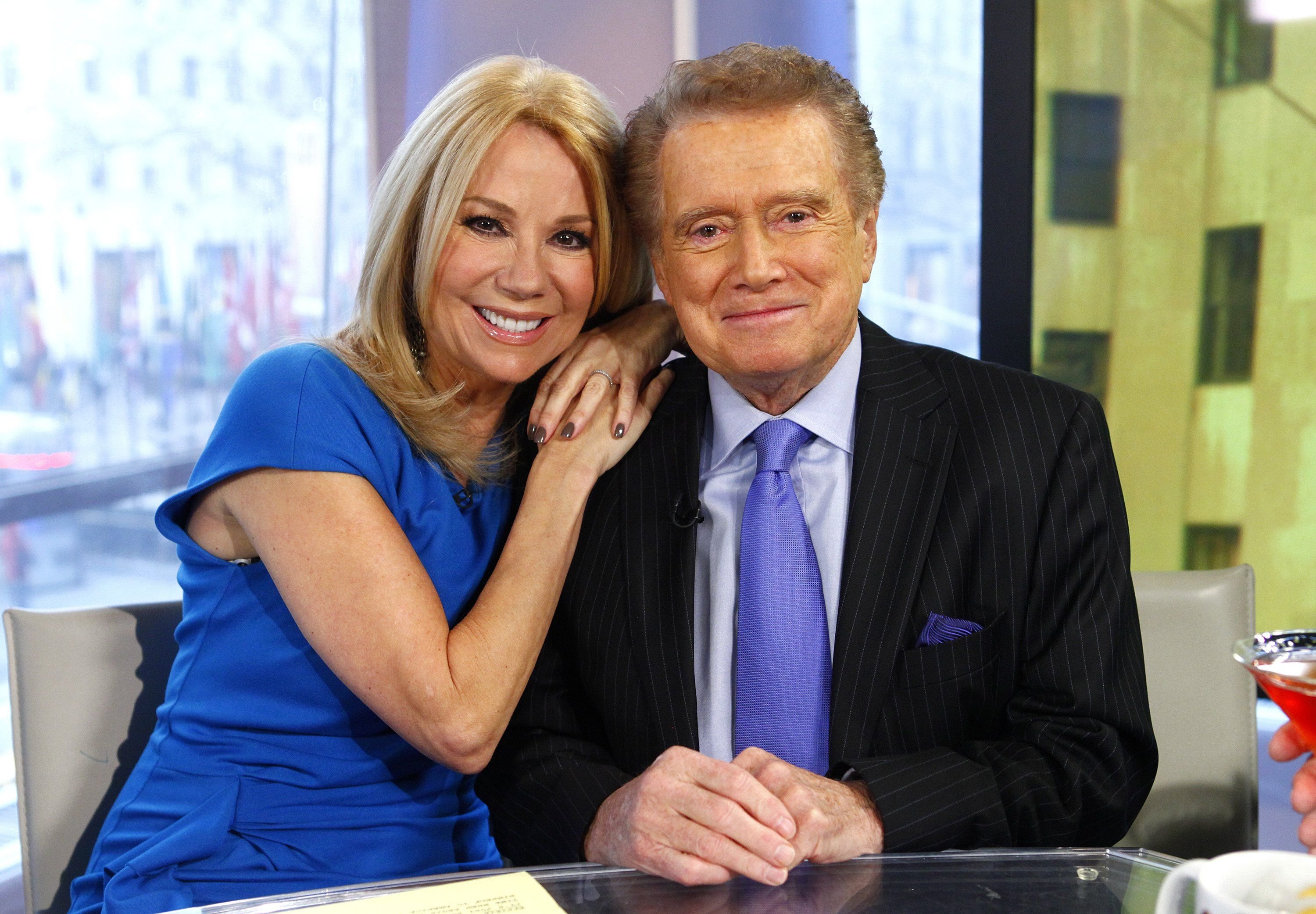 Kathie Lee Gifford and Regis Philbin on NBC News' "Today" show on January 19, 2012. | Source: Peter Kramer/NBC/NBC NewsWire/Getty Images
However, the mix-up didn't bother Philbin's wife. Senese noted how other women would ask her if she felt any jealousy because her husband spent time with bright and beautiful women.
She responded that they'd been married for so long that those kinds of worries just dissipated over time. The couple also kept fit together, although sometimes their games would affect their moods.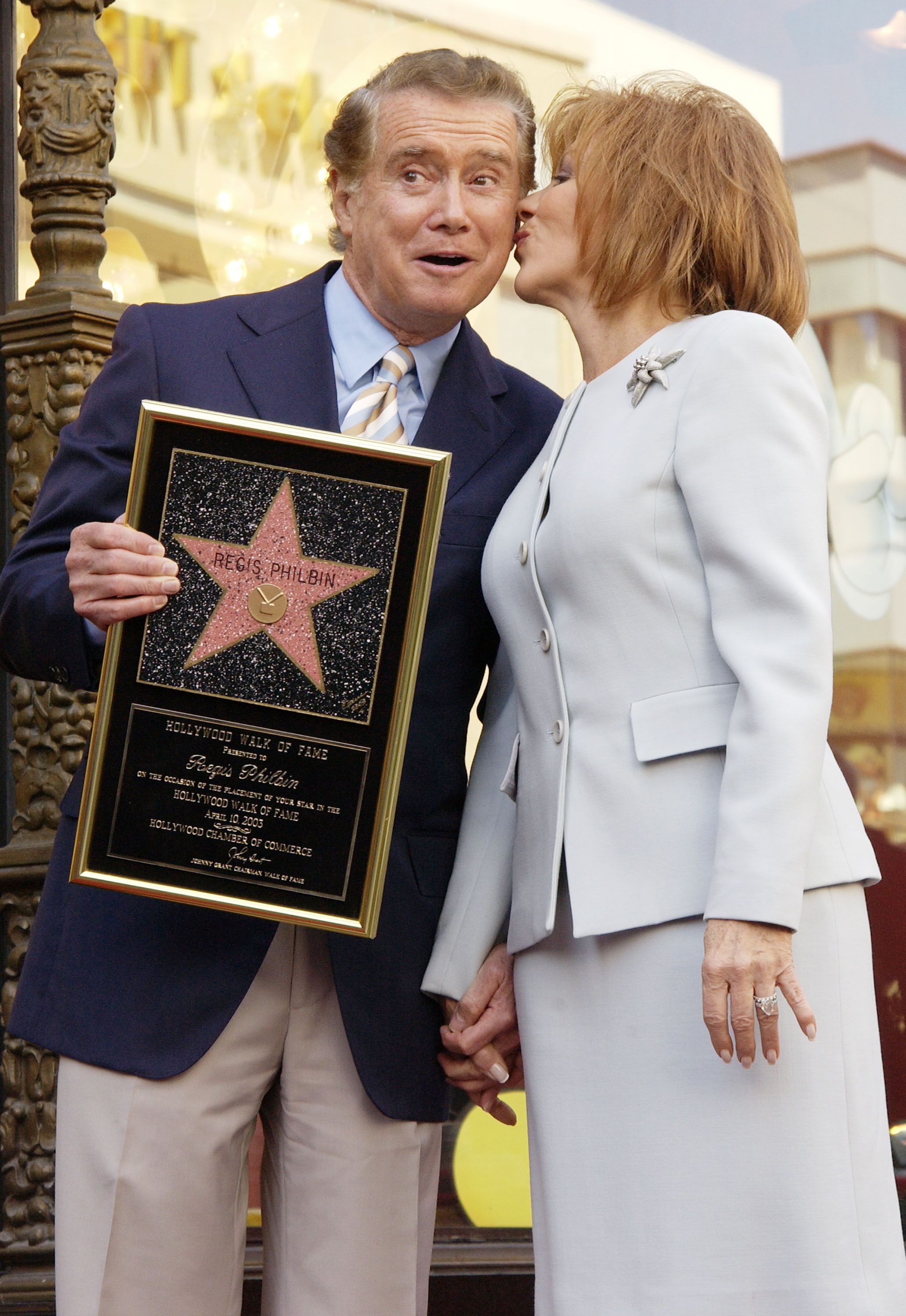 Regis and Joy Philbin after he received a Star on the Hollywood Walk of Fame on April 10, 2003, in Hollywood, California. | Source: Robert Mora/Getty Images
In 2011, Senese and Philbin focused on their love for tennis while starring an Advil campaign. That year, the television personality revealed to Parade that they worked out and played tennis about three to four times weekly.
His wife shared how if they won a game of tennis, they would be all lovey-dovey for the rest of the day. However, if they lost, the evening would be spoilt for the both of them!
Philbin mentioned how things weren't as bad as they used to be. He teased his wife by insinuating that she was the one who played poorly most of the time, and she retorted that he didn't warm up as he should!
The couple not only played sport together, but they went out on dates. In January 2020, Closer Weekly shared two Instagram images of them going out for date night at Craig's Restaurant in Los Angeles, with Senese wearing an age-defying outfit that made her look gorgeous!
WORSHIPPING THE GROUND THEY WALK ON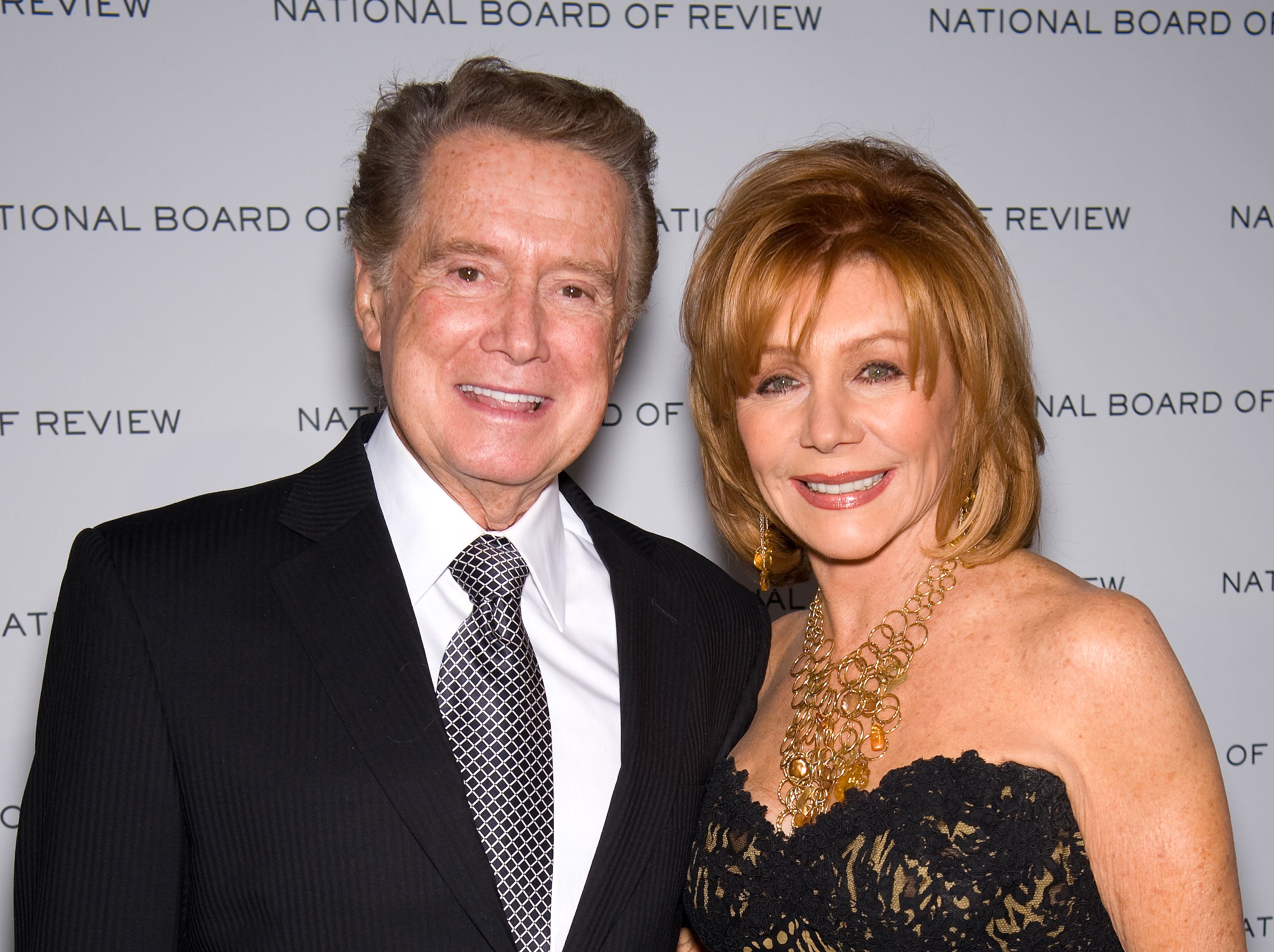 Regis and Joy Philbin at the National Board of Review Awards Gala on January 12, 2010, in New York City. | Source: Gilbert Carrasquillo/FilmMagic/Getty Images
In 2011, the couple had been married for 41 years, and Philbin joked to Parade that their secret for their happy and long marriage was that he feared his wife! Senese explained that there was just something about her husband.
She said they always had something new looming that kept their lives fun and active. The star's wife lovingly confessed that she'd rather be with him than anyone else in the world.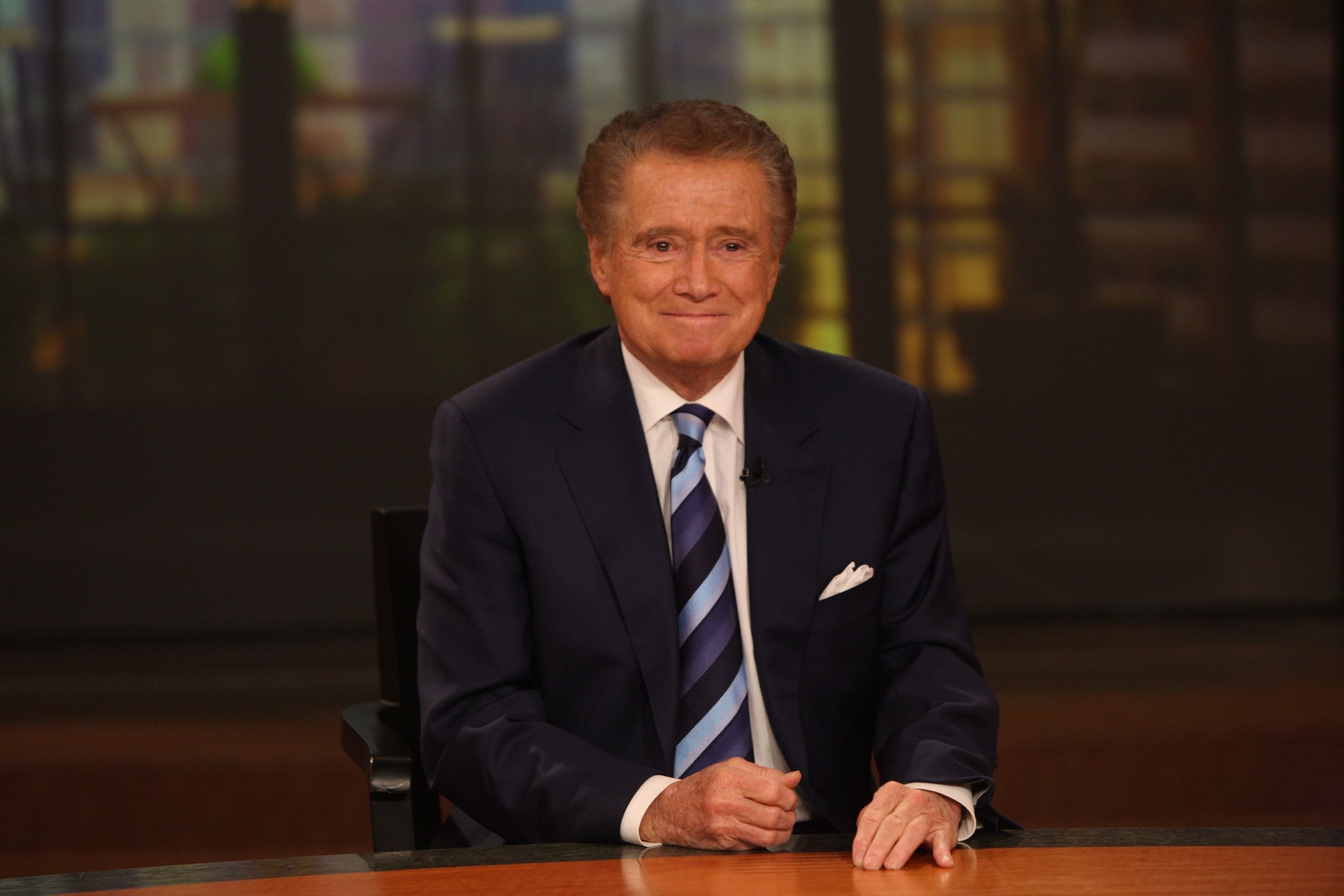 Regis Philbin at a press conference on his departure from "Live! with Regis and Kelly" on November 17, 2011, in New York City. | Source: Bennett Raglin/WireImage/Getty Images
Philbin seemed taken aback by his wife's response, and she explained to him that he kept things interesting in their relationship, and that was one of their secrets. She also admitted that it was the reason why she thought he'd never retire.
The Closer Weekly source said the couple [Regis Philbin and Joy Senese] went for a date at Craig's which was not far from their Beverly Hills condo.
During the CT Post interview, the couple was also asked to share their secret to life. Senese revealed that she would sing a new song for her Foxwoods act that gave the simple secret to life.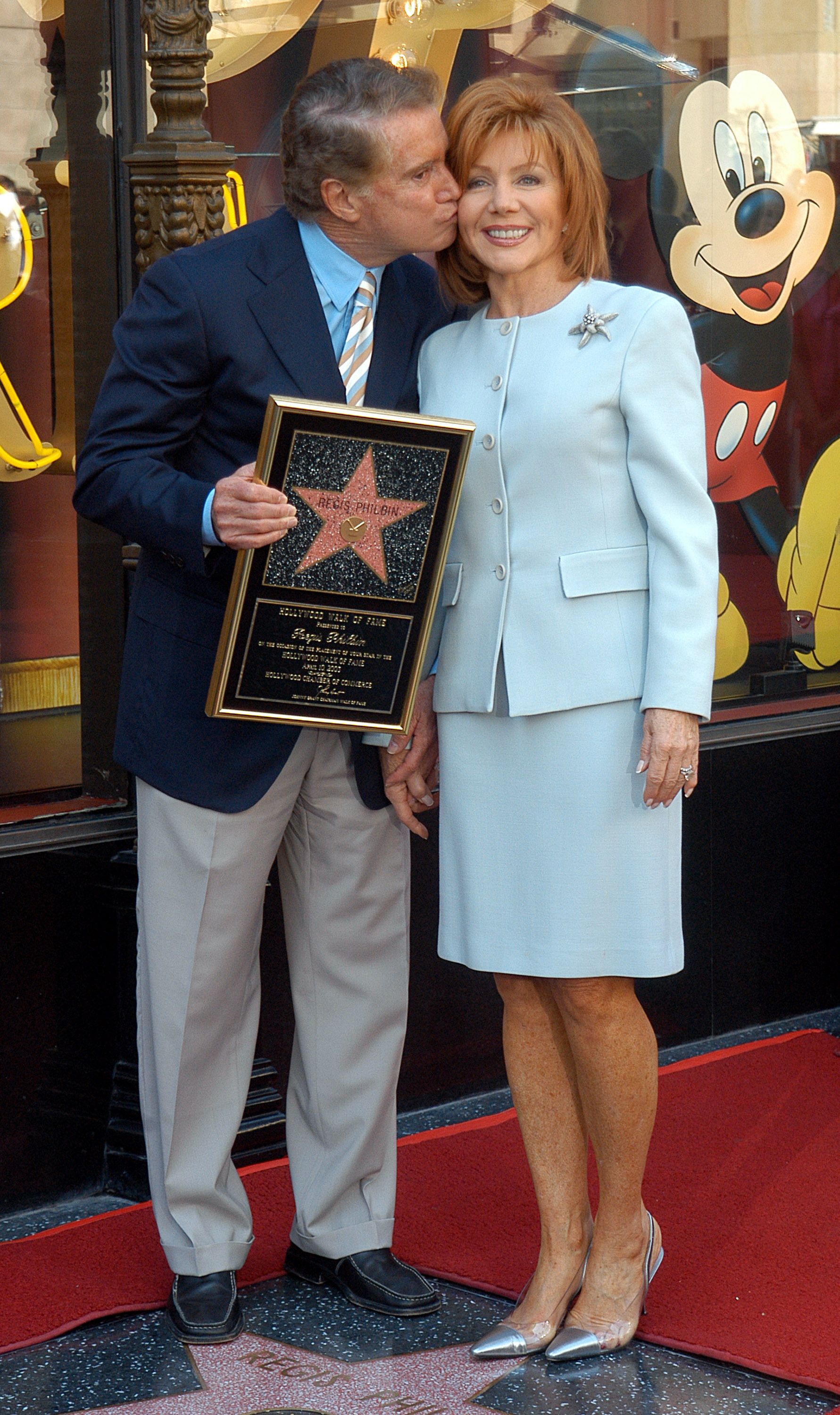 Regis and Joy Philbin during his ceremony being honored with a Star on the Hollywood Walk of Fame in Hollywood, California on April 10, 2003. | Source: Steve Grayson/WireImage/Getty Images
She explained that it was to make someone happy. The star's wife said if you could do that and also make yourself happy simultaneously, then her husband cut in.
Philbin jokingly lamented that her husband also deserved to be happy, then Sense elaborated that the "someone" she was referring to was him. The couple had an undeniable link like no other with a close source, confiding to Closer Weekly in July 2020:
"Regis worships the ground Joy walks on."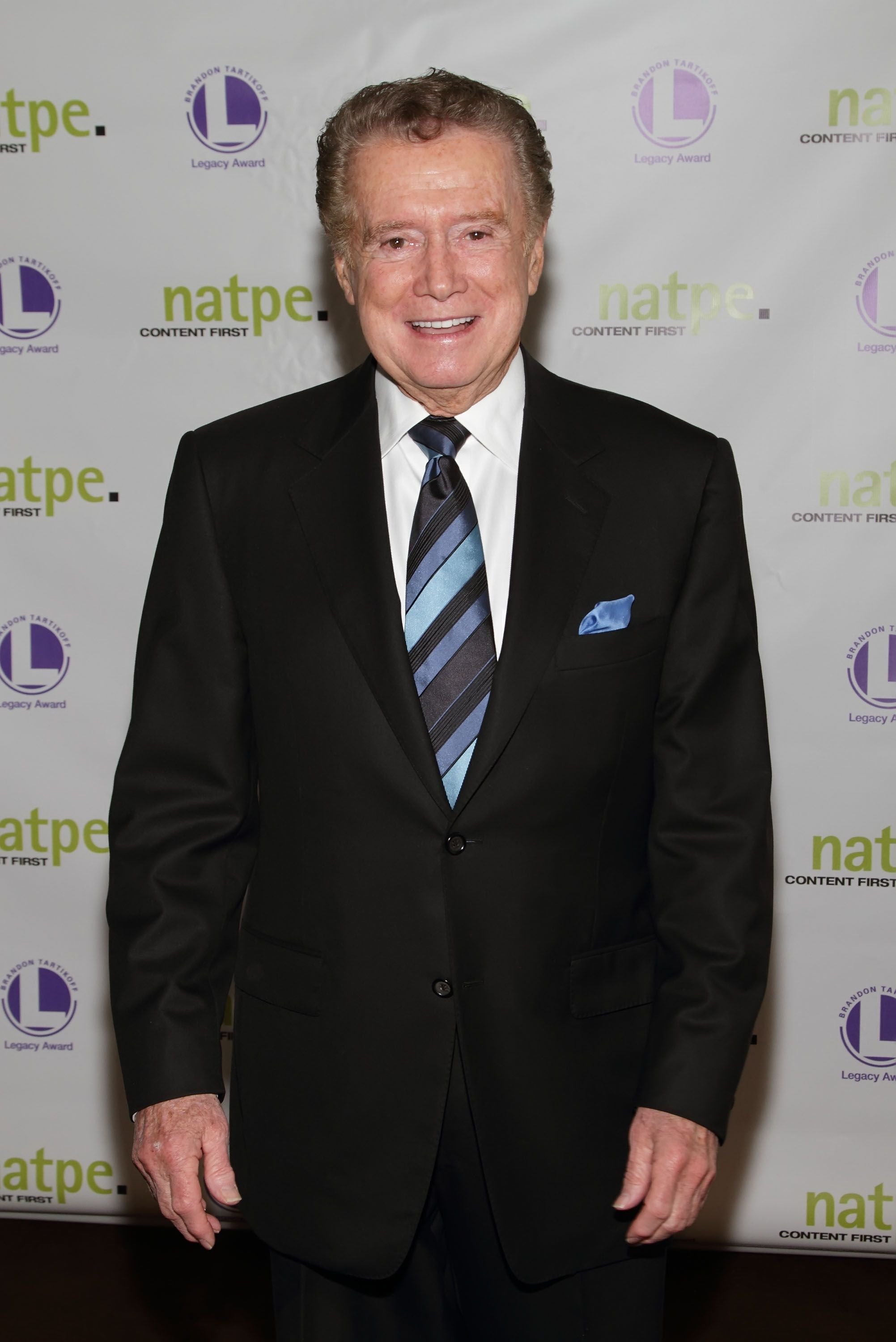 Regis Philbin at the 8th Annual NATPE Brandon Tartikoff Legacy Awards on January 25, 2011, in Miami Beach, Florida. | Source: Alexander Tamargo/Getty Images
The insider said the pair were best friends, and everyone loved them because they were great company and shared incredible stories while complementing one another perfectly. The source described their relationship as "a true love story" and noted how they had one of the longest-lasting Hollywood marriages.
TOGETHER HALF A CENTURY TILL DEATH TORE THEM APART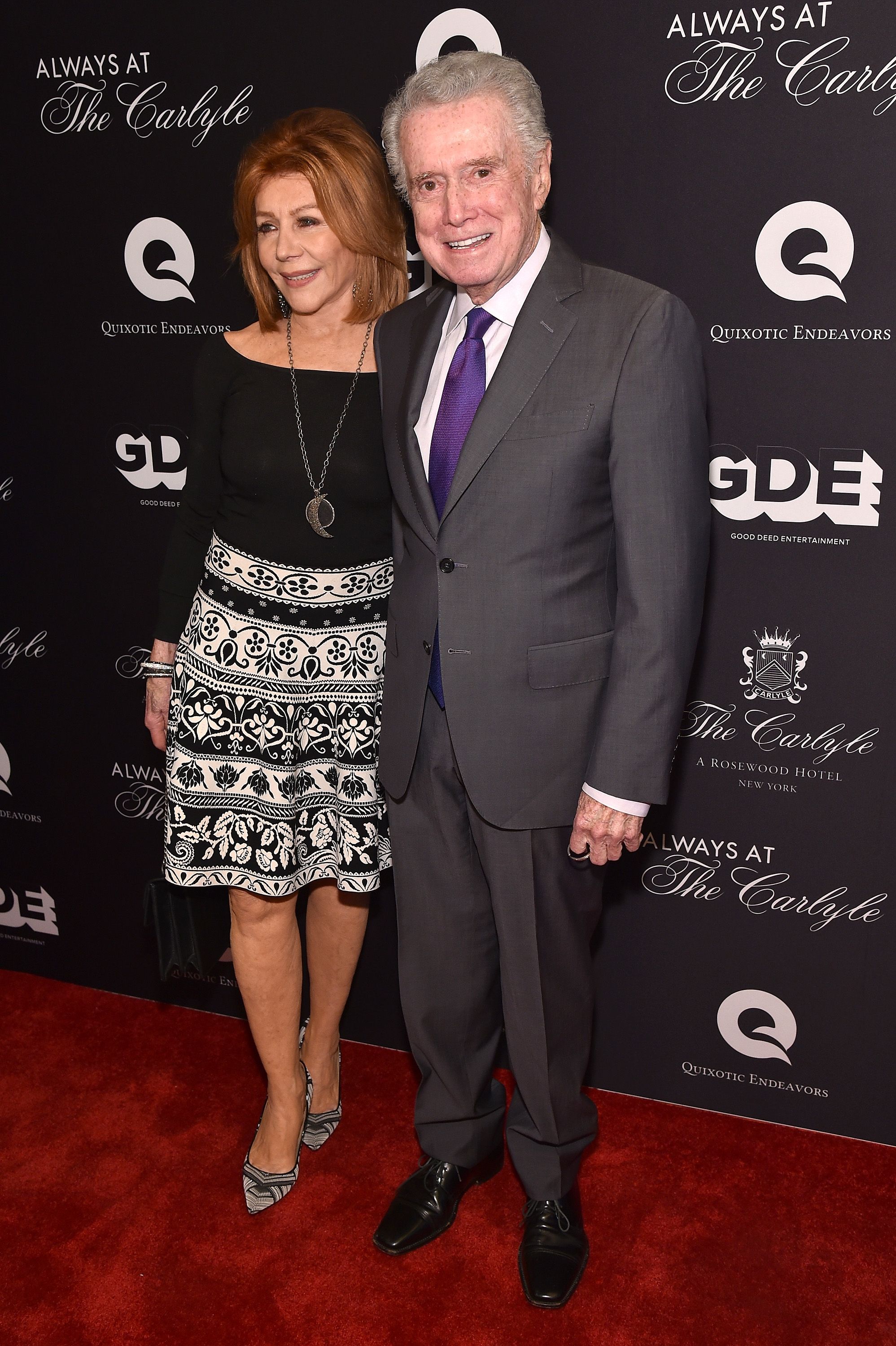 Joy and Regis Philbin at the "Always At The Carlyle" premiere on May 8, 2018, in New York City. | Source: Bryan Bedder/Getty Images
Senese and Philbin were together for over 50 years and celebrated their last wedding anniversary in March 2020. The Closer Weekly source said the couple went for a date at Craig's, not far from their Beverly Hills condo.
Sadly, Philbin passed away of heart disease four months later, on July 24, 2020, at age 88, in Greenwich, Connecticut. Senese and his children deeply mourned the star's death, excluding Danny, who died in 2014.
Please fill in your e-mail so we can share with you our top stories!