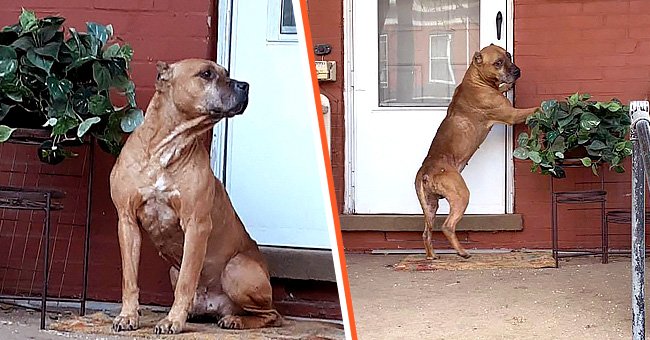 facebook.com/SperanzaAnimalRescue
Loyal Dog Waits on the Porch for Weeks after His Family Moved Away and Abandoned Him
A dog sat outside an empty house for weeks. He frantically leaped and scratched at the door, hoping someone would let him in. Then, one day, someone came around, completely changing the canine's life.
Dogs can rightly be called a man's best friend. They offer loyal companionship and keep us company whenever we feel gloomy or hopeless. Most importantly, these four-legged creatures are always around whenever we need them.
Suffice it to say that these sweet animals value their human friends to an immeasurable extent. The mere thought of parting from their family can take a toll on their emotional, mental, and physical well-being.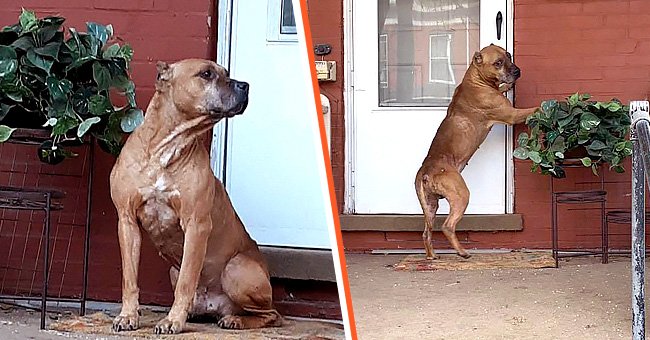 Cupid sits on the porch of of his owner's home [Left] He claws at the door, trying to get in [Right]. | Source: facebook.com/SperanzaAnimalRescue
While dogs would risk their lives than cause pain to their owners, they don't always receive the same treatment. A similar scenario befell Cupid in 2020, turning his whole life topsy-turvy. He had always been a faithful family dog.
Cupid loved and cherished his owners and thought they reciprocated his sentiments. Until, one day, he realized that wasn't the case. The poor pup watched as his family packed all their belongings, loaded boxes into their car, and drove away.
In mere seconds, he was left all alone. Ironically, Cupid didn't know what he did to deserve it. Only one thought filled his mind — this place was his forever home, and he would stay on the porch and wait for his family to return.
Weeks passed, and Cupid stayed put, thinking that his family would come back and take him if he waited long enough. The desperate dog even jumped and scratched at the door, hoping that someone would let him in.
A woman took it upon herself to wake up early every morning for ten consecutive years to rescue stray dogs.
Unbeknownst to the sweet pup, there was nobody inside the house. His family had turned their backs on him, abandoning him without a word. Indeed, Cupid didn't deserve such terrible treatment, and one day, someone decided to intervene.
The lonely dog caught the attention of vigilant neighbors, who contacted Janine Guido, founder of Speranza Animal Rescue. Guido was told that a dog was sleeping on the porch of a home in Harrisburg, Pennsylvania.
When she demanded more details, the neighbors informed her that the dog's owners had moved out and left him behind. Guido was furious and devastated and felt propelled to call out Cupid's owners publicly on social media.
"This is what your dog does when you move out and leave him behind….(sic)," read the caption of Guido's long and emotional Facebook post. Guido painfully watched as Cupid tried to claw his way back into the house.
The poor dog leaped and scratched at the door but failed miserably. When Guido tried to help him, he ran away and hid in his safe place. The scared and confused dog preferred eating out of dumpsters. He bolted when Guido tried to offer him food.
Eventually, Guido won his trust by talking to him calmly and ensuring she was there to help him. "I cried as I put your dog into my car. And even though I probably sounded crazy, I explained to your dog what was going on the whole ride home," wrote Guido.
She drove the adorable pup to his new home, Speranza Animal Rescue. The rescue would be Cupid's home until he found a new family. Most importantly, it offered him the care, love, and protection he rightly deserved.
Guido recollected: "He has been nothing but the sweetest gentleman since coming to the rescue. You can tell he's still really confused. But he is happy to meet everyone with a wagging tail."
Cupid received regular vet check-ups, ate healthy food, and made new friends in the days to follow. Guido and the rescue workers provided him with a loving and supportive environment to help heal his broken heart.
Thanks to the efforts undertaken by Speranza Animal Rescue, Cupid had a renewed chance at life, and we hope he finds a forever home soon.
Like Cupid's owners, some people wouldn't think twice before leaving their pets. However, good Samaritans like Guido and her rescue facility ensure that no animal undergoes such atrocious acts.
A woman took it upon herself to wake up early every morning for ten consecutive years to rescue stray dogs. Do you want to know how she maintained such a rigorous routine? You can find the complete story here.
Please fill in your e-mail so we can share with you our top stories!