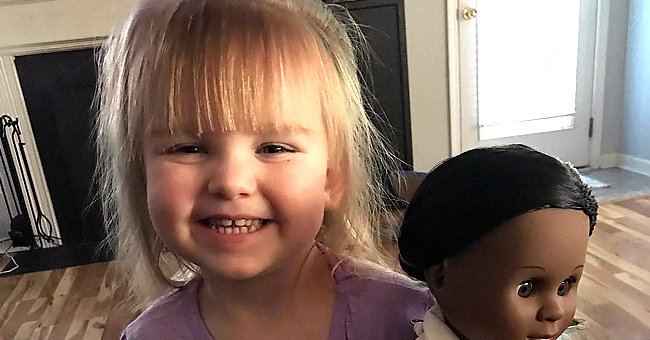 Facebook.com/lovewhatreallymatters
2-Year-Old Girl Shuts Cashier up When Asked to Choose a Doll of a Different Color
A toddler gave a cashier who urged her to get a doll that looked more like her a thoughtful reply that shut her up before her mother could step in. Here's what she said
Sophia, then 2, made her mother proud with her thoughtful reply when they took her to Target to pick out her prize for completing her one-month-long potty training.
Her Mom, Brandi Benner, had promised Sophia a gift of her choice a month before, and the girl knew what she wanted — a doll.
Sophia and her mom visited the Target store near their home in South Carolina, where the child spent about 20 minutes checking out all the dolls in the toy aisle.
Benner noted that the little one kept returning to a black doll fashioned after a doctor because she had dreams of becoming one in the future. Benner said:
"...in her mind, she is already a doctor. She loves giving checkups."
Sophia was delighted with her choice, and she refused to let go of her new acquisition until they reached the register to check out. The mother narrated the interaction in a post she put up on Facebook.
According to her, trouble started brewing when the cashier decided not to mind her business by asking Sophia if she was going to a birthday party. Still, she clarified when both mother and daughter fixed her with a blank stare.
The cashier pointed at the doll then asked Sophia if she picked it out for a friend. After hearing the cashier, Benner spoke up, telling the woman that the doll was a gift for Sophia for completing her potty training.
The lady behind the counter gave the mom a confused look before turning to Sophia to ask her if that was the doll she really wanted. Sophia answered:
The cashier replied, "But she doesn't look like you. We have lots of other dolls that look more like you." This got Benner angry, but before she could unleash her wrath, her daughter responded, saying, "Yes, she does."
She continued, "She's a doctor like I'm a doctor. And I'm a pretty girl, and she's a pretty girl. See her pretty hair? And see her stethoscope?" That seemed to shut the cashier up, so she dropped the issue and muttered, "Oh, that's nice."
The interaction convinced Benner that people are not born with the idea that skin color is everything. They could come in different colors, but no shade is inferior to others.
Benner said the TV cartoon "Doc McStuffins" taught Sophia the word "stethoscope." Her pride in Sophia's words was undeniable when she later spoke about the incident.
Benner was happy she didn't have to get into a fight to defend her daughter's choice and that Sophia had not lost her nerve because of the cashier's question. Benner said:
"If she was another child, that could have discouraged her."
Benner's Facebook post has been shared more than 100,000 times and has garnered more than 19,000 comments, most of which have been supportive messages from other mothers or people who have experienced something similar. One user wrote:
"She's my kind of girl; you are my kind of mommy!!"
"My little girl loved her black Cabbage Patch baby. She's a redhead with blue eyes and ivory skin. Slept with her and took her everywhere. I'm so proud of her kindness and how she looks deeper than most," another pointed out.
Of course, there were also some negative comments, but they don't really perturb Benner. "I just want to teach my kids love, and that's included in my own actions," Benner said. Regardless of what anyone thinks, little Sophia has made her choice, and there's no going back.
Please fill in your e-mail so we can share with you our top stories!