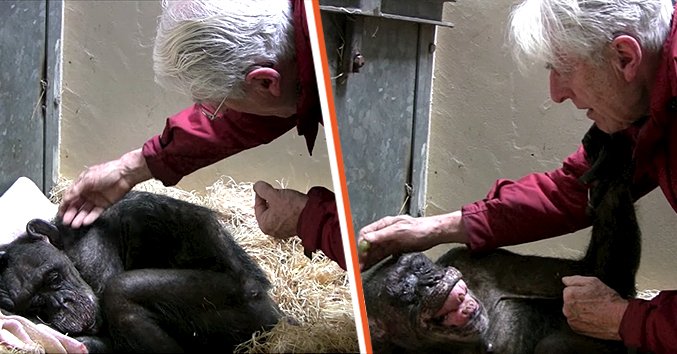 facebook.com/Animaloversnews
Dying Chimpanzee Recognizes Old Friend and Gives Him a Last Smile and Touch
When a chimpanzee was on her deathbed, she refused to eat and didn't respond to anyone—until she recognized someone special. Video footage of their final moments together made many people emotional.
There are videos online that never fail to move people to tears. One such clip was recorded in Arnhem, the Netherlands, and showcased a heartbreakingly beautiful goodbye between old friends.
Mama, a 59-year-old chimpanzee, was gravely sick and unresponsive in 2016. Various attempts were made to feed her, but the animal refused all offers. She was in pain, and things looked dismal.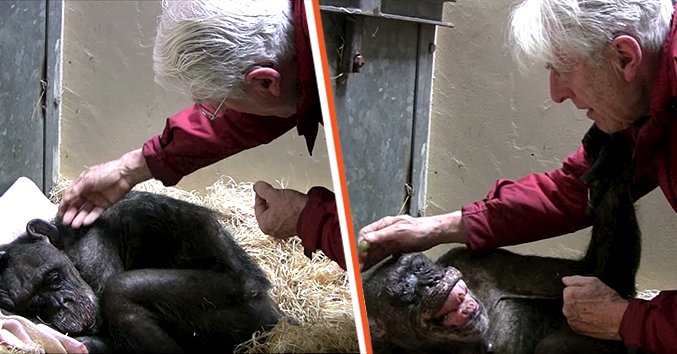 Jan van Hooff visits his old friend, a sickly chimpanzee [left] The animal smiles as she recognizes her old friend [right] | Source: facebook.com/Animaloversnews
However, the chimpanzee's eyes lit up when she saw one person, Jan van Hooff. The renowned biologist founded the chimpanzee colony that Mama was part of.
He worked with the animals for decades, and he spent lots of time with Mama. She took a while to recognize who was visiting her, but something unforgettable happened once she made the connection.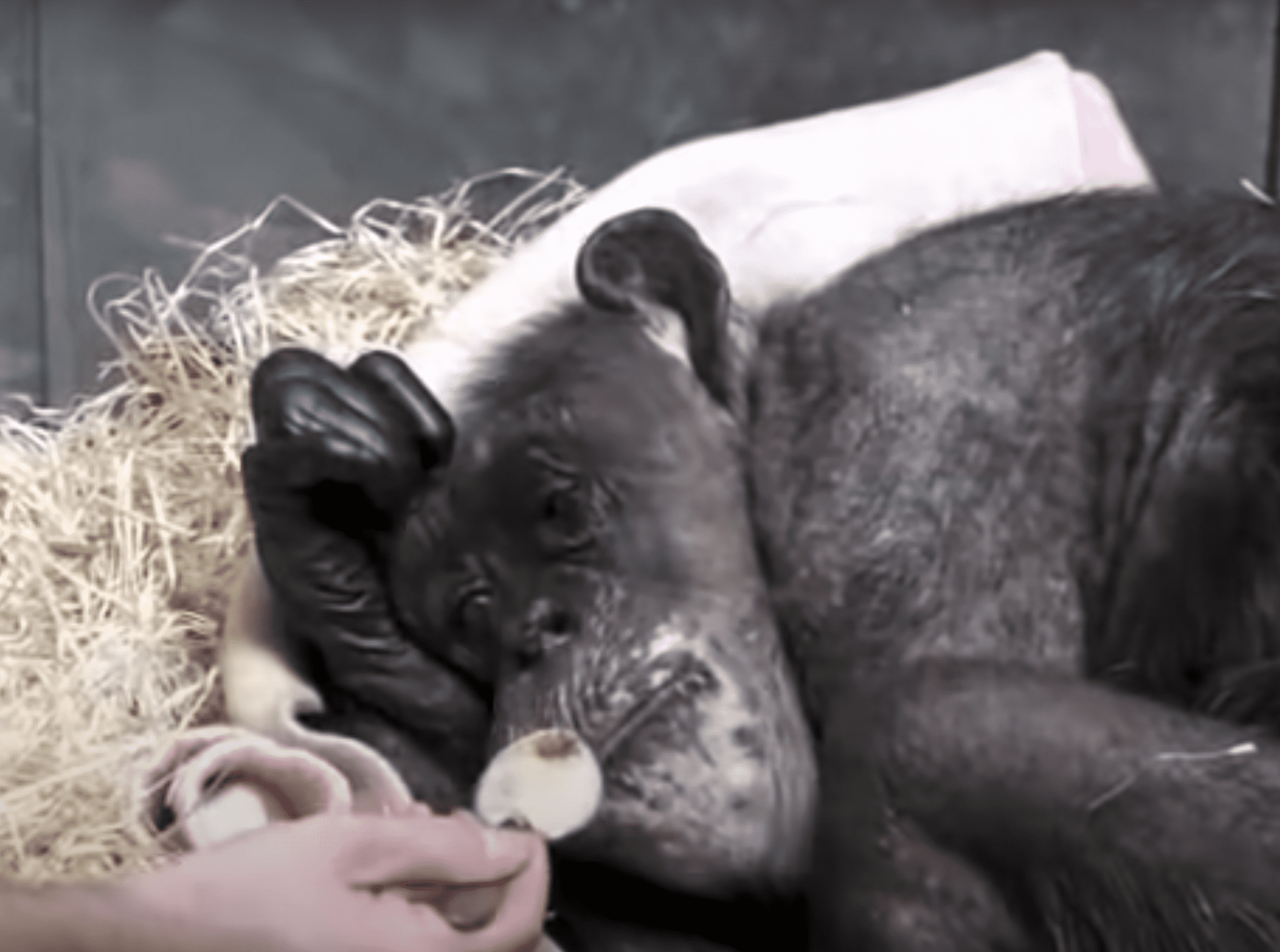 A sick chimpanzee who is refusing to eat | Source: youtube.com/Jan A R A M van Hooff
THE CHIMPANZEE DISPLAYED HER JOY
The chimpanzee moved from her curled-up position and excitedly stretched her arm out to van Hooff. Most notably, she showed him her big pink smile.
The chimpanzee met van Hooff in 1972, and her memories of him evoked so much love and joy. She was filled with a new sense of life, even if it was only for a few minutes.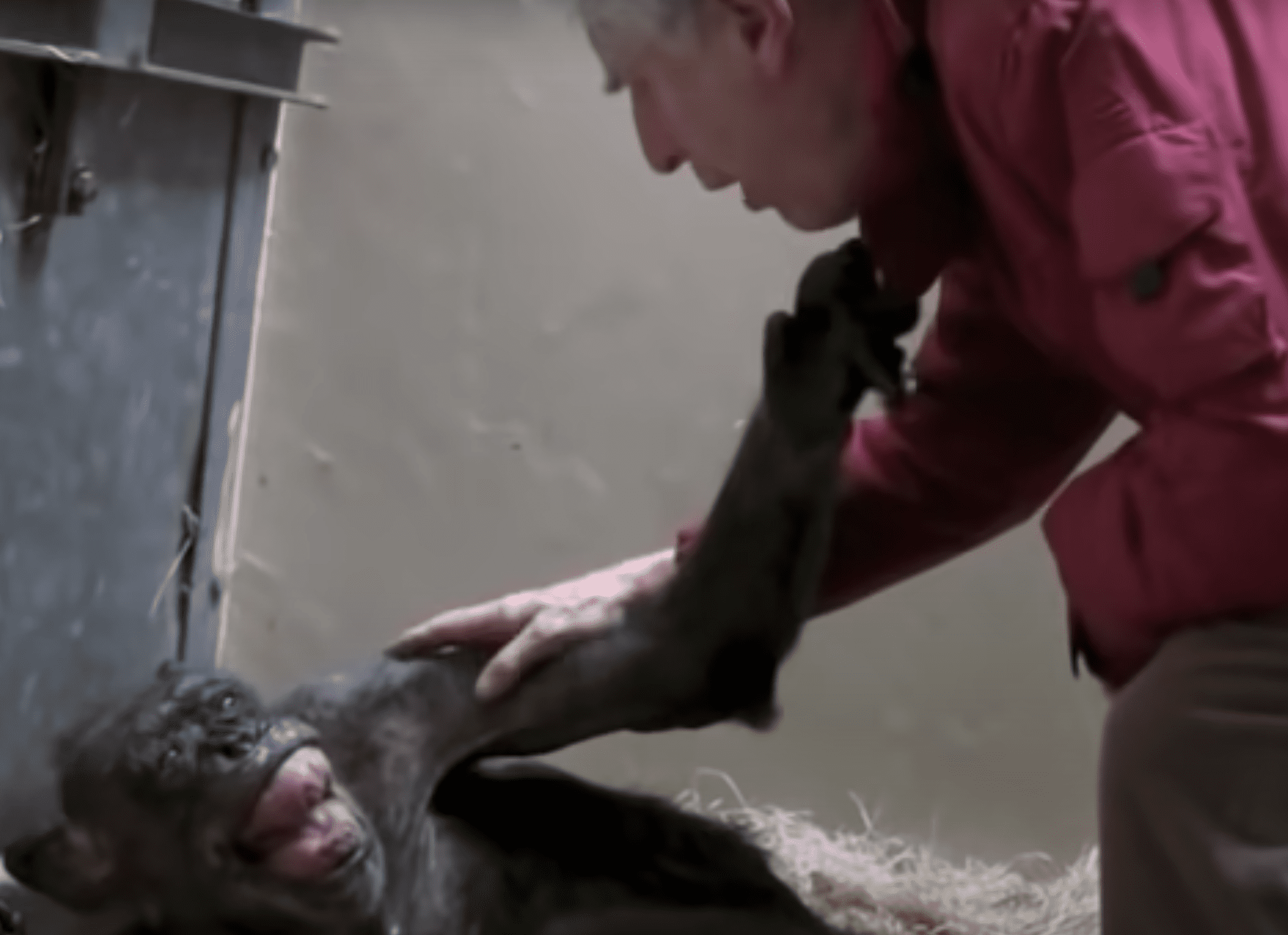 The chimpanzee sees her old friend and lights up with joy | Source: youtube.com/Jan A R A M van Hooff
THEY SHARED AN UNDENIABLE BOND
The animal displayed her joy in an array of ways. She used her face, voice, and physical embrace to show van Hooff just how much he meant to her.
The biologist was touched by her response and thrilled to spend some time with his old friend. The bond between the pair was undeniable.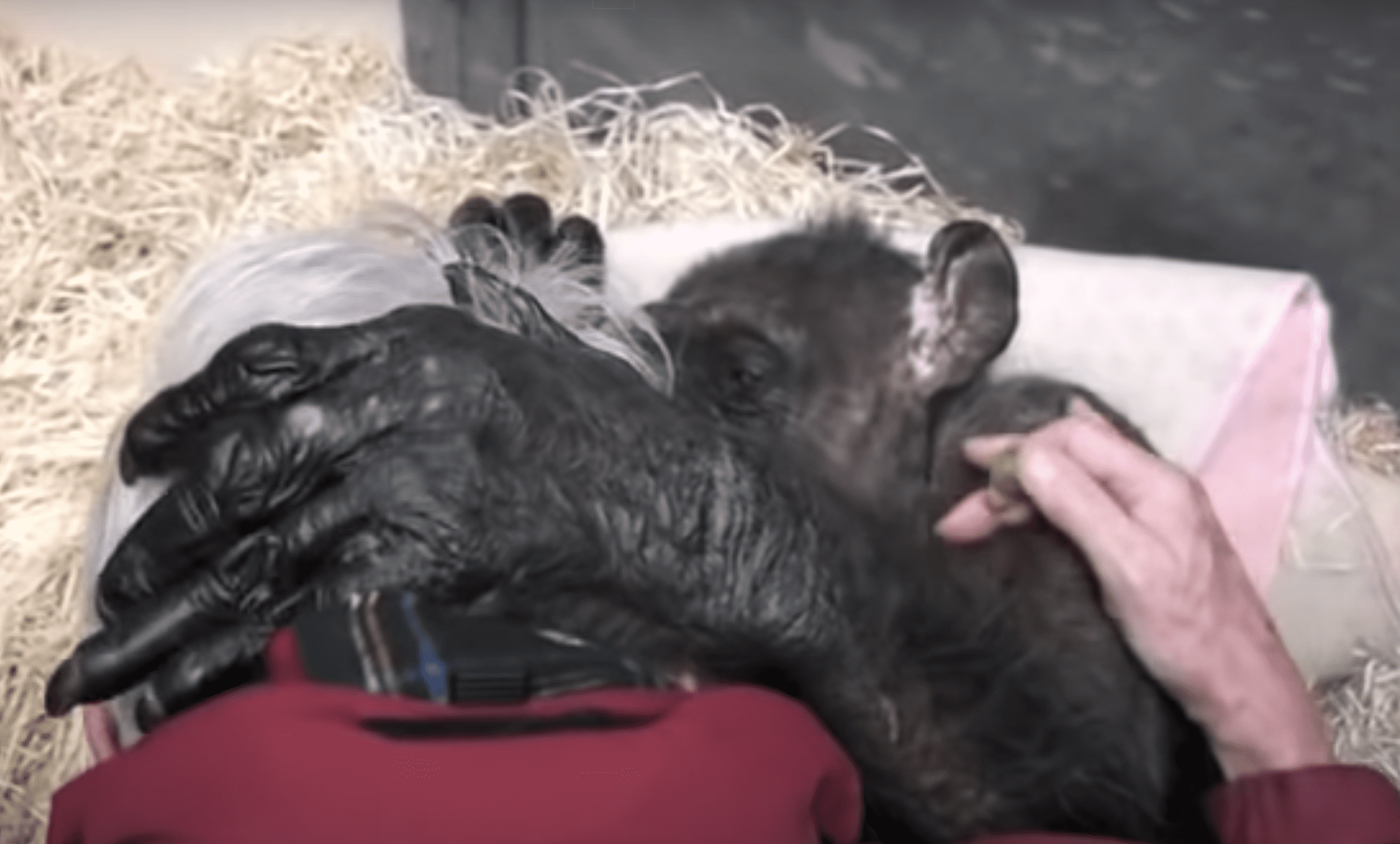 The chimpanzee embraces her old friend Jan van Hoof | Source: youtube.com/Jan A R A M van Hooff
SHE TOUCHED MILLIONS OF HEARTS
The video showcased the final happy moment in Mama's life story as she sadly died a week later. The now-viral clip honored her life and touched the hearts of millions of people worldwide.
One user wrote: "This made me cry so hard. The love they exchanged was so pure." Another added: "The way her face lit up when she finally recognized him was amazing. I bet she died peacefully and content knowing her friend still cared."
ANOTHER EMOTIONAL FAREWELL
Animals and humans can form tight bonds, primarily if they have known each other for years, like Mama and van Hooff. Sadly, one dog only got to say goodbye to his best friend when it was too late.
Teacher Carmelito Marcelo fed Buboy for two years. They grew close until the teacher sadly passed away in 2019. However, the dog continued to wait for his friend.
Finally, students took him to see his body, and the animal was heartbroken. He stayed next to the coffin as long as he could.
The farewell moved many to tears, as goodbyes between animals and their human friends often do. The chimpanzee Mama and the dog Buboy showcased pure love, and their emotional reactions were unforgettable.
Please fill in your e-mail so we can share with you our top stories!