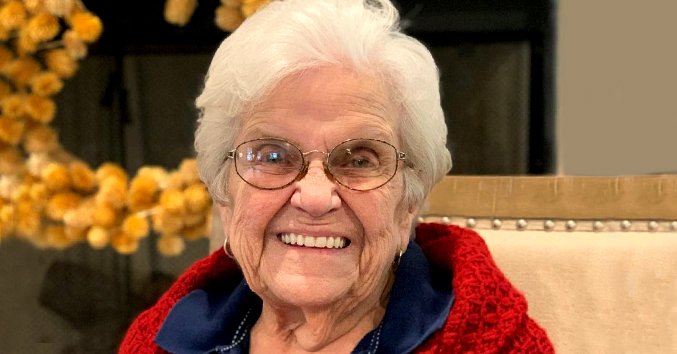 Grandma Bobbe | Source: Instagram.com/stewiez71
Man Builds Special Room for His Grandmother to Live With Him in Her Last Years
A young man proved he had so much love for his grandmother when he built a particular room in his home for her. But, before that, he performed a thoughtful act that stunned netizens. Find out what it was.
Grandparents are extraordinary people to those who are lucky to have them. Matthew Stewart, a famous TikToker from Florida, was among the lucky ones, and he shared an extremely close relationship with his 88-year-old grandmother, Bobbe.
In 2020, Stewart was able to thank Bobbe for everything she had done for him in a significant way. He built a particular room in his house for his grandmother to live with him in her last years. Here's the beautiful story of the older woman and her grandson.
Stewart Offers Bobbe a Room in His House
Stewart and Bobbe enjoyed one of the most loving bonds there could ever be. The duo often shared fun moments on their social media pages and built large followership over the years. Some of the videos stirred up emotions and taught a few lessons.
In October 2020, Stewart shared a video on Instagram that left many in tears. It showed the young TikToker announcing to Bobbe that she would be moving in with him and his family when their new house was completed.
After hearing the news, the grandmother was overwhelmed and happy. She shed some tears, noting that it touched her to know that someone wanted her. The video went viral as it garnered almost 150,000 views and more than 1,000 comments.
Netizens applauded Stewart for his kindness, saying he is a phenomenal grandson. Others prayed that the young man would receive such generosity from someone else in the future.
After sharing the post, Stewart opened up to Good News Moment about his reason. The young man said Bobbe had been there for him during the most challenging time in his life. He was grateful to finally reward her for all the love she showered on him.
Quarantine Salon Day
A few months before the big revelation, Stewart broke the internet after giving his grandmother a haircare treat. Bobbe's salon had been closed for a while due to the coronavirus pandemic, and her hair needed urgent attention.
The woman started getting a little bit depressed, and Stewart had to figure out what to do. Despite not being a hair specialist, Stewart stepped in and gave his grandmother the best treatment.
The man washed, blow-dried, and styled Bobbe's hair beautifully, leaving her with a fantastic look. The older woman was happy about her hair and spoke to Now This about it.
Bobbe said Stewart made her "beautimous." She described the experience as a special one, adding that it was a great time with her grandson. The salon session was shared on social media and amassed over 1.3 million views.
Goodbye Bobbe
Sadly, Stewart will not spend more time with his grandmother following her death in January after a brief illness. On February 13, 2022, the young man celebrated Bobbe's first posthumous birthday. She would have been 89 years old.
He shared a video on Instagram, showing some of the beautiful moments Bobbe experienced in her last years. The older woman will be greatly missed by her family, friends, and fans, whom she impacted positively.
Please fill in your e-mail so we can share with you our top stories!