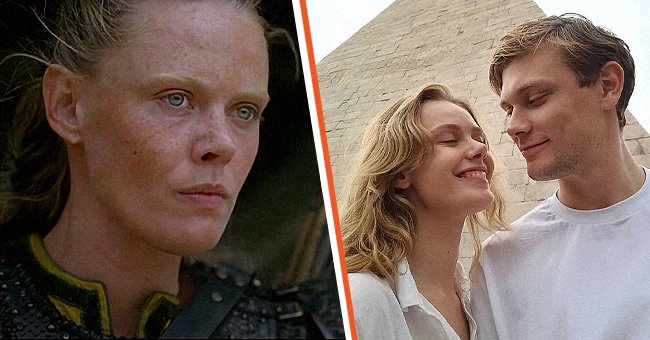 instagram.com/fridagustavsson youtube.com/Netflix
Is Frida Gustavsson Single? The Divorced 'Vikings: Valhalla' Star Hides Her Private Life
Not many fans know about Frida Gustavsson's marital status, as the spectacular actress in the "Vikings: Valhalla" is skilled at shielding her private life from the spotlight. However, now and then, she manages to let go of a few details. So here are some details about her private life.
Frida Gustavsson, a Sweden born actress, is famous for playing Freydís Eiríksdóttir in the epic series "Vikings: Valhalla," a significant role in the Norse exploration of North America.
She has also appeared in the fantasy drama "The Witcher." Gustavsson knows her onions when it comes to acting, making her worthy of her celebrity status.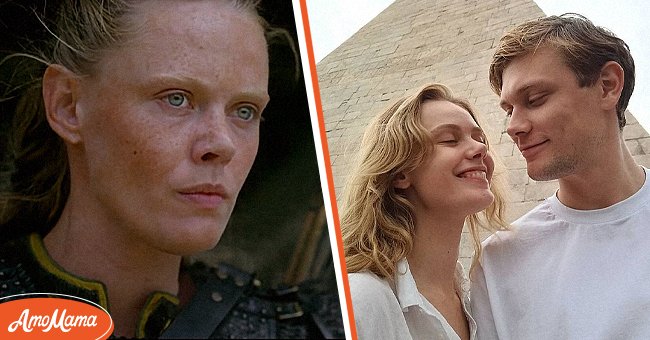 Frida Gustavsson as Freydís Eiríksdóttir from Nteflix's Vikings: Valhalla [left], Frida Gustavssonand her partner [right] | Source: instagram.com/fridagustavsson youtube.com/Netflix
Her perfection onscreen has been through years of hard work and determination. The Swedish star first appeared on TV at age 5. A decade later, she ventured into the fashion industry, modeling for indigenous brands. She later moved to different countries, including Japan and other parts of Europe, to further her modeling career.
Gustavsson's discipline and passion did not make her give up until she worked with top brands like Chanel, Christian Dior, Louis Vuitton, Marc Jacobs, H&M, and Prada.
While modeling, she studied at St. Martin's Gymnasium in Sweden and planned to work as a fashion stylist. After graduating, the young model returned to acting and has done excellently so far.
FRIDA GUSTAVSSON WAS ONCE MARRIED
In 2015, two years before returning to the screens, she married Hjalmar Rechlin, a photographer from Stockholm. Their wedding ceremony was at Katarina Church in Stockholm, and as expected, the bride looked stunning for her perfect day.
The former model was adorned in a stylish wedding dress that made it into several fashion magazines. The groom also chronicled their wedding and love tale through his photography.
Unfortunately, their seemingly perfect union ended in 2017, and both parties have remained mute about the details behind their split. Following their divorce, the actress deleted their lovey-dovey posts on her social media pages, and before the year ran out, she surprised fans with a photo of another lover.
GUSTAVSSON'S RECENT ROMANCE
The actress's new lover was Marcel Engdahl, an actor, and model who worked as an assistant director at the Belenius art gallery in Stockholm.
Engdahl moved into Gustavsson's Stockholm residence shortly after they began dating. Unlike her first marriage, this romance has survived the test of time, and the couple is already engaged, intending to have a wedding soon.
While these two may be planning a wedding, the actress admitted that she would love to grow their family. Speaking about kids, she said, "Yes we want that...I probably want children before 30!" Gustavsson appears fulfilled in her relationship with Engdahl, and she frequently shares photos of their time together.
A GLIMPSE INTO GUSTAVSSON'S CHARACTER, FREYDÍS EIRÍKSDÓTTIR
Gustavsson delights fans with her impressive performance as an Amazon in "Vikings: Valhalla," where she explores North America with her brother.
As Eiríksdóttir, she is an independent and brave woman who can defend her region with her fighting skills. While speaking about her role, the actress mentioned that it took hard work to make it a reality but that it was worth it. She also added:
"She is allowed to take space and to be powerful. And to be able to portray that was just something that I would die to do."
" is one of the top-notch historical series on Netflix, and Gustavsson is not the only intriguing cast member on it. Other co-stars include Laura Berlin, David Oakes, Bradley Freegard, and Leo Suter.
Please fill in your e-mail so we can share with you our top stories!