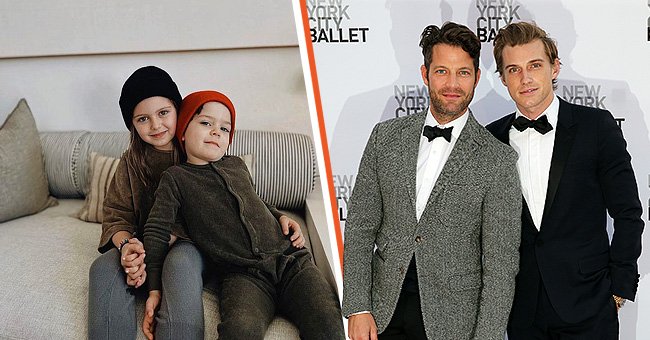 Getty Images | instagram.com/jeremiahbrent
Nate Berkus & Jeremiah Brent Are Doting Fathers to 2 Kids Who Have Cute Stories behind Their Names
TV personalities and interior designers Nate Berkus and Jeremiah Brent's eldest daughter was involved in her brother's surrogate mother's pregnancy.
Nate Berkus and Jeremiah Brent of "The Nate and Jeremiah Home Project" are not only talented interior designers and TV personalities. They are also parents to their two children, Poppy and Oskar Brent-Berkus.
The "Nate and Jeremiah by Design" stars welcomed their children via surrogates. Poppy was born on March 23, 2015, while Oskar came a few years later, in 2018.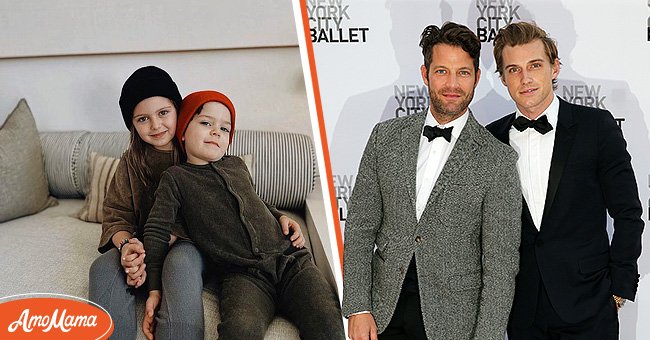 Nate Berkus and Jeremiah Brent's two children Poppy and Oskar pictured on Instagram during the Christmas Holidays, 2021 [Left] Berkus and Brent at the New York City Ballet Fall Gala in 2014 [Right] | Source: Getty Images & Instagram/jeremiahbrent
After welcoming Oskar, Berkus shared that Poppy was involved in Oskar's surrogate's pregnancy. Throughout the pregnancy, they created ceremonial experiences for Poppy, so she felt included and excited for her brother's arrival.
Poppy met the surrogate, received ultrasound photos, and attended doctor's appointments. Brent and Berkus wanted Poppy to know the details of when and how Oskar would come into this world as they explained:
"The kids are going to want to know someday how it happened. [This way,] there won't be ambiguity or surprises."
Poppy welcomed being a big sister, and after his arrival, she would join her dads and her brother in bed for cuddles each morning. Baby Oskar immediately loved his sister, as Brent once shared he was obsessed with her.
Berkus and Brent watch their children's personalities develop as they continue to grow. In 2019, Berkus shared Poppy loved art and was sensitive to the environment.
He hinted she might follow in her interior designing fathers' footsteps as he found her moving a piece of furniture to its original spot after Berkus tried to rearrange it. Poppe explained to her father that he had put it in the wrong place.
Berkus and Brent seem to be rather sentimental parents, especially regarding their children's names, as both kids have interesting stories behind their names. They decided on Poppy after Brent had a peculiar dream, as Berkus once explained:
"Jeremiah had a dream that there was a little girl with dirty blonde hair and her name was Poppy. He woke up and he was like, "Do you like the name Poppy?" And I do, so that's her."
However, a few friends, including TV chef Jamie Oliver and one of the executive producers on "Dream Builders," who both have daughters named Poppy, might have taken credit for the name choice.
While the dads chose Poppy through a dream, Oskar's name was a little more personal as he was named after Berkus's ex-partner, photographer Fernando Bengoechea. Bengoechea passed away in 2004 during a Tsunami in Sri Lanka.
His middle name was Oskar. Brent suggested they use the name for their second child as a way to honor Berkus's late ex-partner. Although many others might find the name choice awkward, Brent was entirely behind the choice.
During an interview with Orpah Winfrey, the thoughtful Brent explained he felt connected to Bengoechea and wanted to honor him because Berkus and Bengoechea's relationship was a part of their love story.
Please fill in your e-mail so we can share with you our top stories!