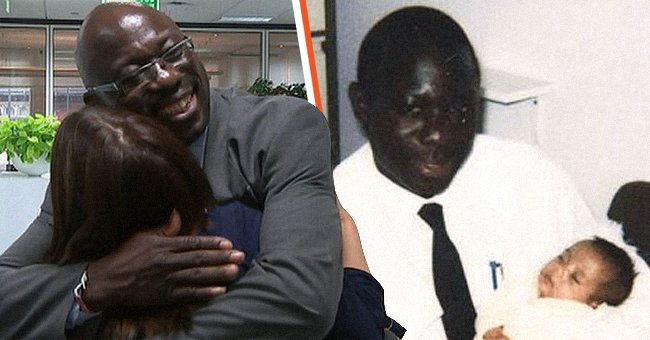 twitter.com/Omojuwa | twitter.com/itvnews
Man Rescues Abandoned Baby but Is Barred from Adopting Her, Reunites with Her 22 Years Later
A 22-year-old lady made a newspaper appeal requesting to meet the man who rescued her when she was a newborn. Her story went viral and found its way to the Good Samaritan's ears.
A little girl her mother abandoned in a phone box decades ago decided to search for the man who had rescued her.
Kiran Sheikh was only a few hours old when her scared mother dumped her in the dead of night inside a telephone box. On April 30, 1994, the incident took place in Forest Gate, East London.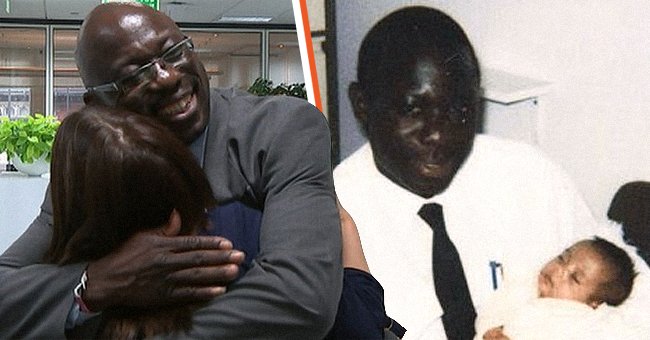 Joe Campbell sharing an emotional embrace with Kiran Sheikh [left]; Joe Campbell after he rescued Kiran Sheikh shortly after she was abandoned [right]. | Source: twitter.com/Omojuwa twitter.com/itvnews
The new mom was in an abusive relationship and did not want to keep the baby. Instead, she placed a call to the UK's Samaritans from the box, but before they arrived, a stranger saw the toddler and came to her aid.
Joe Campbell thought he had seen a neglected bag of chips, but he discovered it was a sweet little innocent girl on a closer look. The surprised Campbell then called the police, who took little Sheikh to Newham General Hospital.
The hospital changed her name to "April" in honor of the month of her birth, as well as Campbell's surname. Sheikh's name was later changed when another family adopted her, and it wasn't until she was eight years old that she learned the truth about her birth.
Sheikh grew up with the desire to find the man who rescued her. She made an appeal, and fortunately, Campbell found the story and reached out to her, and they met in Central London.
The 22-year-old woman was excited about meeting Campbell, noting that she had waited for 15 years to meet him. Campbell said he was also thrilled, adding that he had looked forward to their reunion for several years. He confessed that he preserved the little girl's picture, trusting to cross paths someday.
According to him, a colleague of his at the delivery firm he worked for heard of Sheikh's appeal, recalled the story and reached out to Campbell. Their reunion in 2016 was an emotional moment for both parties.
Recalling how he rescued Sheikh, Cambell said he took a walk to the phone box near his house to call his family in Guyana. On seeing the helpless infant in the box, Campbell said he did what anyone else would have done.
Campbell said he attempted to maintain contact with Sheikh, who her adoptive parents gave the name Kiran. He sent cards, toys, and money to social services. He even inquired about adopting the child but was denied because he was single.
Campbell continued his attempts to stay in Sheikh's life for several years until social workers asked him to stop. However, Sheikh said she never received any of his goodwill gestures.
Sheikh wished they told her of Campbell's attempts to be in her life. However, the duo decided to focus on building fresh memories. According to Campbell, meeting Sheikh was like finding a family member. He told ITV:
"She is my family. I told her you've got siblings. Ok, we're not blood related but it's like we are."
After meeting her rescuer, Sheikh's next plan is to contact her birth mother. She made an appeal hoping to reunite with her mom.
Please fill in your e-mail so we can share with you our top stories!