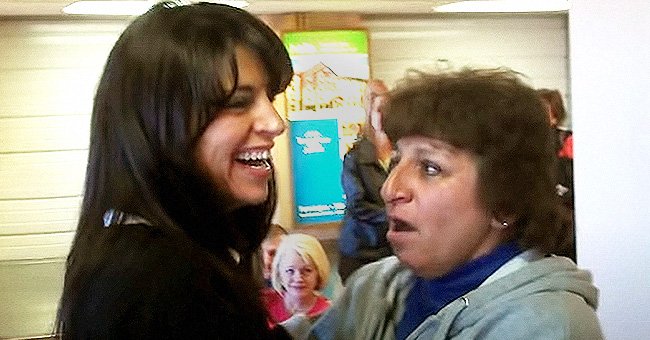 youtube.com/Jeni59
Teen Is Forced to Give up Baby for Adoption, 34 Years Later Her Daughter Shows up Unannounced
When a teenager's parents discovered she was pregnant, they gave her an ultimatum: give up the baby for adoption or never come home. She tearfully took the most challenging decision of her life, but unbeknownst to her, fate had other plans.
Dina Sierra Hardaway always knew she was adopted. But instead of harboring bitterness for her birth mom and biological family, she had a completely unexpected response. She was proud of being an adopted child.
She never detested her biological mother for giving her up and thought it was selfless to place her baby for adoption. However, she had experienced a myriad of emotions during her life about getting to know her birth mother.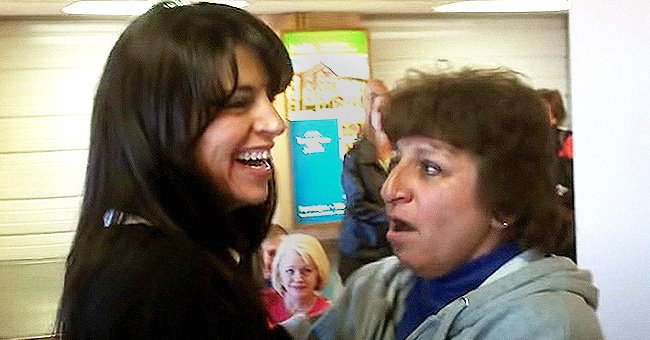 A candid Dina Sierra Hardaway and shocked Jennie Sandoval Sanders pictured during their family reunion. | Source: youtube.com/Jeni59
A SEARCH FOR HER BIRTH MOM
As a teenager, Hardaway wanted to meet the woman who gave birth to her. But after embracing motherhood, she wanted her five kids to know they had a family out there somewhere. Resultantly, she began searching for her long-lost birth mom.
First, she reached out to an online forum for the Chaparral Adoption Agency, which arranged her adoption. Hardaway had lost both her adoptive parents. Her adoptive father died when she was five, and her adoptive mother passed away in 2006.
After that, her yearning to connect with her biological mother intensified. But what she didn't know was that somewhere, out there, her birth mom also longed to meet her. Ironically, her biological mom's life story was buried in sheer grief and pain.
Jennie Sandoval Sanders was only 16 when she became pregnant. She was a high school senior, and when her family learned about her pregnancy, they sent her to an unwed mother's home in Albuquerque.
Sanders was deeply grateful to Hardaway's adoptive family for raising her to be an incredible person and was delighted to know she grew up with a big brother.
It was taboo for young and unmarried girls to get pregnant in those days. Sanders stayed at the Chaparral home for two and a half months, all the while picturing her life as a mother and planning her baby's future.
A HEART-WRENCHING DECISION
But her dreams of welcoming motherhood were destroyed when her family told her they couldn't afford to feed another child. Sanders was given an ultimatum to place her baby for adoption or never return home.
She gave birth to an adorable baby girl but knew she had to make the most difficult decision of her life. "I sobbingly and tearfully signed the papers that would take my baby away from me," wrote Sanders in a Facebook post while recalling the tearful experience.
Sanders asked the caseworker to place her baby girl in an adoptive family with a mother, a father, and a big brother to always protect her. "I also gave them a stuffed turtle to go with her as a symbol of my undying love for her forever," recollected Sanders.
Years went by, but Sanders never forgot about her daughter. "I missed her...I cried many, many tears. I wondered if she was ok. I wondered if she was healthy. I wondered if she was loved. What did she look like?" thought Sanders as she regretfully lived her days.
Sanders went on to have more children, and she lovingly told them they had a sister out there. She celebrated her long-lost daughter's birthday every year, hoping they would meet and celebrate the occasion together one day.
Since it was a closed adoption, Sanders didn't know much about her daughter, but she was permitted to leave her information if someone came looking for her. Then, one day, she saw a post in the adoption agency's Facebook group.
To her astonishment, her daughter, Hardaway, then 34, was eager to know her birth mother. The pair shared information regarding the adoption, and when Sanders brought up the stuffed turtle, Hardaway confirmed her adoptive mom gave her a green stuffed turtle.
Sanders and Hardaway started talking in early November 2011. By Thanksgiving, they couldn't wait to meet each other. Hardaway told her birth mom that an amazing family raised her. She said she didn't want Sanders to have any regrets. She also stated:
"I loved her for the choices that she made to hope that I would be placed in a better situation than she could have given me at the time."
Soon afterward, a surprise reunion was arranged by Sanders's youngest daughter, Angie Neuhaus, and her long-lost eldest daughter, Hardaway. The momentous occasion Sanders hugged Hardaway for the first time was shared by LoveWhatMatters on Facebook.
There was no dry eye in the house as the mother and daughter embraced and cried tears of joy. While Hardaway eventually returned to her family, she and Sanders vowed to stay in touch.
Hardaway flew from Idaho to New Mexico to spend her 35th birthday with Sanders and her other siblings. She also introduced her children to their newfound grandmother and attended the annual Sandoval family reunion.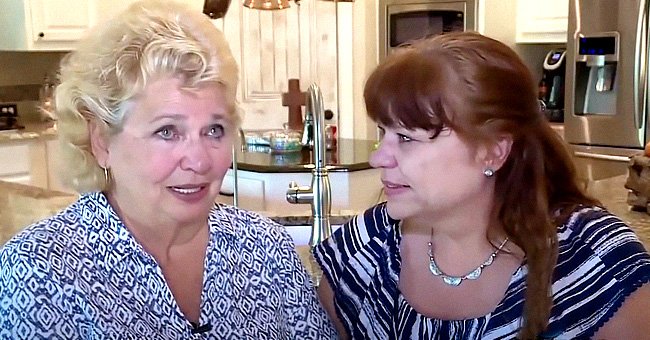 Donna Pavey pictured with her biological daughter, Sharon Glidden. | Source: YouTube.com/ABC News
Sanders was deeply grateful to Hardaway's adoptive family for raising her to be an incredible person and was delighted to know she grew up with a big brother. We're so glad this long-lost mother-daughter duo finally reunited after 34 years of separation.
Have a look at another story with a similar theme, and it's about a woman who received a message from the child she unwillingly gave up for adoption 52 years ago. You can read the whole story here.
Please fill in your e-mail so we can share with you our top stories!