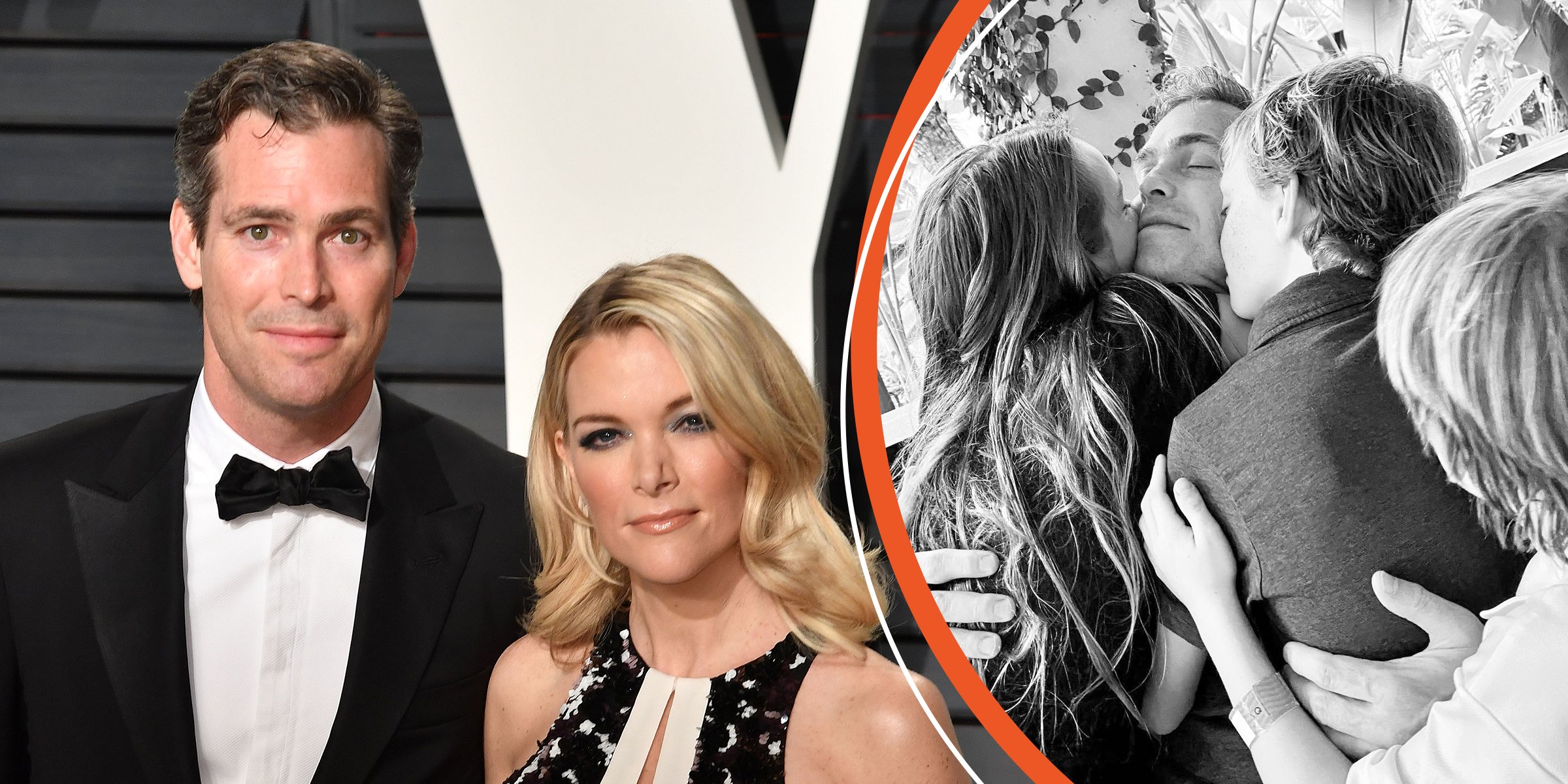 Getty Images instagram.com/megynkelly
Megyn Kelly Met Her Husband on Blind Date & He Proposed With a Fake Gem Ring After Dog Incident
Fox employee Megyn Kelly and her husband Douglas Brunt showcase power couple goals with their interesting marriage. Even though it began with a blind date and him proposing with a fake gem ring, they have made a beautiful happy ever after.
The vivacious Megyn Kelly of Fox News has a remarkable love tale with her husband of more than a decade. However, before their heavenly love, she experienced a failed marriage and betrayal.
Kelly's first husband was Dr. Dan Kendall. They met in Chicago during a festival where Kelly, an attorney, worked for "Bickel & Brewer."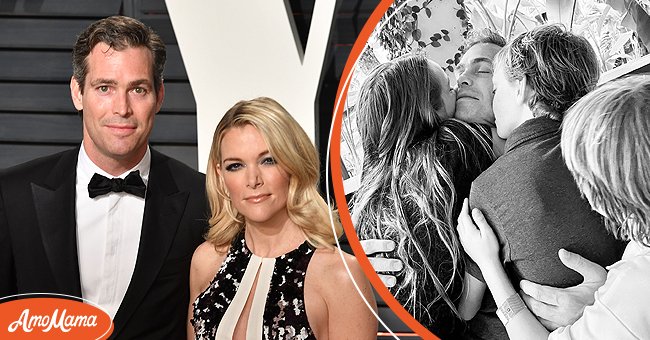 [Left] Writer Douglas Brunt and TV personality Megyn Kelly at the 2017 Vanity Fair Oscar Party hosted by Graydon Carter at Wallis Annenberg Center for the Performing Arts on February 26, 2017 in Beverly Hills, California; [Right] Douglas Brunt's children giving him a kiss on his cheeks. | Source: Getty Images instagram.com/megynkelly
Kendall, a medical student at the time, was smitten by the passion-driven lady, and in no time, they developed a friendship. Their romance did not commence until Kelly broke up with her then-lover. Eventually, they became a couple and moved into an apartment in New York and later Chicago.
In 2001, a few weeks after the 9/11 tragedy, they tied the knot in an extravagant wedding, which included a ceremony in a Chicago church and a reception at the Waldorf.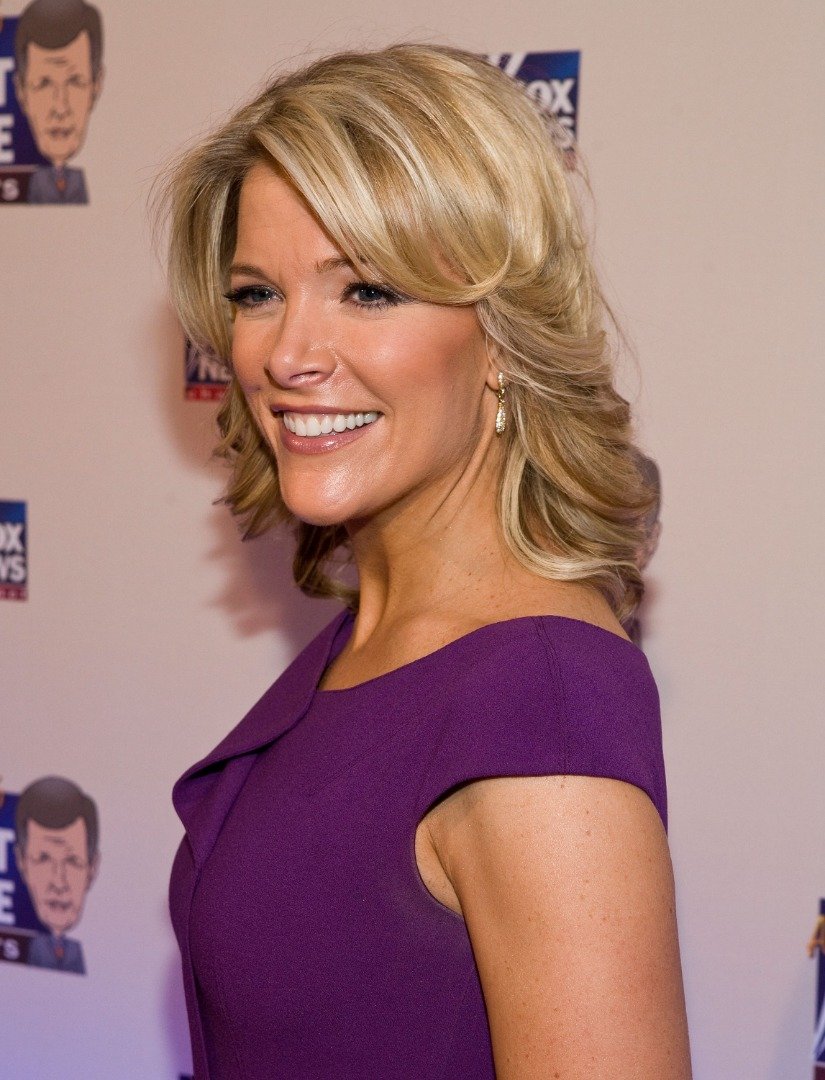 Megyn Kelly at the salute to Brit Hume at Cafe Milano on January 8, 2009 in Washington, DC. | Source: Getty Images
There were glaring cracks in their marriage from the onset because of their careers. Kendall vied to be a successful doctor, while his wife was inclined to pursue an extraordinary job.
Fortunately, he became employed at the prestigious Johns Hopkins Hospital in Baltimore, and his wife relocated with him. Kelly established her legal profession and a career in the media in the new state. Finally, her shrewdness earned her a position with Fox news.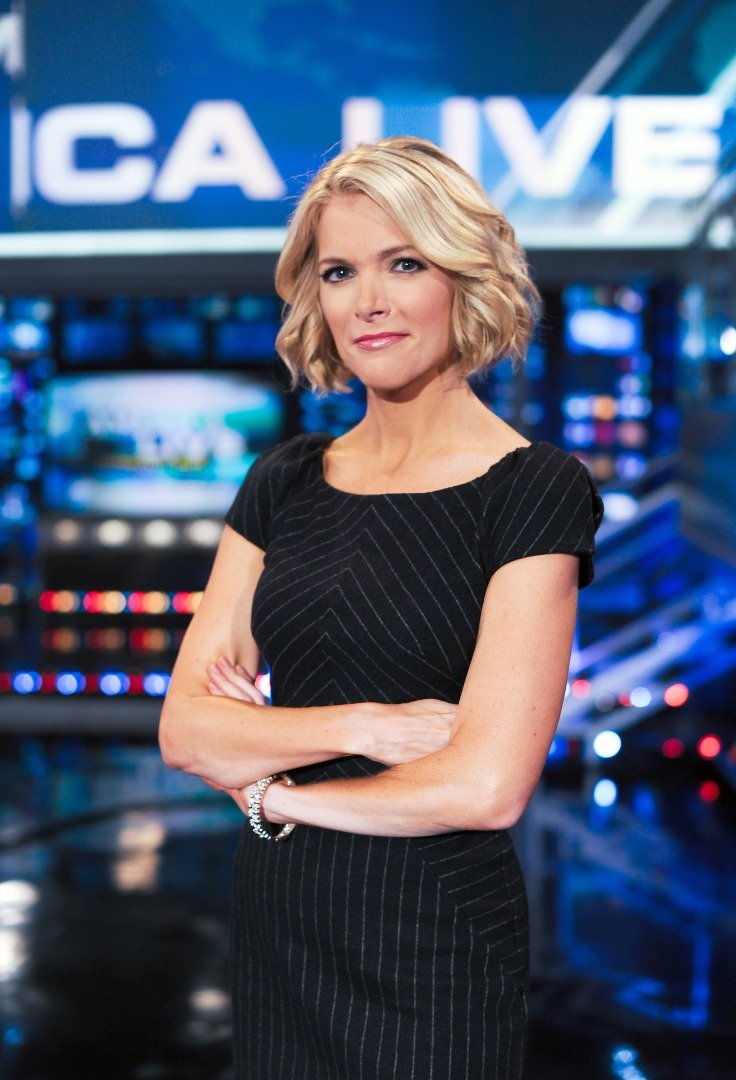 Megyn Kelly, anchor of Fox News Channel's America Live with Megyn Kelly in her studio. | Source: Getty Images
The couple lived in a luxurious estate and had their dream jobs, but there was a growing void. They began spending time away from each other and eventually grew apart. According to Kendall:
"We both needed someone to cook and clean. She has very much a Type A personality. She needed a type B husband."
After four and half years of dating and nearly five years of marriage, they had an amicable divorce and have respected their personalities ever since.
However, in 2015, Kendall opened up about his dissatisfaction with the news star. He referenced her past interviews where she talked about being a victim of betrayal.
Kelly explained that the disloyalty was not from her second husband, but she withheld the perpetrator's name. For clarity's sake, Kendall revealed that he was a faithful husband, contrary to how his ex's allegation painted him.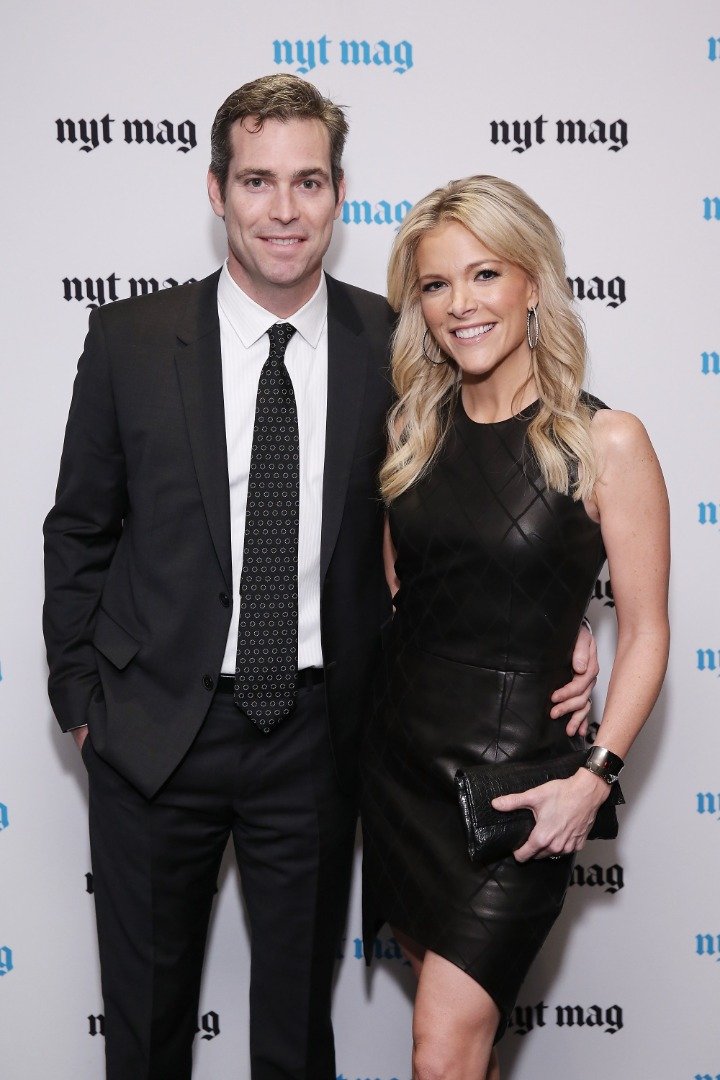 Douglas Brunt and his wife Megyn Kelly at The New York Times Magazine Relaunch Event on February 18, 2015 in New York City. | Source: Getty Images
The doctor maintained his innocence, adding that he reached out to Kelly for an apology, which she tendered, after the statement. In his words:
"I can say with 100% certainty that I was completely faithful to Megyn...I texted her at the time, and she apologized. I think I was a good husband."
HOW KELLY MET HER SECOND HUSBAND
Kelly's first meeting with Douglas Brunt, the CEO of a Florida-based security software company, was at a bar. They had scheduled a blind date with both parties overwhelmed with anxiety.
Although Brunt, a tech expert turned renowned author, was familiar with the blonde beauty on Fox News, he was anxious to know her personality. On the other hand, the newscaster had never seen him, nor was she aware of his nature.
Reports from her friends who spied on the Internet security executive at the bar identified the blind date as an exceptionally good-looking guy, which years later, Kelly agreed to.
Looks were not the only reason she stayed. During their date, he showed genuine concern for their conversation. Kelly mentioned that:
"While we were talking, he leaned forward, really listening to what I was saying."
After being captivated by their personalities, the new lovers ended the date with an awkward kiss. Brunt noted that he kissed her in front of the security guard, which she felt was strange— as if their parents were watching.
The next day, she showed up in his hotel room, expecting him to leave a tremendous impact with his next kiss. Their romance progressed, and they maintained a long-distance relationship that was somehow threatened by Kelly's celebrity status.
They both shared their concerns. The CEO confessed that he wasn't used to dating someone in public life. However, Brunt soon familiarized himself with the public attention, focusing more on Kelly's outstanding personality and doggedness.
THE UNIQUE PROPOSAL THAT NEARLY NEVER HAPPENED
Despite the magical moment and sincerity established from the start, the lovers were uncertain about their future a few months into the relationship.
Close friends believed they were a perfect match, but it took a short break-up to realize their willingness to give their future a shot. On New Year's eve, the lovers were walking Kelly's dogs in Washington when Brunt unexpectedly lost a grip on the leash of one of the animals.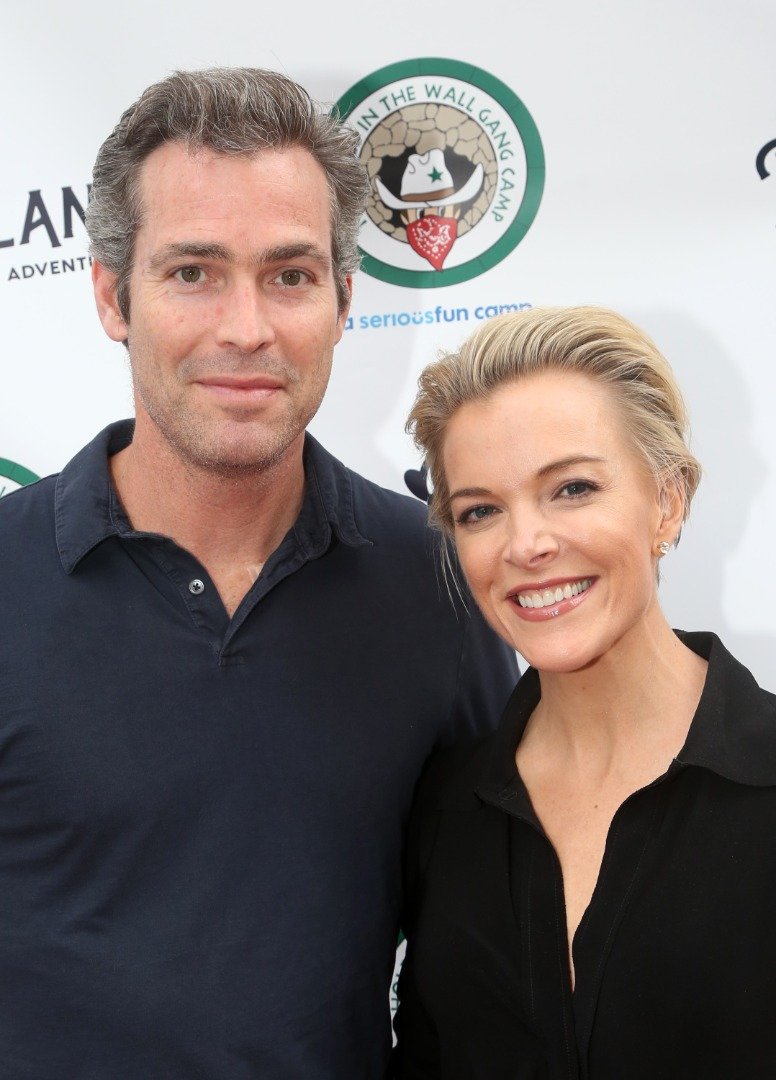 Megyn Kelly and her husband Douglas Brunt pose at the opening night celebration for "Pip's Island" benefiting the Hole in the Wall Gang Camp at 400 West 42nd Street on May 20, 2019. | Source: Getty Images
The dog nearly got hit by a vehicle, which made Kelly upset, even after an apology from her boyfriend. They broke up a few hours later but reconciled because the tech guru was mature enough to forgo his defenses.
Shortly after the reconciliation, Kelly was transferred to New York. The couple knew this was a crucial moment in their relationship, so Brunt hurriedly proposed.
He had intended to propose during the fall, but could not wait, so he visited a costume store to pick out a fake gem that reminded him of the precious rock in the movie "Titanic."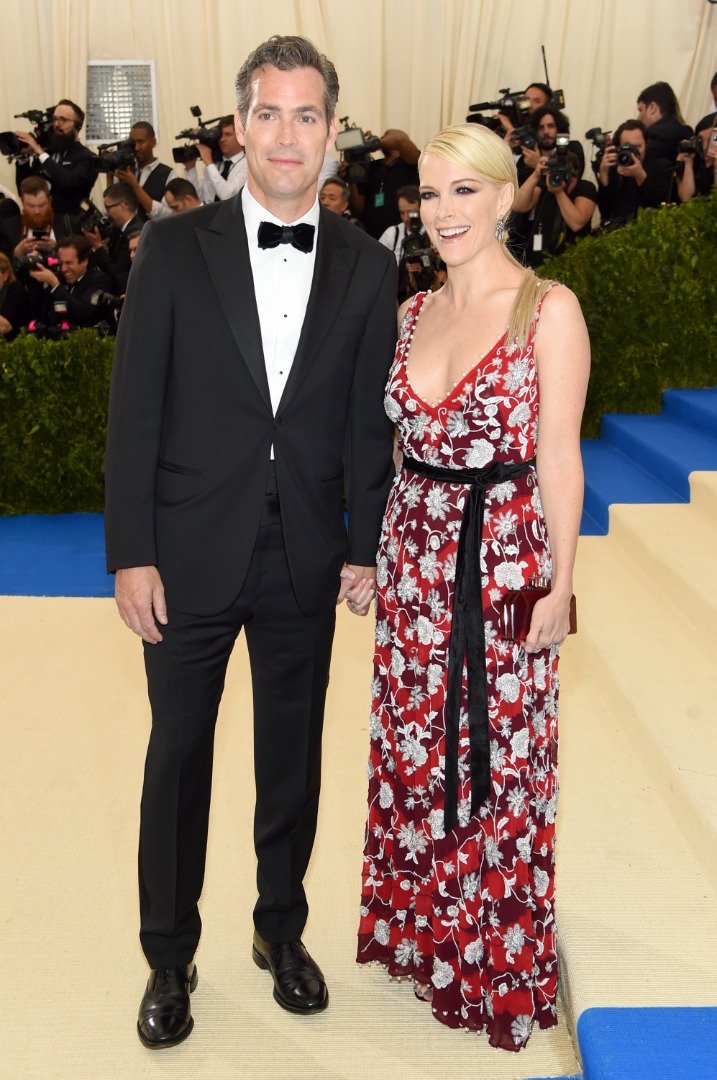 Douglas Brunt and Megyn Kelly at the "Rei Kawakubo/Comme des Garcons: Art Of The In-Between" Costume Institute Gala at Metropolitan Museum of Art in New York City on May 1, 2017. | Source: Getty Images
Brunt scheduled the proposal on a beach outing, and when he popped the question, a stunned Kelly found it unbelievable, which nearly knocked his confidence off balance. According to Brunt:
"She took so long to answer that I thought I had just made a total fool of myself."
More than four months later, they said their "I dos" in front of one hundred and thirty guests, at Oheka Castle, in Huntington, New York. Moments after their wedding, the Fox correspondent claimed:
''But everything about the two of us just clicked our interest, our sense of humor, what we want in life. I just know in my heart that I love the man I'm with, and he loves me."
DOUGLAS BRUNT IS AN EXCELLENT HUSBAND IN A HAPPY MARRIAGE
Like Kelly, Brunt was excited about their new start, and they have carried on with the same energy through the years.
These two are indeed a good duo in the entertainment business, from posting and gushing over each other's photos and being supportive when the naysayers fire harsh words.
In 2018, the author shared a monochrome throwback of himself and the Fox News star. The accompanying caption stated:
"Throw back photo - married to this beautiful woman 10 years and 2 weeks today. Incredible wife, incredible mom. I love you "
Apart from serenading his wife with sweet words, the former tech executive has protected their family.
In 2017, when the news anchor was criticized for attending NBC's vice president Ron Meyer's after-party with a large amount of security because she had secretly replaced Matt Laur, he immediately tongue-lashed the critics.
While Brunt protects his family, his wife is exceptionally proud to be part of the unit. Via her Twitter page, her bio reads:
"Happily married to Doug, crazy in love with my children Yates, Yardley, and Thatcher, journalist."
MOTHERHOOD AND FAMILY LIFE FOR MEGYN KELLY
Despite being a social climber and a controversial figure, Kelly sets aside time for her adorable family, including her husband and their three kids.
The couple welcomed their firstborn Yates in 2009. In 2011, Yardley, their first daughter, arrived, and two years later, baby Thatcher joined his siblings.
While revealing her journey into motherhood, the mother of three gushed about Yates while referring to Yardley as "amazing" in her book "Settle For More." She wrote:
"People say Yates is my twin, but I think he's a mini Doug. He came into this world as a sweet soul and he remains that way to this moment."
Before becoming a doting mom to three kids, Kelly worried about her credibility as a mother. She was scared of lagging behind her duties as a mother. In her words:
"I did worry in the beginning, especially when I only had one kid, about whether I was a good mom, whether I was abandoning my duties."
It has been well over a decade since becoming a mother and a wife, and so far, Kelly proves to be handling both brilliantly while challenging herself to pad up her resume. The TV personality's love story shows that love might lurk if one looks harder enough and is willing to try again!
Please fill in your e-mail so we can share with you our top stories!