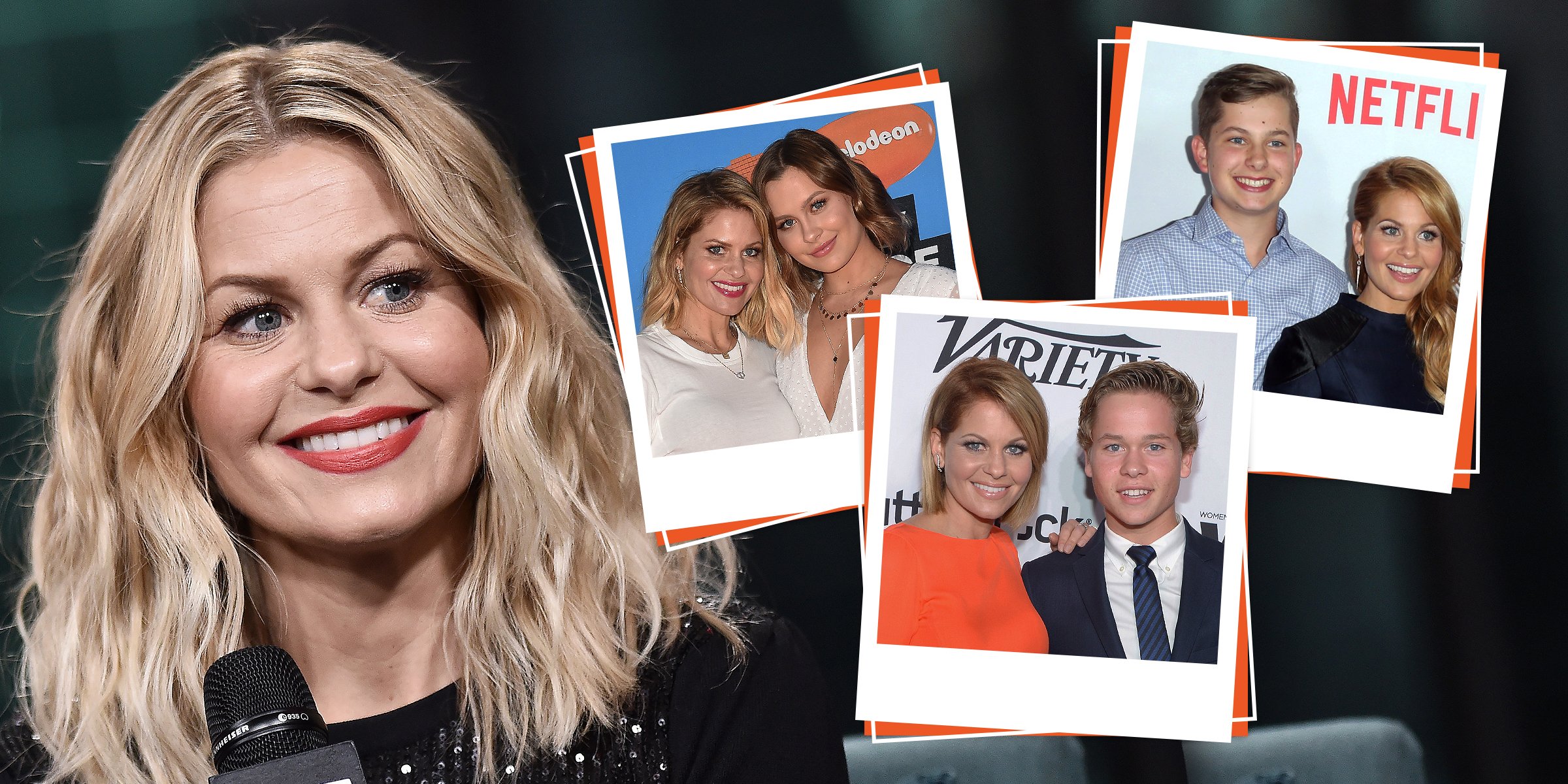 Getty Images
Candace Cameron Bure & Her Spouse Moved to Another Country & Changed Their Lives for the Sake of Their Kids
Despite being a famous actress when the delectable blonde beauty from "Full House" Candace Cameron Bure became a mother, everything changed, including her lifestyle. Eventually, she settled into parenthood with the support of her husband - inside the celebrity's loving family.
At 45, Candace Cameron Bure of "Full House" has amassed a wealth of knowledge based on her experiences and resumè. She is a doting mother to three kids and a talk show panelist, actress, producer, and author.
Above all, she is a caring friend who keeps in touch with her colleagues. Bure once gave parenthood advice to her "Full House" co-star, who welcomed his first child at age 54.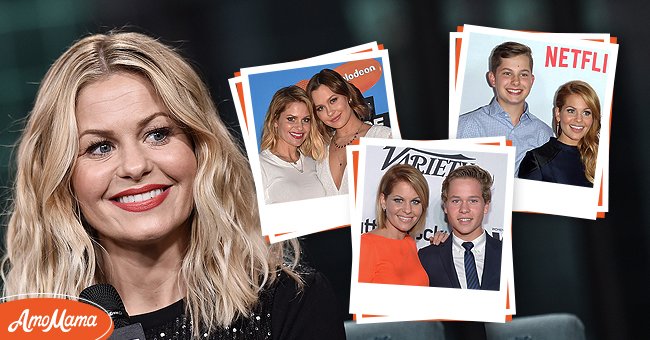 [Left] Candice Cameron Bure at Build Studio on November 22, 2019 in New York City.; [Right] Candace Cameron Bure and her kids. | Source: Getty Images
The mother of three stated that every parent has distinct experiences with their offspring, adding that there is no one-size-fits-all when it comes to parenting a child. According to Bure:
"Every life is different. No two people have the exact same experience. So go to the people you love and trust most... and really tune out the rest. You might need to turn off social media!"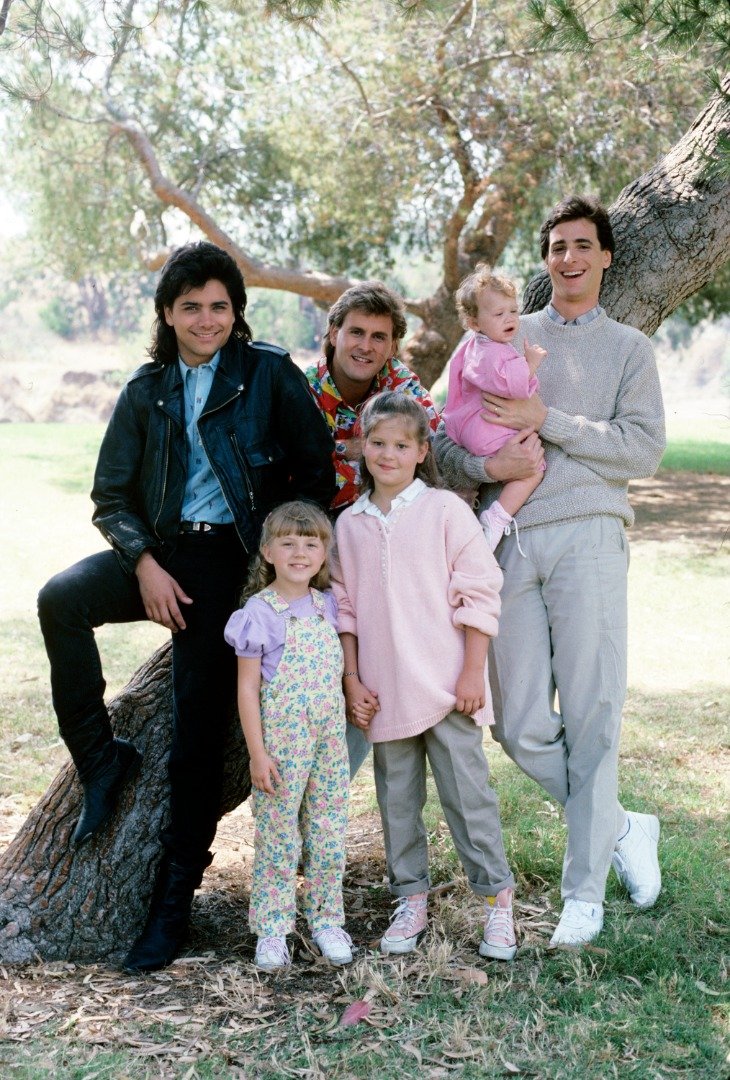 Candace Cameron, Bob Saget, Jodie Sweetin, Mary Kate, John Stamos and Dave Coulier on the set of "Our Very First Show" - Pilot - Season One. | Source: Getty Images
HOW BURE MET HER LOVING HUSBAND
Candace's meeting with her husband, Valerie Bure, a former hockey player from Russia, was facilitated by a friend and co-star, Dave Coulier, on "Full House" in 1994. Coulier was a hockey fanatic and had invited the cast members to a celebrity charity function, where Valerie showcased his hockey skills.
There, the hockey fan called the actress, explaining that he would like her to meet the Russian athlete. Eventually, the pair hit it off, and Valerie became addicted to "Full House," through which he learned English.
Although the couple has shared more than two decades of their lives together, and they parent three kids, Candace is always excited to recall their first meeting.
While celebrating their 25th anniversary, the author shared throwback images from the 1994 game that displayed the younger cast of "Full House," including herself, Coulier, Lori Loughlin, and Bob Saget.
In the caption section, the actress walked her audience through the night where she met a "super cute, blonde-haired, extremely talented Russian pro hockey player."
In one of the shots, Candace revealed that Valerie was engrossed in a conversation with his brother, Pavel. She further thanked the other three musketeers—Loughlin, Saget, and Coulier for their roles at the event.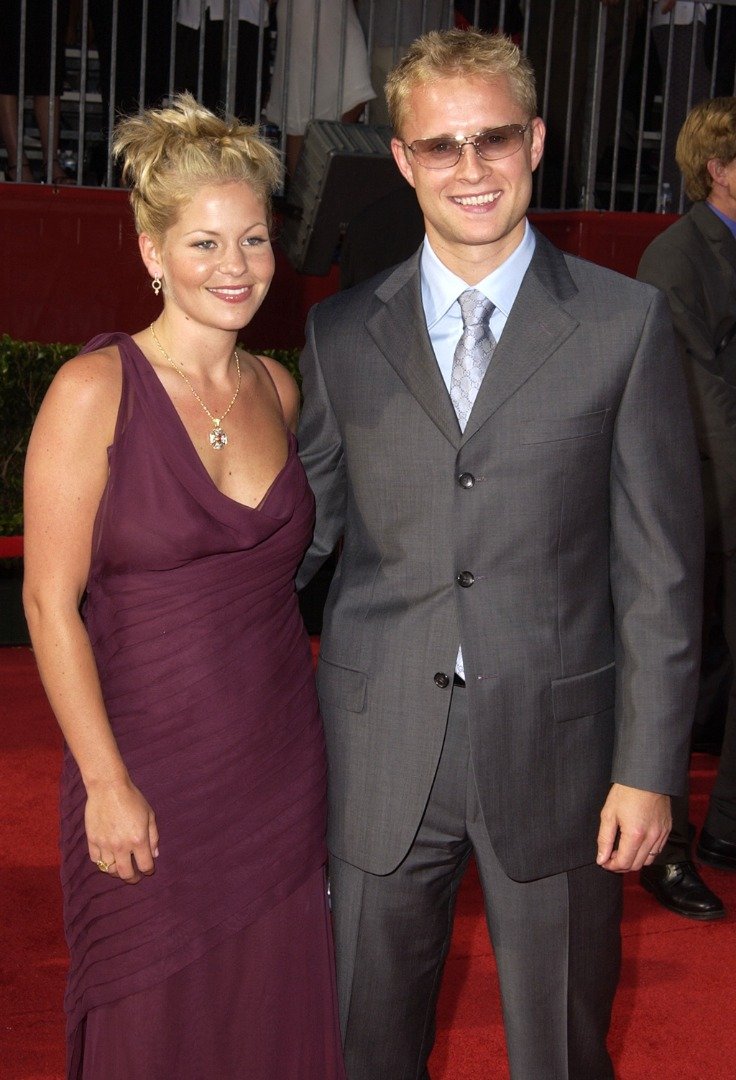 Candace Cameron Bure & husband Valeri Bure of the NHL. | Source: Getty Images
CANDACE CAMERON BURE'S FAMILY AND LIFESTYLE
Candace has one of the most desirable marriages in Hollywood, with a lifespan of more than one thousand Hollywood years!
The blonde actress and her former hockey star husband, who married in 1996, have grown in love and continue to share details of their happy-ever-after in their union's longevity and through photos online.
Candace's Instagram page showcases a plethora of lovely throwback and recent images. For example, in an affectionate Valentine's Day post, the talk show panelist flaunted two photos; one of their younger selves and another more recent shot.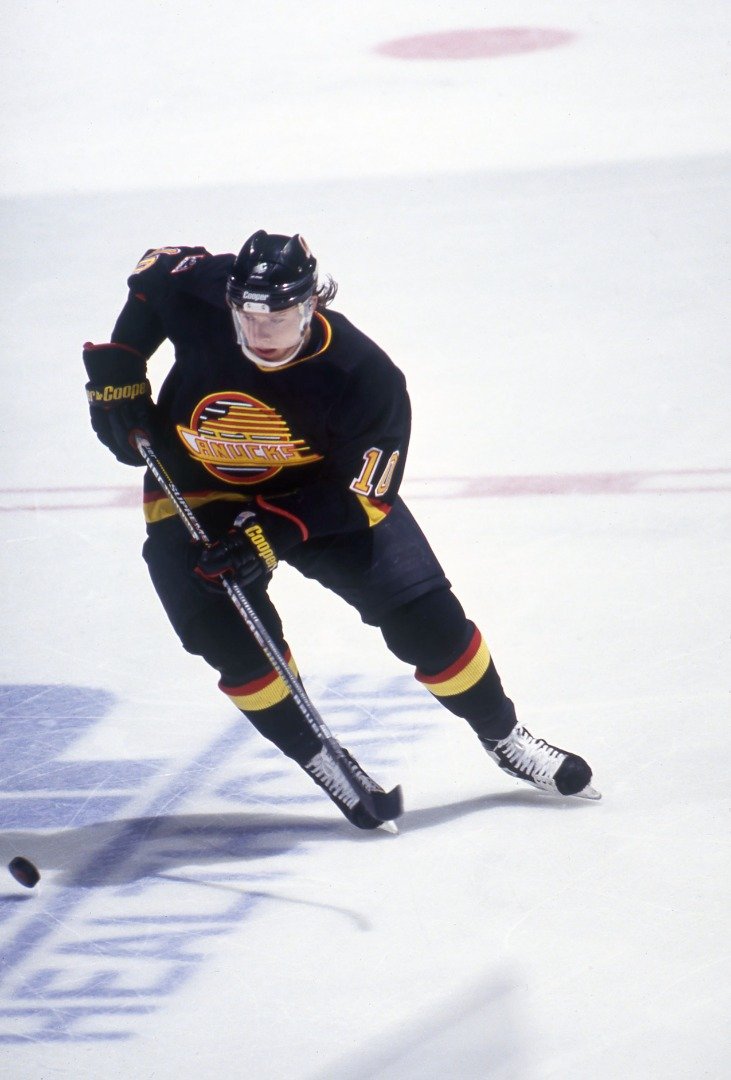 Pavel Bure of the Vancouver Canucks on January 14, 1994 at the Great Western Forum in Inglewood, California. | Source: Getty Images
The couple posed similarly: Candace rocked a black outfit brightened with her unique smile, while her husband held her firmly as he leaned forward.
The actress has been able to define her marriage thanks to the lessons learned from her parents. In 2019, Candace shared an inspiring message to honor her wedding anniversary, which coincided with her parents.'
The "Full House" star posted throwback photos showing her and her mother's wedding. Other snaps displayed the loving parents supporting their child as she shared her vows.
Candace's accompanying caption was a confession that marriage has its challenges, but through the reliable role models in her life, her parents, she has been able to surpass the hurdles. The caption read:
"I'm so grateful to have parents who have modeled a Goldly marriage as they have. I know it isn't always easy."
One of such challenging marital situations for Candace was when she moved to Canada with her husband, whose career thrived as a Calgary Flames hockey star in the country.
That was also when the author experienced motherhood. She confessed that the change was horrendous but, eventually, incredible. In her words:
"Some days I was itching to get back to L.A. just to have more movement and action, and at the same time, it was wonderful because I had two brand new little babies and the slower pace was actually a really nice lifestyle as I entered into parenthood."
Once Candace successfully settled into the role of a mother and wife, she gave it her all by speaking to her kids about sex education and other sensitive subjects.
She also kept a watchful eye on the family's computer monitoring her kids' use of social media. Also, the mother of three explained that her oldest child, Natasha, is not on social media because of the dangers it brings.
Natasha, then 11, owned only an email because of her school system. Even though she often requested a cell phone, her mother failed to bow to the pressures.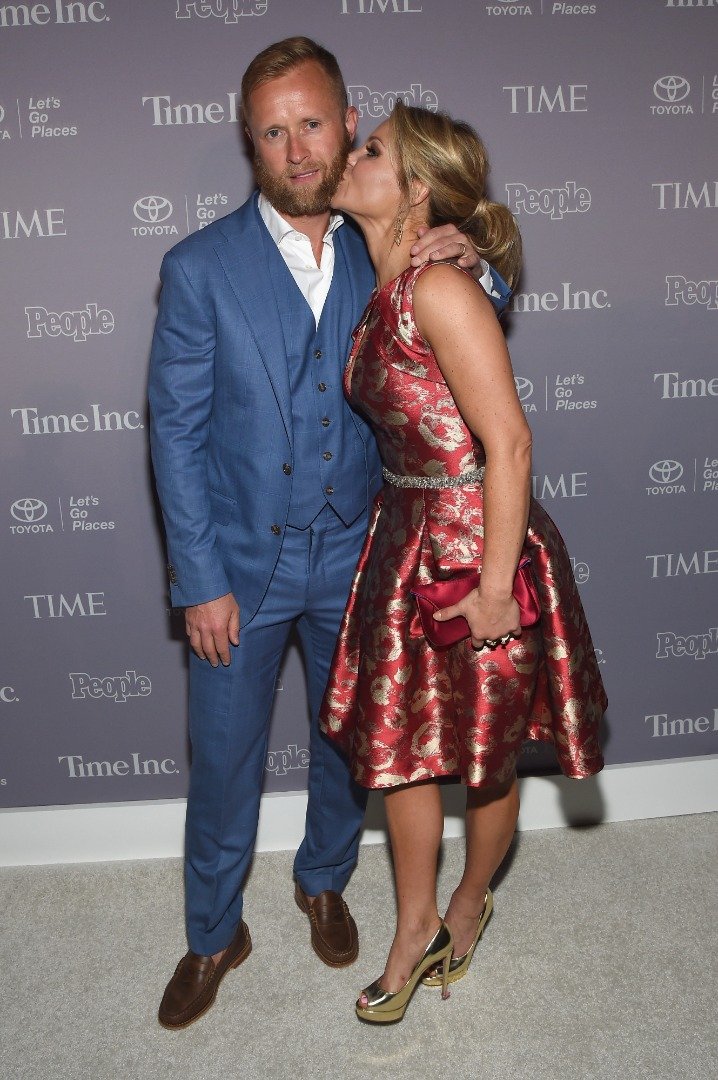 Valeri Bure and Candace Cameron-Bure at the TIME and People's Annual White House Correspondents' Association Cocktail Party at St Regis Hotel on April 29, 2016 in Washington, DC. | Source: Getty Images
Despite arguing that there is no manual to raising a child, Candace is convinced that she had done great with her mini-mes and commends her kids' choices when it comes to their romances. While speaking about her grown kids dating life, the mother of three proudly mentioned:
"They're all looking for good people to hang out with, or date, looking for a wife, looking for a husband, and I'm proud of that."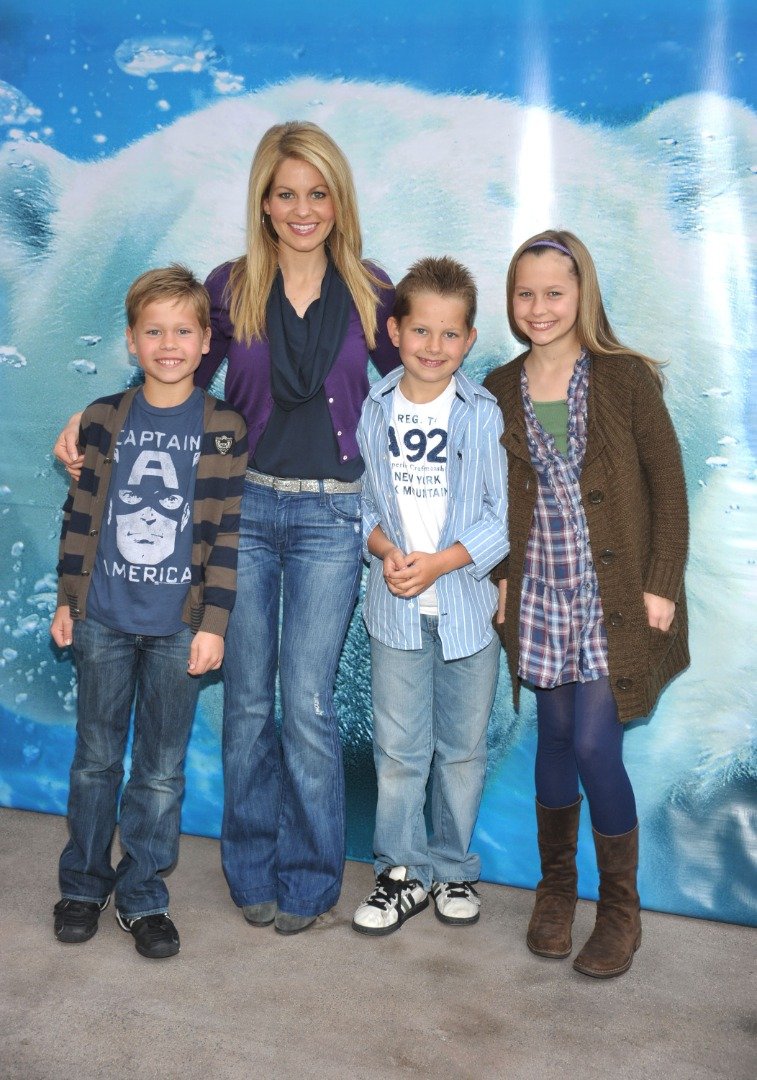 Actress Candace Cameron Bure and her children at the launch of the Polar Bear Plunge at the World Famous San Diego Zoo on March 26, 2010 in San Diego, California. | Source: Getty Images
ALL ABOUT CANDACE AND VALERIE'S KIDS
Candace's kids are as talented as their parents, and each has chosen a different path despite growing in the spotlight.
Natasha, the couple's firstborn, welcomed in 1998, has appeared on commercials, worked as a model, and possesses a sensational singing voice.
She competed in the "The Voice" singing show in 2016 but did not win. The singer also channeled her talents into making creative content via her YouTube account and has a massive fanbase on her social media pages.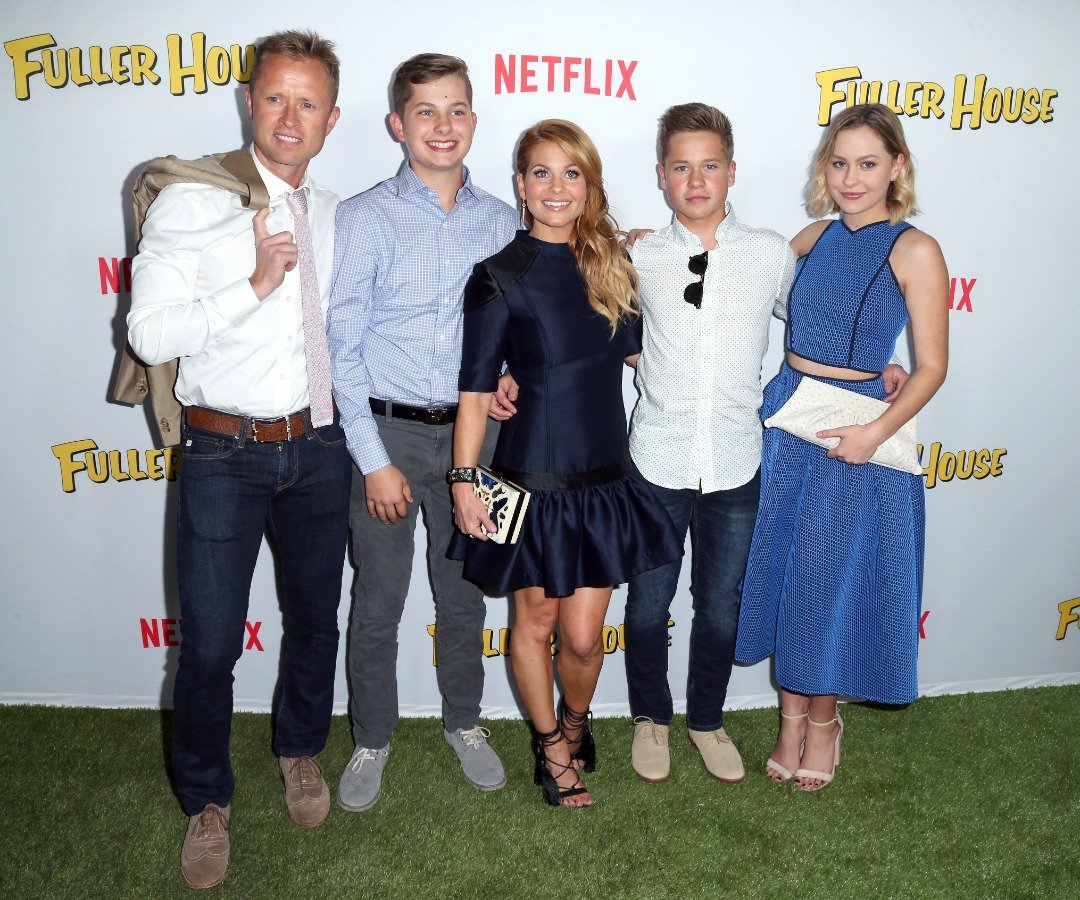 Professional hockey player Valerie Bure, Lev Valerievich Bure, actress Candace Cameron-Bure, Maksim Valerievich Bure, and Natasha Bure at the premiere of Netflix's "Fuller House" at Pacific Theatres at The Grove on February 16, 2016 in Los Angeles, California. | Source: Getty Images
Candace's firstborn is also an author of the book "Let's Be Real: Living Life as an Open and Honest You," published in 2017. Her younger brother, Lev, found his calling in preaching. After graduating high school, he worked as a preacher at Shepherd Church.
The actress' first son once proposed to his girlfriend, but they broke off the engagement mutually after a year, and both parties are doing fine.
Maksim, born in 2002, tries to avoid the spotlight as much as possible. However, he inherited Valerie's athletic drive and dreamed of becoming a hockey player.
A quick recap for beginners about Candace Bure is that she is a loving wife in awe of her super cute husband. However, she is also an overprotective, doting mother, impressed with her babies!
From time to time, the mother of three shares their achievements online. Sometimes, her posts settle on flaunting the admirable Bure clan.
In a new year message, Candace uploaded a family picture, where they dressed casually but stylishly and posed in a wooden building.
Please fill in your e-mail so we can share with you our top stories!