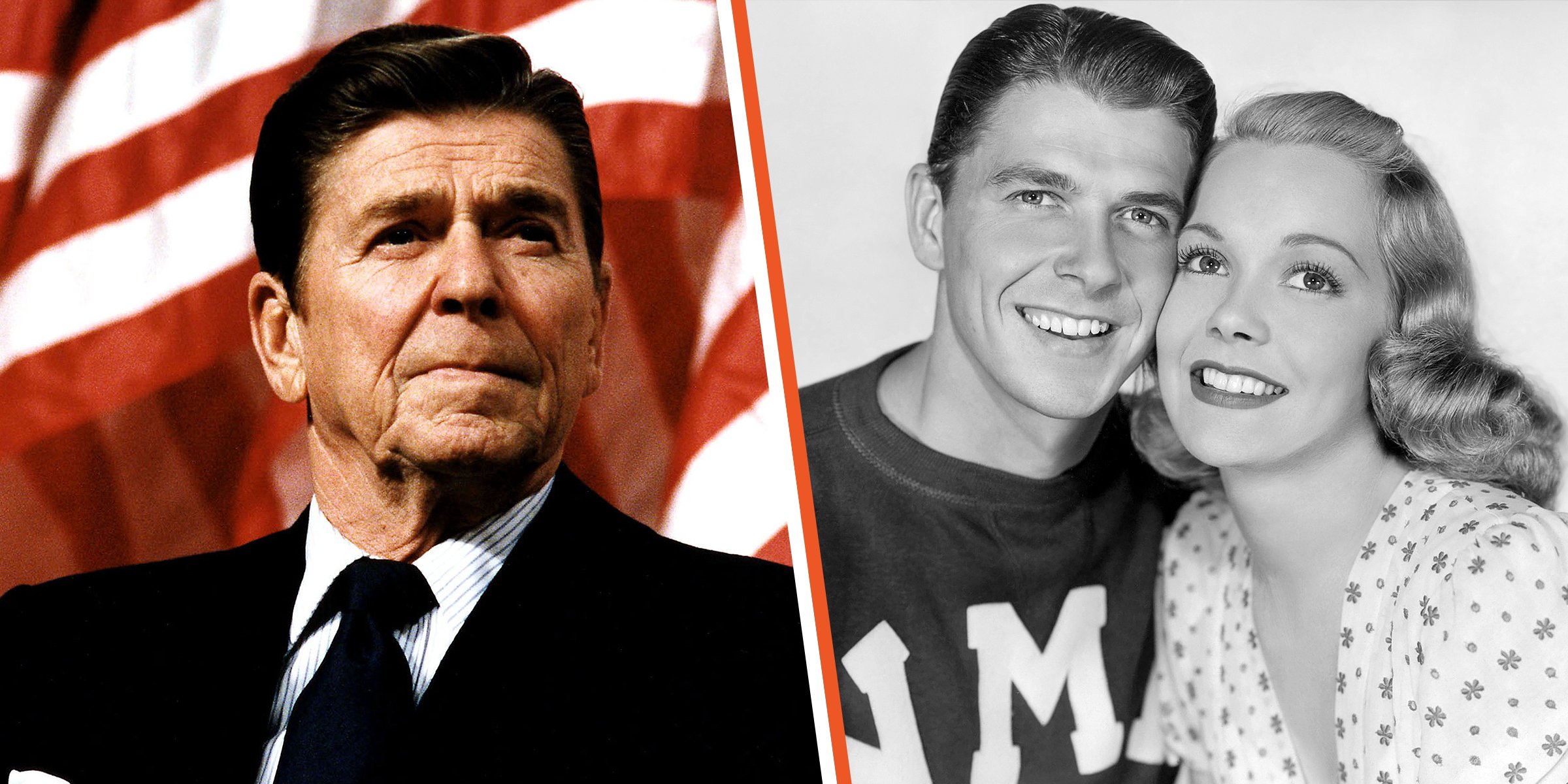 Getty Images
Jane Wyman Forced Ronald Reagan to Propose to Her ⁠— He Cried While Filing for Divorce
When Jane Wyman and Ronald Reagan started dating, they were head over heels in love. But two years later, Wyman became concerned about not being engaged. In a bid to get Ronald to propose, she did the unthinkable.
When people think of former US President Ronald Reagan's love life, they remember Nancy Reagan, his second wife. However, the late politician's relationship with Jane Wyman, his first wife, also made the headlines, especially after revealing what she did to marry him.
The former couple first met on the romantic comedy "Brother Rat" set in 1938. Ronald was 27 and had never tied the knot before, while Wyman was six years younger and was dealing with a second divorce.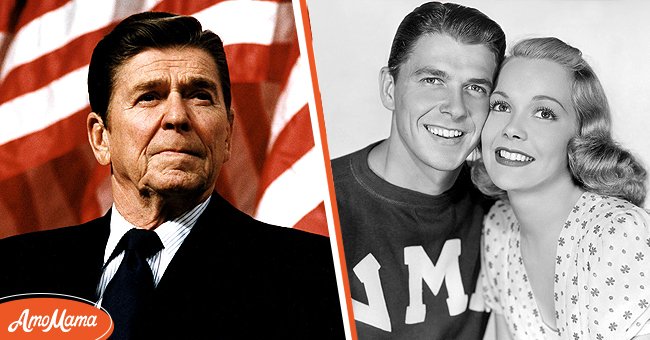 [Left] President Ronald Reagan at a rally for Senator Durenberger on February 8, 1982; [Right] Actress Jane Wyman and Ronald Reagan in a scene from the 1937 movie "Brother Rat" | Source: Getty Images
Irrespective of the latter's love situation, she took an interest in Ronald at first glance."Mom was reportedly smitten with him at first glance," Wyman's son revealed.
Wyman also admitted that she was drawn to the actor as soon as she looked at him. Shortly after their first meeting, the pair started dating and got to know each other better.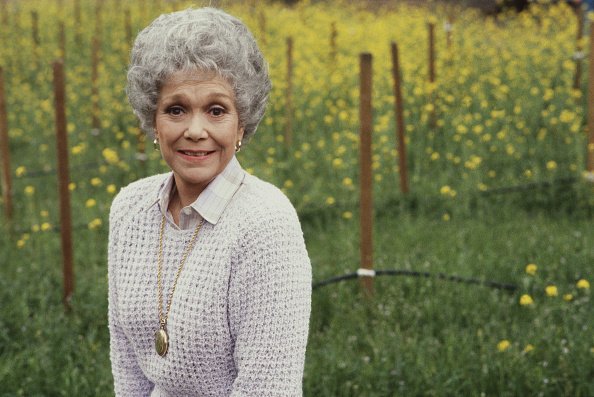 Jane Wyman poses outdoors by a field of yellow flowers in a publicity photo for the CBS primetime soap opera "Falcon Crest." | Source: Getty Images
After dating for a while, the actress noticed her man's "vast knowledge," how kind he was with others, and his devotion to his mother, something she never had.
All of these attributes made Wyman love Ronald even more. However, it was only a matter of time before things began to turn upside down. Here are more details about the former couple's relationship, including how Wyman almost took her own life.
JANE MADE RONALD ASK HER TO MARRY HIM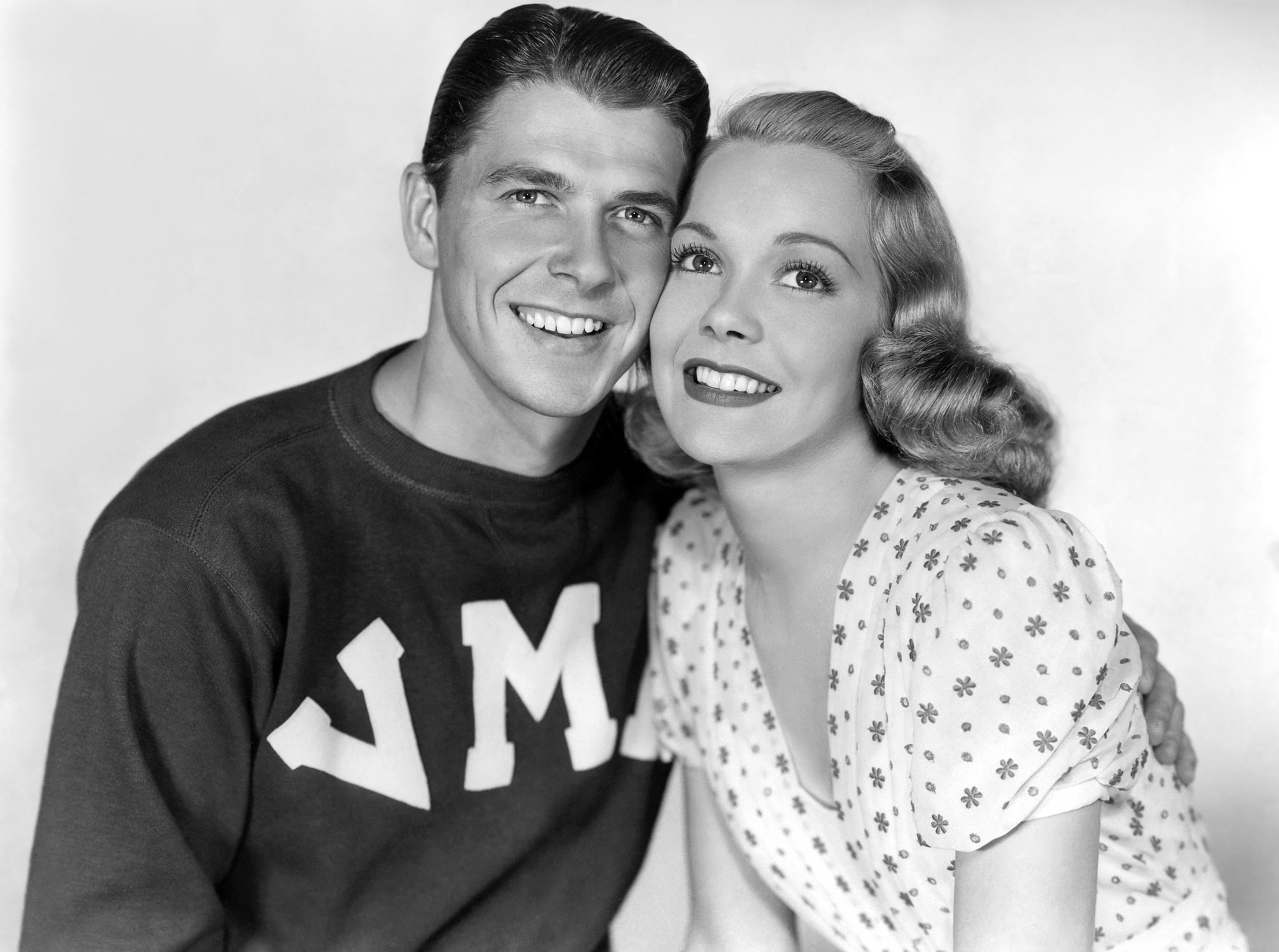 Actress Jane Wyman and Ronald Reagan in a scene from the 1937 movie "Brother Rat" | Source: Getty Images
After dating for two years, Wyman expected a proposal from Ronald but never got one. While the actor enjoyed their relationship, he also thought things were moving too fast, so he continued to delay his proposal.
At that point, Wyman came up with a drastic plan to force Ronald to propose, and it worked. She threatened to take her life if the politician did not pop the question. Wyman was not bluffing, and she went ahead with her threat.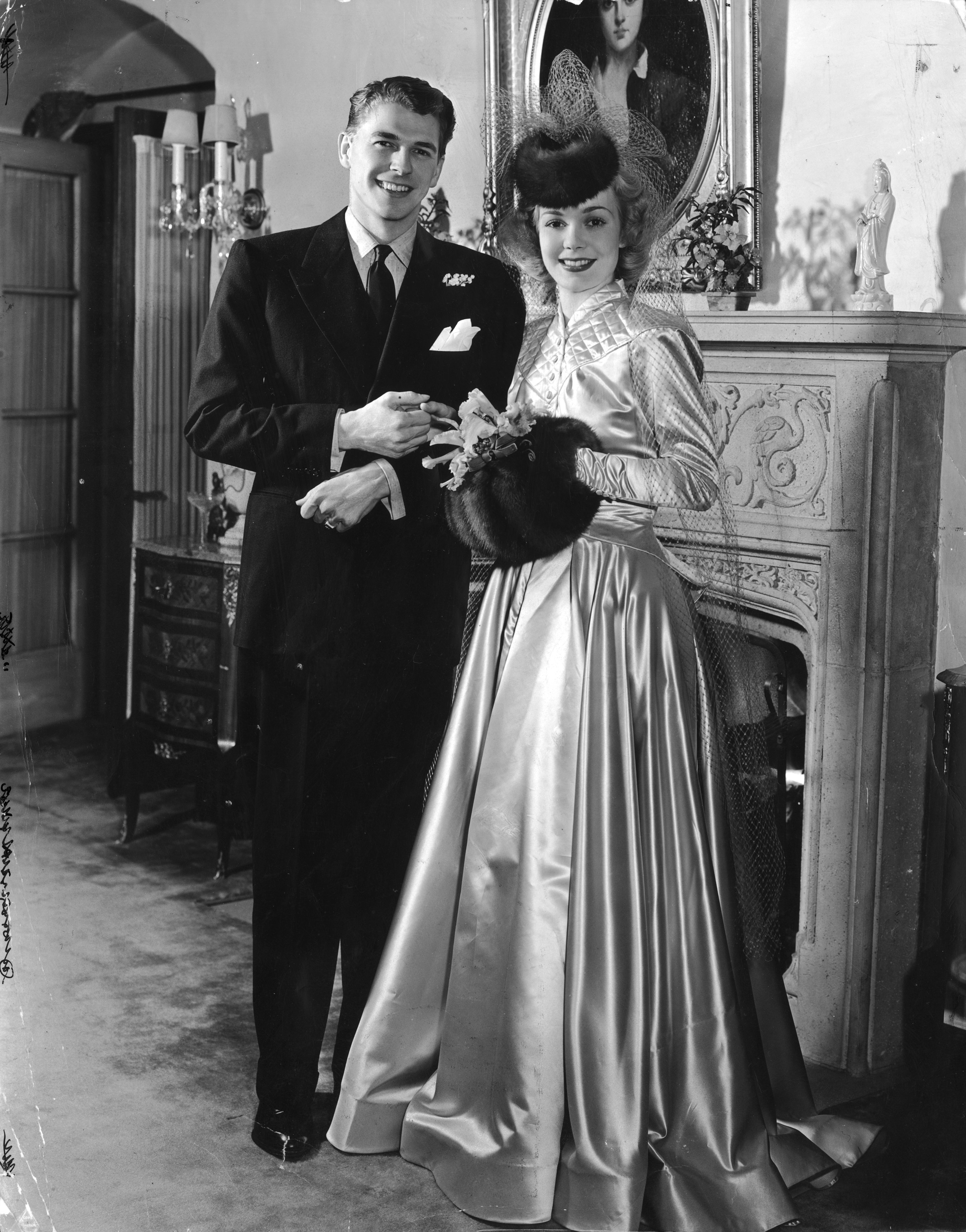 Portrait of Ronald Reagan with his first wife, Jane Wyman holding hands in front of a stone fireplace on their wedding day on January 25, 1940 | Source: Getty Images
The actress took enough pills to be taken to the hospital and even left a suicide note to explain her reasoning. If that was not enough, Wyman banned Ronald from entering her hospital room.
The following day, the former president finally had access to her room. "By the time he left, they were officially engaged," a book revealed. By January 20, 1940, Ronald and Wyman applied for a marriage license at Los Angeles City Hall, and six days later, they walked down the aisle.
They welcomed their first child, Maureen, in 1941 and adopted a son, Michael, born in 1945. Unfortunately, their third child, Christine, was born premature and died in June 1947.
WYMAN QUICKLY BECAME BORED BY REAGAN – THEY DIVORCED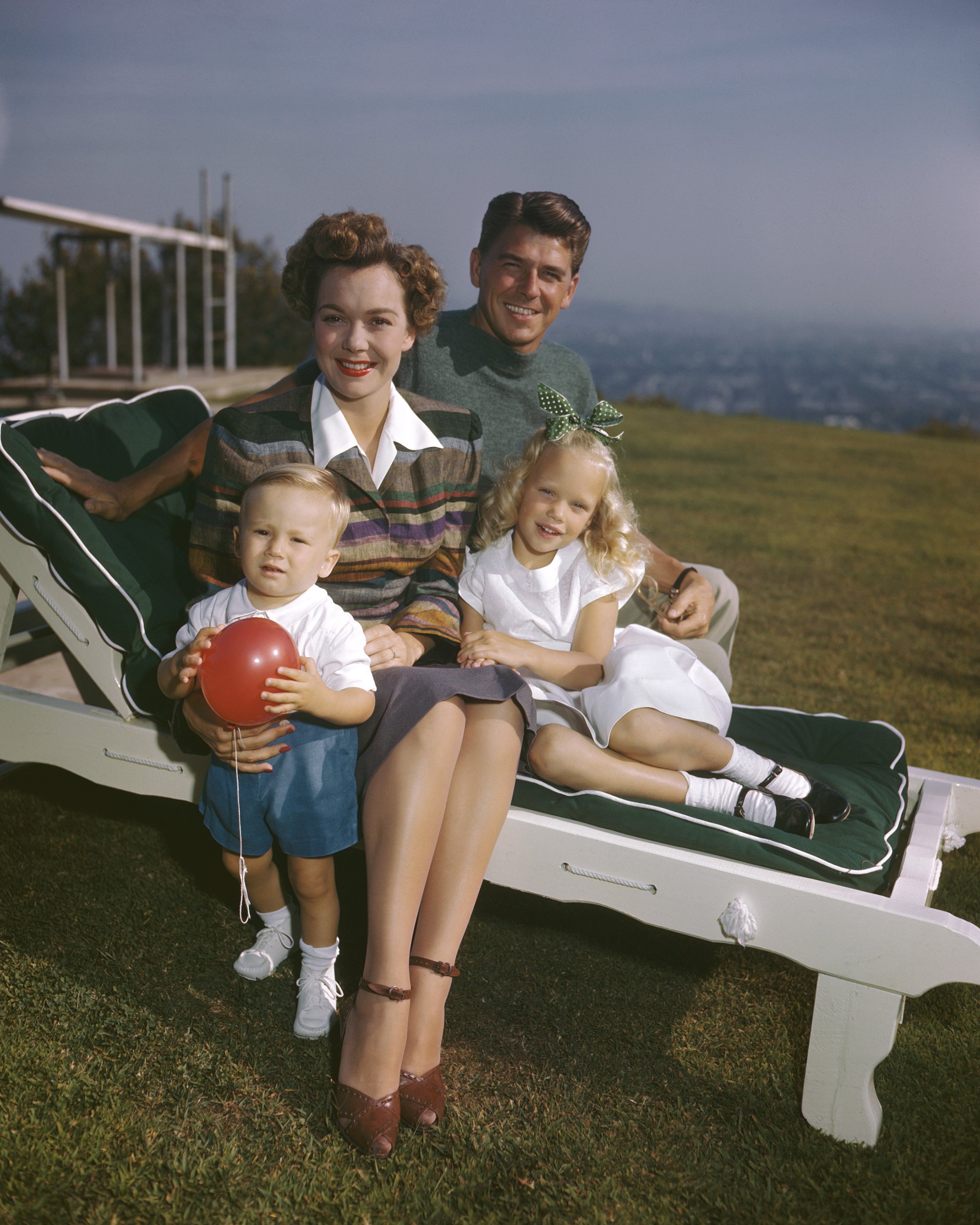 Ronald Reagan and his wife, actress Jane Wyman with their children Maureen and Michael, circa 1946 | Source: Getty Images
Wyman and Ronald's relationship was destined to crumble. After being married for several years, the former reportedly felt neglected and bored, seeing that her husband was deeply involved in the Screen Actors Guild as its president.
In addition, Christine's death dealt a heavy blow to their relationship. As a result, Wyman wanted a divorce, but Ronald was not ready to give up on their marriage.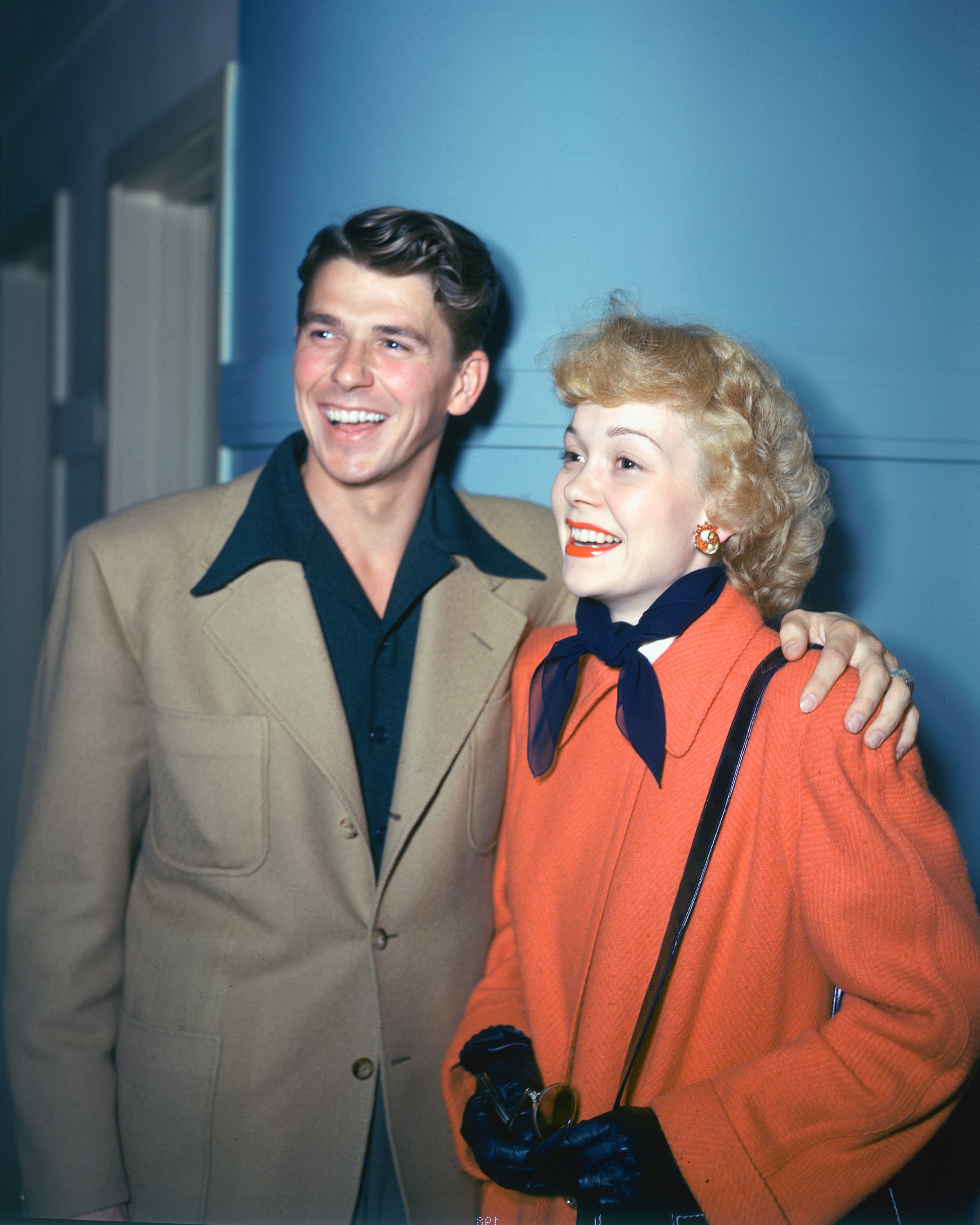 Picture of Ronald Reagan and Jane Wyman ,circa 1945 | Source: Getty Images
When he initially learned of the separation, he was despondent. Actress Patricia Neal recalled seeing the politician leaving a New Year's Eve party and going outside, where he cried. Ronald was determined to win Wyman back despite how bad things had gotten between them.
He performed various gestures like visiting her on set, sending her flowers, and giving her a poodle. The late actor was convinced that he and his lady would get back together. Ronald noted:
"It's a very strange girl I'm married to, but I love her… I know we will end our lives together."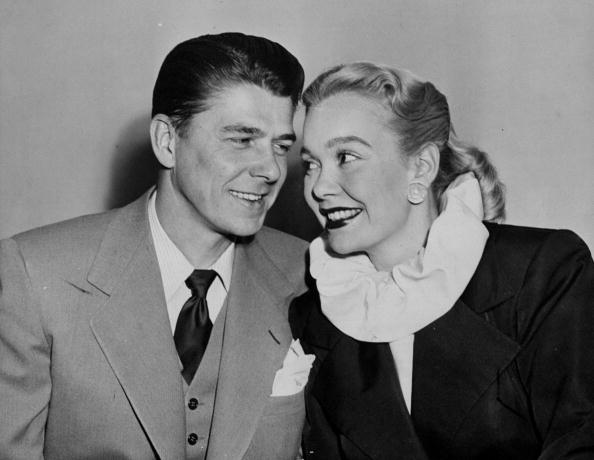 Ronald Reagan and Jane Wyman in the Daily News studio, circa 1940s. | Source: Getty Images
Indeed, the politician's gestures worked, and the pair reconciled a few times, but in June 1948, Wyman filed for divorce. The actress claimed that her ex-husband was obsessed with politics and the Screen Actors Guild in the court documents. She also revealed that there was nothing common between them anymore.
The pair finalized their divorce in 1949. While Wyman gave her reasons for the divorce, Michael and Maureen had different opinions. They believed that Christine's death was the catalyst to their parents' divorce.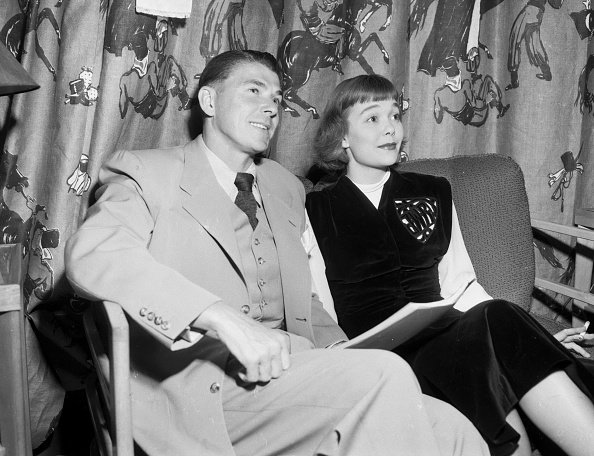 Ronald Reagan and Jane Wyman in Hollywood, California on November 17, 1947 | Source: Getty Images
Michael confessed that it was not a coincidence that Ronald and Wyman divorced within one year of Christine's death. He believed that somehow, his mom blamed Ronald for not being present when their daughter was born and when she died, even though he was at another hospital fighting for his life.
According to Michael, his baby sister's death hit Wyman so hard that even after decades of Christine's death, her name was included in the actress's will.
HERE'S WHAT REAGAN TOLD ABOUT THEIR MARRIAGE LATER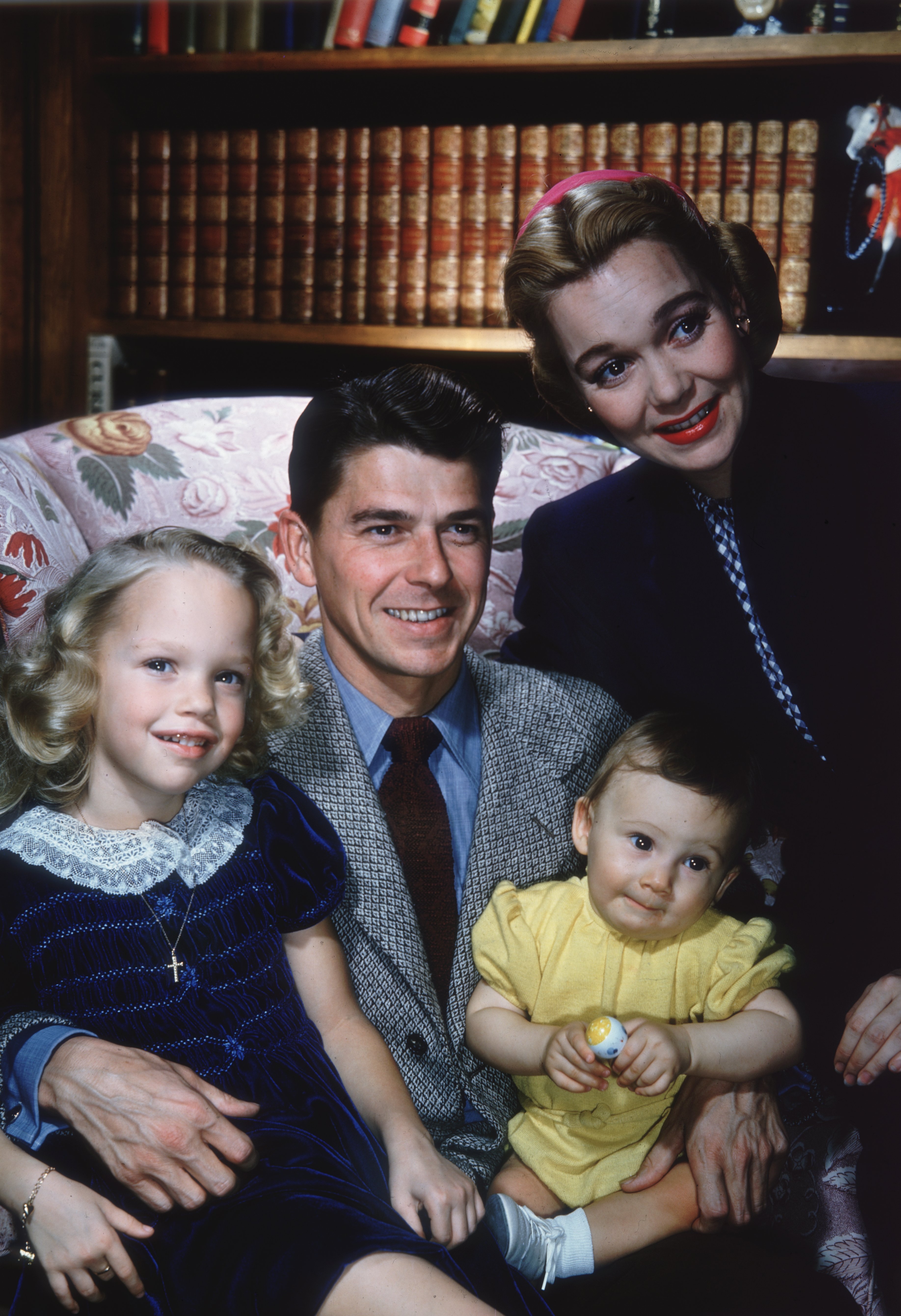 Portrait of Ronald Reagan and Jane Wyman with their two children, Maureen and Michael, circa 1945 | Source: Getty Images
After their divorce, Wyman and Ronald rarely mentioned each other publicly. The distance was so much that the actress got only one paragraph in Ronald's autobiography. The paragraph read:
"The same year I made the Knute Rockne movie, I married Jane Wyman, another contract player at Warners. Our marriage produced two wonderful children, Maureen and Michael, but it didn't work out, and in 1948, we divorced."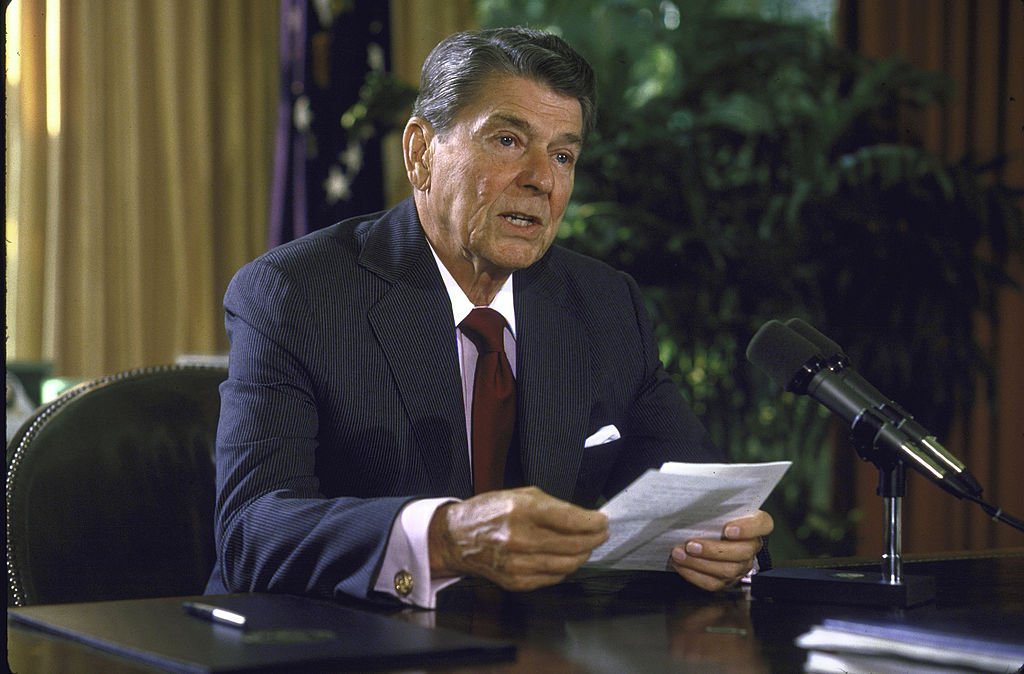 United States President Ronald W. Reagan, looking serious as he announces his directive on South Africa in the Oval Office on September 1, 1985 | Source: Getty Images
As for Wyman, she had a reason for the silence and distance. In 1968, when Ronald became California's Governor, the actress was asked why she never spoke of his political career. In her response, Wyman said:
"It's not because I'm bitter or because I don't agree with him politically. I've always been a registered Republican. But it's bad taste to talk about ex-husbands and ex-wives. Also, I don't know a damned thing about politics."
Following their divorce, Ronald tied the knot for the second time with Nancy Reagan in 1952. Their marriage yielded two kids, Ron Reagan and Patti Davis. The couple stayed married until the former president's unfortunate demise in June 2004.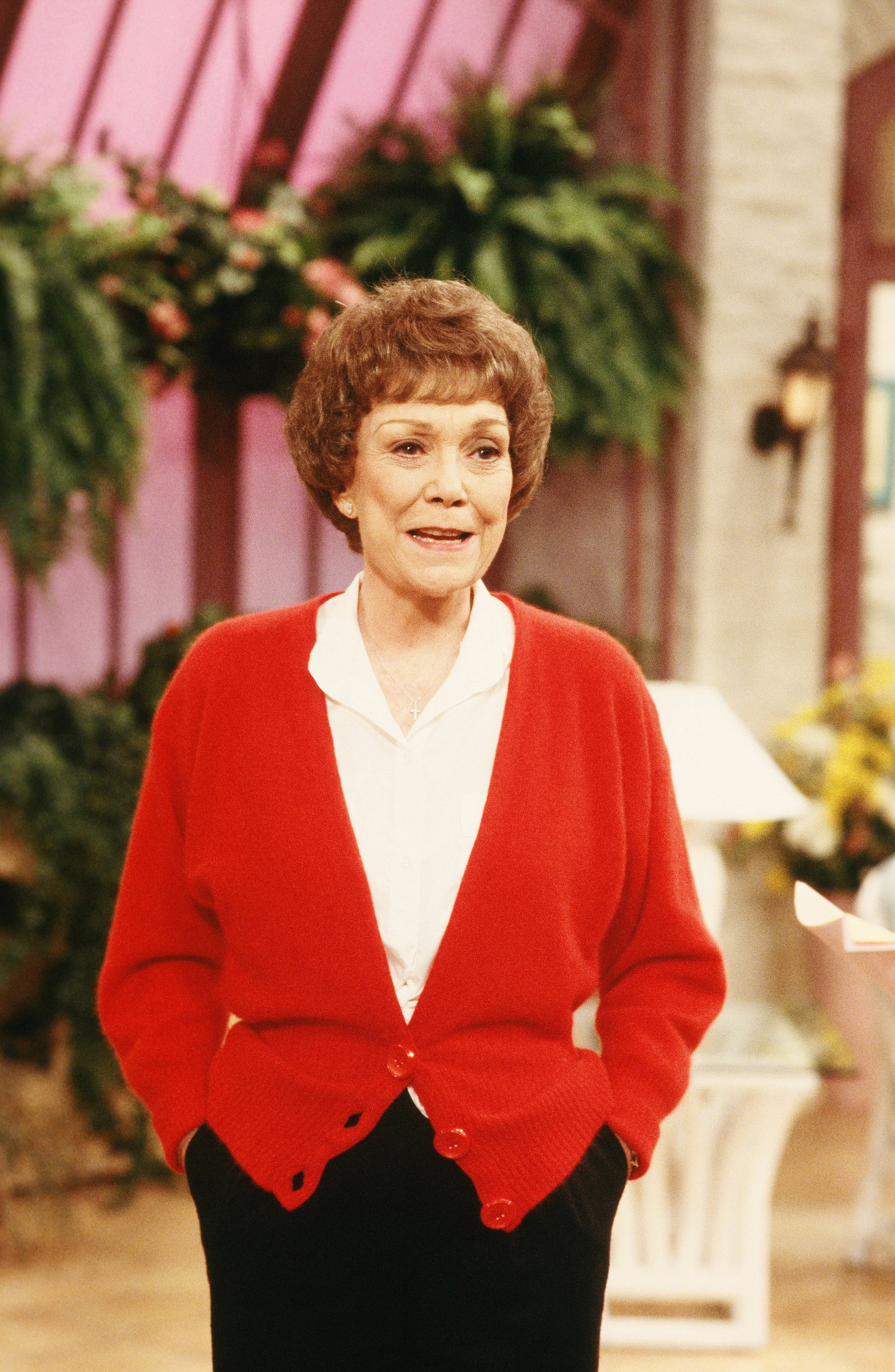 Academy Award-winning actress Jane Wyman, poses during the 1987 West Hollywood, California, taping of AM Los Angeles | Source: Getty Imgaes
On the other hand, Wyman married the same man twice. She walked down the aisle with Fred Karger in 1952, but they divorced three years later.
In 1961, they remarried, but sadly, the union lasted for only four years. Wyman never married again until she passed away in September 2007.
Please fill in your e-mail so we can share with you our top stories!