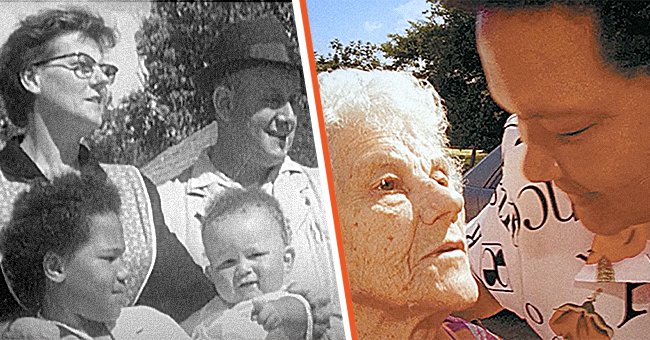 Abraham and Sannie Laing with their kids | Sannie Laing with her daughter, Sandra Laing | Source: Youtube.com/Our Life
Black Girl Born to White Parents Is Cut Off from Her Family, Hugs Mom Again 30 Years Later
It took three decades worth of heartache, hatred, rejection, and turmoil for a black girl to reunite with her mother. Torn apart by unlikely circumstances beyond her control, the heartbroken girl continued to carry the blame for her family tragedy.
Staying strong in the face of adversity can be cumbersome, especially for people who are left questioning their place in the world. While challenging times bring out the best in us, they might also leave us with immense trauma and unresolved grief.
Ironically enough, a South African girl underwent something similar when her life was turned upside down, depriving her of a chance at a normal, happy childhood and adulthood. It took her years to pick up the pieces and restore her sense of self.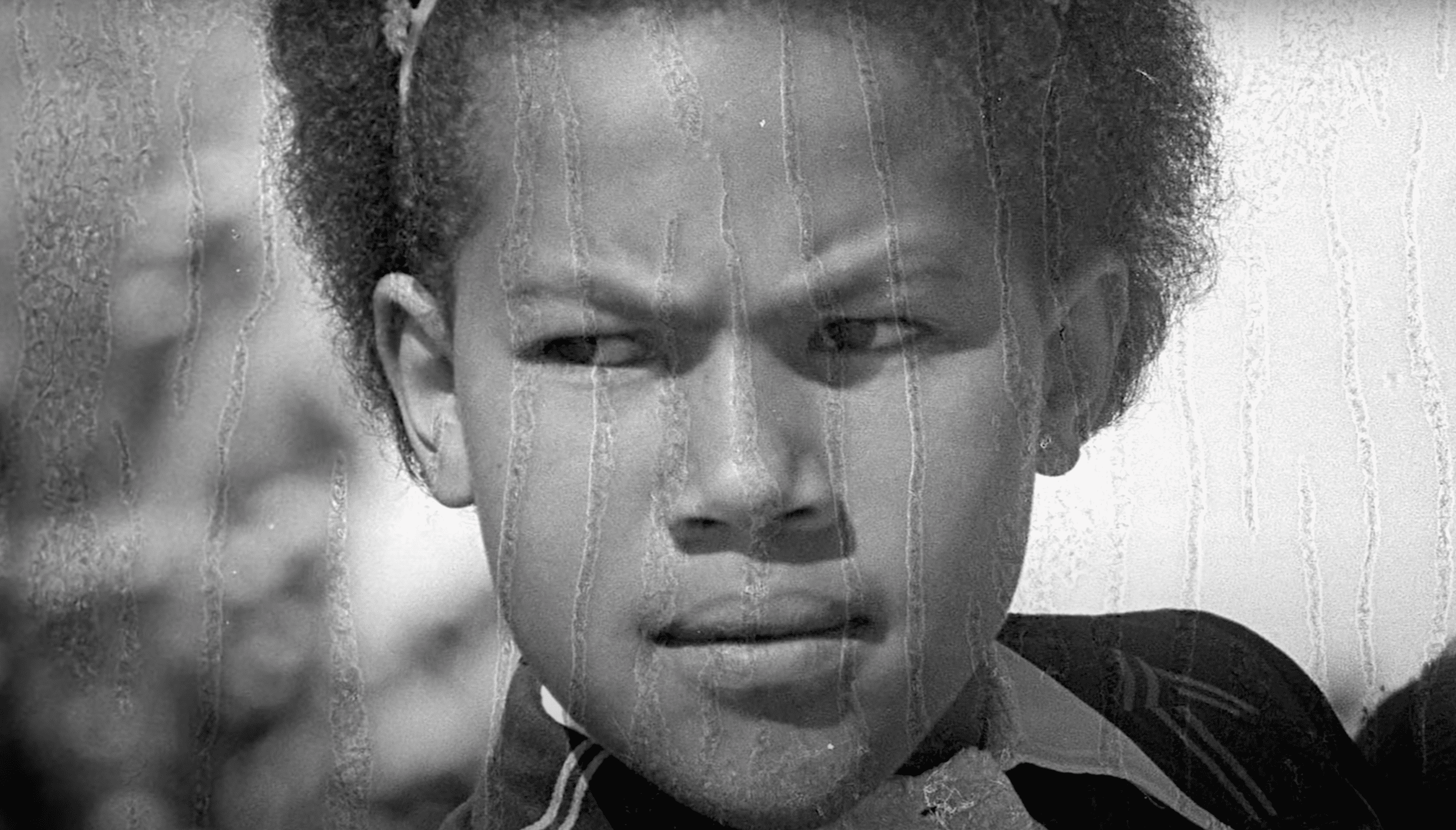 Sandra Laing as a little girl. | Source: YouTube.com/Our Life
Sandra Laing was born in 1955 in Piet Retief, a small conservative town in apartheid South Africa. Her Afrikaans-speaking parents, Abraham and Sannie Laing were white shopkeepers from the Eastern Transvaal (now called Mpumalanga).
She had two brothers, Leon and Adriaan, but Sandra's skin was darker, and her black hair was tightly curled, unlike her brothers and parents. But her parents refused to acknowledge what was in front of them. Sandra recalled:
"My father told me I was white. He thought of me as his white little girl."
THE APARTHEID SOUTH AFRICA
In apartheid, South Africa, a person's racial classification determined several aspects of his life, like who he could marry, where he could live, and the kind of work he could get. South Africans were segregated into four groups: whites, Asians/Indians, colored, and blacks.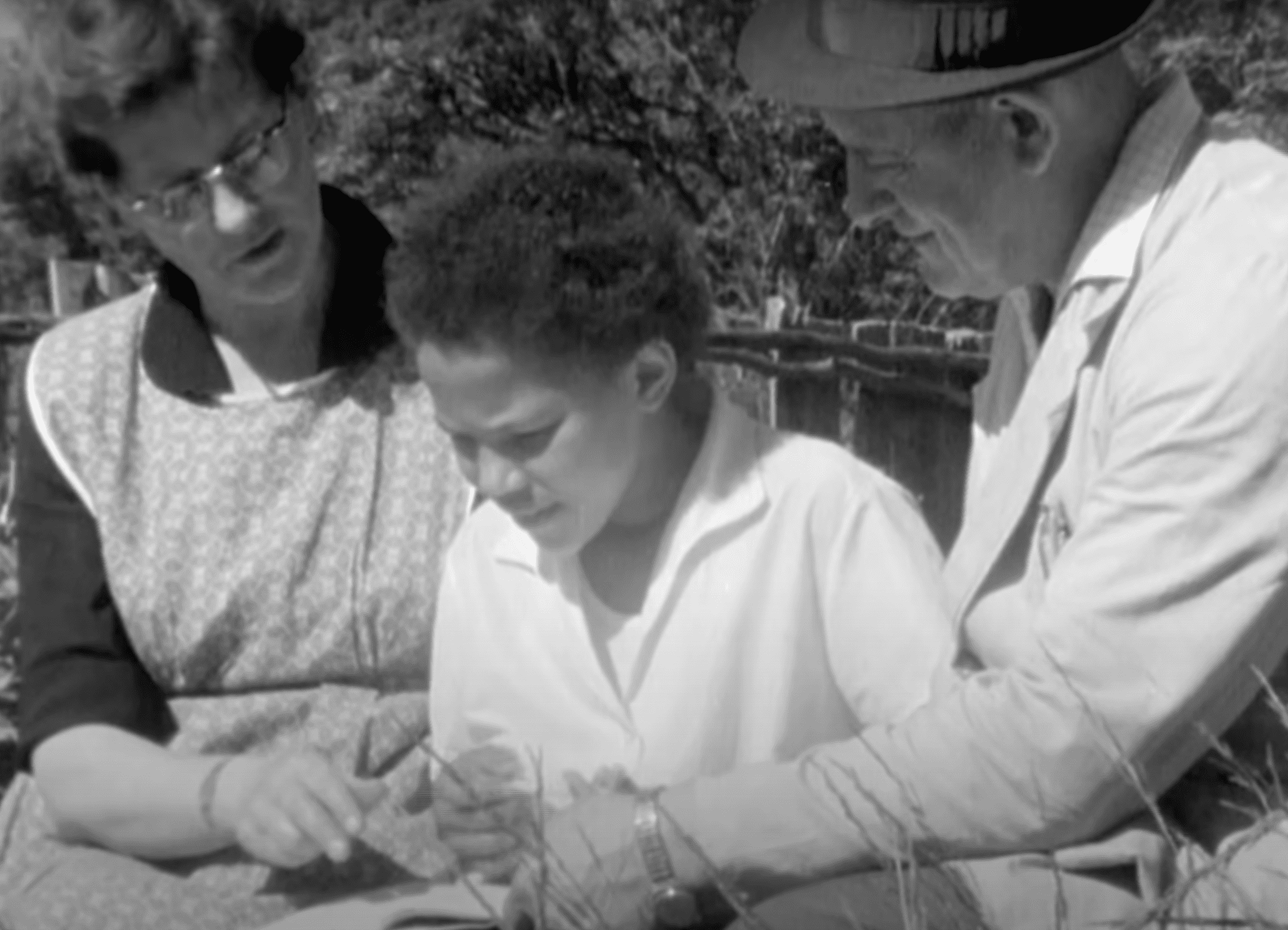 [From left to right] Sannie, Sandra, and Abraham Laing. | Source: YouTube.com/Our Life
The apartheid ended in 1994, and since then, South Africa has come a long way in becoming welcoming and tolerant towards people of varying races and colors.
Under such a system, a dark-skinned Sandra grew up with no sense of color and only wished to be happy and play with her friends. But with time, she started feeling uncomfortable in her skin and fumbled about in the dark, yearning to belong.
ENDURING THE HARSH TREATMENT
Like other kids her age, Sandra attended boarding school in her town, where she soon realized she wasn't welcomed. Other students often called her names like "dirty," "blackie," and "frizzhead" and passed derogatory comments.
Some even told her she had no place in a white school. In 1962, her school started campaigning against her, which lasted four years. Sandra's school teachers explicitly stated that they didn't want her to go to any white institution in South Africa.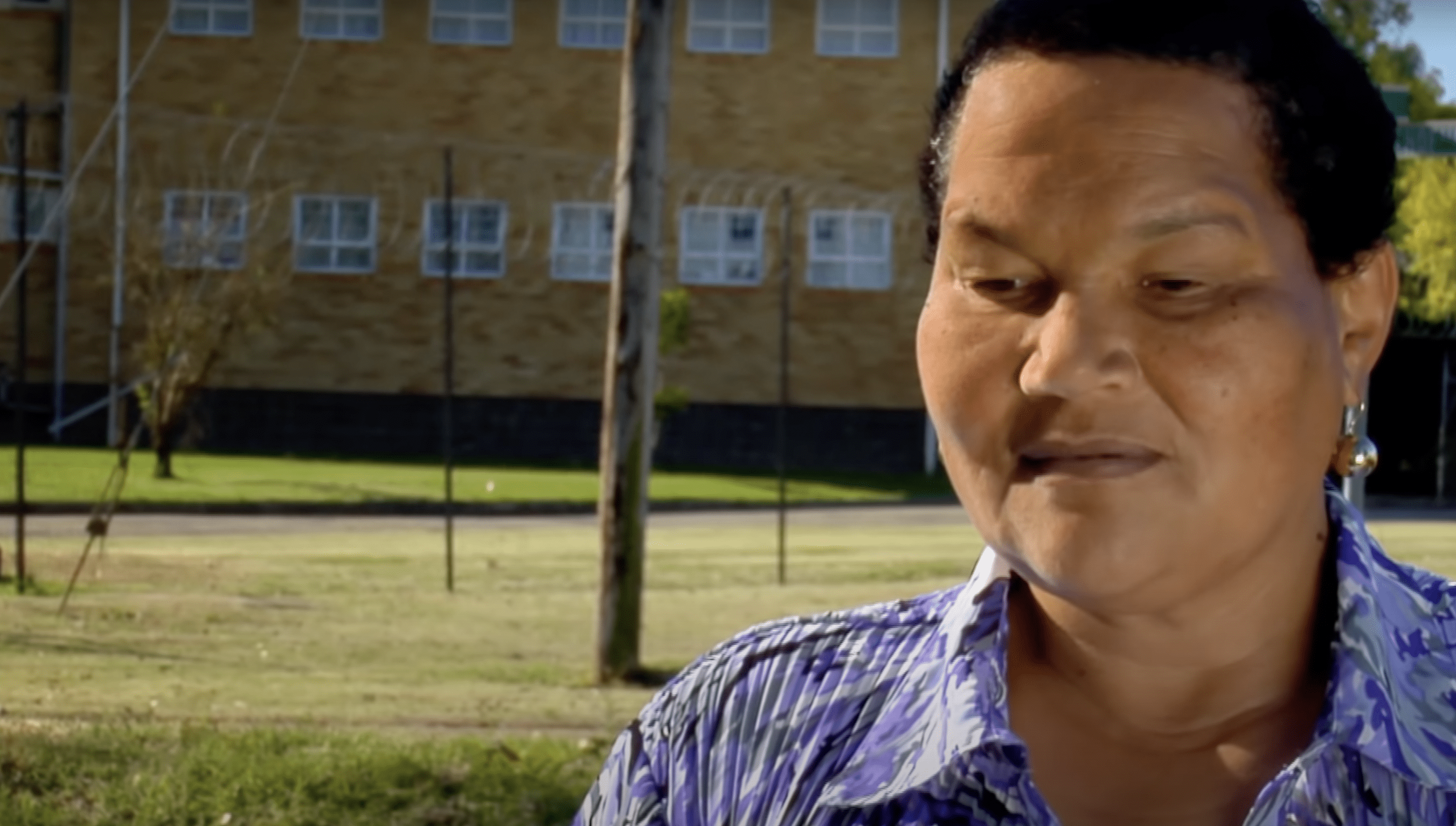 Sandra Laing. | Source: YouTube.com/Our Life
Finally, on March 10, 1966, 10-year-old Sandra was expelled from her all-white school and taken home by two cops due to endless complaints from students, teachers, and parents centered on her skin color and hair texture.
The teachers and parents fought for four years to remove Sandra from the school because she looked different from everyone else. The news was deeply upsetting for the little girl and her parents, so her father, Abraham, decided it was time to do something.
He ran a public campaign to have Sandra reclassified, but the family had already garnered unnecessary attention from people around them by then. Questions were raised whether Sandra was her parents' child.
Some even accused her mother, Sannie, of having an affair with a black man. Thankfully, Abraham took a paternity test to silence the critics, and the results proved he and Sannie were Sandra's biological parents.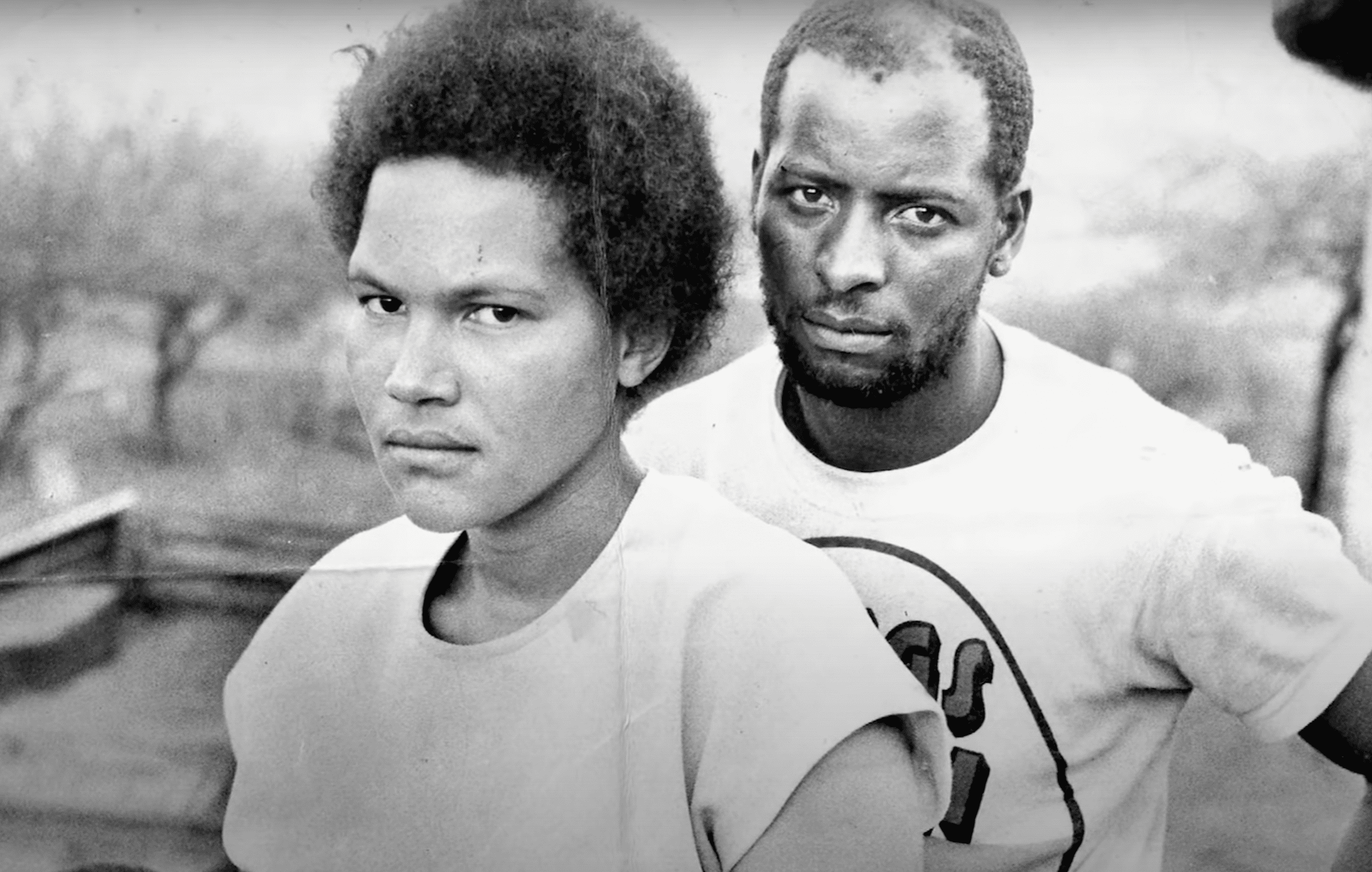 Sandra Laing and Petrus Zwayne. | Source: YouTube.com/Our Life
A GROWING SENSE OF ALIENATION
But one pertinent question remained — why did Sandra look vividly different from her white parents? The likely explanation was that her Caucasian parents had likely carried a dormant gene passed down from their African ancestors.
However, apartheid South Africa was foreign to DNA testing and genetic statistics. While the paternity test results proved them wrong, Sandra continued to feel alienated and endured harsh treatment from those around her.
During this time, she felt more comfortable interacting with black people and even learned Zulu. Finally, Abraham succeeded in having Sandra reclassified as white. Then, the government changed the law that a child had to be of the same race as their parents.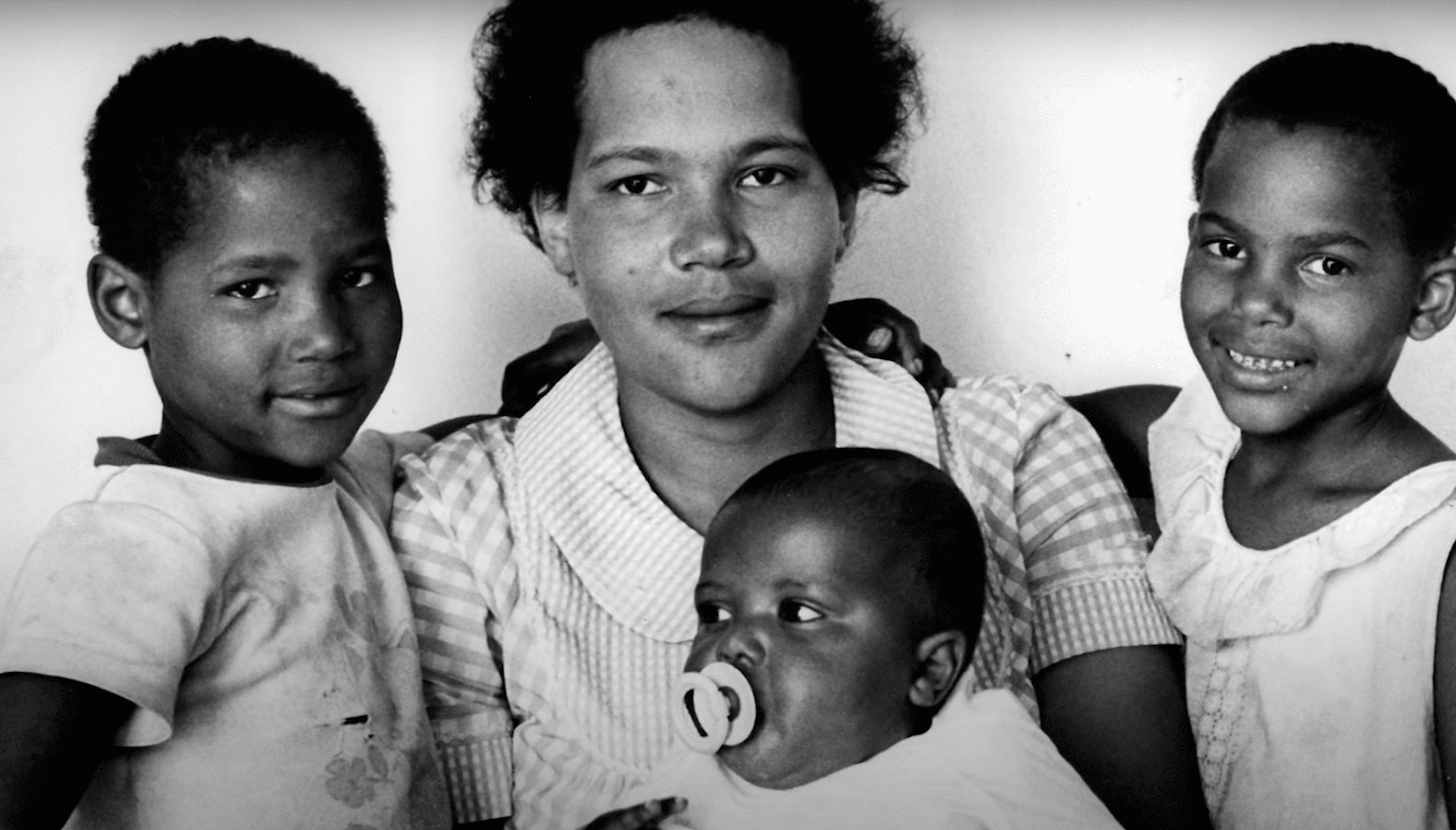 Sandra Laing with her three children. | Source: YouTube.com/Our Life
FINDING LOVE AS A TEENAGER
Sandra's inclination toward black people continued, and when she turned 14, she met a black man, Petrus Zwane, who was 20 years older than her. Zwane was a fruit and vegetable vendor who often dropped by Sandra's parents' shop.
At 16, Sandra eloped with Zwane, a decision that would soon have profound consequences. They escaped to Swaziland, where there was no apartheid, but the couple was arrested for illegal entry and sent back to South Africa.
Zwane was released, but Sandra remained imprisoned for three months. Eventually, the court dismissed Sandra in the care of Zwane and his mother, Jenny. Sandra had now gained a black family, but she lost her white one tragically.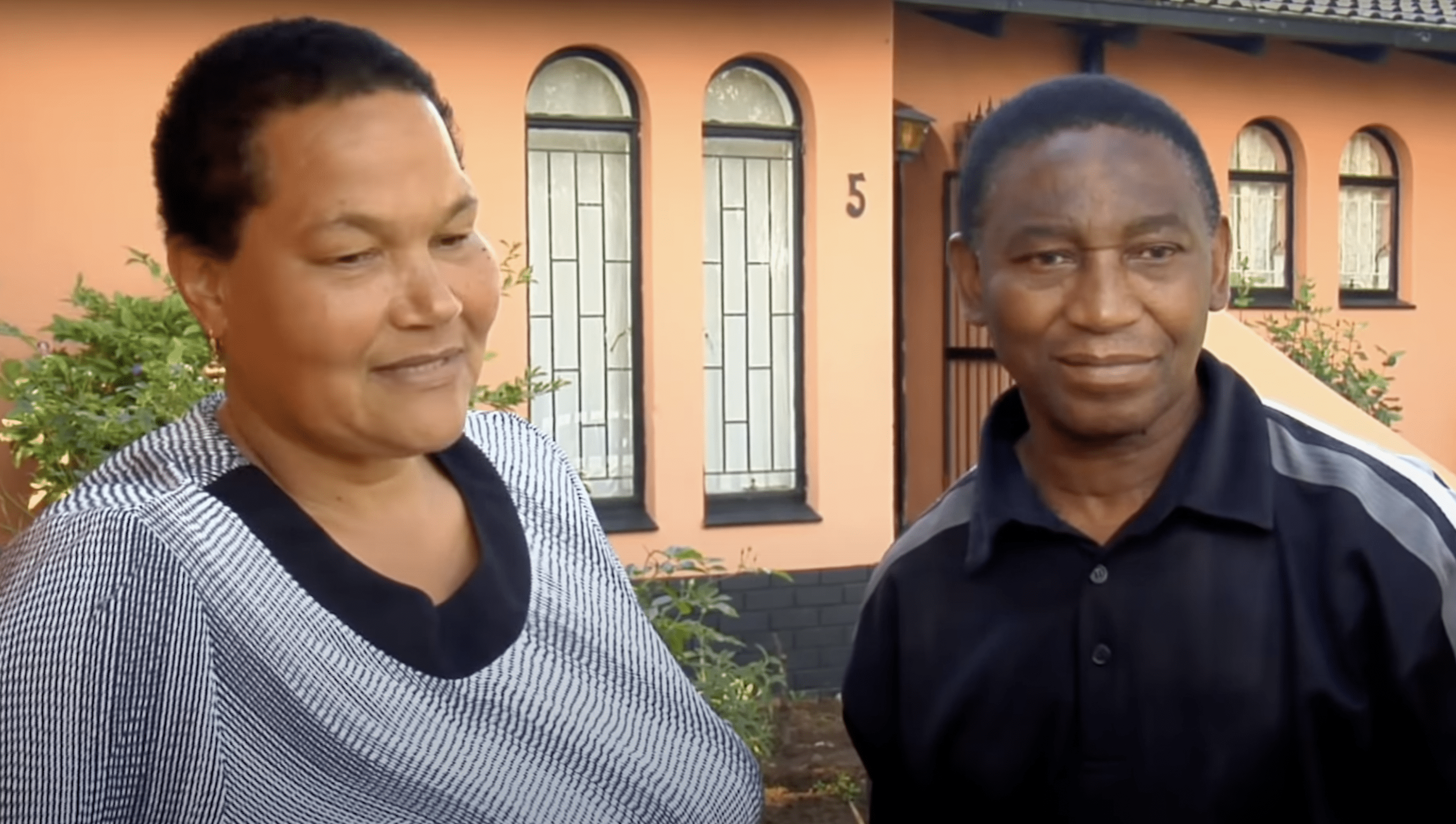 Sandra Laing and Johannes Motlaung. | Source: YouTube.com/Our Life
LOSING ALL CONTACT WITH HER FAMILY
Abraham became furious with Sandra for running away with a black man and refused to meet her again. He even forbade Sannie from visiting her and cut off all contact with Sandra.
The heartbroken Afrikaner teenager had barely settled into her new life when the apartheid forced her and Zwane to leave their home. The couple resettled and had two children, Henry and Elsie. Sandra recalled visiting her mom with her oldest son, Henry.
While Sannie was happy to see her daughter and grandkid, she told Sandra to leave before her father returned.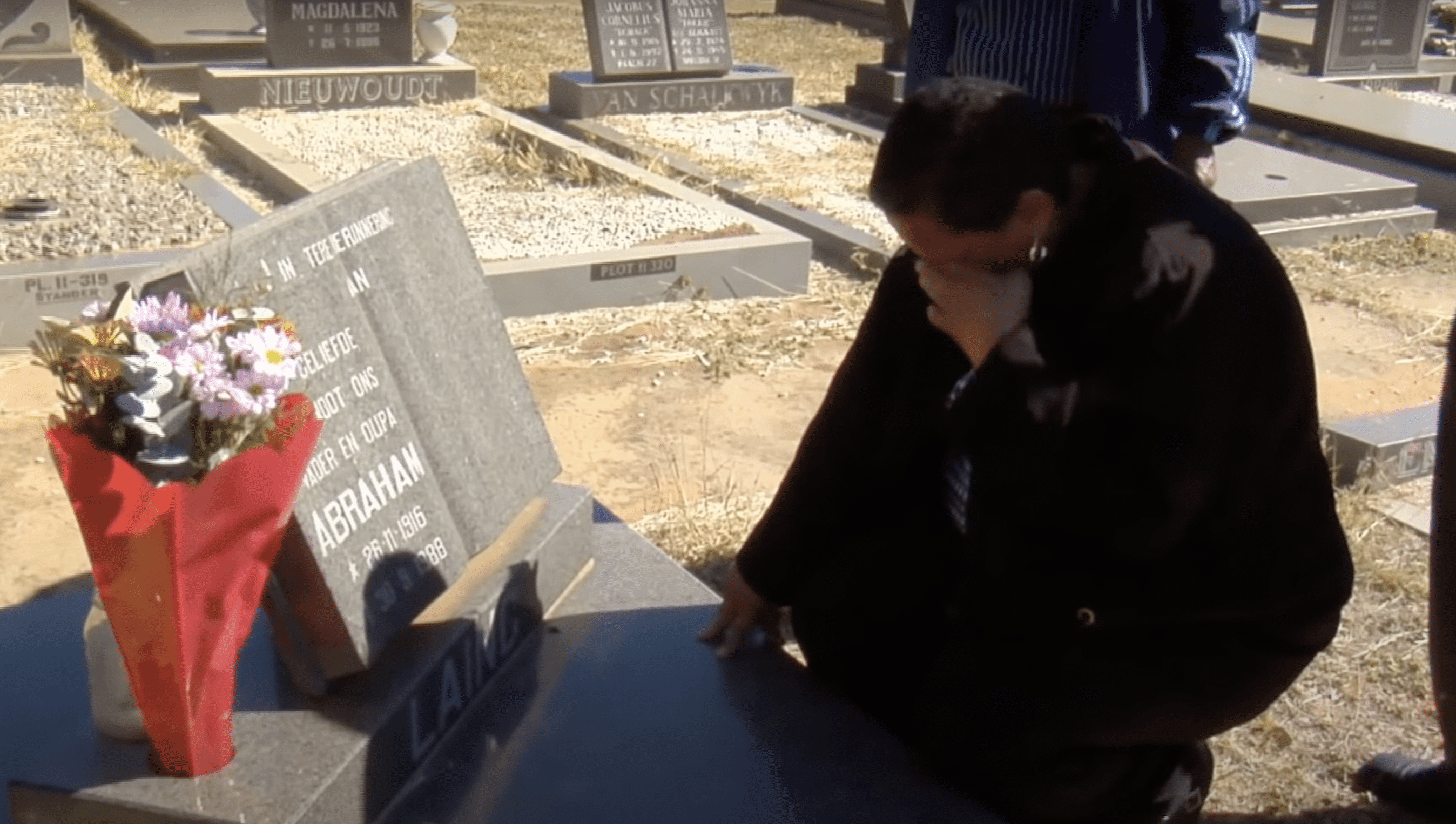 Sandra breaks down at her father's grave. | Source: YouTube.com/Our Life
Afraid that her kids would be taken away from her because of the racial difference, Sandra applied to get herself reclassified to black. Sadly, she was refused because she was underage, and her father wouldn't consent.
Gradually, her relationship with Zwane soured, and to save her and her children's lives, Sandra ran away in 1979. She had another child, Prins, from a short-lived relationship with Zwane's friend, David Radebe, and began cleaning people's houses to support her kids.
Her problems were far from over, as when she went to seek treatment in hospital after being wrongly suspected of having cancer, the authorities took away her children and fostered them out. At 26, she found her first steady job at a cosmetics factory and often visited her children still at the welfare.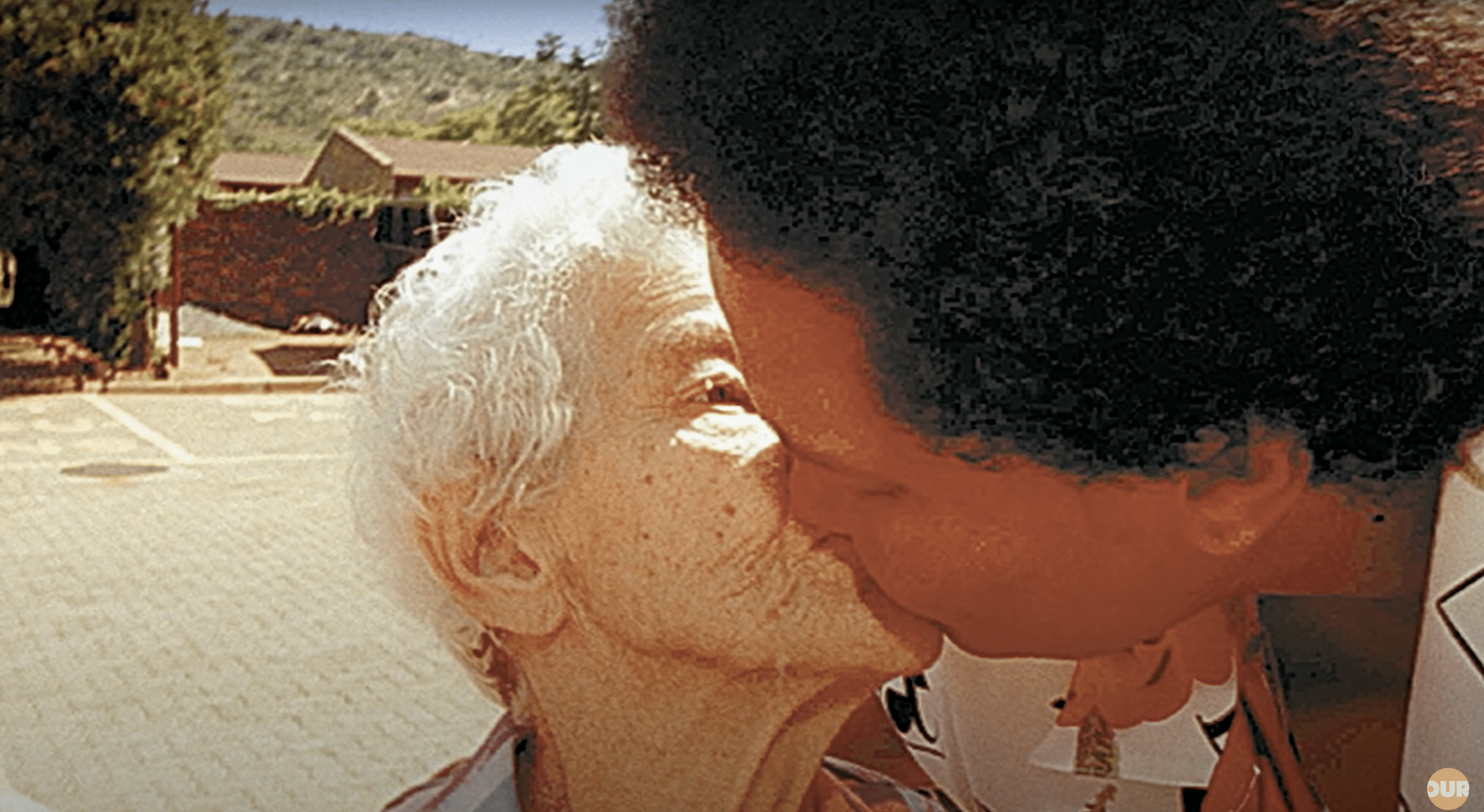 Sandra tenderly kisses her mother at their reunion. | Source: YouTube.com/Our Life
In 1987, Sandra's life took a pleasant turn when she met a truck driver, Johannes Motlaung. Together, the couple prospered, found work, and rented a house which helped Sandra bring her children home from the welfare.
The couple welcomed a child, Steve, and along with her five children, Sandra finally felt stable and loved. In 2000, a British film director was deeply moved by her story and decided to make a feature film about her life.
The tides of time changed, and Sandra found herself receiving increased recognition and unprecedented security. A sense of well-being and family that once blighted her life became her pillars of strengths. Four of her children married, and she has seven grandkids at that moment.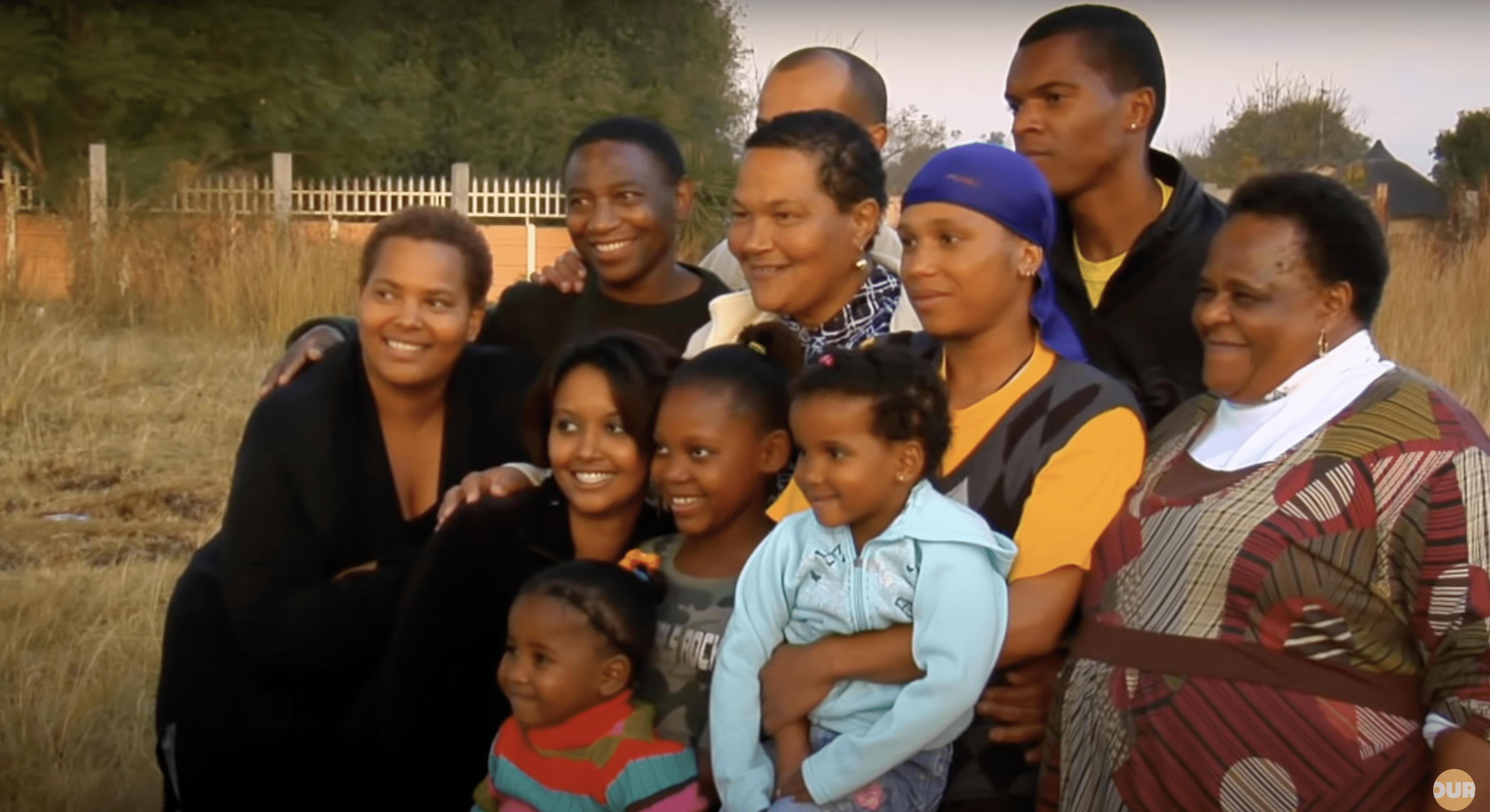 Sandra pictured with her brown family. | Source: YouTube.com/Our Life
Her extended family lived near her place, and she often hosted family gatherings where everyone reveled in the sacred bonds of togetherness and love. But there were still holes in Sandra's heart, a profound longing for her white family.
She was shattered when she discovered her father died in 1988 without seeing her again. She was clueless regarding her mother's whereabouts until she found her through a Johannesburg Sunday Times journalist.
Nearly 30 years later, in 2000, Sandra embraced her mother at a Pretoria nursing home. "I was afraid she was still mad at me. But Ma looked up, and I saw that she still loved me," recounted Sandra.
Sannie also met Sandra's brown family and was delighted to see her daughter after so long. Still, her brothers refused to see her again and intentionally hid Sannie's death from her. A heartbroken Sandra revealed:
"He [Leon] said that after I left home, my mother and father were never happy again. I had chosen not to be their sister and I had to lie on the bed I had made for myself."
The apartheid ended in 1994, and since then, South Africa has come a long way in becoming welcoming and tolerant towards people of varying races and colors. Today, Sandra lives as a national icon and has found her unique place in the world as a black woman.
Please fill in your e-mail so we can share with you our top stories!
news.AmoMama.com does not support or promote any kind of violence, self-harm, or abusive behavior. We raise awareness about these issues to help potential victims seek professional counseling and prevent anyone from getting hurt. news.AmoMama.com speaks out against the above mentioned and news.AmoMama.com advocates for a healthy discussion about the instances of violence, abuse, sexual misconduct, animal cruelty, abuse etc. that benefits the victims. We also encourage everyone to report any crime incident they witness as soon as possible.