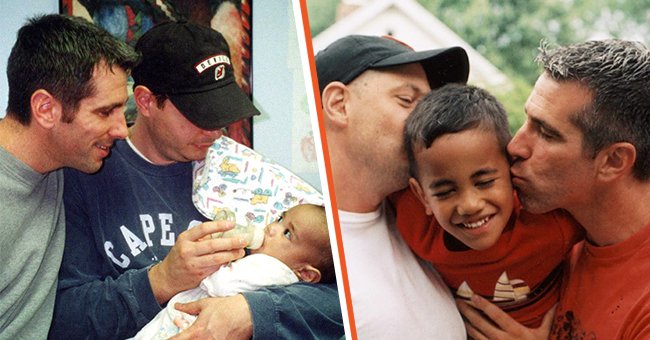 facebook.com/petemercurionyc | instagram.com/petemercurionyc
Gay Couple Finds Abandoned Baby on the Subway — Now He's Their Son
Two gay lovers stumbled upon a baby abandoned on a Manhattan subway and were given a chance to raise the child by the same judge who would later officiate their wedding.
Danny Stewart was on his way to meet his partner, Pete Mercurio, for dinner one night when something out of the corner of his eye drew his gaze. It was a weird-looking bundle that did not seem like it belonged, tucked up against a wall at the 14th Street subway station in Chelsea, Manhattan.
He interrupted his journey to find out what it was. Imagine his shock when he realized that the bundle was a newborn still attached to some of his umbilical cord. Concerned, he quickly dialed 911 but never thought of the baby becoming his. At least not at that moment.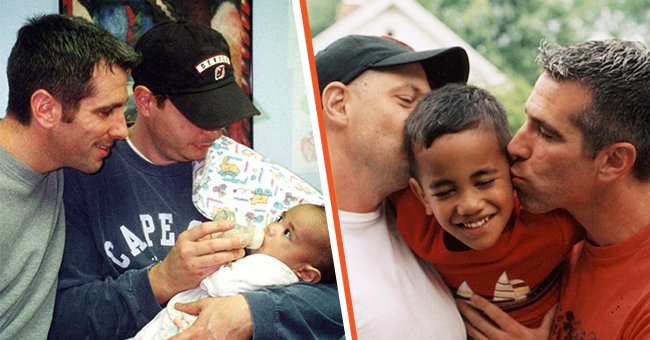 Pictures of Danny Stewart and Pete Mercurio with their son, Kevin | Source:facebook.com/petemercurionyc || instagram.com/petemercurionyc
Danny's date with his lover of three years, Pete, was scheduled to happen on August 28, 2000. Danny, a social worker, had been jogging to meet Pete, but when he reached the southbound platform of the A, C, and E trains at exactly 8:30 p.m., something made him pause.
"I glanced down and saw what I thought was just a baby doll," Danny stated at the time. "His upper body and his head were wrapped in a dark sweatshirt. But as I started to go up the stairs, he started to move, so I knew he was alive."
Wasting no time, Danny had rushed down, and when he reached the newborn, the first thing he noticed was that the umbilical cord was still partially intact.
In an interview with BBC, Danny revealed that the entire affair had seemed "unreal." Still, after interacting with the baby a bit, he started trying to get the attention of other pedestrians.
Unfortunately, most ignored him, and the only woman who stopped didn't understand English and probably thought he was a bit deranged, so no help came from there.
Luckily, the determined man had a plan B to call the cops. He was afraid to pick up the child, so after taking one last look at him, he left to search for a payphone — it was a time when mobile phones were still scarce.
After finding a functioning payphone, Danny promptly called the cops, told them he had found a baby, gave them the location, and quickly left to check on the child.
Minutes passed, and afraid the cops had not believed him, he decided to call the one person he knew would rush to his aid, and that was Pete. The cops proved him wrong by arriving earlier than Pete, who came as they left with the baby and headed to the hospital.
The baby's exit left Danny with mixed feelings, and Pete picked up on it immediately because he quickly set to comfort him. "It's not the end,'' Pete told his boyfriend at the time. "A child can't just fall into your life this way and disappear."
Danny and Pete tried to keep track, but when no news came, they returned to their daily lives. Shortly after, Danny received an invitation from the Administration for Children's Services to be present for a family court hearing as a witness that would testify about how he happened to find the baby.
It took place in December 2000, and the judge shocked Danny by asking if he would remain for the entire hearing. Danny waited while the police gave their own testimony, and afterward, the judge addressed him again.
She told him about the process that would happen with the child under usual circumstances and then asked him if he would be interested in adopting the baby.
Suddenly all eyes were on him, and a moment later, after he answered that he was interested, all mouths dropped, including his. He said, "Yes, but I don't think it's that easy," and the judge smiled before answering, "Well, it can be."
After the session, Danny called Pete and shared the good news. But unfortunately, unlike him, his lover was not so interested in getting saddled with a living, breathing baby.
Even Danny had not thought of adoption, but he saw the child as a special kind of gift he could not say no to. In the days that followed, the couple had what Pete referred to as "heated arguments."
Pete felt betrayed that Danny said yes without consulting him; he also knew they could not afford to care for a child.
It almost tore them apart, with Danny threatening to proceed with or without Pete, who got mad and said pretty awful things. Eventually, Danny convinced Pete to meet the child, and the first contact changed everything. Pete said:
"...it was almost like he found a pressure point in my finger that just opened up my heart to my head and showed me in that moment that I could be one of his parents, one of his dads."
The adoption process took about nine months, and it included a lot of background checks and fostering classes. With help from family, the couple left the foster care agency with the baby, whom they named Kevin, on Friday, December 22, 2000, at nine o'clock in the morning.
THE SAME JUDGE OFFICIATED THEIR MARRIAGE
After New York became the sixth state in the US to legalize gay Union in 2011, Danny and Pete decided to become a married couple legally.
Of course, they already felt married, but they didn't mind making it official. Their son was also excited about the idea, so he asked, "Don't judges marry people?"
It made Pete send an email to Manhattan Family Court to ask if the same judge — Judge Cooper — would preside over their marriage. Her reply came two hours later, and she said it would be her honor.
Kevin is now 20 years old and studied mathematics and computer science in college. Once a tiny baby, his height has more than tripled to over six feet tall, taller than both his dads.
He enjoys running, especially marathons, and he is also a good dancer who was involved with the National Dance Institute from the age of nine to 14.
Please fill in your e-mail so we can share with you our top stories!