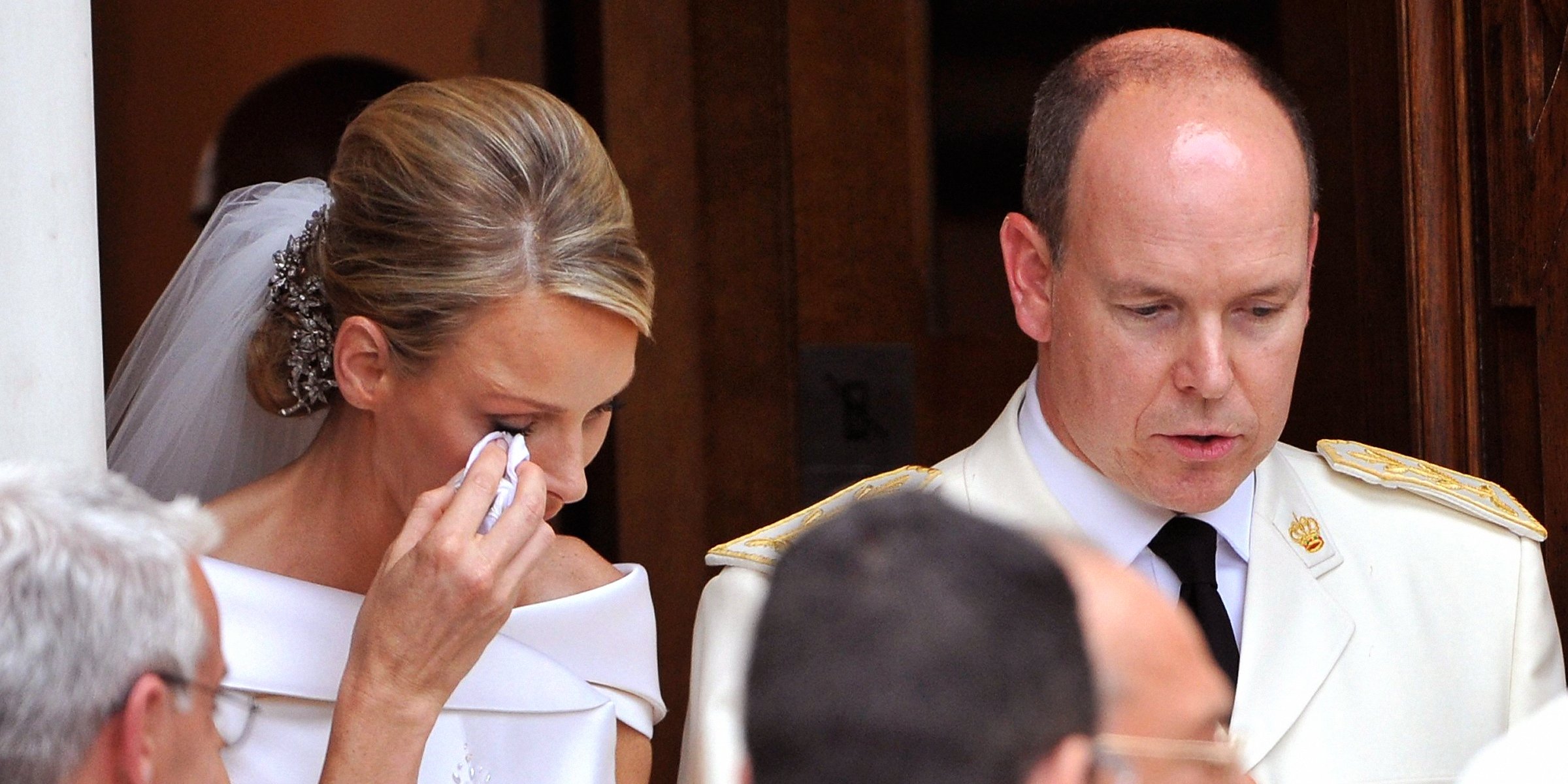 instagram.com/hshprincesscharlene / Getty Images
Princess Charlene Missed 10th Wedding Anniversary Amid 6 Month Absence - Reunion With Husband Was 'Awkward'
Princess Charlene of Monaco missed her 10th wedding anniversary with Prince Albert after being far away from the continent at the time. Instead of the royal couple being together to celebrate their milestone together, the princess marked the occasion with a single social media post.
Princess Consort of Monaco, Charlene, and her husband Albert II, Prince of Monaco, celebrated their 10th wedding anniversary apart from each other last year.
By the time of the special occasion, the princess was already far away from her family on another continent for a month. As a result, it fueled rumors that the pair may have trouble in paradise.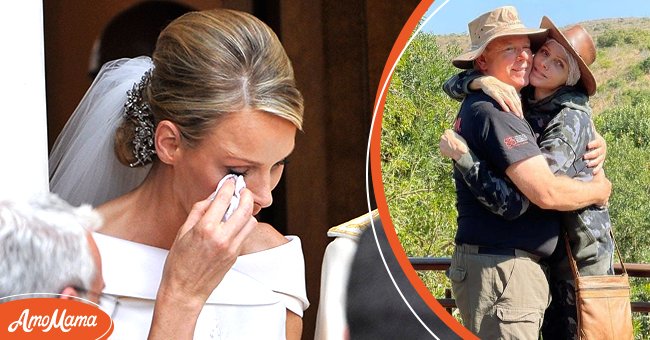 (L) Princess Charlene of Monaco wiping away a tear as she and Prince Albert II of Monaco depart Sainte Devote church after their religious wedding ceremony at the Prince's Palace of Monaco on July 2, 2011 in Monaco. (R) Prince Albert and Princess Charlene in an embrace / Source: Getty Images and Twitter/@tanndde
Princess Charlene shared that she would not be with her beloved spouse on their special day ahead of the anniversary. The former Olympic swimmer expressed her disappointment concerning her absence, adding it was because she had no other choice but to adhere to the instructions given by her medical team:
"This year will be the first time that I will not be with my husband on our wedding anniversary in July, which is difficult and saddens me."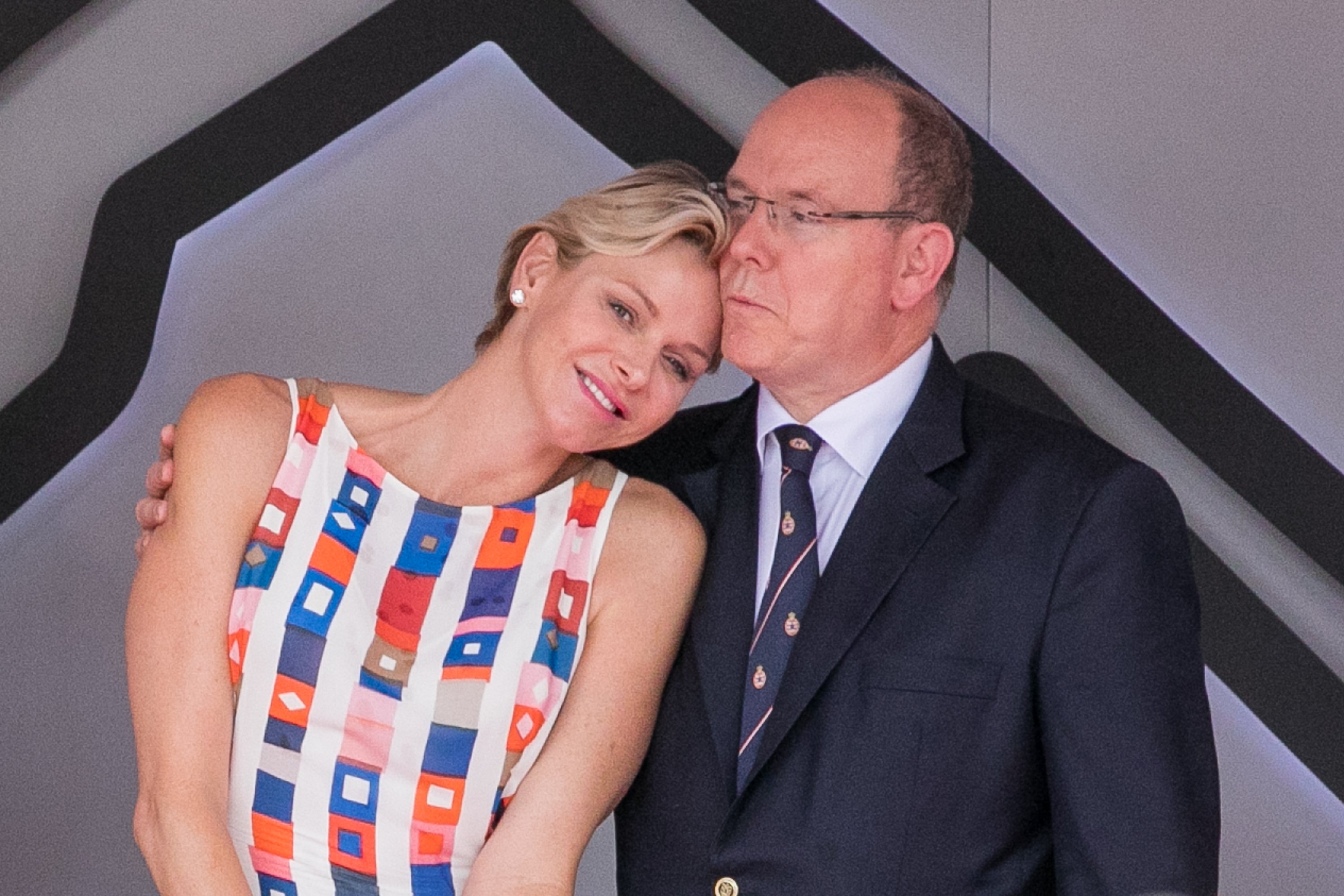 Princess Charlene of Monaco and Prince Albert II of Monaco pictured on the podium at Circuit de Monaco on May 27, 2018 in Monte-Carlo, Monaco. / Source: Getty Images
In May 2021, Princess Charlene underwent surgery for a severe ENT infection contracted during a return visit to her home country, South Africa, where she was raised.
The recovery from that procedure prevented her from traveling, and amid the poignant time, Her Serene Highness revealed Prince Albert had been her pillar of support.
RUMORS OF TROUBLE IN PARADISE FOR THE ROYAL COUPLE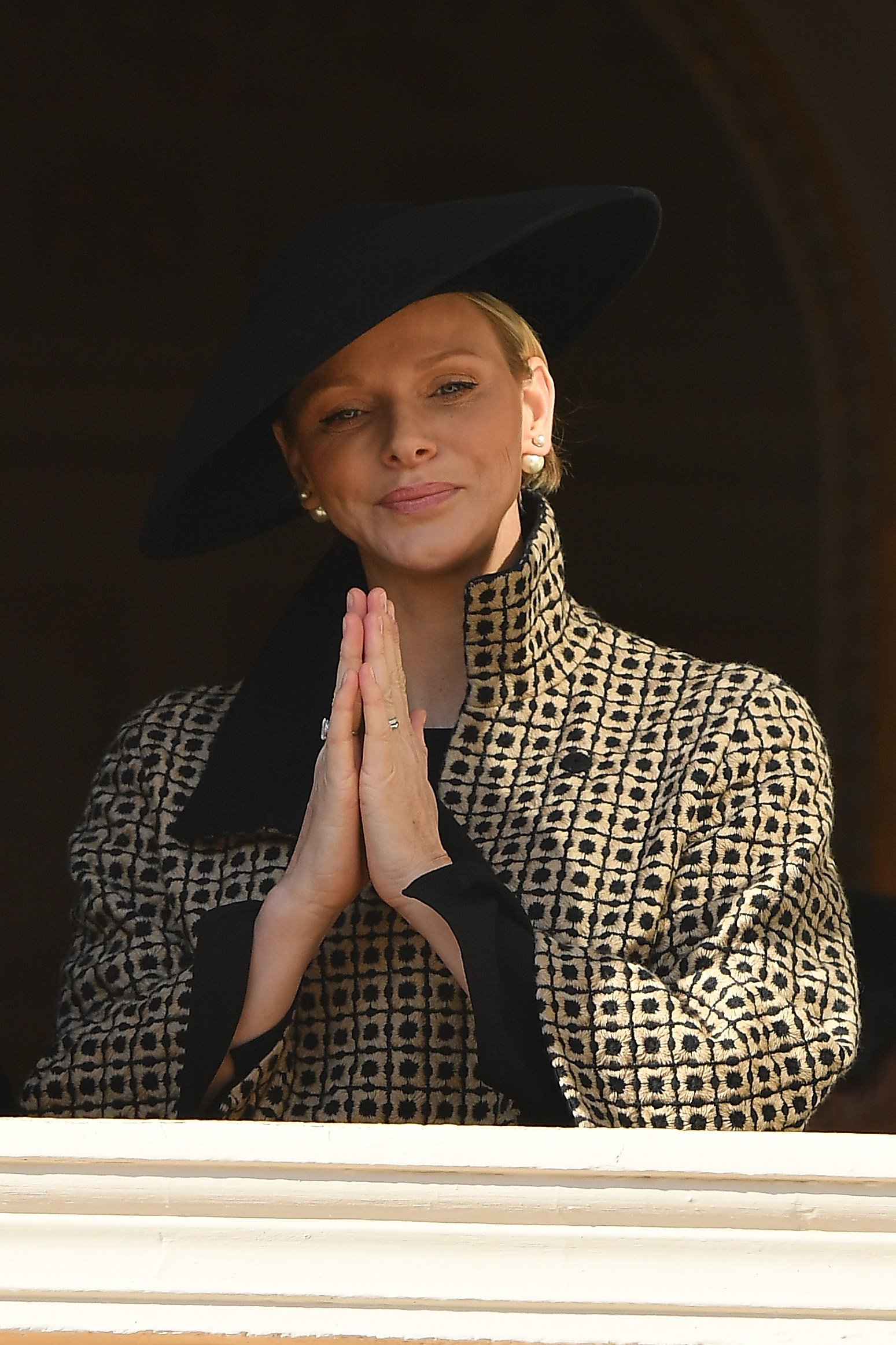 Princess Charlene attending the Monaco National day parade on November 19, 2018 in Monte-Carlo, Monaco. / Source: Getty Images
After three months apart from his wife, Prince Albert and the couple's children finally visited her. Reports revealed that the mom of two could not come home because of an infection she contracted during her trip and even underwent surgery.
The media shared a photo of the couple greeting each other with an embrace, dubbing it an "awkward" hug. Meanwhile, the princess expressed on Instagram how thrilled she was to be reunited with her family.
However, irrespective of the prince's effort to visit his lovely wife, their long time apart already left room for speculation on whether their marriage was still good.
The allegations come after news emerged that the prince was facing a paternity lawsuit over a love child born in the early years of their relationship, per the Daily Mail. Multiple media reports also suggested the princess had no intention of going back to Monaco:
"The princess has, for the time being, in reality, no intention of returning."
Despite all the reports from the European press stating the couple may be heading for a divorce, a source close to Princess Charlene revealed otherwise to People in July 2021, saying there was hope that the couple may resolve their differences:
"She'll never leave her kids."
Meanwhile, the tabloids delved more into her and Prince Albert's separation, alleging the Palace of Monaco was not acknowledging that the couple's prolonged time apart was far deeper than they had conceded.
THE MAIN REASON FOR DIVORCE RUMORS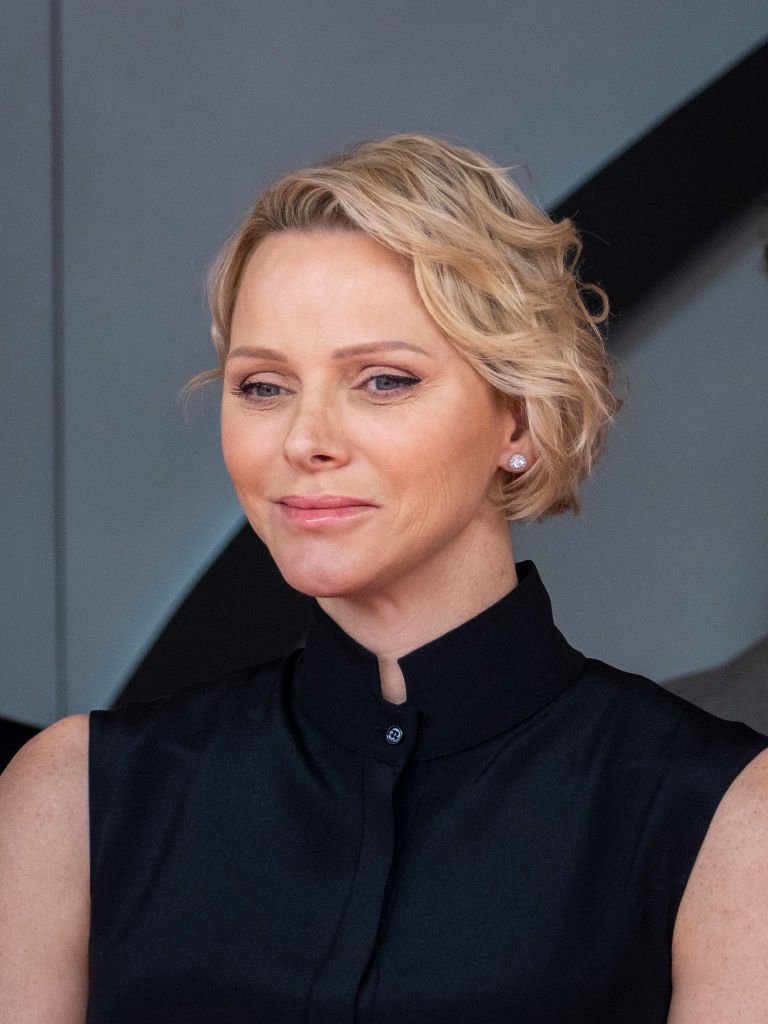 Princess Charlene, a former Olympic swimmer, attends the F1 Grand Prix of Monaco on May 26, 2019 in Monte-Carlo, Monaco. / Source: Getty Images
The press entertained the idea that Princess Charlene, 44, and Prince Albert, 64, may have an impending divorce because of what the prince's supposed mistress revealed. Not long before Princess Charlene's so-called "escape" from Monaco, one woman demanded a DNA test from her husband.
The female in question claimed that she and the sovereign prince had an affair that resulted in a baby born in 2005 – during a time when he was already dating his future wife.
It was also just before the royal couple headed to the altar. Although Prince Albert did not admit to knowing about the paternity of a possible love child, the court hearings continued, and he even asked for "sovereign immunity."
With that said, this may be the reason why Princess Charlene fled for months from Monaco. In the meantime, the case over the love child could reveal that Prince Albert is indeed the father because this scenario is not entirely a first as he already fathered two love children.
CHARLENE IS BACK HOME AMID CONSTANT RUMORS OF A DIVORCE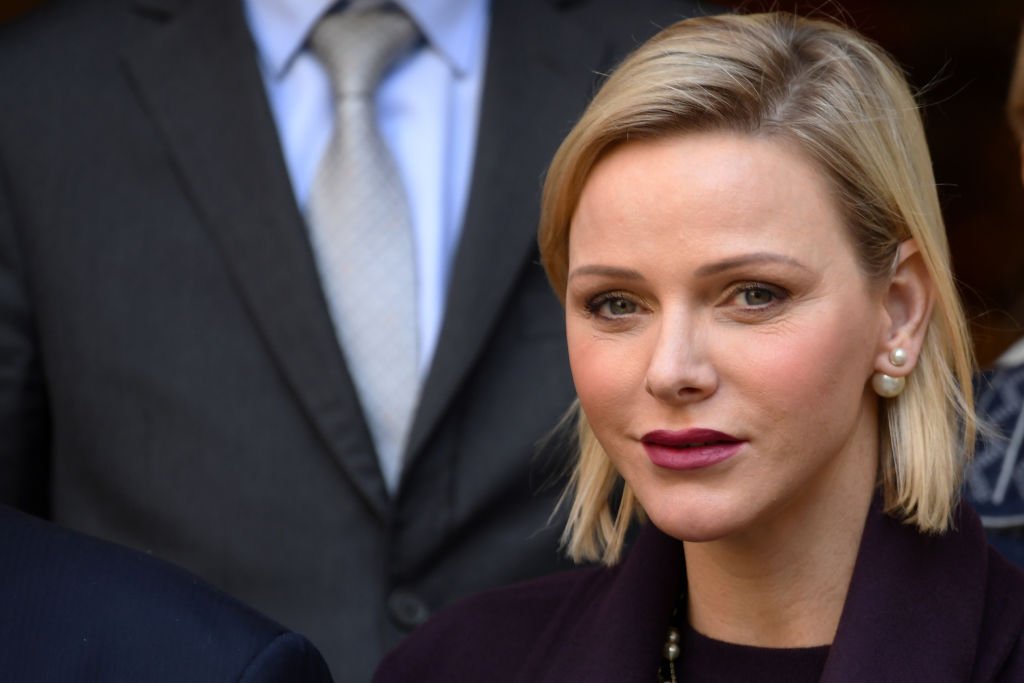 Princess Charlene during Christmas gifts distribution at La Croix Rouge in Monte-Carlo on December 18, 2019 in Monaco, Monaco. / Source: Getty Images
While rumors about the court case and the possibility of divorce made rounds, Princess Charlene returned to Monaco after six months of absence. The official version of her not being around was that she contracted an infection and had to undergo surgery.
Seeing how complex her condition was, the royal had to be grounded and remain in South Africa. Consequently, it prolonged her unforeseen stay because she could not travel back home.
However, questions about her absence did not merely go away even after her return. Princess Charlene, who shares 7-year-old twins Gabriella and Jacques with Prince Albert, did not appear on public engagements. In addition, they kept her location a secret. The palace revealed:
"Princess Charlene is recuperating in a satisfactory and reassuring manner, although it may take a few more months before her health has fully recovered."
It was also revealed that her location was kept low-key to protect her privacy because she had to undergo several more months of treatment before finally coming home.
The palace previously stated Princess Charlene had to recover from a "state of profound general fatigue." In December, Prince Albert and the kids visited his wife to spend Christmas with her.
The royal posted a slideshow of images to mark the occasion, including snapshots of her husband, Prince Albert, and their daughter and son, Gabriella and Jacques.
Her birthday marked yet another milestone after she missed her twins' birthday. The princess was admitted to an undisclosed treatment facility in November, days after landing in Monaco.
Princess Charlene's spouse remained vague on what circumstances led to her being admitted to a facility though he mentioned that she was suffering from emotional and physical exhaustion.
But finally, nearly almost a year later, the swimming champion's health seemed to improve, and she was able to return home to her husband and children in Monaco.
Please fill in your e-mail so we can share with you our top stories!
The information in this article is not intended or implied to be a substitute for professional medical advice, diagnosis or treatment. All content, including text, and images contained on news.AmoMama.com, or available through news.AmoMama.com is for general information purposes only. news.AmoMama.com does not take responsibility for any action taken as a result of reading this article. Before undertaking any course of treatment please consult with your healthcare provider.