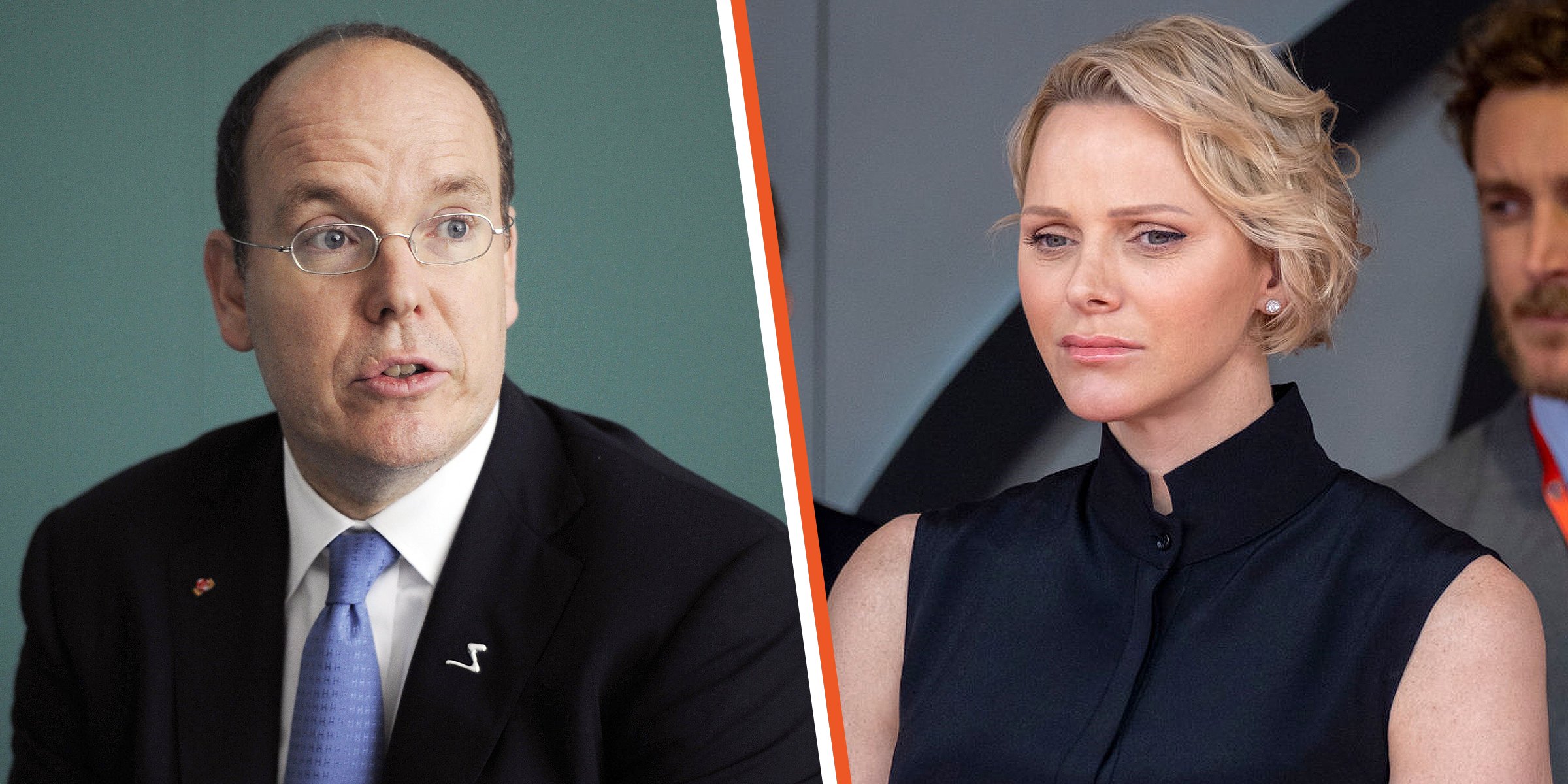 Getty images
'Curse of the Grimaldis' Is Claimed to Have Affected Princess Charlene & Albert of Monaco's Marriage
When Prince Albert announced he and ex Olympic swimmer Charlene Wittstock would be getting married, it looked like a fairytale union. However, even before they tied the knot, their relationship was already deteriorating.
Prince Albert and Charlene Wittstock met for the first time in 2000, just after the latter had competed at the Olympics, where she and her 4×100 meters swimming team had come fifth.
The pair were then officially introduced at the Mare Nostrum swimming competition in Monaco, where Charlene came first. Prince Albert and Wittstock subsequently had a chat about sports because the former was once a swimmer.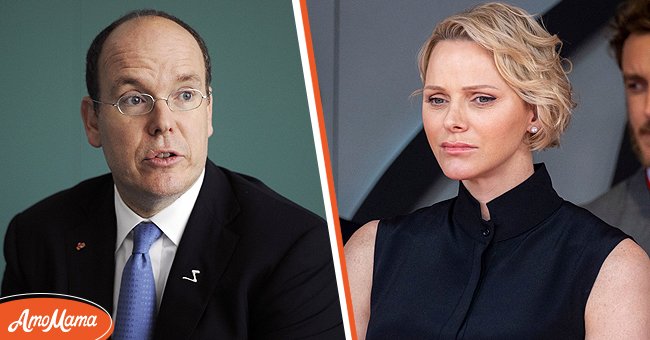 [Left] Prince Albert during an interview; [Right] Princess Charlene at an event | Source: Getty Images
It took till New Year's Eve in 2005 before the pair would go on their first official date. They then made their first public appearance together at the 2006 winter Olympics.
THEIR MARRIAGE AND SCANDALS
Prince Albert of Monaco was a playboy romantically linked to many famous beautiful young women, including singer Kylie Minogue and supermodel Claudia Schiffer.
But the Prince broke this trend in 2011 when he married ex-Olympic swimmer Charlene Wittstock who he met just after the 2000 Olympics.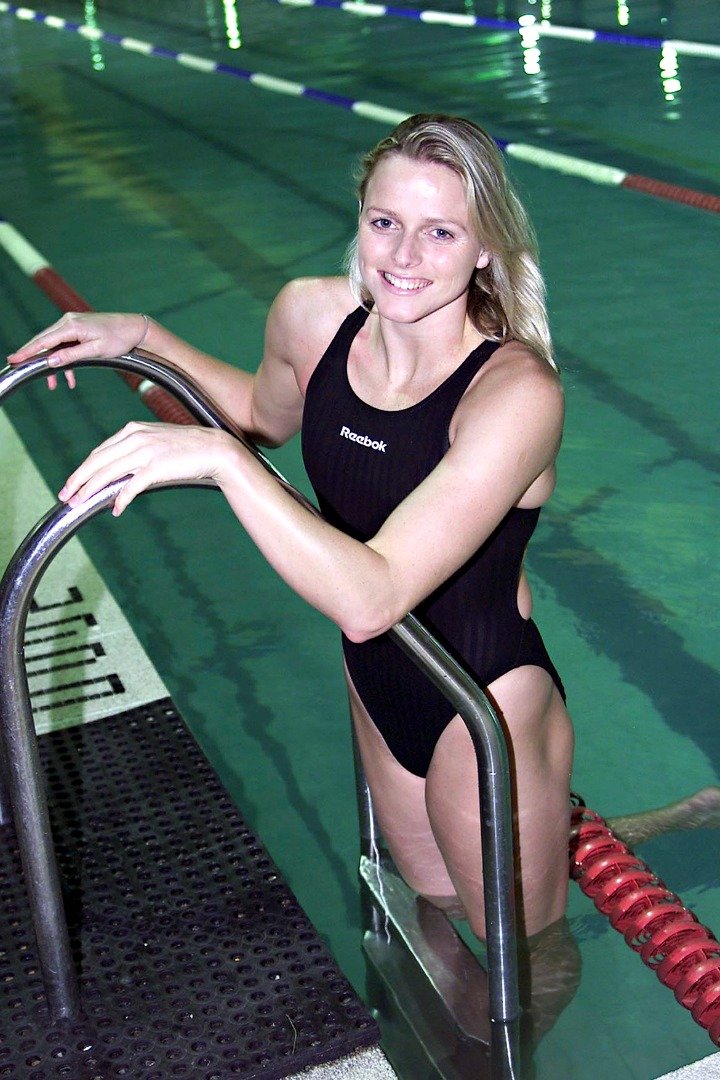 South African swimmer Charlene Wittstock on 21 June 2001. | Source: Getty Images
The pair realized they had a lot in common, most especially sports, because Prince Albert himself had competed as part of Monaco's Winter Olympics bobsled team.
They made their romance public in 2006 and four years later announced their engagement. Their 2011 marriage ceremony reportedly cost a whopping $100 million, and it was dubbed the nation's biggest party in 55 years.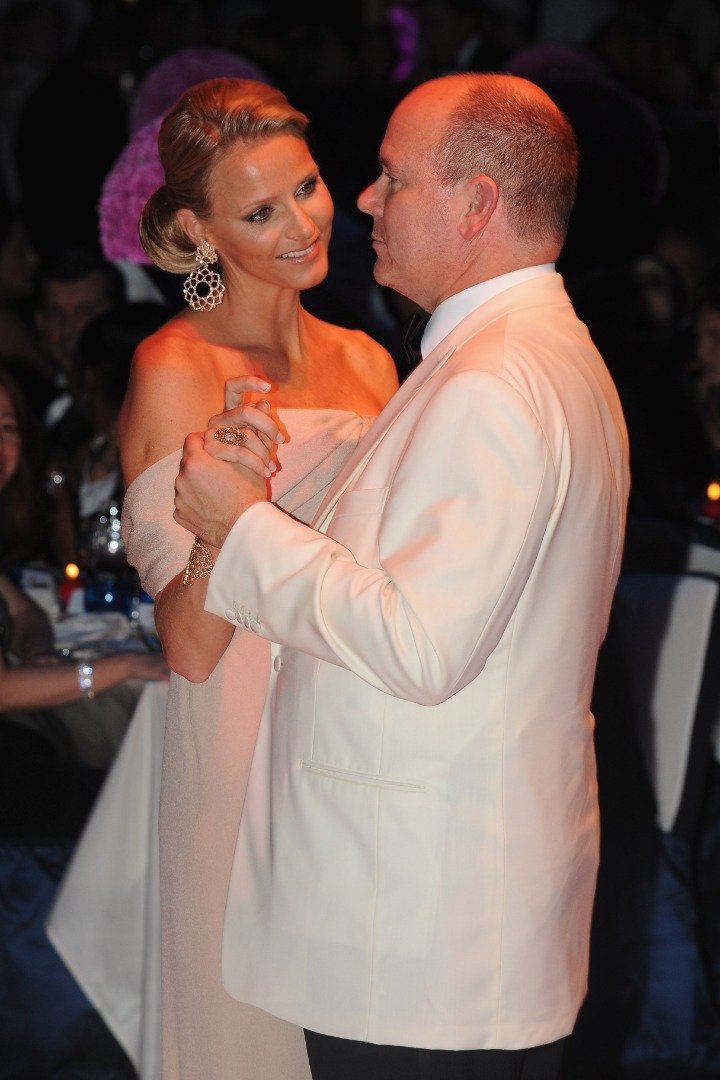 Prince Albert II of Monaco and his fiancee Charlene Wittstock dance during the 62nd Monaco Red Cross Ball at the Sporting Club Monte Carlo on July 30, 2010 | Source: Getty Images
The wedding ceremony included well-known personalities like Naomi Campbell, Prince Edward, and property tycoon Vladislav Doronin. Charlene looked stunning in an off-shoulder Armani Prive gown adorned with 40,000 Swarovski crystals, but she could not stop crying.
Although many believed she was shedding tears of joy, it was reported that the beautiful bride tried running to her native South Africa multiple times before the wedding day.
The former Olympic swimmer tried running three times, with the first being when she tried to seek refuge in South Africa's embassy in Paris when she came to the city for a wedding dress fitting.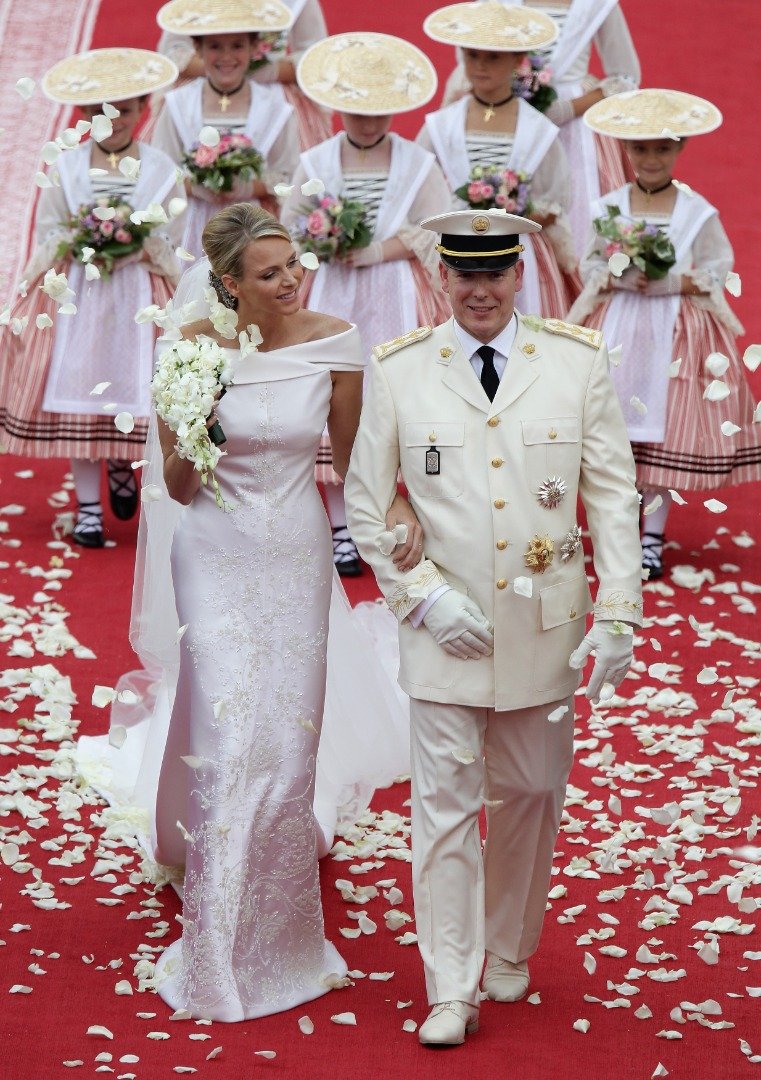 Princess Charlene of Monaco and Prince Albert Of Monaco smile as they leave the palace after the religious ceremony of the Royal Wedding of Prince Albert II of Monaco to Charlene Wittstock in the main courtyard at Prince's Palace on July 2, 2011 | Source: Getty Images
She subsequently had her passport taken away from her while senior palace officials tried to convince her to go ahead with the wedding.
Her second attempt to flee came during the Monaco Formula 1 Grand Prix. Her third and final attempt was when she tried to board a one-way flight to South Africa after it was reported that Prince Albert had fathered another illegitimate child.
The Prince had already admitted to having two unlawful children; the first is his son Alexandre Grimaldi-Coste who he fathered with an Air France stewardess called Nicole Coste.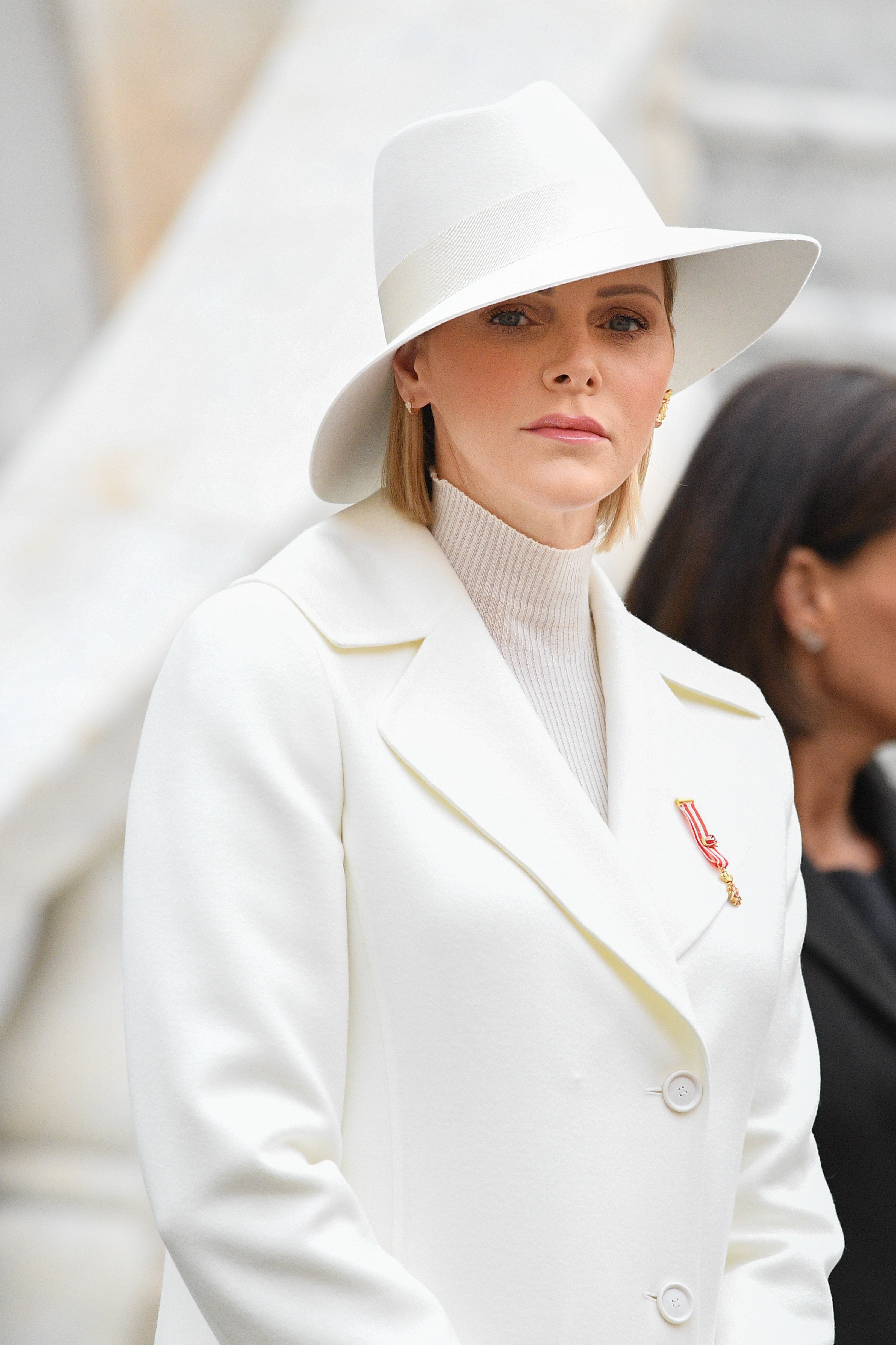 Princess Charlene of Monaco attends the celebrations marking Monaco's National Day at the Monaco Palace in Monaco, 19 November 2019 | Source: Getty Images
The second illegitimate child is his daughter, Jazmin Grace Grimaldi, who he fathered with US estate agent Tamara Rotolo. He was
of fathering a third illegitimate child when a Brazilian woman claimed the Prince was the father of her daughter.
Prince Albert's lawyers denied the claims and disclosed that the case would go to court in Milan. Also, the Prince applied for sovereign immunity in the court case.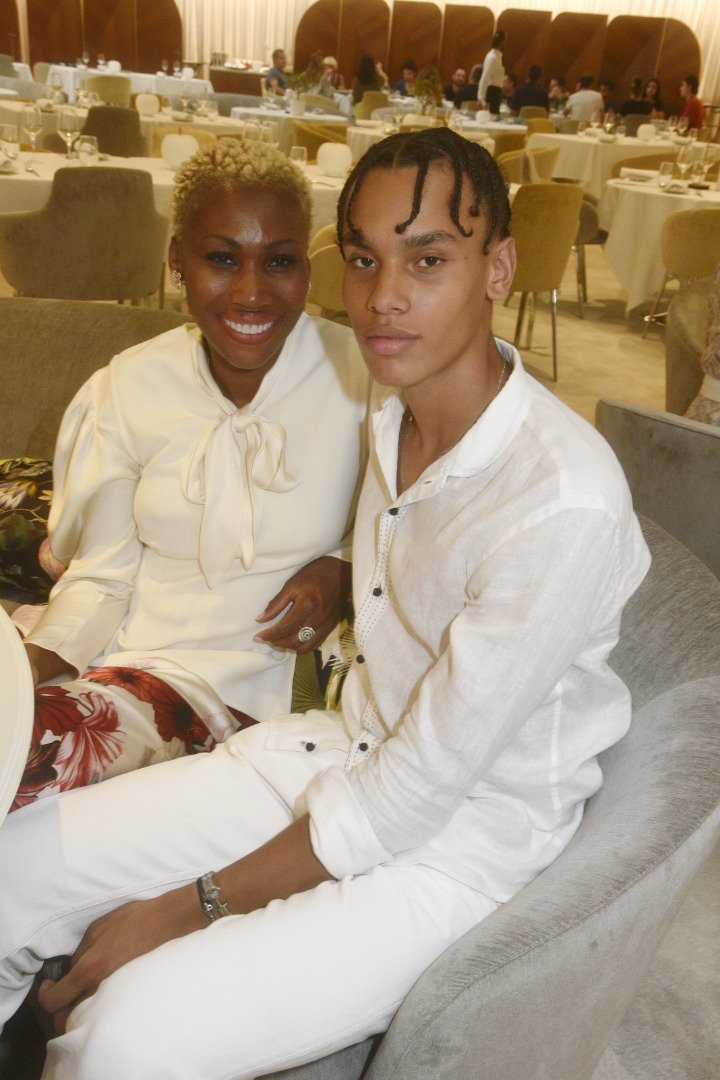 Nicole Coste and her son Alexandre Grimaldi Coste attend the unveiling of "Together," a Monumental Sculpture by Lorenzo Quinl at Hotel Mariott on July 06, 2021. | Source: Getty Images
The Monaco royal family has grown to be one of the most glamorous in Europe ever since they came into control of the microstates more than 700 years ago.
Despite their wealth and fame, the Grimaldi family has been through their share of misfortune, which is attributed to an alleged family curse.
The Grimaldi family, over the years, has been plagued with issues of infidelity, scandal, and divorce which have all been summed up as a family curse.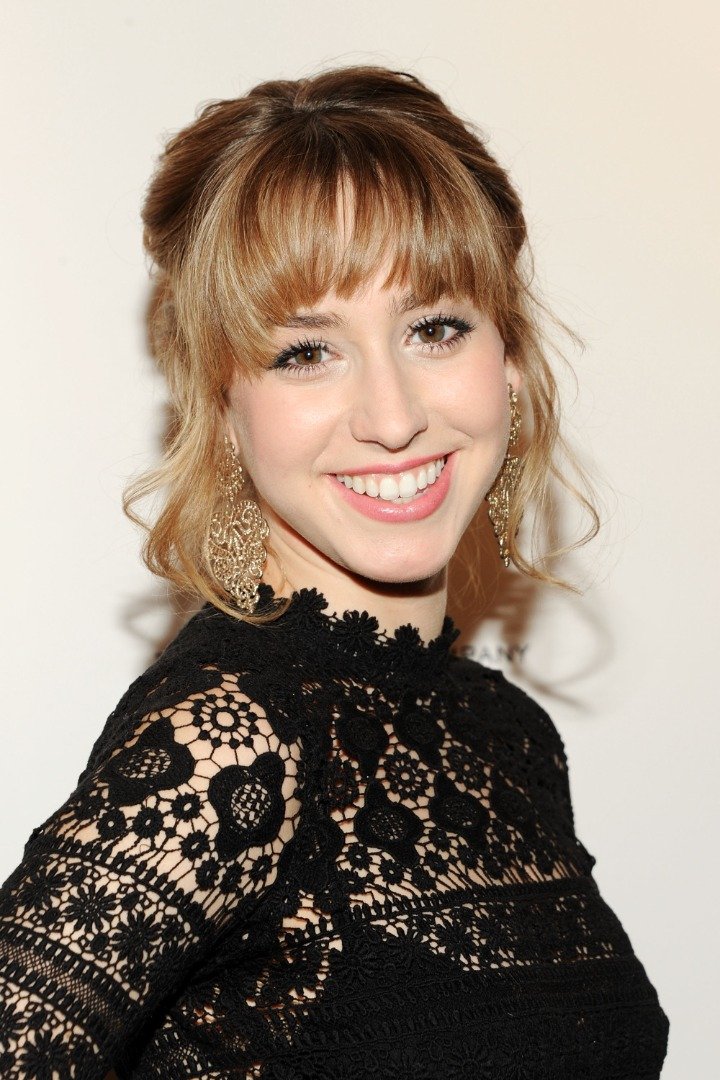 Jazmin Grimaldi attends the premiere of "Philomena" hosted by The Weinstein Company at the Paris Theater on November 12, 2013 | Source: Getty Images
Also, a myth states that one of the earliest successors is to be blamed for bringing the curse on the family. According to legend, in the 13th Century, when Francesco Grimaldi captured a monolith on the Mediterranean coast of the state, which is called the Rock of Monaco, he was dressed as a monk. Afterward, Francesco defiled the monolith.
Also, under his rule, many people killed were deemed to be witches and heretics; one of them was his wife, who, while being burned alive, declared a Grimaldi would never find true happiness in marriage.
The curse allegedly prevents the Grimaldis from ever having a fairytale "happily ever after," ending in their relationships which they have struggled with most of their rule.
Two of the family's most known couples have broken up just 11 years into their marriage, including Prince Albert I and Mary Victoria Hamilton, as well as Honoré IV and Louise d'Aumont-Mazarin.
Those who tried marrying again found even more troubles in their lives, like Princess Caroline, who stepped up as Monaco's de facto first lady after her mother, Grace Kelly, suddenly died.
While studying at the Sorbonne in Paris, she met and married a french playboy named Philippe Junot, but they divorced just two years later.
Afterward, she married Stefano Casiraghi, the son of an Italian businessman. They had three children together, Andrea, Pierre, and Charlotte, before Stefano sadly died in a speedboat accident in 1990.
The Princess has, in recent times, divorced her third husband, Prince Ernst-August of Hannover. Other notable couples in the family sadly died very young.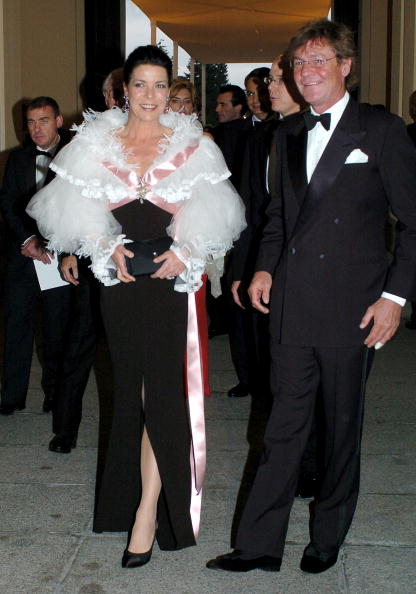 Hanover Princess Caroline and her husband Ernst-August at a gala dinner at the El Pardo Royal Palace on May 21. | Source: Getty Image
GRACE KELLY AND RAINIER III MARRIAGE ISSUES
Grace Kelly was on her way to Hollywood stardom during the 1950s when she won an Academy Award for Best Actress due to her role in "The Country Girl."
Surprisingly the talented young actress decided to trade her career for a marriage to Prince Rainier III of Monaco. Grace even had to pay a whopping sum of $2 million to the House of Grimaldi to marry the Prince, which shocked many people.
The talented actress had previously explained she would continue acting after her marriage, but days after their union Prince Rainier III disclosed, they had decided she would retire from acting.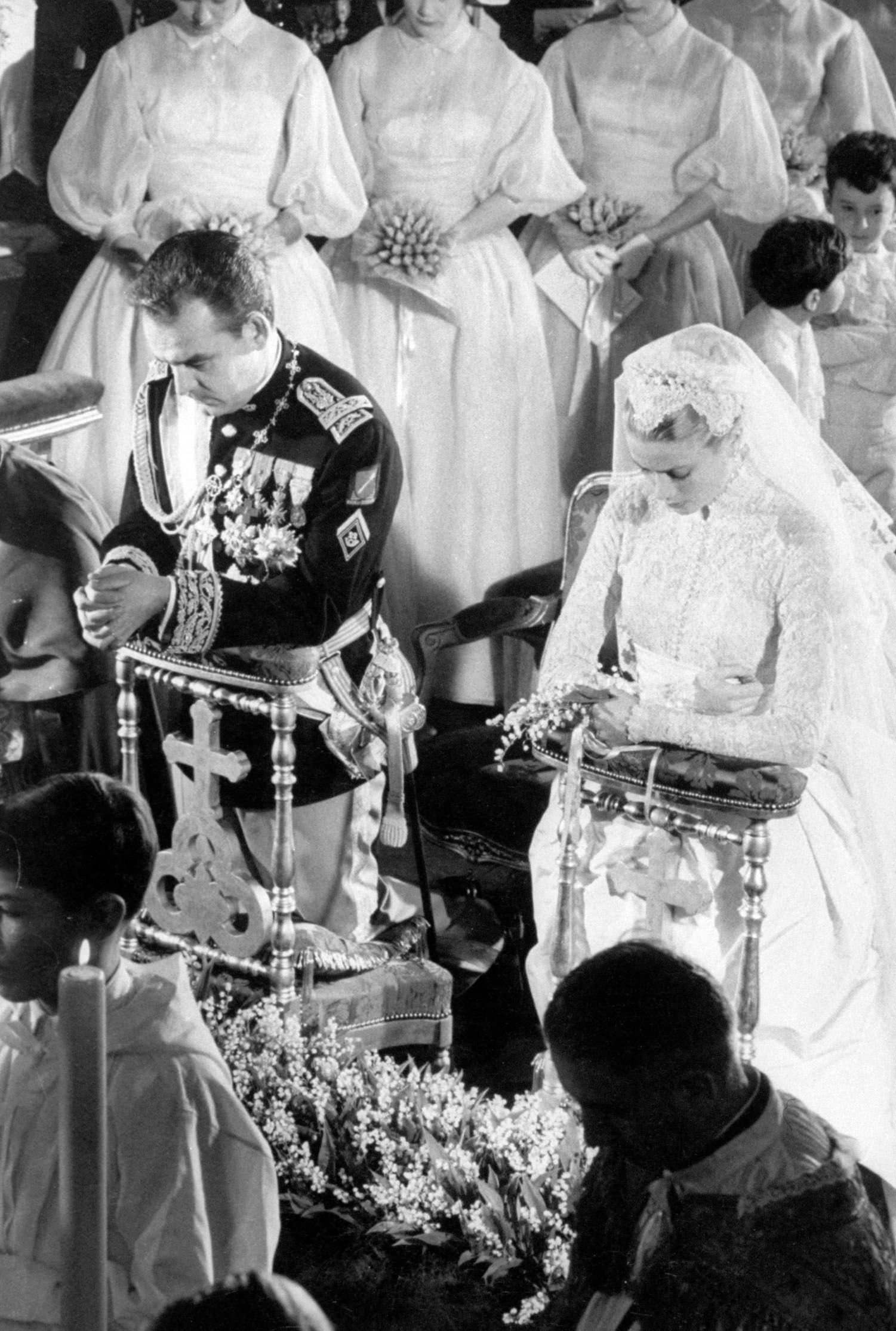 Prince Rainier kneeling during Mass in the Cathedral while marrying Grace Kelly in 1956. | Source: Getty Images
Many believed Grace got everything she wanted throughout their marriage by becoming a princess, but personally, the actress was going through a lot and was majorly depressed.
The actress missed acting but could not return to Hollywood because of her role as a royal. Also, her husband was against it.
Meanwhile, the pair became parents to three children: Prince Albert, Princess Caroline, and Princess Stephanie. During their marriage, the pair were also allegedly involved in extramarital affairs. The Prince was reportedly involved with at least three other women apart from Grace.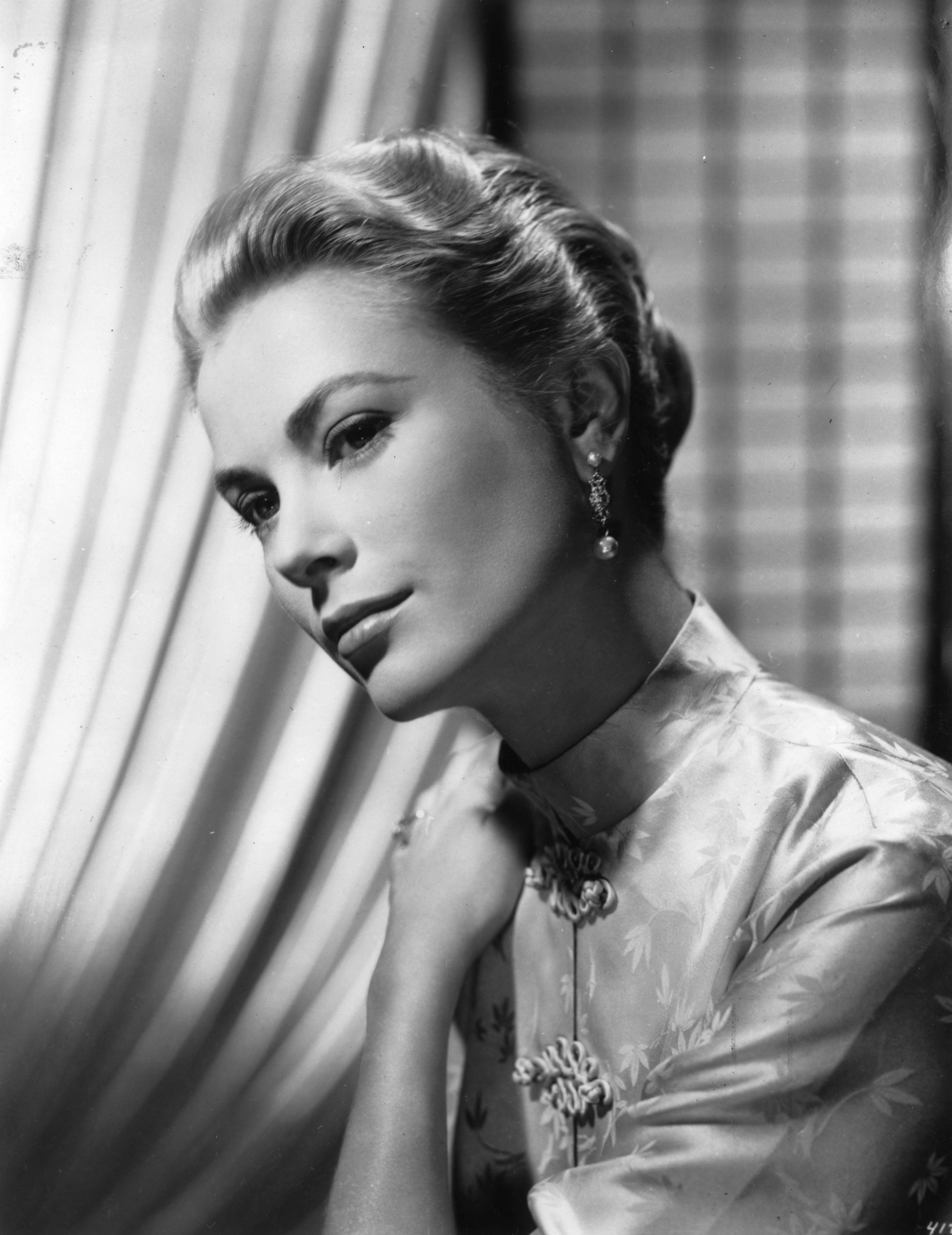 Grace Patricia Kelly, later known as Princess Grace of Monaco, in a black-and-white image on March 8, 1956. | Source: Getty Images
The former actress also reportedly got involved with some male colleagues, such as Marlon Brando and Frank Sinatra.
In 1982 aged 52, Grace died after suffering a stroke. Afterward, it was reported that the once-wealthy actress had just $10,000, coupled with her grandfather's rundown house in Ireland, left to her name.
Please fill in your e-mail so we can share with you our top stories!