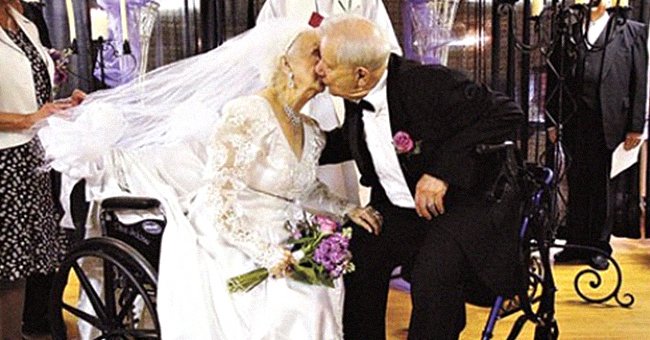 facebook.com/ExploreTalent
Elderly Lady Celebrates 100th Birthday by Walking Down the Aisle with a 13-Years-Younger Boyfriend
"That will hit the newspaper, won't it?" asked a 99-year-old woman preparing herself for one of the most important days of her life. The answer was yes; it certainly did find its way into the public eye as people were touched by her timeless love story.
With their perfect teeth and chiseled looks, two young and model-like figures stare into each other's sparkling eyes and say their "I do's." Cue the credits to "I Will Always Love You" by Whitney Houston.
Hollywood has many of us convinced that only young, gorgeous people have a chance at true love. The truth is that real love that survives beyond the aisle has no conditions -- doesn't matter what your age is or how you look.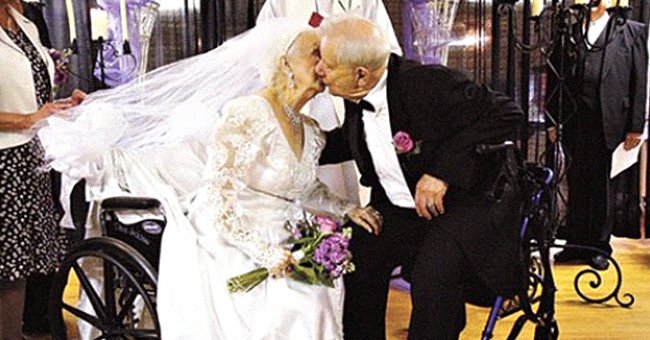 Newlyweds Dana and Bill Stauss kissing on their wedding day. │Source: facebook.com/ExploreTalent
Elderly woman Dana Jackson thought about her first time walking down the aisle at only 15 years old. She said that weddings are much more of a big deal in our current society, stating:
"Getting married was no big thing back when I was young. You didn't do the things you do now. It was simple clothes and maybe a bouquet cut out of the yard. And that's just the way it was."
As someone who was nearly 100 years old before February 2012, Dana never thought she would put on a white dress again.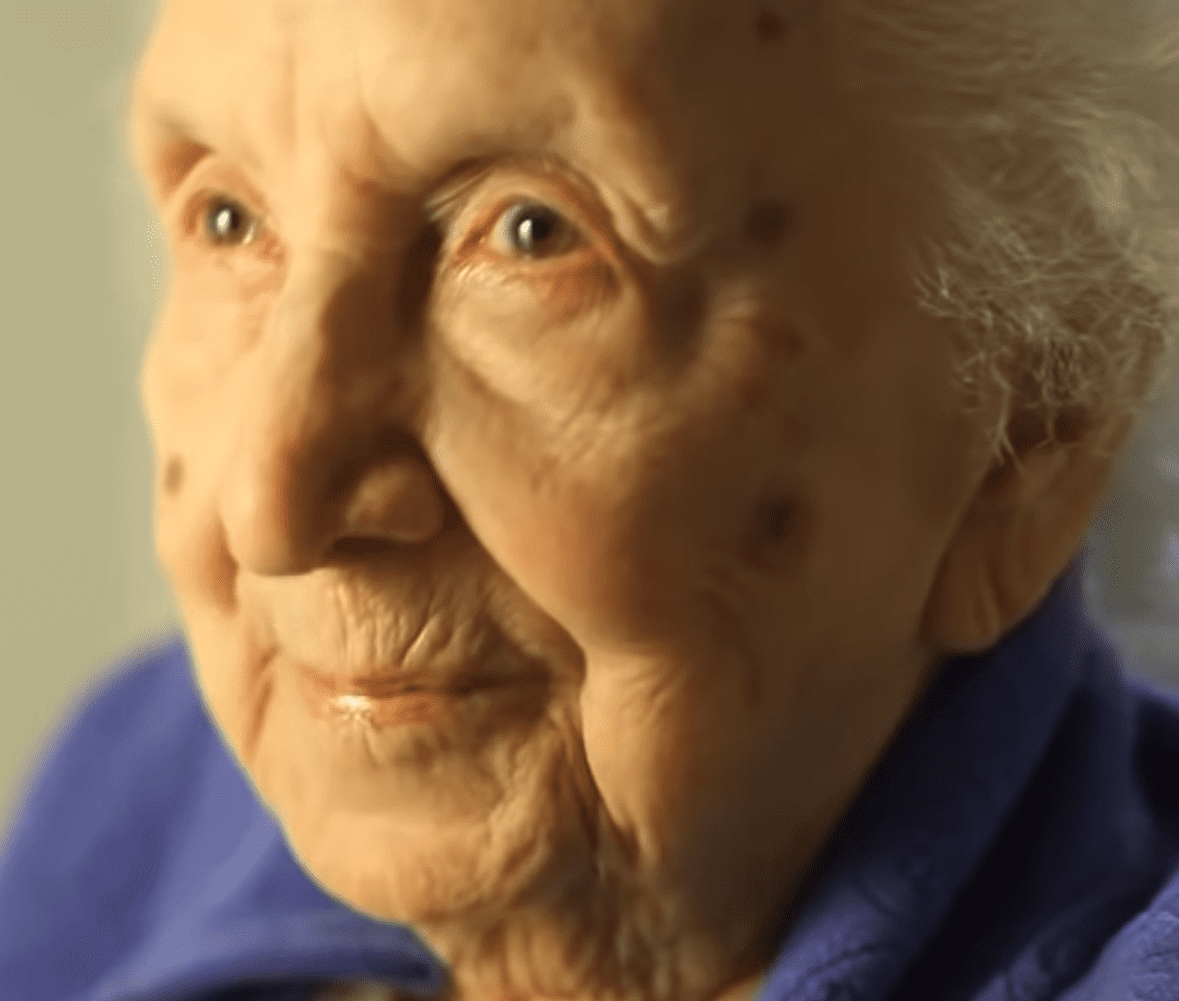 Dana Stauss.┃Source: youtube.com/AARP
But life may have had other plans for her when, in 2010, Dana met a man at a nursing center that they both go to -- Rosewood Health Care Center in Bowling Green, Kentucky.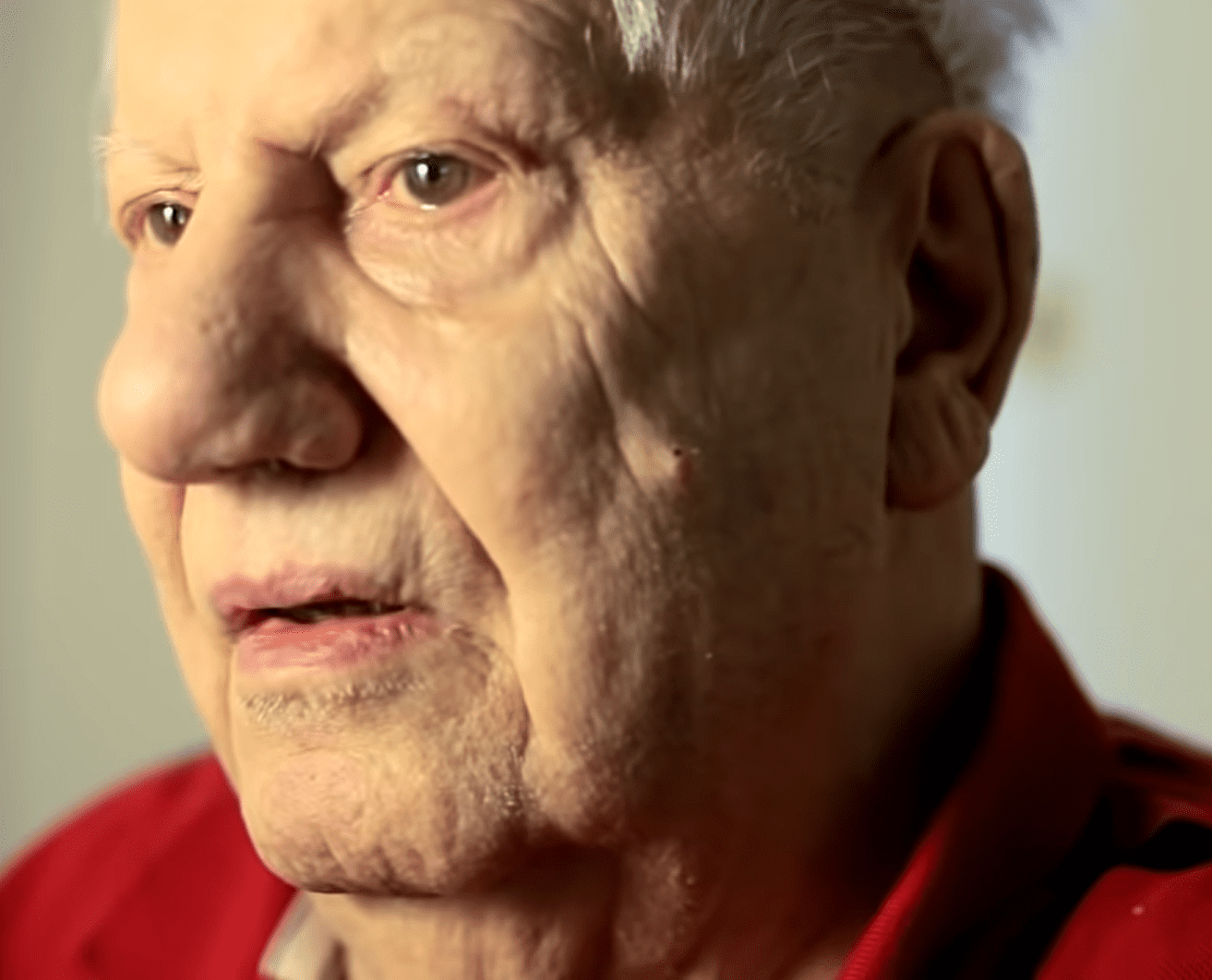 Bill Stauss.┃Source: youtube.com/AARP
The then-85-year-old Bill Stauss began to exchange conversation -- their charismatic matter-of-fact characters made them a cute pair. Speaking about Jackson, Stauss said:
"I found one that's just as nice as can be. Treats me good. It's rare to find a girl like that. [sic]"
Neither one knew, at that moment, that on Dana's 100th birthday on February 6. 2012, they would be making a beautiful promise to one another.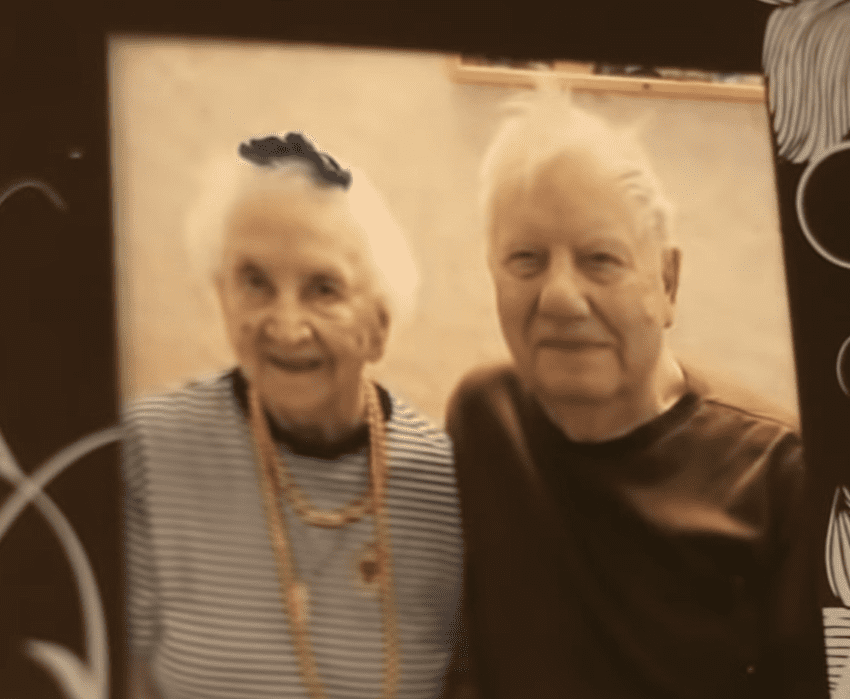 A framed picture of Dana and Bill Stauss.┃Source: youtube.com/AARP
Wheeled down the aisle to her future husband, who was now 87 years old, the soon-to-be Dana Stauss had a look of affection in her eyes as Bill waited for her on the other end. Almost blind, the groom said beforehand:
"When she comes down the aisle, all I can do is imagine it. Because I won't even be able to see her 'til she's just a couple of feet away."
The groom began tearing up, saying he found her gorgeous on their special day. The two got married in the place they met: Rosewood Health Care Center.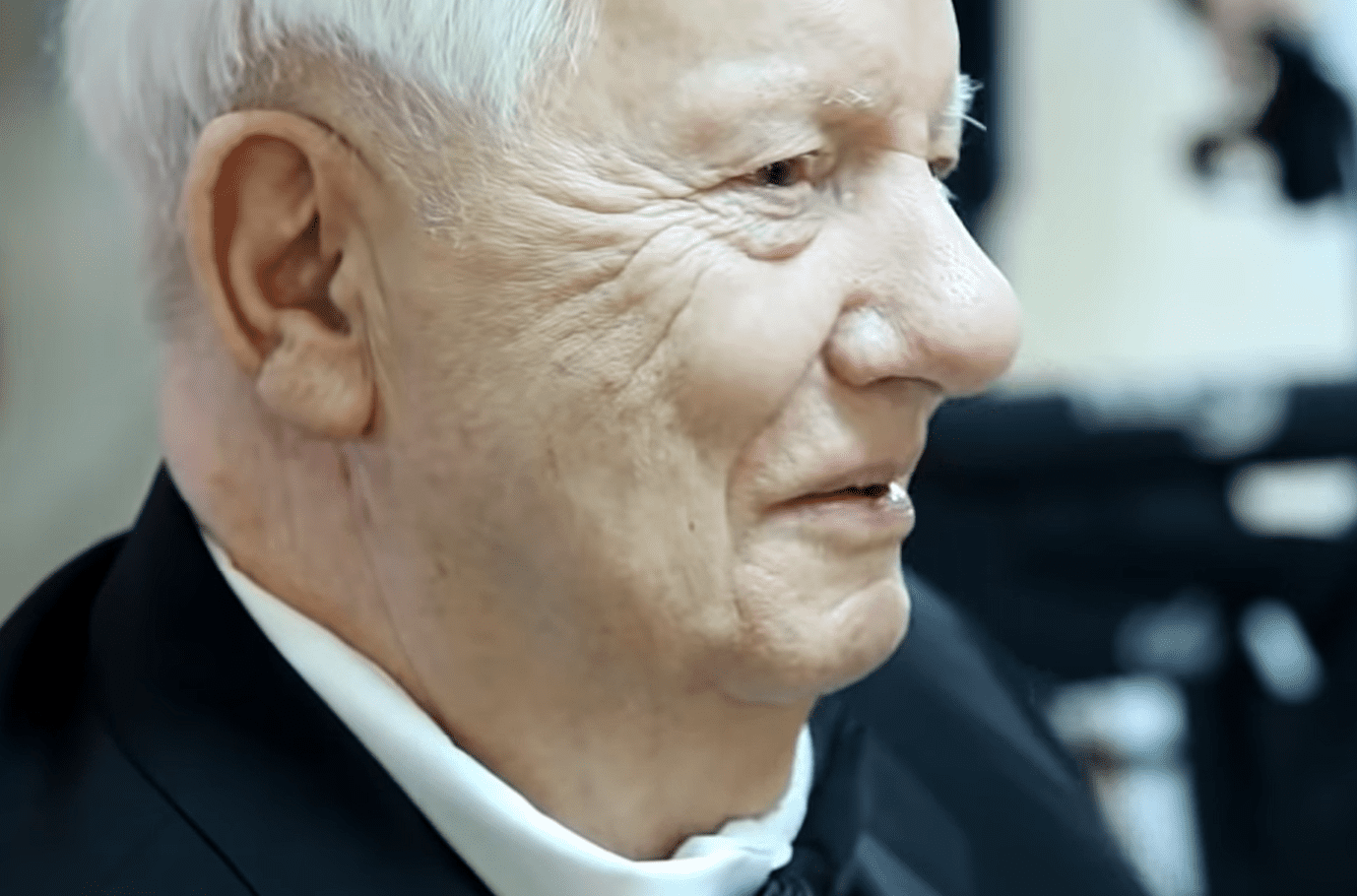 Bill Stauss on his wedding day.┃Source: youtube.com/AARP
Dana also got the splashy modern wedding she never had as a teen. This included a fun and spicy bachelorette party as one of the women at the party held up a garter, laughing and saying, "Now this one's, especially for your wedding night."
Soon after this realization, he collapsed, and in December of 2014, he passed away.
On the wedding day, she wore a long and luxurious dress while her almost-spouse sported a stylish tuxedo. The room was filled with candles and flowers as one-hundred people attended their wedding, including grandchildren from both sides.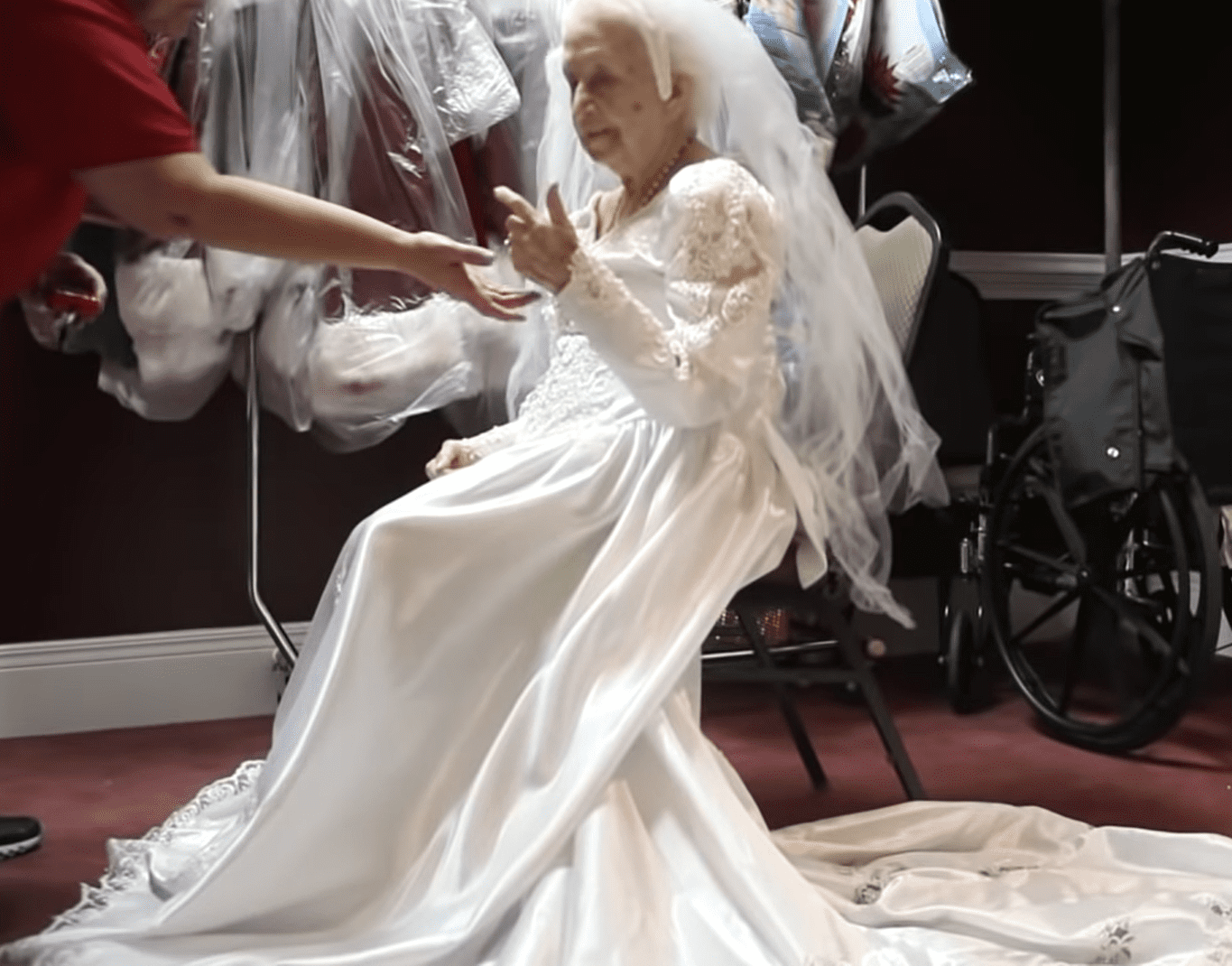 Dana Stauss sitting in her wedding dress.┃Source: youtube.com/AARP
Once the officiant said, "You can kiss the bride," the two leaned over from their wheelchairs to give one another a peck. The room erupted with applause as cameras snapped away.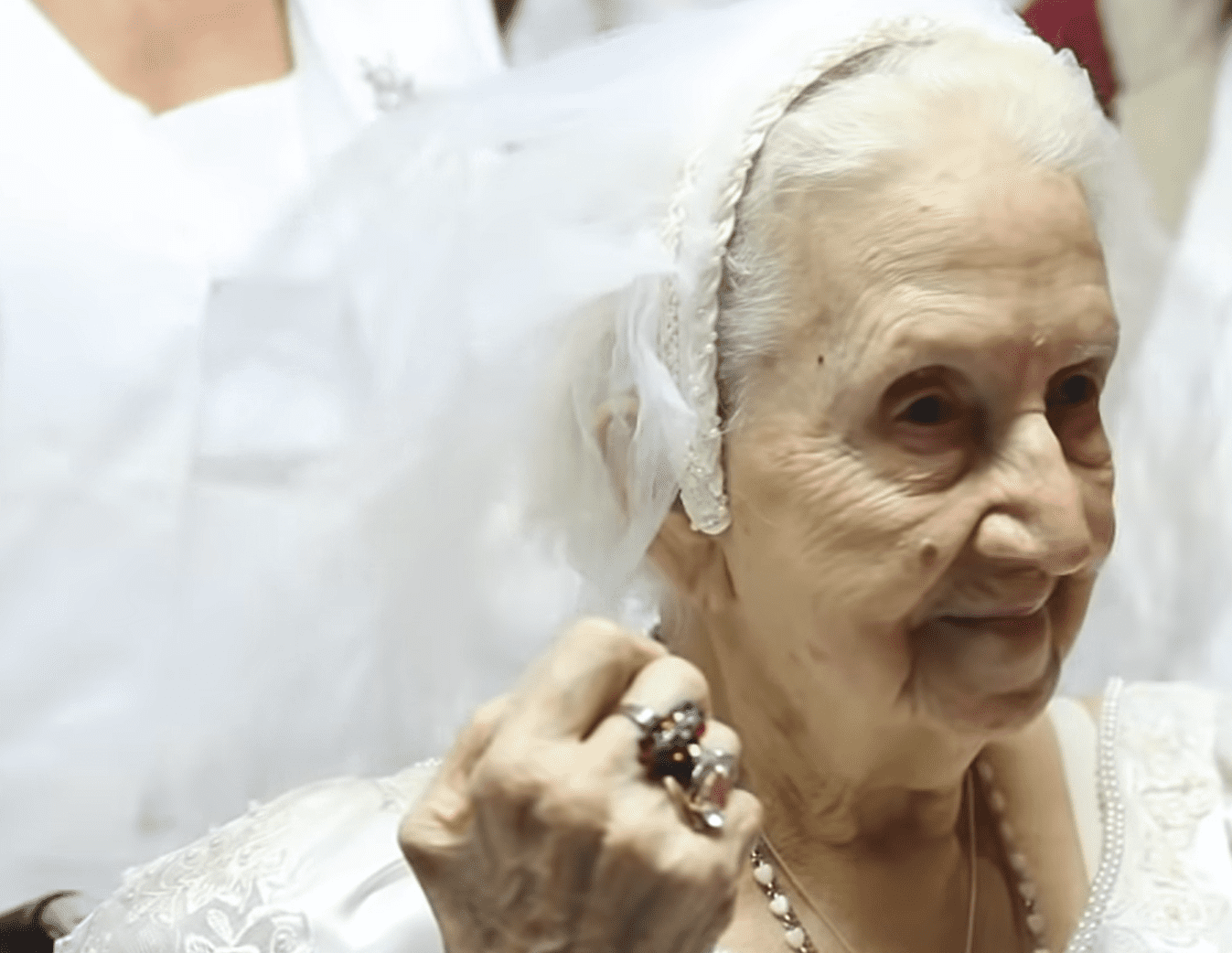 Dana Stauss getting ready for her wedding.┃Source: youtube.com/AARP
Now that the lovebirds are officially married, they have benefits at the nursing center -- they can stay in the same room. Neither of them says they feel old, so who knows what they will or do get up to.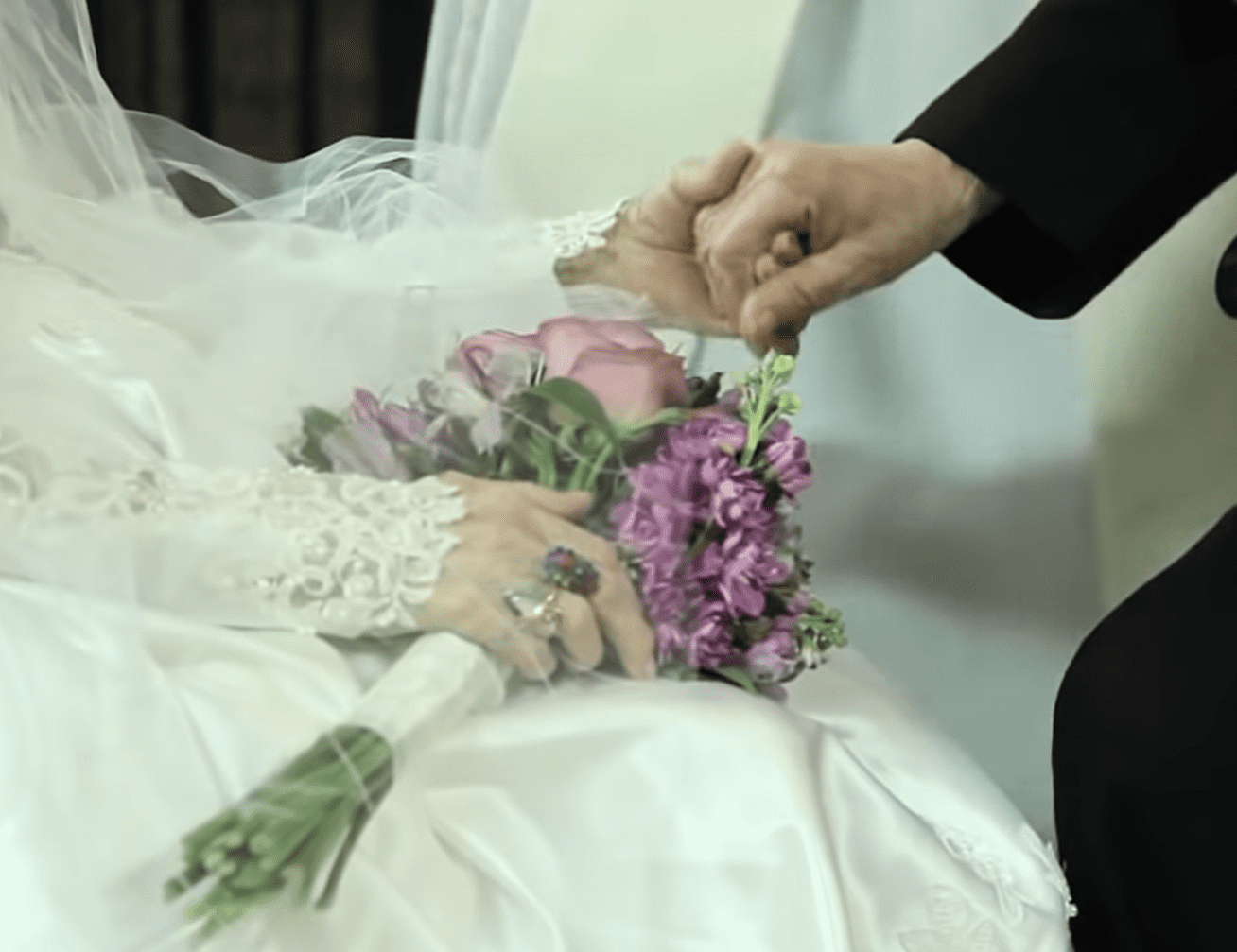 Dana and Bill Stauss holding hands at their wedding.┃Source: youtube.com/AARP
Dana and Bill prove that you can still find the person you want to spend the rest of your life with, no matter your age.
More specifically, the couple exemplifies that love is not defined by what the film industry shows us in endless love movies of two flawless people finding one another. Instead, it's about accepting the person you care for with their flaws and loving them unconditionally.
Through the mood swings, the fights, the financial troubles, the death of loved ones -- a wedding is only a ceremony, but marriage is the true test of whether a couple is meant to be. Dana and Bill are most likely passing it with flying colors.
Dana and Bill get to spend the rest of their lives together during their old age. But, not every elderly couple is as lucky, with many other people controlling their lives as they age and get sick.
The year 2014 was a tragic time for newlyweds and an elderly couple, 95-year-old Eddie Harrison and his wife, Edith Hill. The two, who had met each other during their old age, simply wanted to spend their last years together.
Instead, a storm of family conflict left this vulnerable pair at the mercy of others with more power. Hill was diagnosed with dementia, so her three daughters were left responsible for looking after her.
Despite pleas of the opposite, one sister thought it would be in Hill's best interest to leave the state where she resided with her husband and come to Florida. Harrison was assured that she would be back in two weeks.
He waited and waited, but two weeks came, and he realized she would never be returning. Soon after this realization, he collapsed, and in December of 2014, he passed away. One of the daughters, Rebecca Wright, believes that he passed away because Hill wasn't coming back.
Although these sisters most likely all had the purest intentions, Harrison and Edith deserved a happy ending like Dana and Bill.
Please fill in your e-mail so we can share with you our top stories!
The information in this article is not intended or implied to be a substitute for professional medical advice, diagnosis or treatment. All content, including text, and images contained on news.AmoMama.com, or available through news.AmoMama.com is for general information purposes only. news.AmoMama.com does not take responsibility for any action taken as a result of reading this article. Before undertaking any course of treatment please consult with your healthcare provider.