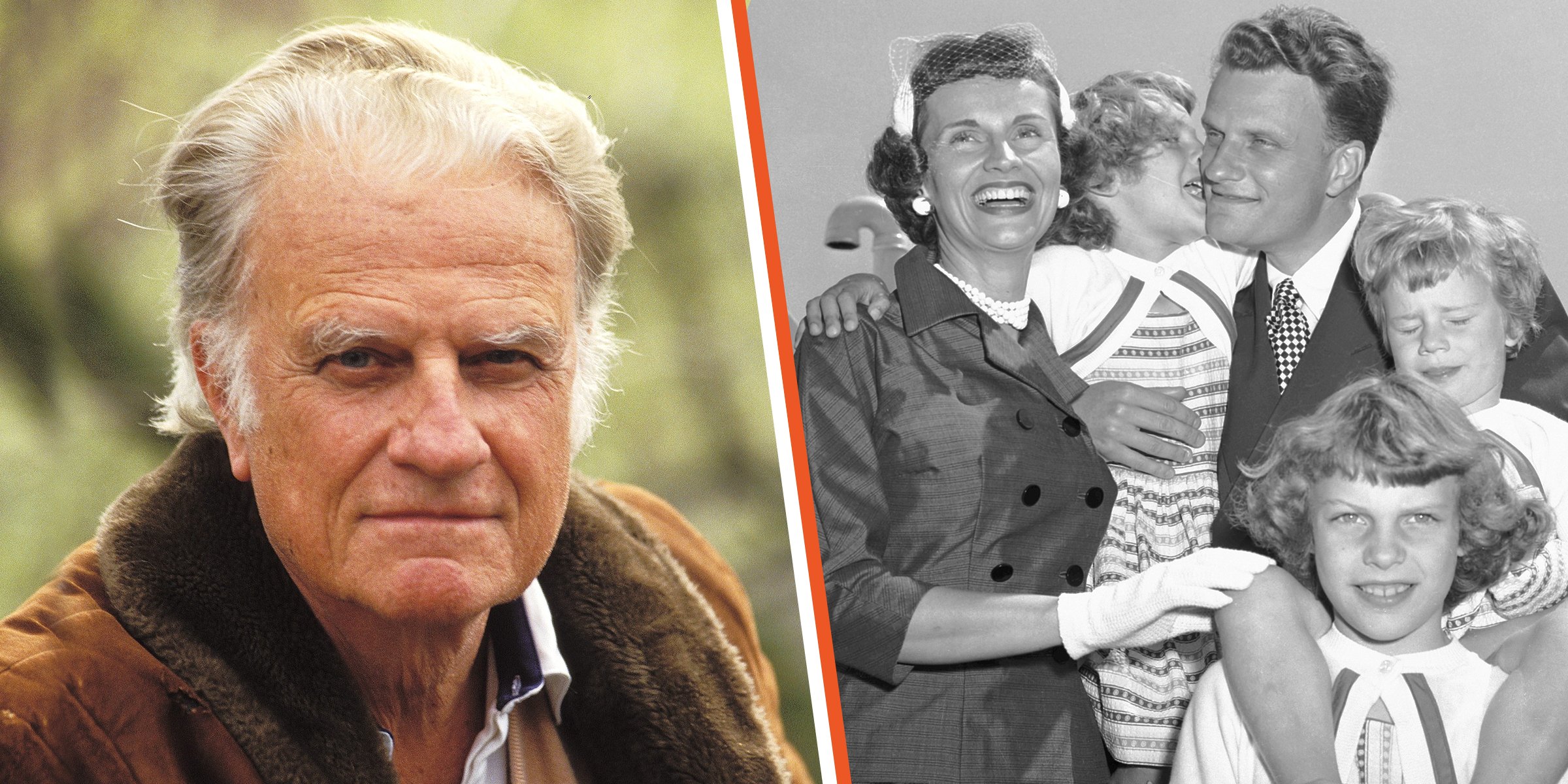 Getty Images
Inside Billy Graham's $599K Home That His Daughter Was Forced to Sell to Save Her Kid from a Rare Disease
Despite his busy schedule, Billy Graham ensured that his family enjoyed the comfort of the Montreat mountainsides from their home. This property remained in the family until his daughter was forced to sell it to save her daughter's life.
Before TD Jakes, Steven Furtick, and all other present-day Christian soldiers seeking to advance the gospel through their ministry, Billy Graham was one of the most impactful Christian preachers of the 20th century.
His message was popular around the 1940s, and although he is late, Graham's influence continues to affect this present generation.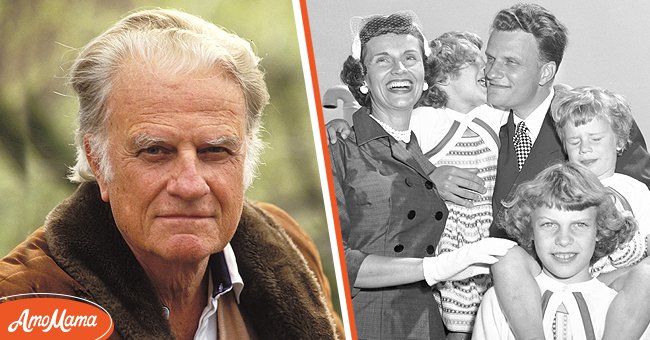 [Left] The evangelist Billy Graham in Essen, Germany on March 20, 1993; [Right] American evangelist Billy Graham embraces his family upon his return from his 'Crusade for Christ' tour, New York, New York, mid 1950s. | Source: Getty Images
The preacher was noted for his televangelism and his use of all forms of media to propagate his message of salvation and to live a sinless life. Graham had a well-structured family, with children who inherited his life's works and a marriage that lasted for nearly seven decades.
The North Carolina-born had a thorough education, and it ultimately formed his passion for evangelism. After graduating from a Bible institute, he studied anthropology at Wheaton College.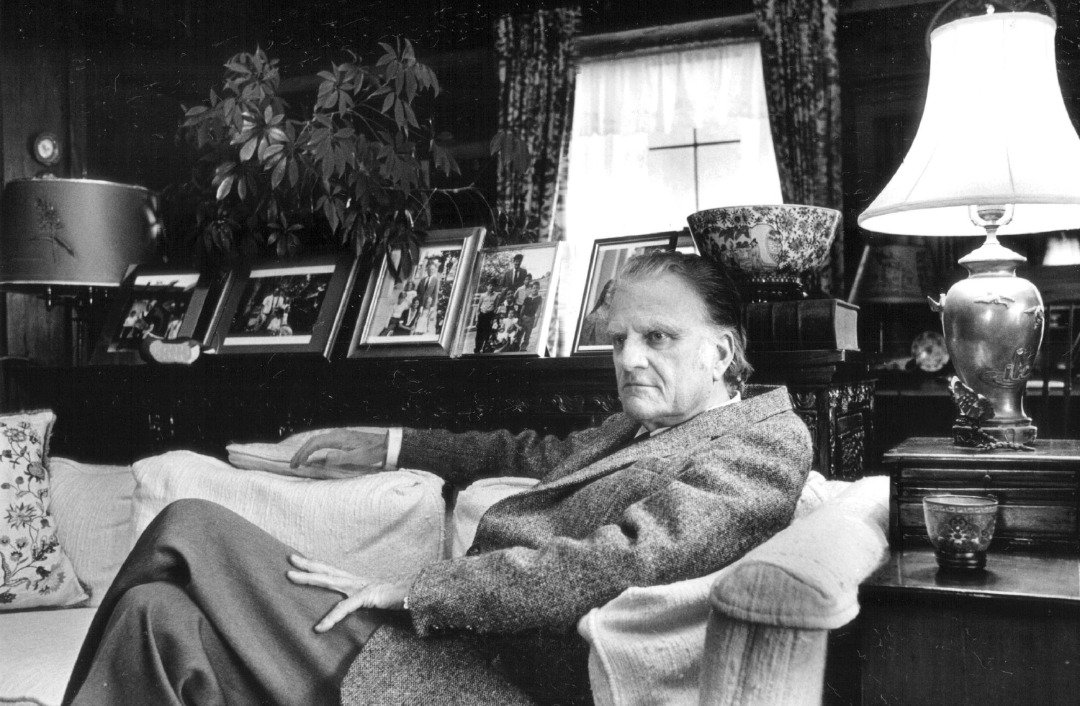 Billy Graham in the living room of his home at Montreat North Carolina. The home contains many artifacts from China where his wife, daughter of a medical missionary, grew up. | Source: Getty Images
This was where he met his wife, Ruth McCue Bell, in 1940. She was enthusiastic and self-reliant, and she found Graham's religious phenomenon attractive. Like Graham, Bell had a religious background. Her father was a well-known Presbyterian missionary surgeon.
In addition, his family had lived in China for a long time. Bell and Graham married in 1943, the same year he graduated from Wheaton. They remained married for sixty-three years.
Throughout their years as a couple, the pair worked as a team, supported each other, and partnered in raising their kids and planning the future of their family.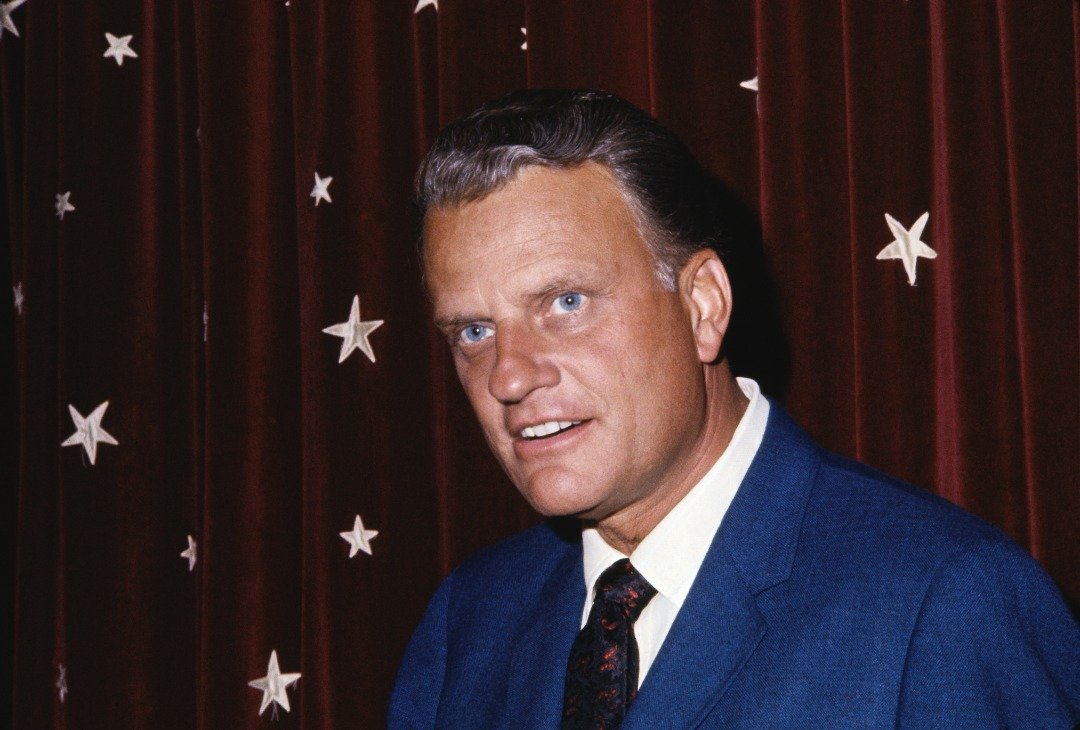 Close-up photo shows evangelist Billy Graham in front of an American flag. | Source: Getty Images
Many have described their long-lasting marriage as the ideal standard of a union, as it was free of scandals or controversies despite the fame that revolved around them. Like any long-lasting relationship, Graham's marriage holds a considerable amount of details that younger couples can apply.
Some of the few reasons for their inseparable bond included a shared faith, unfiltered commitment, not faking perfection, but modeling after true love, adjusting to the changes with time, and valuing family time.
Unfortunately, Ruth's journey with her husband ended in 2007, after her death. However, he constantly remembered her and once talked about how much he missed the deceased following her absence.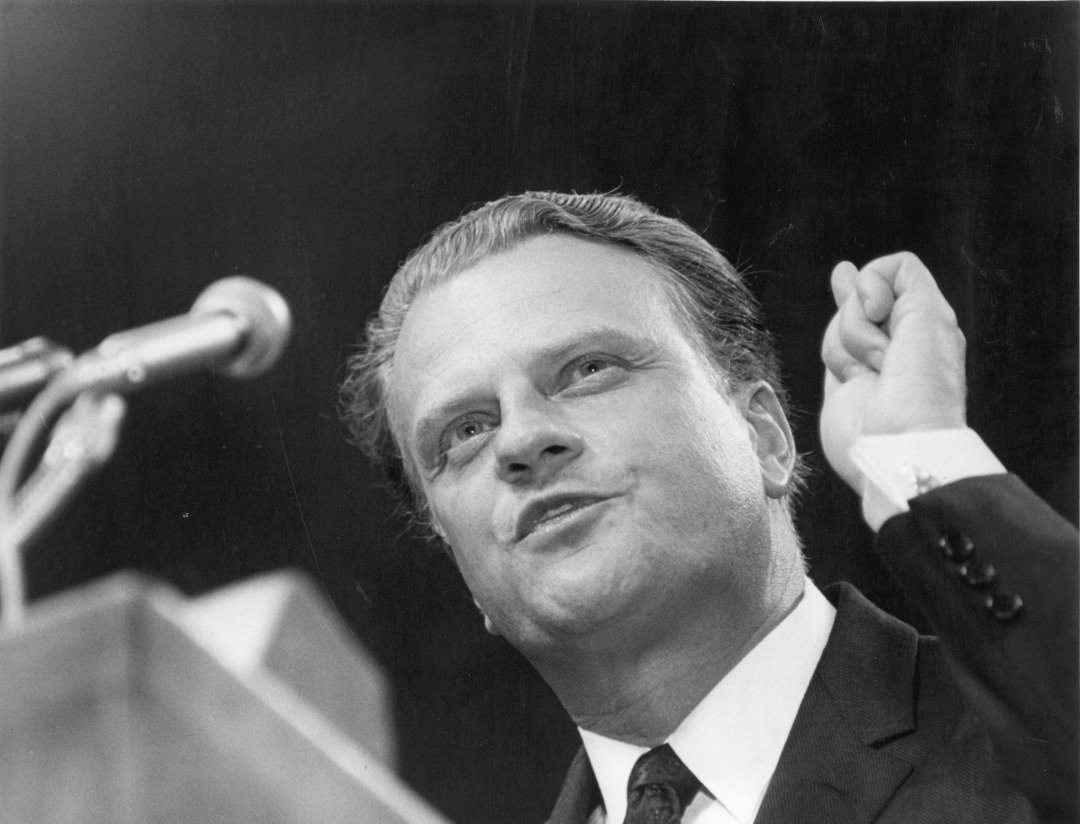 American evangelist Dr Billy Graham addressing the congregation at Earl's Court, London, at the beginning of his 32-day Greater London Crusader. | Source: Getty Images
At first, Graham admitted that after Ruth's death, he was numb, but that whenever he thought about the memories created, it intensified his grief.
One of such memories included making jokes out of a serious situation. Before Graham died in 2018, at age 99, his body was already a host to many illnesses, including Parkinson's disorder.
This affected his writing and sermons, which bothered Ruth. She felt sorry for Graham, who turned into "an old man" overnight; however, her husband found humor in the situation.
BILLY GRAHAM'S LEGACY: HIS KIDS AND THEIR PATHS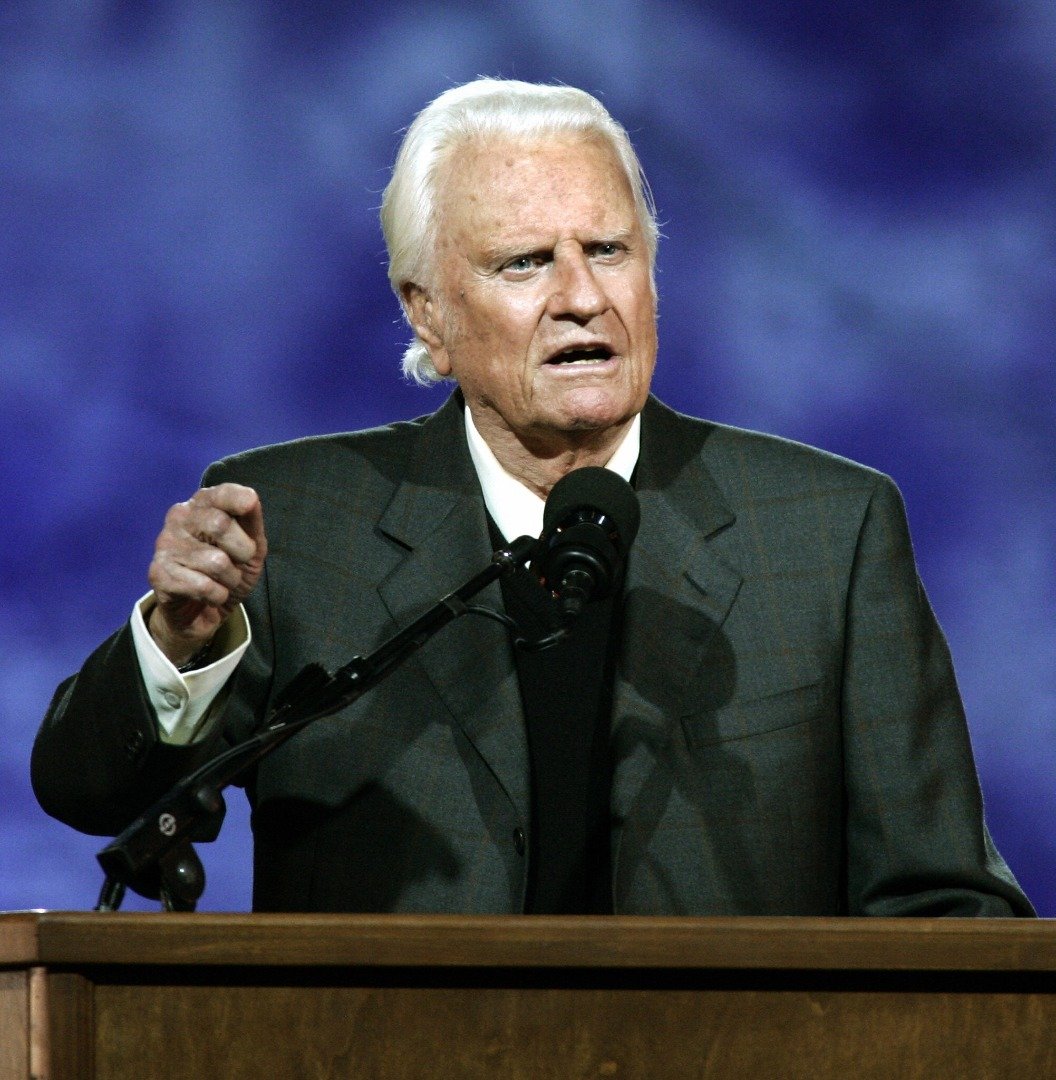 Evangelist Billy Graham delivering his message during the Billy Graham Crusade at Flushing Meadows Park in Flushing Meadows, New York. | Source: Getty Images
Graham and his wife had different personalities, but they established an undeniable legacy throughout the ministry and in the country through their imperfections.
That is not to say that they never experienced a few glitches along the way. For example, at the beginning of their marriage, Ruth found it challenging to cope with her husband's routine.
Graham was often absent in an attempt to spread the gospel and fulfill his calling. This was a consistent pattern during the early years of this offspring's lives.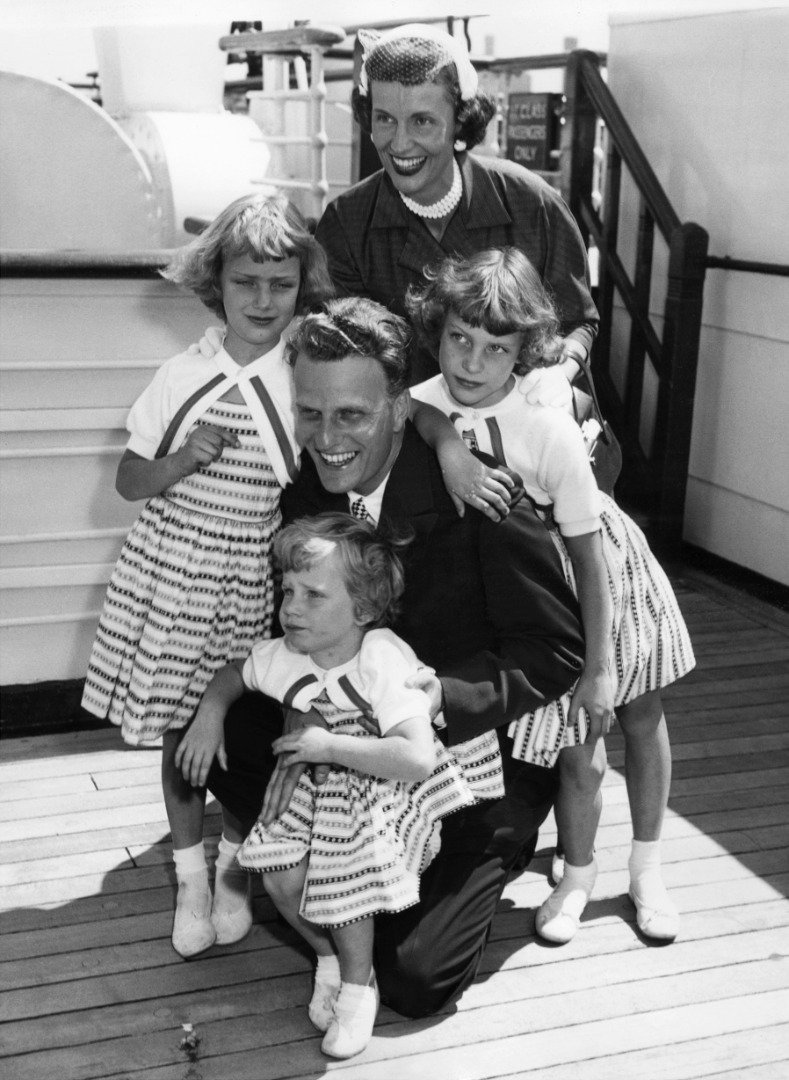 Billy Graham, the American evangelist, is greeted by his wife and children, Virginia, Anne, and Ruth (Bunny), (foreground) aboard the liner "Queen Mary" on his return to New York 07 June 1954 from a religious tour of Europe. | Source: Getty Images
While he was away advancing the work of God, his family suffered his absence. Ruth did not find comfort from her husband during the birth of their first child, Gigi.
The kids barely recognized their dad when he came home. There was also an incident when Ruth attended one of his crusades with their daughter, Anne, and Graham stared blankly, unaware that she was his child.
As time went on and three more children came, she had to read his letters aloud while they prayed for him. This helped the kids remember their never-present dad.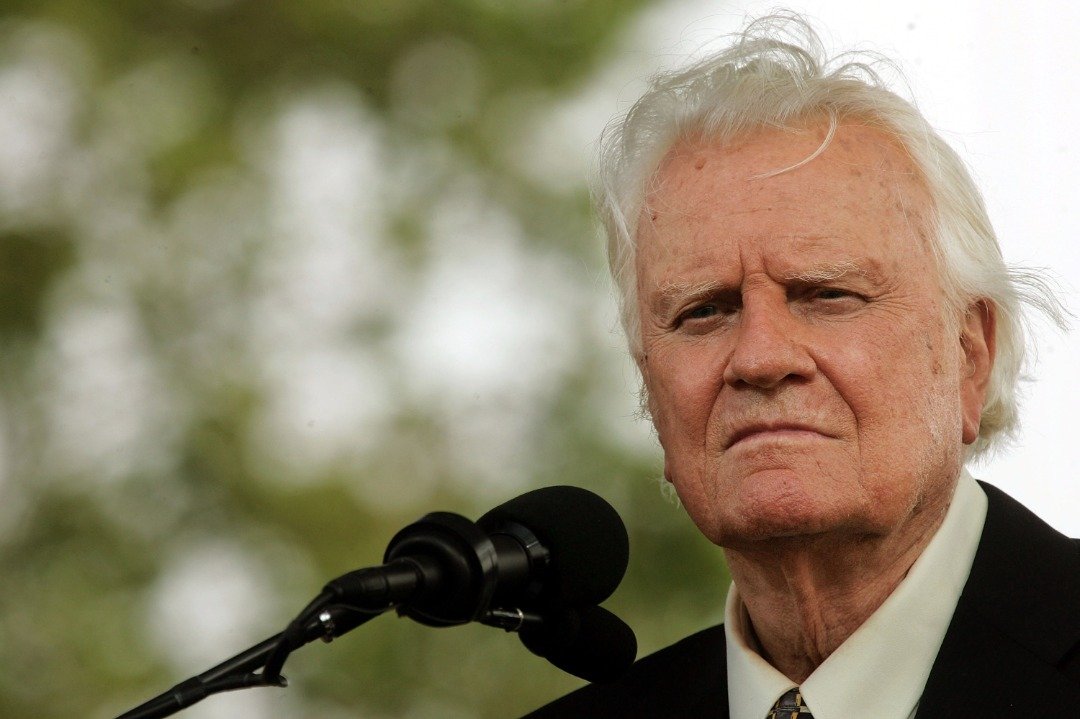 Rev. Blly Graham preaches at the Greater New York Billy Graham Crusade June 26, 2005 held in Flushing Meadows Corona Park in the Queens borough of New York. | Source: Getty Images
The children also believed that their dad's absence was not unusual because of how Ruth explained his absence. They were also lucky to have a loving grandfather around.
Despite his absence, Graham left an imprint on his children whenever he came home. While recounting one of her memories, Gigi explained that she confronted her dad when he disciplined her by tongue-lashing.
What followed was a teary-eyed Graham, and this scenario played in her head for a long time. However, following the confrontation, Graham never disciplined his kids.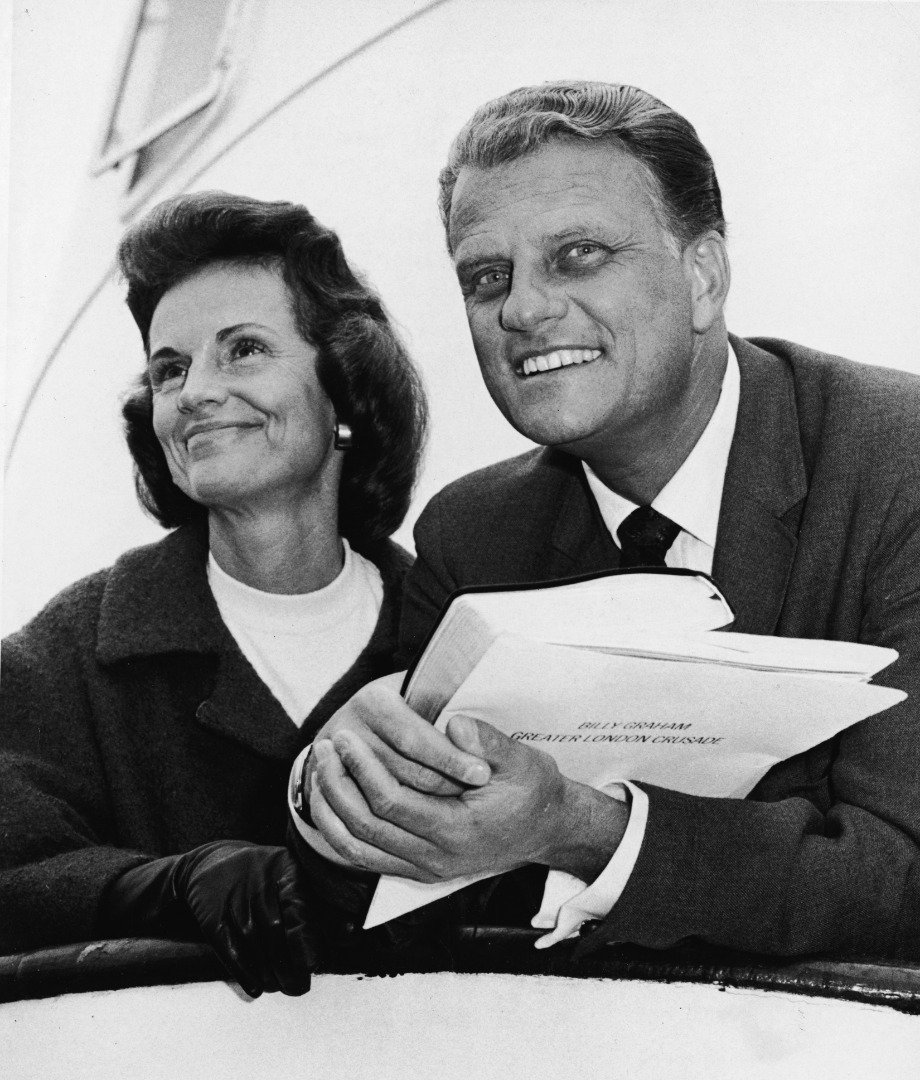 American evangelist Billy Graham and his Chinese-born wife, Ruth, on board the 'Queen Mary' before their departure for London to launch the 'Greater London Crusade,' New York, New York, May 18, 1966. | Source: Getty Images
However, Ruth was constantly disciplining them. Finally, when they became older, she became less strict, and the kids were sent to boarding school.
Bunny, one of their daughters, explained that her parents sent them to boarding schools for a better learning experience, mostly to lighten the parental burden.
She also opined that her parents never groomed the girls for careers. Instead, all she was made to learn was how to become a perfect housewife, a cause her father championed.
Her brother, Franklin, acted like most teenagers. He was always a handful, drinking, smoking, and riding fast cars. Ned, the youngest of the pack, exhibited his eccentricities by using drugs. However, his parents were patient with him and never treated him as an outcast.
As adults, they understood their parents and loved them even more. None of the five kids have condemned their father. They only express that they were far from perfect and that the ministry was as important as they were to him.
Still, they never doubted his love for them. Graham's kids all grew up with their religious beliefs. However, unlike their parents, they do not fake the perfect life.
Three out of the siblings are divorced, yet they advance the Christian faith. Bunny, now called Ruth, is an author who used her experiences to motivate other Christians. She has two daughters and a son.
Ned, a father to two sons, is a pastor mainly based in China, where he publishes and distributes books. His older brother, Franklin, has three kids and runs a Christian relief organization and the "Billy Graham Evangelistic Association."
Gigi is an inspirational speaker and writer. She has seven kids and twenty grandchildren. Her immediate sister, Anne, also promotes the gospel through speaking. She has three kids and has established the "Raleigh-based AnGeL Ministries."
WHO IS BILLY GRAHAM'S SECOND CHILD "RUTH?"
Ruth was Graham's third child and last daughter. She bore the same name as her mom, but she was popularly called Bunny during her younger years.
Ruth, a two-time divorcee and a mother to three kids, runs her ministry known as "Ruth Graham Ministries." Despite her commitment to the gospel, she is first a mother before a preacher.
Barely a year ago, Ruth put her father's original home in Montreat for sale. She explained that her 42-year-old daughter was battling a rare disease and the proceeds would fund the sick child's health care.
This was after she sought permission from her other siblings. The Montreat estate was home to the family for a long time. They made so many memories there before departure, and Ruth admitted that it was hard to give up the home. In her words:
"It's very difficult. It's just very difficult."
Despite the difficulty, she is proud to make such a sacrifice for her child. Ruth maintained it is an honor to be in a place of help. This came at a time when many famous families owned homes worth millions. Yet, Ruth was confident in her decision to sell the estate for $599k.
INSIDE BILLY GRAHAM'S HOME
Graham's Montreat property was a four-bedroom home with a vast space for relaxation and adventure for the kids.
That was where his offspring built some long-lasting memories, which included playing with each other inside the home and walking through the trees and pathways.
As he progressed to a televangelist, many fans would flood the home, peering through the window. The attention was overwhelming, but Ruth, his wife, somehow shut them out while asking for privacy.
When they moved from the home, the family converted it to an office space and retreat center. However, it remained a place of solace to the entire household.
Please fill in your e-mail so we can share with you our top stories!