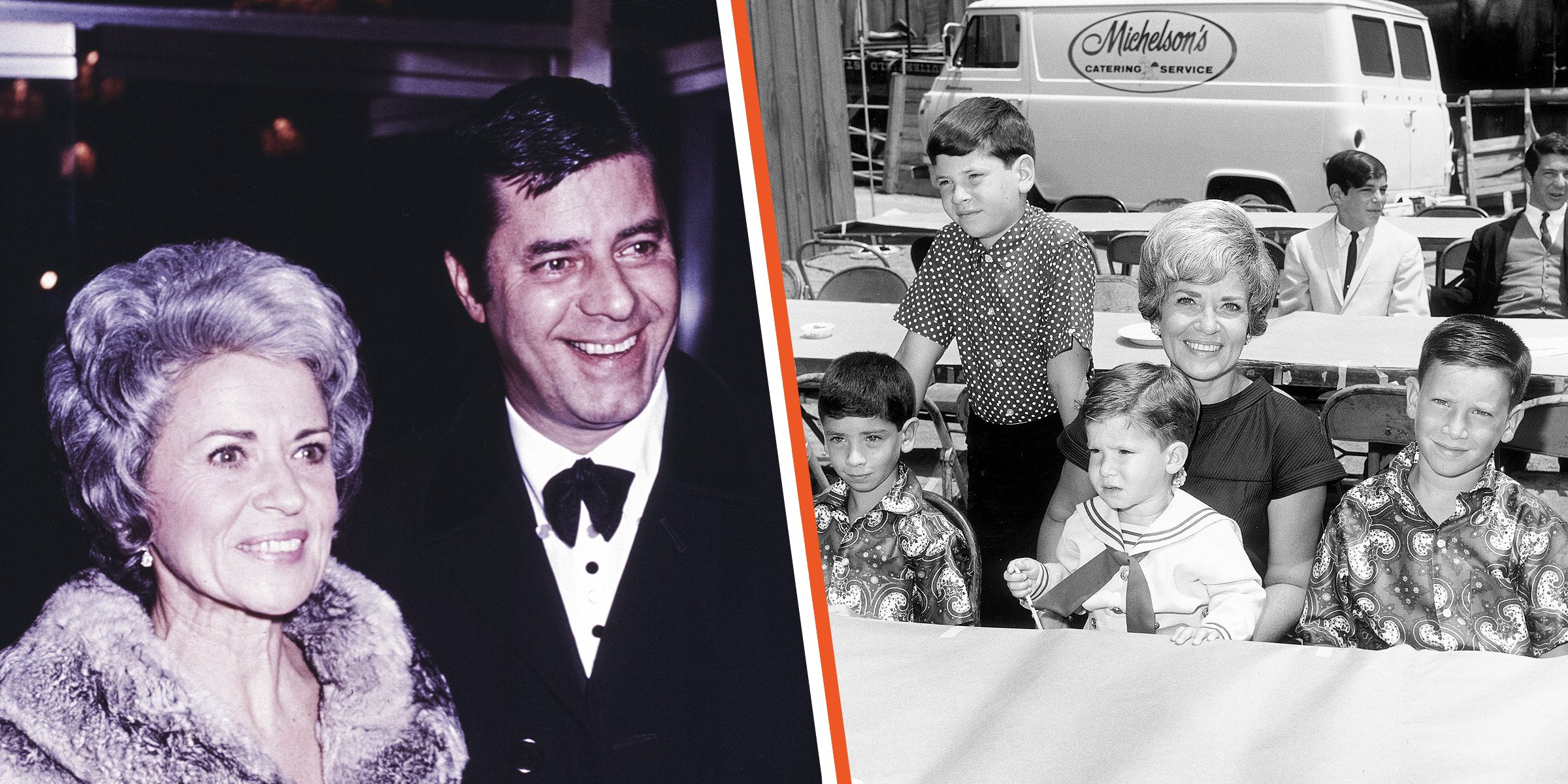 Jerry Lewis with his wife, Patti Palmer | Patti Palmer with her children | Source: Getty Images
Jerry Lewis' 1st Wife Spent Her Last Days in a Nursing Home after He Disinherited Their Children
Jerry Lewis knew his onions when it came to comedy. The entertainer was gifted with putting smiles on the faces of his audience but never really did so with his family. His first wife spent her last days in a nursing home after he disinherited their kids.
Apart from his groundbreaking impacts on comedy in the 20th century, Jerry Lewis, often called "The King of Comedy," was famous for his love life with singer and actress Patti Palmer.
Palmer, who later consolidated herself as a Hollywood veteran, began her adventure into entertainment as a singer; that was when she met her husband.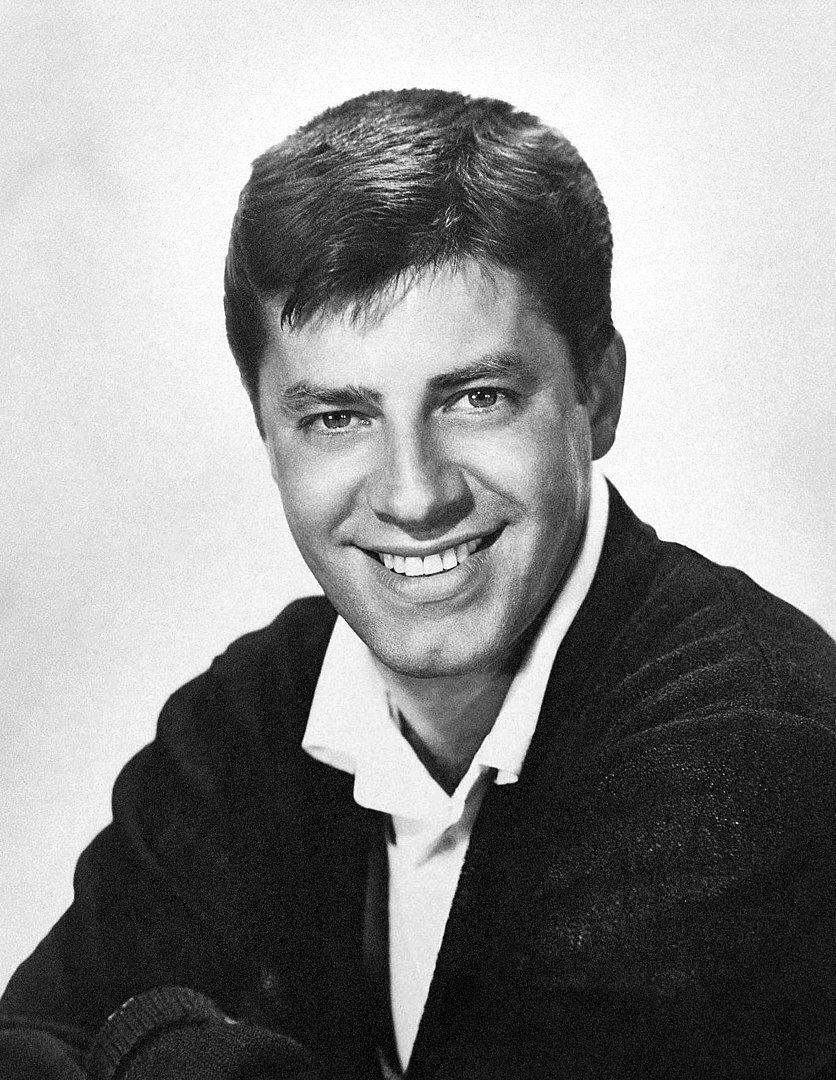 Portrait of Jerry Lewis circa 1957 | Source: Wikimedia Commons Images
The young, talented vocalist became acquainted with Lewis when she started singing with Ted Fio Rito and his orchestra.
Later on, she joined Jimmy Dorsey and his band. Palmer, who was also a beauty to behold, possessed a charming and soothing voice.
In the 1940s, she made several recordings, entertaining her audience with her impressively distinct display of talent. Although her wonderful music drew many fans' attention, Palmer's time on TV was also a relative success.
Her on-screen appearances included "The Ed Sullivan Show," "The Colgate Comedy Hour," and "The Wayne and Shuster Hour."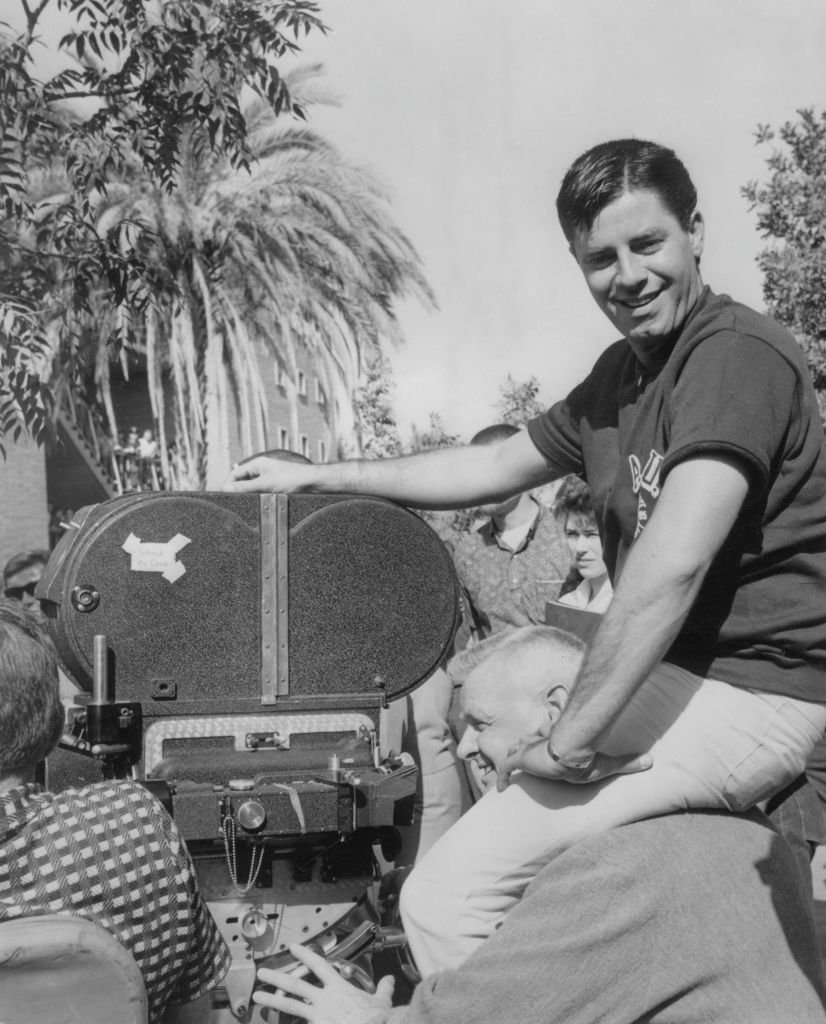 American actor and comedian Jerry Lewis being filmed on location at a college campus in Tempe, Arizona, circa 1963 | Source: Getty Images
Palmer said "I do" to her only husband, Jerry Lewis, in 1945. They remained married for about thirty-five years and welcomed six children.
In what is considered one of Lewis's heartfelt publications, titled "The Total Filmmaker," the author used the kindest words in describing his first wife of many years. He quipped:
"To Patti, whose love, patience, and wisdom never diminished while waiting for me to grow up."
Indeed, fans envied the duo as they presented a perfect relationship to the world. It was impossible to agree otherwise because they wore infectious smiles during public outings and always scheduled romantic dates with each other.
In 1953, the celebrity couple enjoyed a lovely getaway in Rome. They toured the city, and Lewis took pictures of his wife at the Colosseum.
Despite being a notable singer, Palmer was supportive of her husband. In 1964, she was captured beside her leading man, who received a tribute from the American Guild of Variety Artists. The duo was dressed to the nines as they posed at the Winter Garden in NYC.
As time went on, they started a family. Now, Palmer was determined to have the best family, so she dedicated herself to it while trying to revive her career.
Sadly, her marriage began to fall apart. Lewis had extramarital affairs. He bothered less about his wife's happiness; instead, the comedian had affairs with famous figures like Marilyn Monroe.
He also debunked the rumors that Monroe was President Kennedy's mistress. This certainty was born out of the time he spent with her. Lewis mentioned that Monroe used sex to consolidate her contracts.
Lewis's confidence in making the crowd happy was synonymous with his pride in infidelity. His past remarks showed that he never believed in the sacredness of marriage vows.
Throughout his marriage with Palmer, he was an incorrigible philanderer. Another of his conquests was Lynn Dixon, a model with whom he spent three years dating.
This long-term affair produced a daughter named Suzan Minoret. Throughout her life, the comedian never acknowledged her existence. To the public, Lewis refrained from talking about his love child.
THE $450,000 A YEAR DIVORCE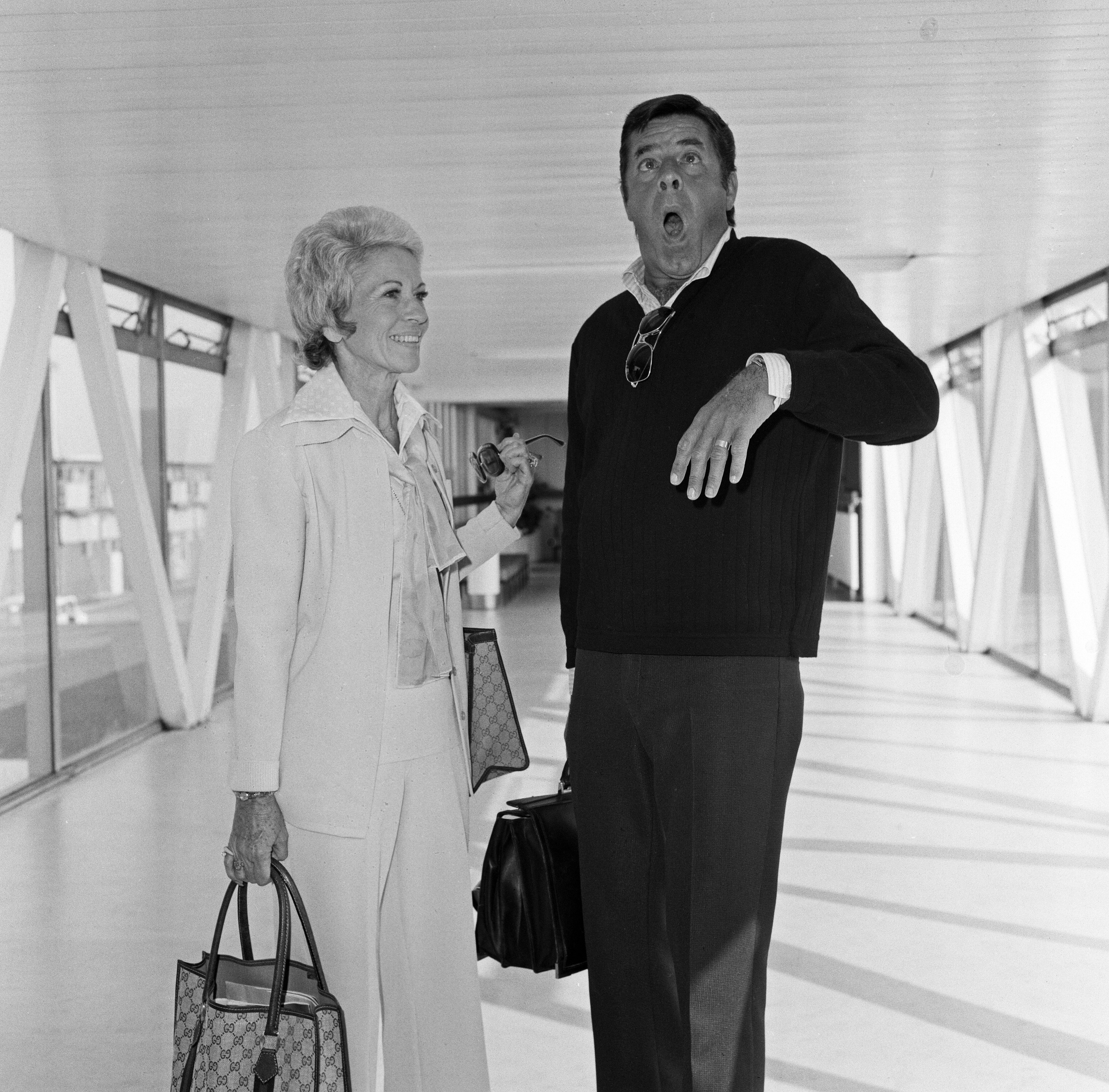 Jerry Lewis arrived at Heathrow Airport with his wife Patti from New York on July 02, 1975 | Source: Getty Images
In 1980, after years of putting up with the infidelity and disgrace from Lewis's unperturbed attitude, Palmer decided to end the marriage.
First, she requested a separation, asking for a $450,000 annual payment from her husband. She wanted a significant figure to support herself and their youngest child, Joseph Christopher, a 16-year-old at the time.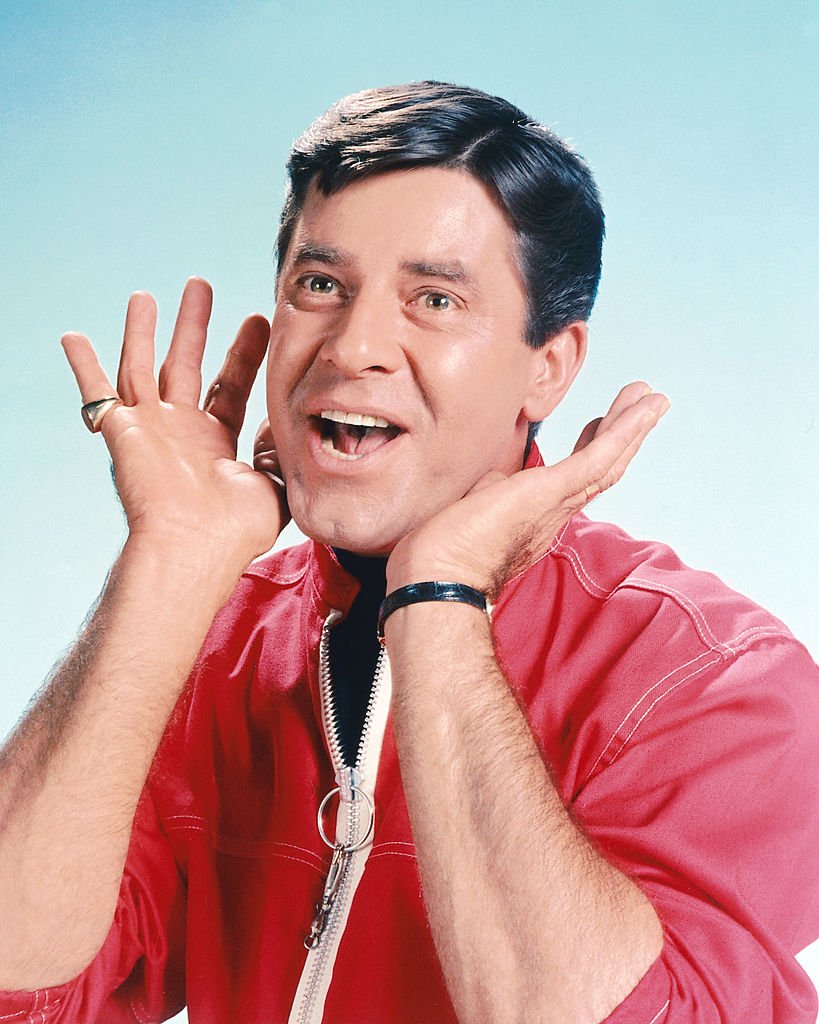 American comedian Jerry Lewis, circa 1960. | Source: Getty Images
Palmer claimed her husband made her a "financial puppet" and solely dependent on him that she had no fortune of her own.
The court documents highlighted that Lewis had an extravagant spending habit which caused the bills on the house to accumulate. Eventually, she offset the debt by selling her prized possessions: her jewels.
Following the divorce, the former couple's youngest son, Joseph, was the only reminder of Palmer's love affair with her only husband. Sadly, years later, he became her greatest loss.
PALMER LOSES THE SON THAT REMINDED HER OF LEWIS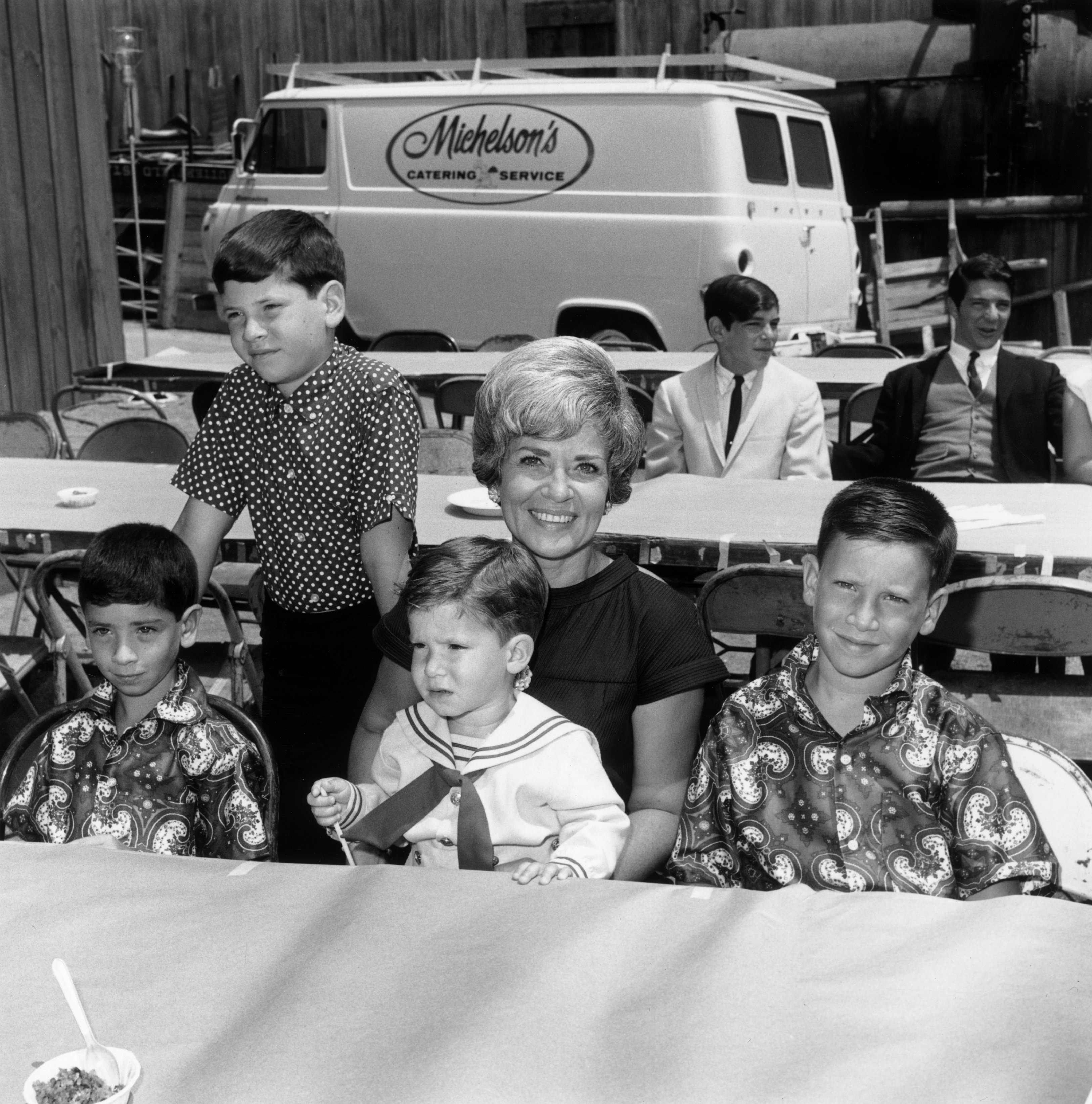 Patti Palmer, wife of comedian Jerry Lewis with their children at a children's party, a 'Batman' luncheon for an orphanage on August, 1966 , California | Source: Getty Images
Joseph was his dad's lookalike. Judging from the photographs, he shared the same distinct facial features as the comedian. He also inherited his father's humorous personality. But sadly, despite these, Lewis and his doppelganger were not cordial.
Unlike the comedian, Joseph did not live a fulfilled life. He died in 2010 from an overdose. Before his death, the 45-year-old with three kids had been disowned decades ago by his famous father.
Joseph's lifestyle towards the end revolved around drugs. He was also destitute and homeless, and he ate in soup kitchens. When Lewis heard about his son's death, he did not offer to take up the funeral bill. This was devastating to even Joseph's ex-wife, Kim.
Many could not comprehend the eternal resentment. They only remembered that Lewis was furious his son had spoken badly about him to the world.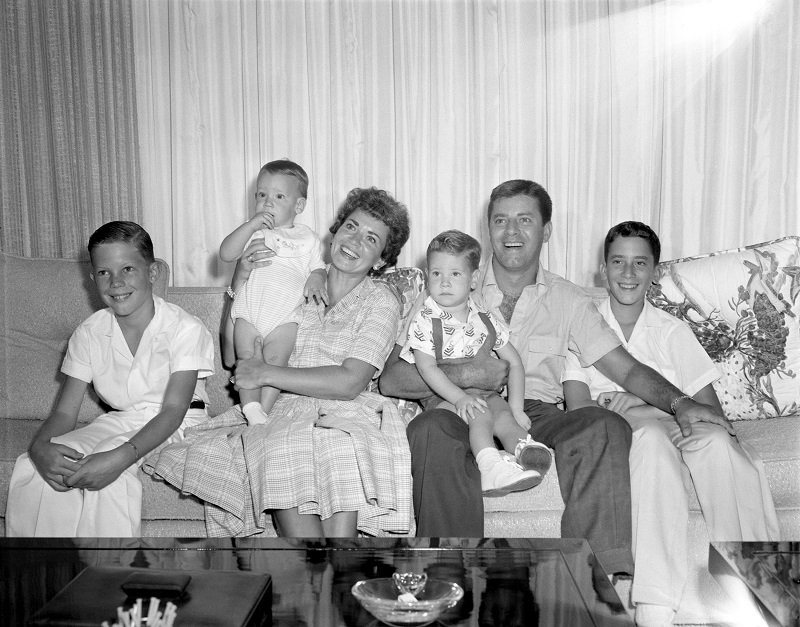 Jerry Lewis, Patti Palmer, and four of his sons in California, in September 1958 | Source: Getty Images
Till his death, Joseph believed that his famous dad did not love him because he had expected a female child (Lewis talked about it).
He gave himself to his demons, struggled to live a normal life, and was consumed by depression. Years after the tragedy, Lewis admitted that life was unfair to Joseph.
Jerry Lewis at home with his wife, Patti Palmer, and their sons pictured for Person To Person on September 26, 1958 in Los Angeles. | Source: Getty Images
The father of seven explained that he "sent him into the world" unprepared, even though the young man was 25 and it seemed like the perfect age.
Lewis often blamed himself for not being able to shield his son from the vices of the world, which later consumed him following his addiction.
LEWIS INTENTIONALLY DISINHERITS PALMER'S CHILDREN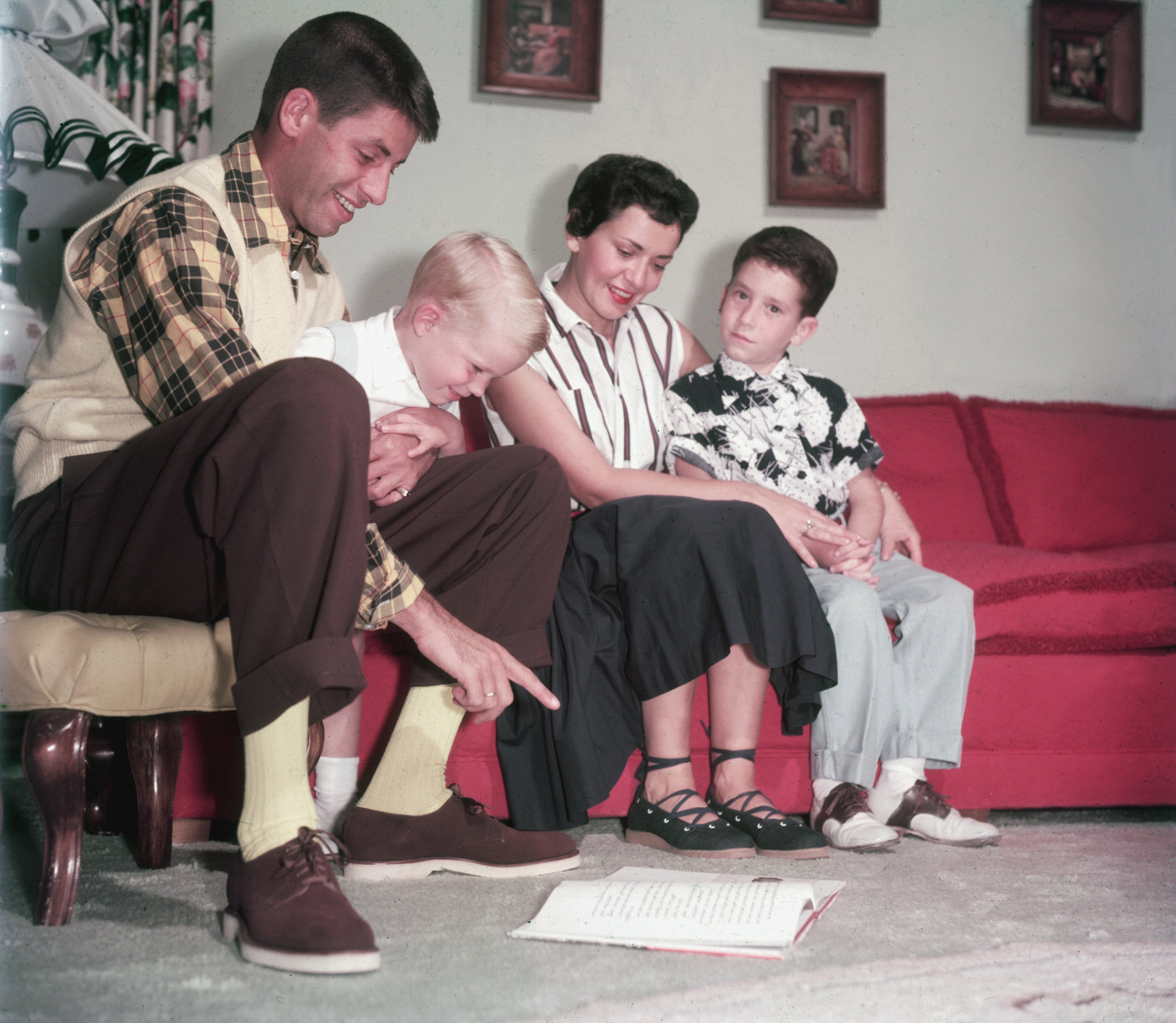 Jerry Lewis photographed sitting on a couch with wife, Patti Palmer, and their two sons, Gary and Ronald. | Source: Getty Images
Joseph was not the only child who experienced a strained or difficult relationship with his comedian father, Jerry Lewis.
Lewis, who barely acknowledged his only daughter from Dixon, alarmingly never shared a close bond with his other kids.
In fact, three years after Joseph's death, the comedian wrote a will that excluded all of Palmer's kids. The document drafted in 2012 remained unchanged even after his death.
Lewis intentionally disinherited his first six sons with Palmer, noting that even their children would not benefit from his estate. He left the fortune to his second wife and adopted daughter.
PATTI PALMER DIES IN A NURSING HOME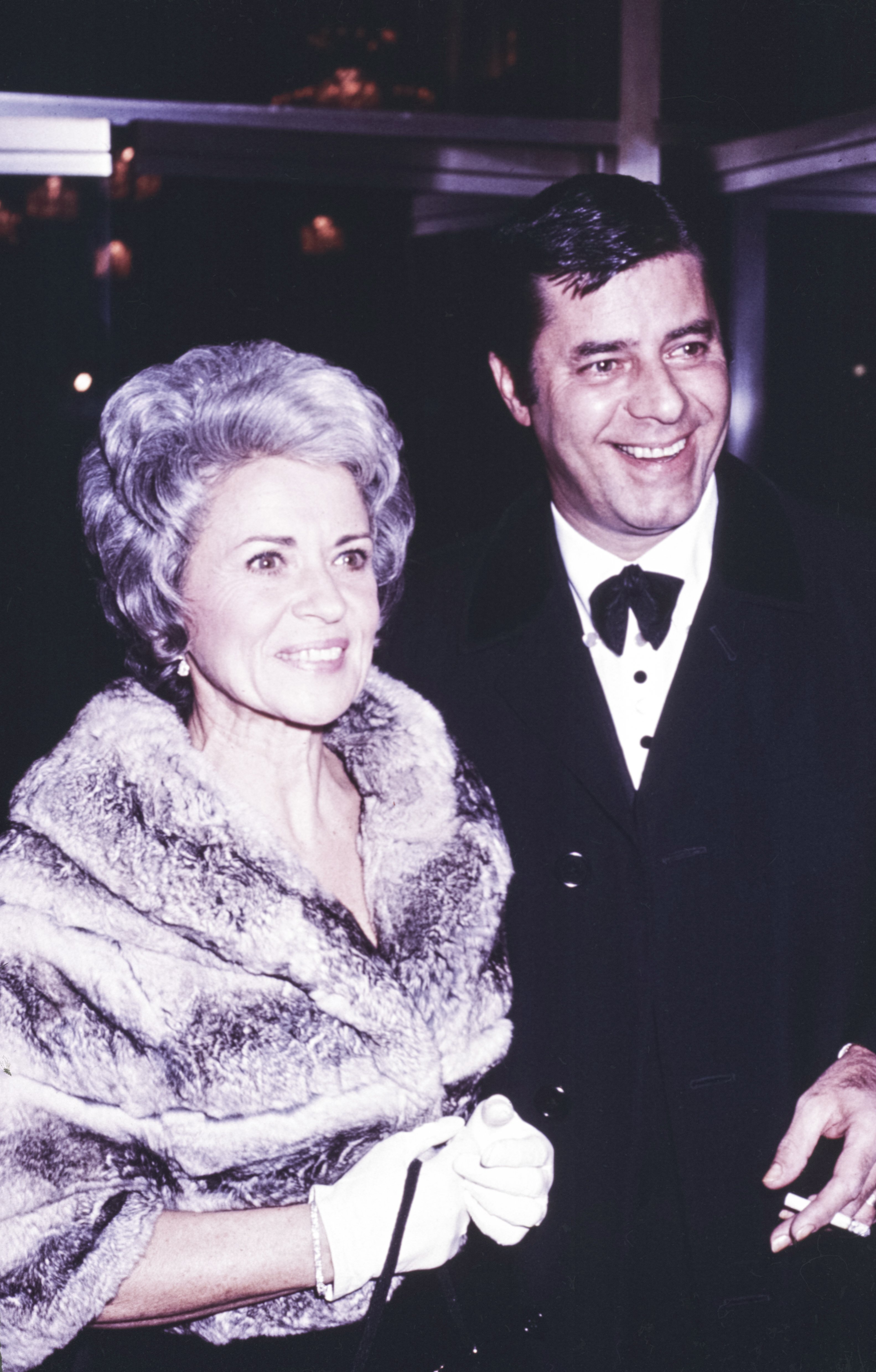 American comedian Jerry Lewis with his wife Patti Palmer | Source: Getty Images
Unlike Lewis, Palmer had a close bond with her kids, and although she did not possess the same fortune as her ex-husband, she was a happy woman at death.
Palmer died in 2021 from natural causes. Her son, Gary, also a musician, spoke warmly of his mother. He explained that she was never sick but lived in a nursing home.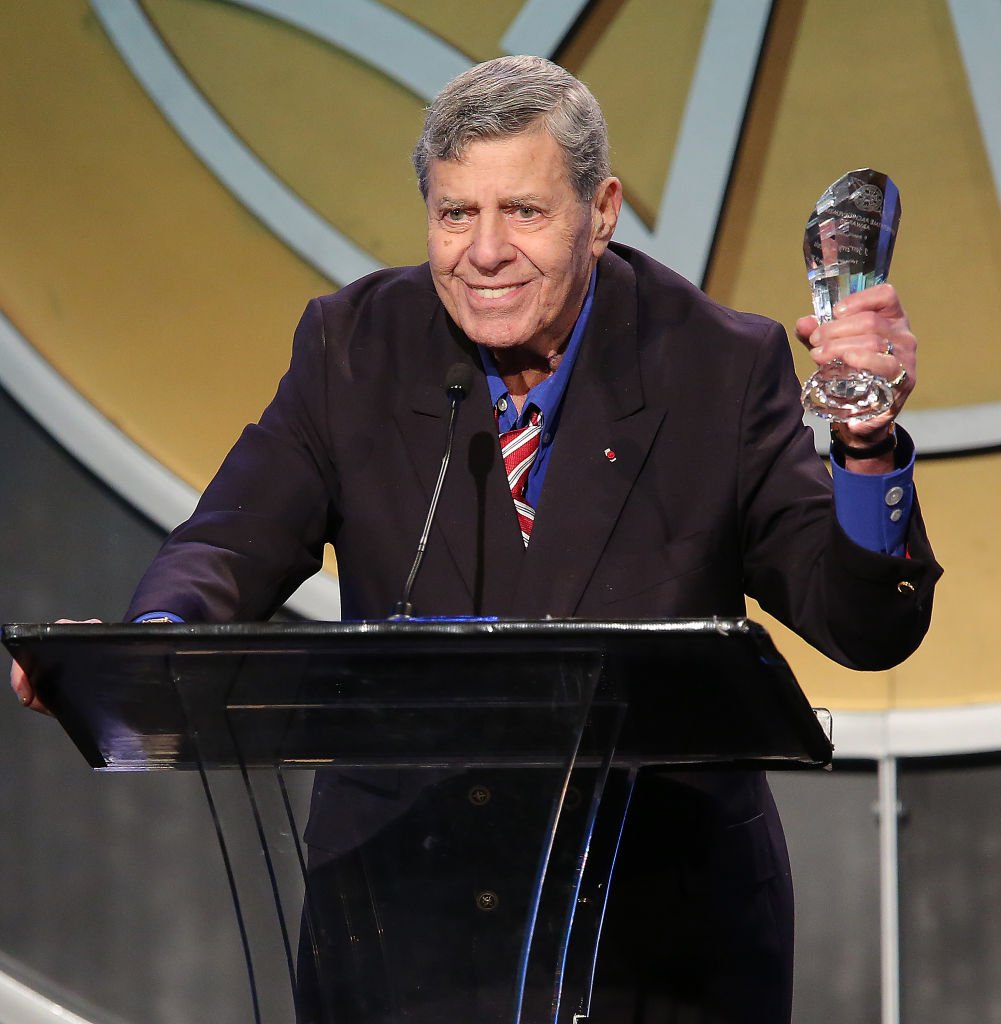 The Lifetime Achievement Award recipient Jerry Lewis at the 51st Annual ICG Publicists Awards held at the Beverly Wilshire Four Seasons Hotel on February 28, 2014 | Source: Getty Images
Palmer, who died at 99, had memory loss. To calm herself, she would hum around the nursing home. Although the singer had difficulty recollecting memories, she was surrounded by loved ones, including her kids.
While her life was filled with happy memories, it also had a past she would have loved to forget: a failed marriage after many years and her son's death.
IN LIEU OF A POSTSCRIPT: JERRY'S LOST CHILD
While Palmer and her kids, dead and alive, might be in the best places, Lewis's love child, Minoret, is living from hand to mouth.
Initially, she moved with the creme de la creme of the society, but later in life, Minoret's lifestyle dwindled. In 2017, she was reported to be living on the streets of Northeast Philly.
Lewis never accepted Minoret, but she shares a significant resemblance to her dad. In 2008, to rule out doubts, she took a DNA test which showed an 88.77 percent accuracy in being his blood relative.
Amid the bouts of neglect and philandering, Lewis had a happy home with his second wife, SanDee Pitnick. Although many were alarmed they got married shortly after his first divorce, the couple remained together till his death in 2017.
Please fill in your e-mail so we can share with you our top stories!