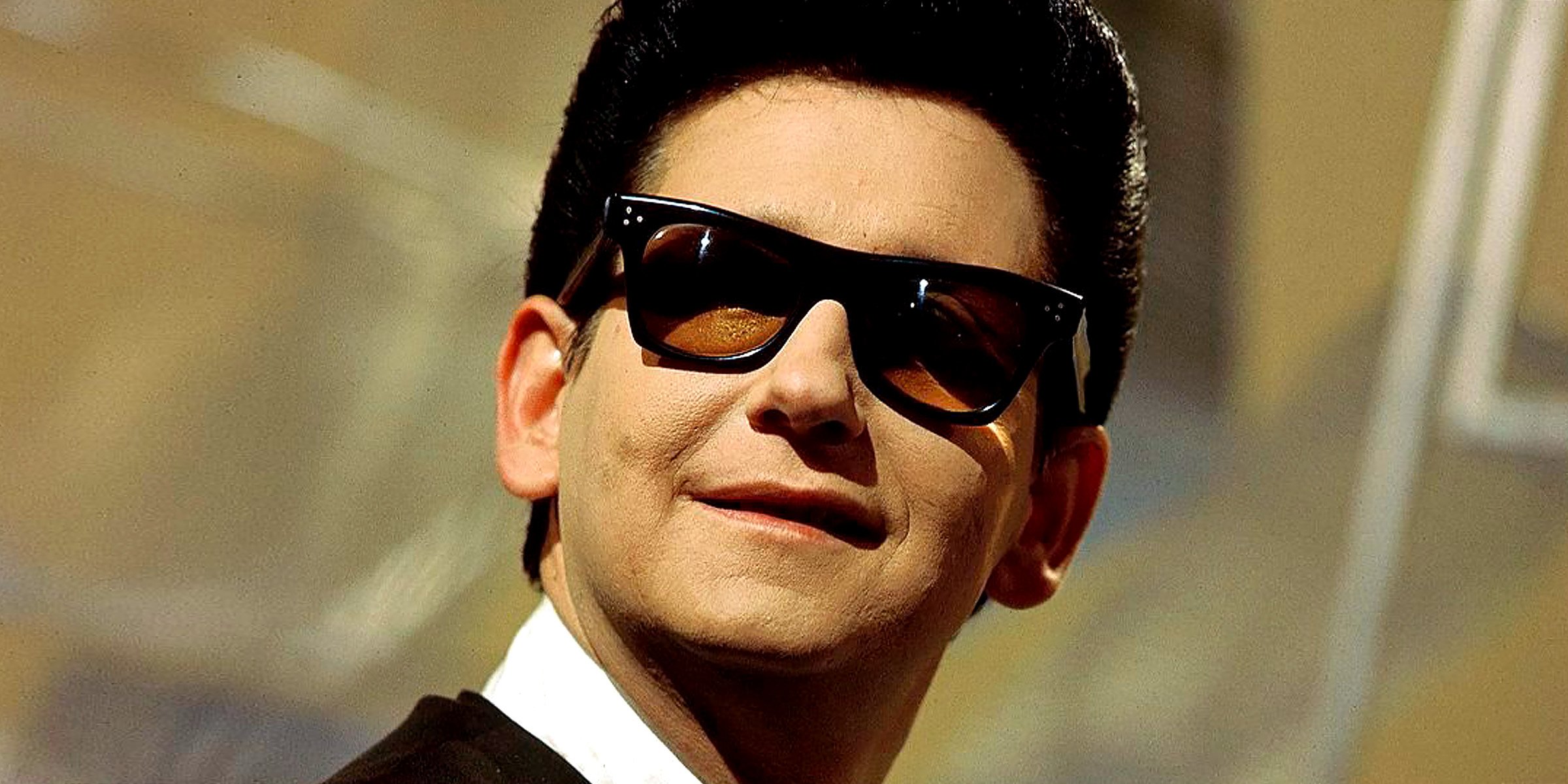 Getty Images
Roy Orbison's Wife 'Breathed Fresh Air' into His Life during the 2 Year That He Lost 1st Spouse & 2 Sons
To the world, he was a renowned singer and songwriter who recorded back-to-back hits and enjoyed unprecedented fame. But inside his private life, Roy Orbison dealt with heartache and trauma until someone offered him a welcome respite.
Roy Kelton Orbison was a famous American musician known for his riveting voice and heartfelt singing style. The enigmatic singer was known for rocking dark sunglasses, black attire, and a hard-to-miss aura that was both compelling and mysterious.
One of the most gifted singers of his time, Roy was born on April 23, 1936, in Vernon, Texas, and realized his musical talents very early. However, his personal life was filled with heart-rending losses, many of which were reflected in his performances.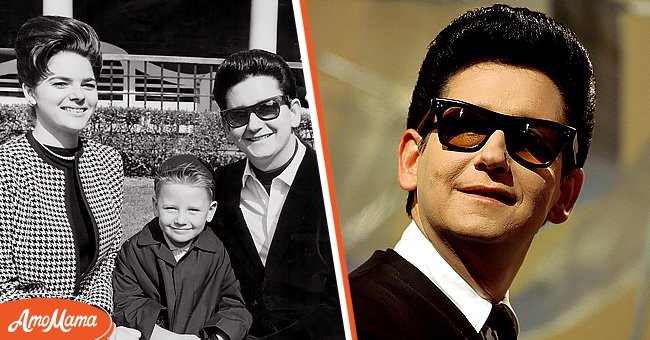 [Left] Claudette Frady, Roy Jr., and Roy Orbison pictured in the gardens at Dolphin Square, London; [Right] Roy Orbison. | Source: Getty Images
Roy was first introduced to love when he met his first wife, Claudette Frady. When the two were seen walking out together, many thought it was the mere attraction of opposites. But "The Big O" knew what he was doing and was jubilant about his courtship.
While the couple was clearly smitten, their relationship was dignified and hailed from their genuine feelings. That was one reason why Frady didn't hesitate to accept his proposal. They were engaged within weeks of their first date.
When Roy didn't find much success in the uptempo rockability style, he switched to songwriting and saw it as a brilliant way of expressing his thoughts and feelings. He and Frady tied the knot in 1957.
With time, Roy's love for his wife deepened, and he even dedicated one of his all-time hit tracks, "Claudette," to her. The couple had three sons together: Rob Dwayne, Anthony, and Wesley K. Orbison.
FALLING APART AND COMING TOGETHER
Sadly, the couple parted ways in 1964. Frady found it extremely challenging to deal with life while her husband was often away from home on music tours. His son, Roy Orbison Jr., revealed:
"He [Roy] was addicted to the road."
Roy's growing absence strained his marriage with Frady, and they divorced. Reportedly, another reason for the couple's split was Frady's affairs. With little hopes of reconciliation, Frady took the kids and went to her mother's home, despite insisting that "she never really wanted to leave him."
However, in 1965, Frady got the news that Roy was injured, and he was having a concert despite his injury. She was familiar with her ex-husband's obstinate nature, and out of pure concern and old affections buried in her heart, she boarded a flight to England.
When the "Oh, Pretty Woman" singer saw his former wife's concern for him, something tugged at his heartstrings, and he understood that they were meant to be. Roy expressed:
"We both suddenly realized we didn't want to be apart - and that was it."
After the tour concluded, everyone gathered to celebrate as Roy sliced a guitar-shaped cake for his thirtieth birthday. Another befitting cause for celebration was that the lovebirds, Roy and Frady, had decided to remarry as soon as possible.
Tragically, the couple's happiness was short-lived. After leaving their kids with a babysitter, they embarked on an exciting bike ride in Nashville, Tennessee. Suddenly, a truck driver pulled out from a side, turning, and Frady's motorbike struck the pickup truck's door.
Roy watched in horror as his wife disappeared beneath the truck's double wheels. With tears in his eyes, he cradled Frady in his arms and gazed at her gorgeous face, as beautiful in death as it was in life.
After merely a year of reconciliation, Frady died on June 6, 1966, leaving behind her husband and three children. She was only 27 years old.
TRAGEDIES FOLLOWED HIM EVERYWHERE
The "Running Scared" singer was still reeling from the loss of his beloved wife when another tragedy turned his world topsy-turvy. When his manager told him that a massive fire had engulfed his house, he was on tour. Roy reacted by saying:
"I was totally shattered."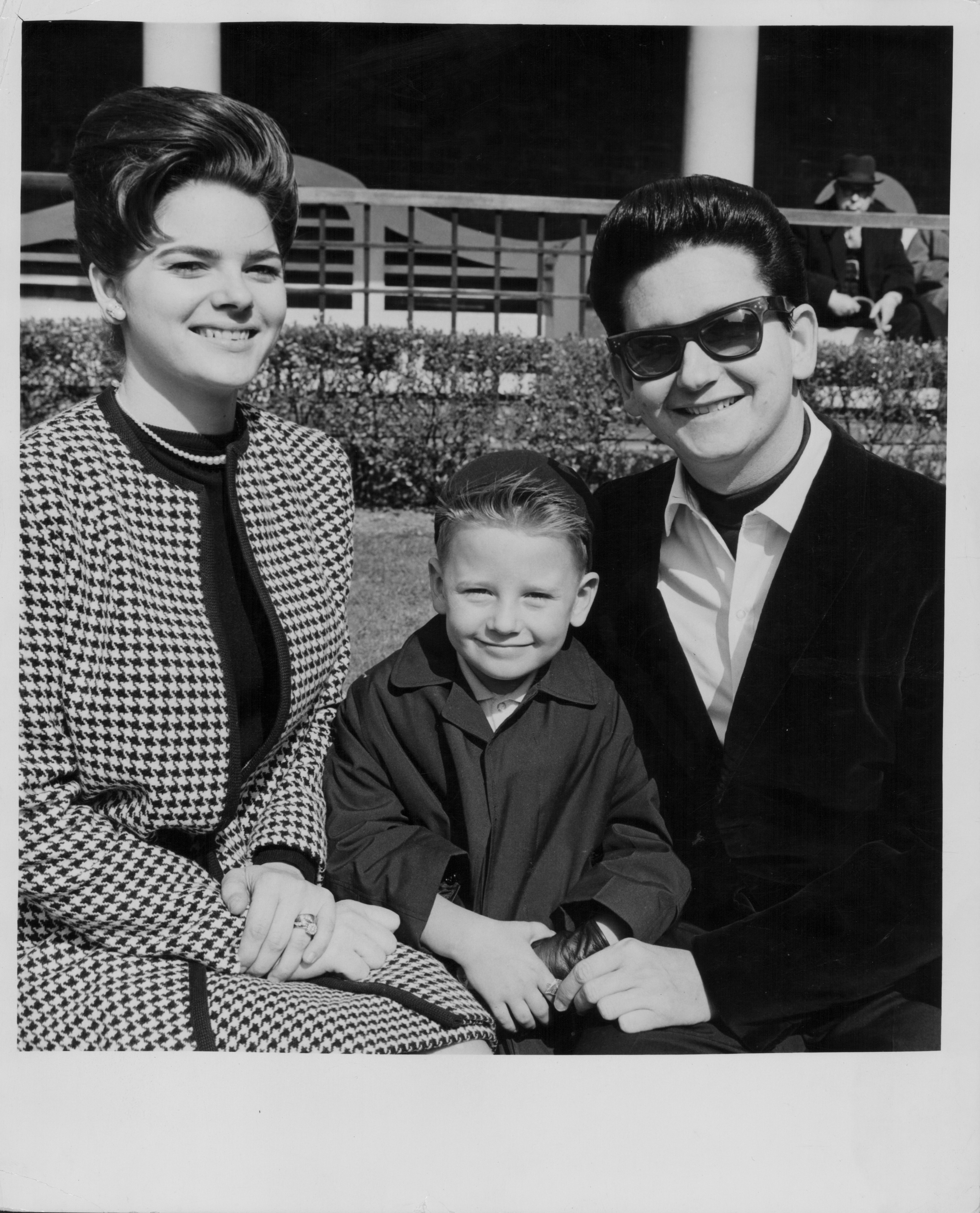 Roy Orbison, with his wife Claudette and son Roy Jr., in the gardens at Dolphin Square, London, April 9th 1964. | Source: GettyImages
At the time of the accident, his three sons were at home with their grandfather, and two of them were fooling around in the basement where the petrol was stored for antique cars. Suddenly, the older man heard a series of loud explosions from the area.
He quickly ran to check on the two boys while cradling the third in his arms. The grandpa had nearly rescued Roy and Tony when another massive bang occurred, taking the boys' lives forever.
The kids vanished "in a wall of flame" in mere seconds. The boys were just eleven and six years old at the time. The only survivors of the horrendous house fire were Roy's parents and his three-year-old son, Wesley.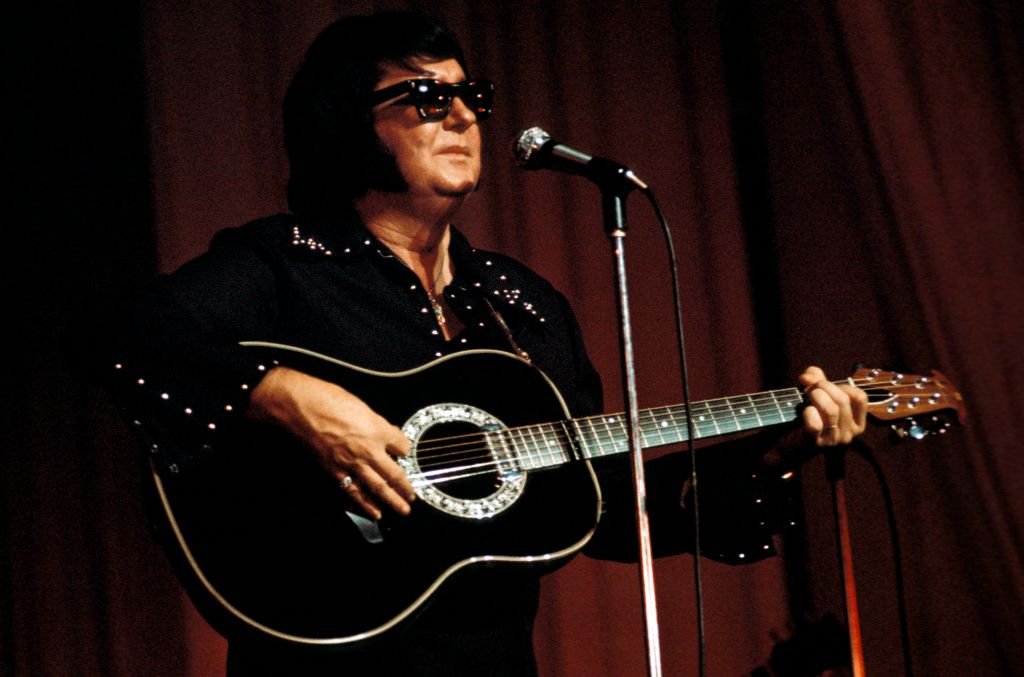 Roy Orbison performs live on stage playing an Ovation acoustic guitar during the Pop Proms at Belle Vue in Manchester, England in 1975. | Source: Getty Images
"The Caruso of Rock" was utterly devastated when he learned that his two eldest boys had lost their lives in the fire that engulfed his Tennessee home. According to Roy Jr., his father tried to stay stoic despite the setbacks. He also mentioned:
"He [Roy] got knocked down in quick succession. He would've said he did not suffer more tragedy than other people."
A RENEWED CHANCE AT HAPPINESS AND LOVE
Not long before Roy lost his two sons in the tragic fire, he met his second wife, Barbara Anne Marie Wellhoner Jakobs, who later became known as Barbara Orbison. She was 17 in 1968 when she ran into the then-32-year-old Roy at a nightclub in Leeds, England.
They married a year later in Henderson, Tennessee. Barbara held a special place in Roy's heart, and in a tribute to his lovely wife, he once wrote:
"I've spent my lifetime trying to figure love out. Love ranges from just fascination to something almost spiritial. In the case with my wife, Barbara, it just keeps growing all the time."
In addition to Roy Jr., Barbara is survived by sons Alexander and Wesley. Finding Barbara changed the "Running Scared" singer's life for the better. The couple started a new life together, and Roy never looked back.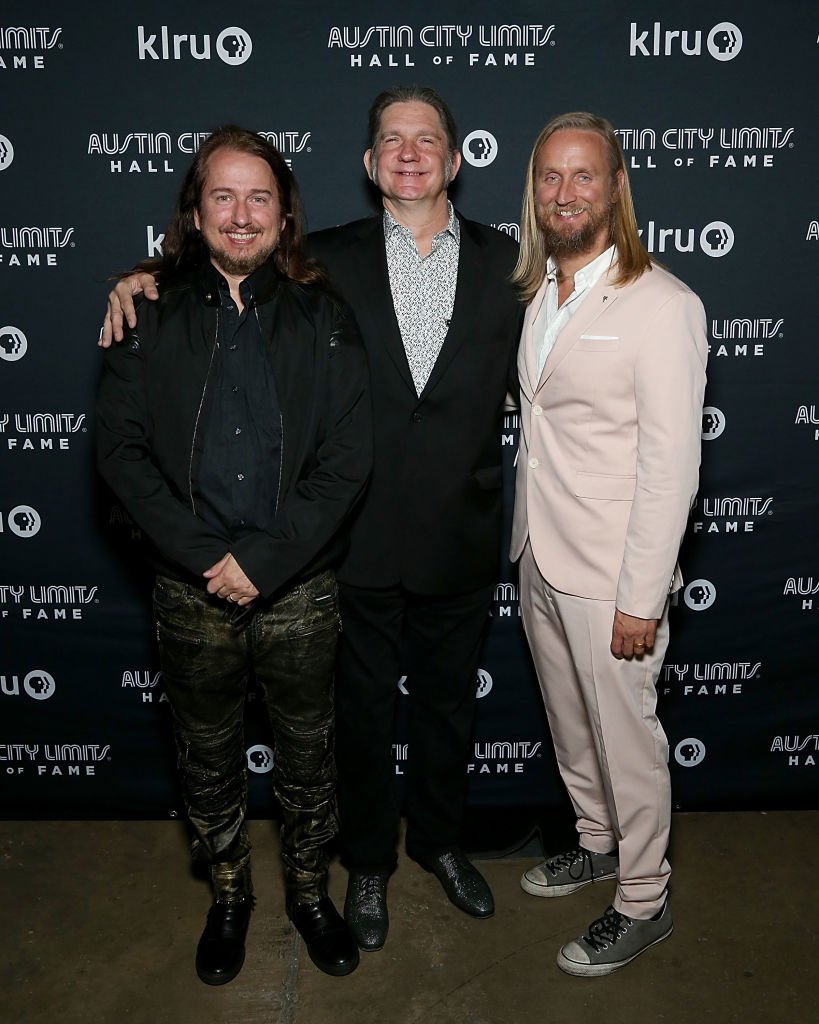 [From Left to Right] Roy Orbison Jr., Wesley Orbison and Alexander Orbison attend the Austin City Limits 2017 Hall of Fame Inductions at ACL Live on October 25, 2017 in Austin, Texas. | Source: Getty Images
Regarding their communion, Roy Jr. shared:
"She came into his life at a time where he was not in good shape, and she just breathed fresh air into it."
Despite being one of the most popular hit-makers of the rock and roll era, Roy's personal life was lined with tragedies and setbacks. But his relentless optimism enabled him to emerge triumphantly, and we hope his progeny carries forward his rich legacy.
Please fill in your e-mail so we can share with you our top stories!