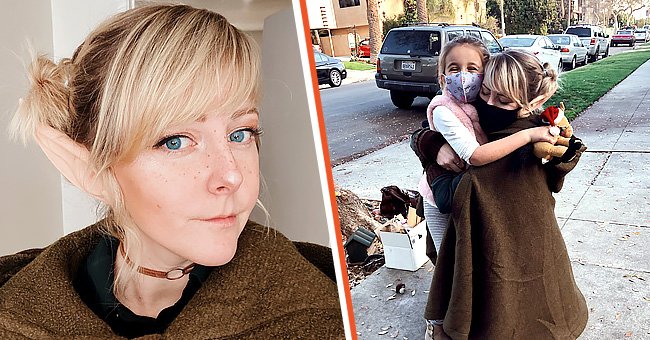 twitter.com/saysthefox
Woman Pretends to Be Magical Fairy for Months to Comfort a Little Girl Who Was Feeling Lonely
Most kids believe in the wonders of magic through fairy tales because it helps them handle the harshness of reality. Here is a story of how a stranger pretending to be a magical creature becomes the closest friend to a lonely little girl—thanks to the power of magic!
Kids or adults never underestimate the power of magic. Over time, many children have believed in fairy tales, stories that teach the advantages of being good and give hope to those who feel oppressed.
These days, cartoonists capitalize on the fundamental principle of heroism in fairytale stories and have created incredible fictional characters like superheroes.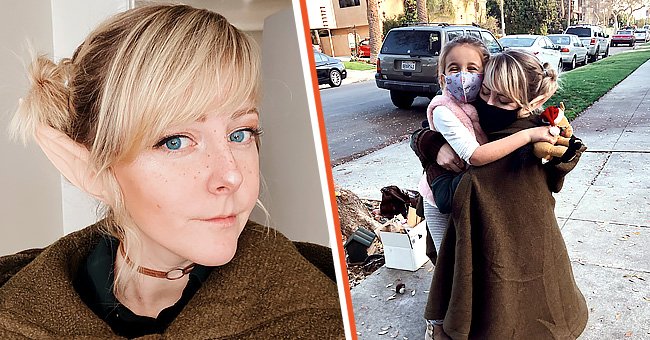 [Left] Picture of Kelly Kenney; [Right] Picture of Kelly Kenney hugging Elana | Source: twitter.com/saysthefox
However, while it has been widely accepted, somehow, the magical stories of "once upon a time, in a castle, or land" still have a large audience—even the story about one of the most important annual holidays: Christmas and Santa Claus is woven in fairy tales!
In 2020, following the quarantine, many adults and children were forced to stay home. The compulsory holiday affected younger ones, especially since they could not mix with their peers in parks, neighborhoods, or schools.
This also affected the parents, but many found a way to cope. However, the boredom metamorphosed into loneliness for many kids, and one of them was Eliana. She was a 4-year-old girl who felt alone despite being under the care of her parents.
However, following Eliana's creative imagination and belief in the magical world, she fashioned a small fairytale garden outside her home.
This simple action was noticed by a California woman named Kelly Kenney. In the end, the stranger developed an unbreakable bond with the young lady.
The story became a viral sensation, leading media mogul Oprah Winfrey to send the ladies to Disneyland. Here is how fairytale changed their lives.
ELIANA'S REALITY AND BELIEF IN MAGIC!
Following the Coronavirus outbreak, many countries worldwide laid down some rules to curb the virus. In America, the quarantine period halted many things, including office and schoolwork, interfering with people's everyday lives.
During this period, little Eliana felt isolated, as she could not play with her friends. So, she constructed a tiny-sized fairytale garden at the foot of a tree. It had a small door as an entrance for a fairy and was surrounded by toys and colored stones.
Eliana was not the only one who felt hopeful after building her garden. Kenney, a Los Angeles photographer who had been dealing with a life issue, stumbled upon the creation by the tree, and it blew her mind.
It all happened during her regular evening walks around the Culver City neighborhood. Kenney noticed the garden and the little girl's note where she admitted her loneliness and desire to spread cheer during quarantine.
The adult thought of the perfect way to help Eliana. This led her to write a note to cheer the 4-year-old. However, Kenney did not believe that it would be reciprocated. She said:
"I was trapped with this person who was making me feel horrible and unlovable every day but I'd have my night walks and I'd leave her the notes and gifts and pick up the ones she'd leave me."
The photographer drafted a sweet letter to the little girl, adding that she was a fairy named Sapphire whose home was now the tree because of how nicely it was set up. After a warm introduction, Kenney instructed Eliana to complete some tasks to earn some rewards. Typical of the fairy world!
Surprisingly, Eliana wrote back to "Sapphire." She had completed all the tasks, including being friendly and brave, saying sweet words to loved ones, and drawing her favorite animal.
Kenney wrote another note; she added some glittering dice as presents for Eliana's obedience. She also shared her details with Eliana's parents. According to Kenney: "We wrote back and forth throughout the last 9 months, helping each other feel less lonely."
Soon, Emily, the girl's mother, contacted Kenney via a letter. She expressed gratitude for inspiring their little girl and making her happy. In her words:
"She really has shown Eliana the power of kindness, Eliana is pretty shy; she's pretty introverted. And so I think that because of this experience, she's made her comfortable so she opens up."
While it lifted Eliana's mood, Kenney also felt better. The penpals became engrossed in exchanging letters, sharing their experiences and realities.
Along the line, Eliana requested a photo, and Kenney sent images of her dressed in a fairy costume she had worn on Halloween.
Looking back at their friendship, Kenney admitted: "I didn't even realize at first how much it lifted my spirits. ... Once I realized that I was coming home with a purpose every night and started doing this, I realized it was actually doing a lot for me also. And I was like, I had things to look forward to. I was excited to do something."
After months of friendship and exchange of letters, Eliana's parents told Kenney that the family would be moving. This was tough on Eliana, who would not only miss her fairytale garden but her "Sapphire."
Kenney considered making her little friend less worried. So, she wrote about what moving entails and that she would also be moving.
Before the moving day on December 11, Kenney and Eliana's mother arranged for the 4-year-old to meet the fairy, who would turn into a human because she was also moving.
As the family arrived from their last walk in the neighborhood, Eliana spotted "Sapphire" by the treehouse, leaving a parting gift, and she rushed to say her farewell. They hugged and conversed for about an hour. Kenney had checked herself for the virus and was considered free.
Eliana also left the fairy with a gift. She made a little colorful book. The duo promised to remain friends and pen pals irrespective of the distance. Kenney said:
"She's changed me forever and the things her mom has said about how her self-confidence, her kindness towards others and her creativity have skyrocketed since meeting me make me feel like I made an impact too."
Kenney shared the story via Twitter, and in a moment, it blew up. Following the popularity of the story, many media outlets interviewed her. Amid the details shared, Kenney preached about sharing kindness. She said:
"I just want people to realize it doesn't take that much. An act of kindness may seem natural and easy, but it has the potential to be life-changing for someone else. She did as much for me as I did for her."
Apart from the gift of friendship, many people worldwide got to hear about their story, and they were given the opportunity to visit Disneyland, all expenses paid by Oprah Winfrey.
This story is an inspiration to many. It shows that little acts of kindness that can be considered insignificant go a long way, especially when dealing with the little humans—kids.
Please fill in your e-mail so we can share with you our top stories!