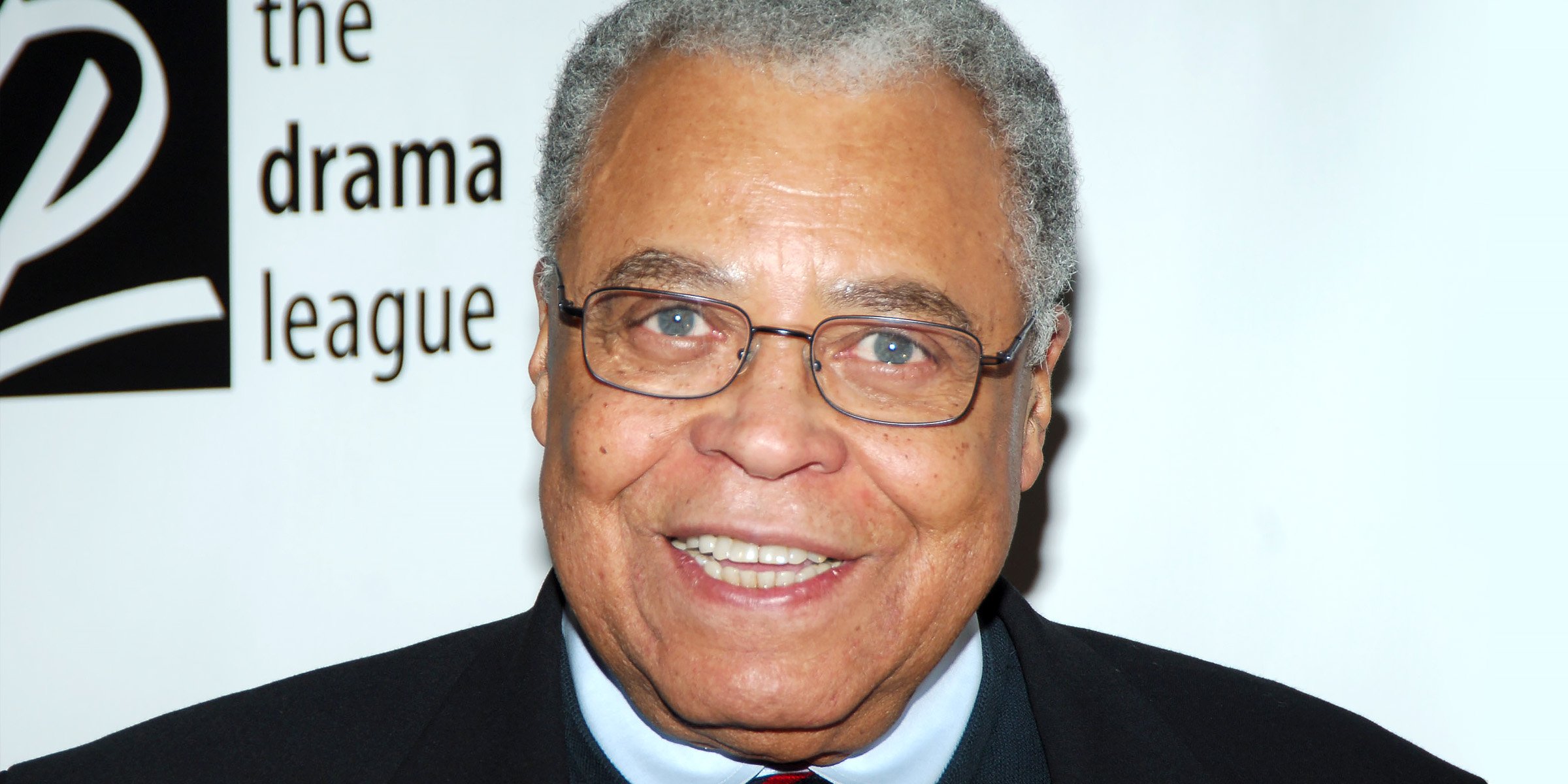 James Earl Jones | Source: Getty Images
James Earl Jones Who Was Raised by 'The Most Racist' Person Found True Love in an Interracial Marriage
In his younger days, James Earl Jones dealt with racism within his family and with his in-laws. In the end, he wound up marrying the love of his life, Cecilia Hart, against all odds.
James Earl Jones' sterling Hollywood career goes before him in the industry. Still even more profound is his memorable baritone that gave life to famous characters like Mufasa and Darth Vader.
Regardless of his A-list status and seemingly peaceful life, Jones has dealt with several difficulties, some of which happened in his childhood and his marital life with his late wife, Cecilia Hart. Here's a look through some of the hurdles he faced and conquered.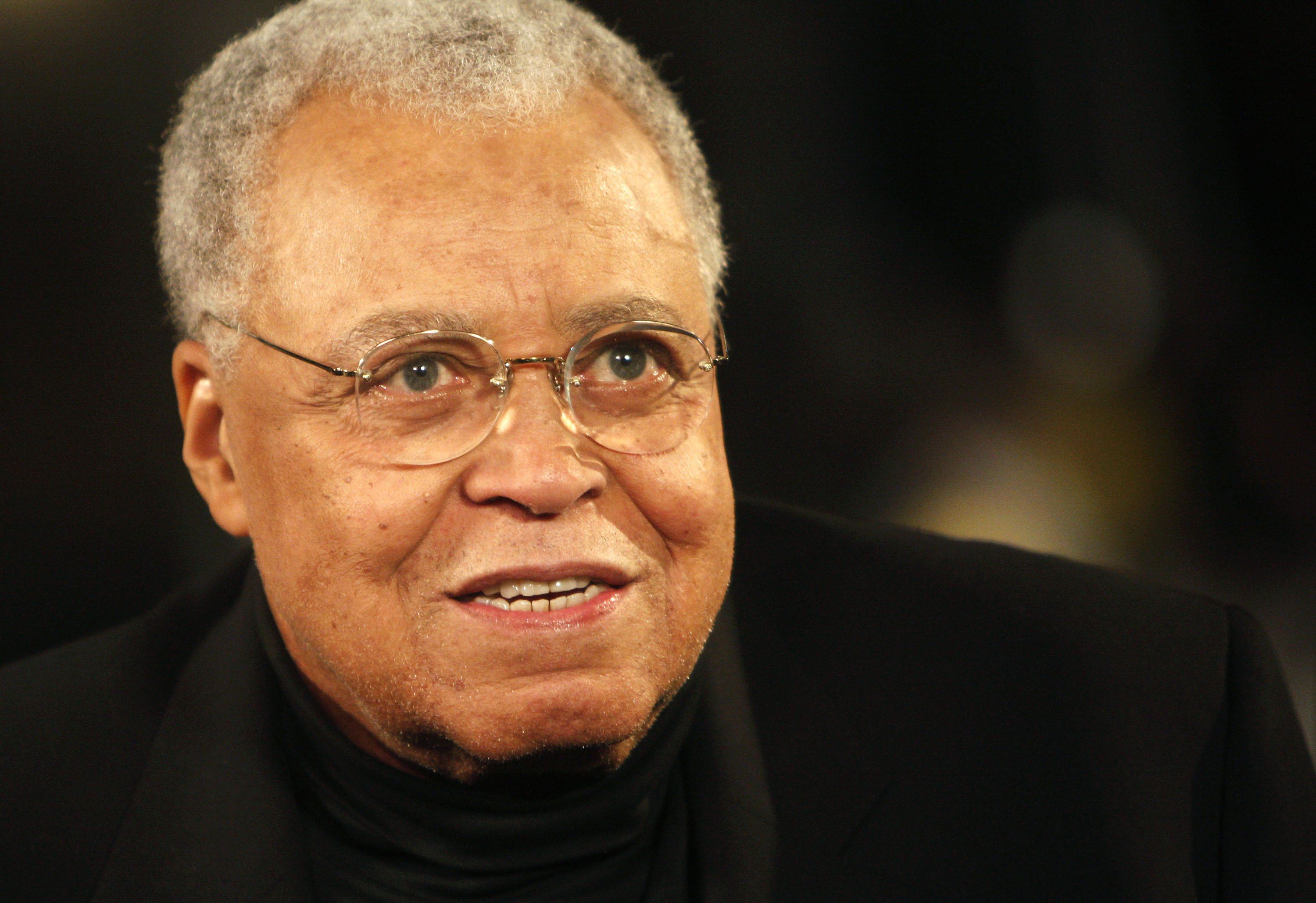 James Earl Jones at rehearsals for the 2009 Screen Actors Guild Awards at the Shrine Auditorium on January 24, 2009 in Los Angeles, California | Source: Getty Images
Long before James Earl Jones starred as King Jaffe Joffer in "Coming To America" and its second installation, he was first the son of Robert Earl Jones and Ruth Connolly. Sadly his father, who was also a successful actor, never wanted him since birth.
The Hollywood actor, who has Choctaw, Cherokee, and Irish ancestry, was raised by his maternal grandparents, John Henry and Maggie Connolly. Growing up in a segregated society, Jones watched the dynamics of racism play outside and within his home.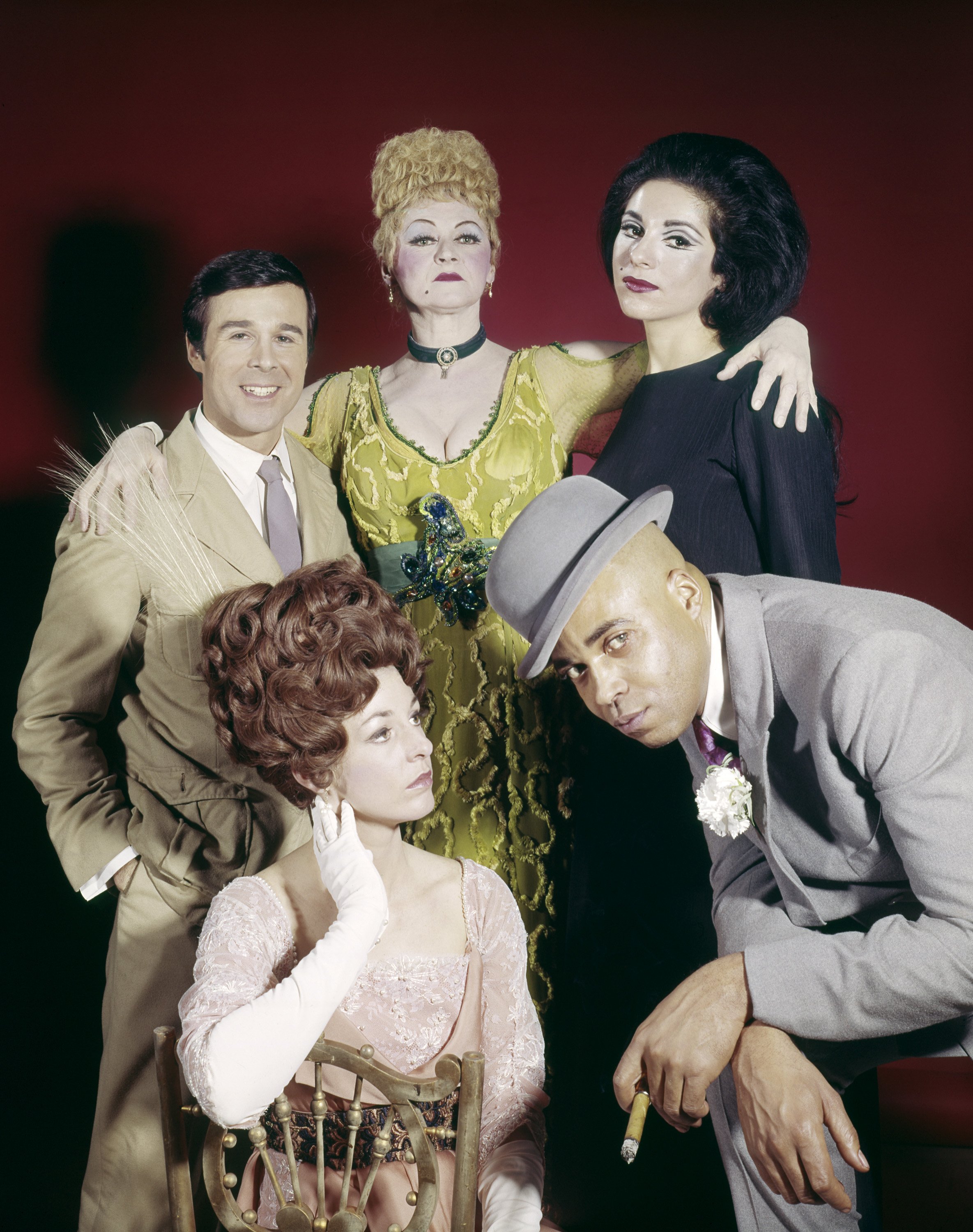 Portrait of actor James Earl Jones along with other nominees for The 23rd Annual Tony Awards: Broadway '69 | Source: Getty Images
According to him, his grandmother, who raised him, was "the most racist person" he'd ever known. He shared that he was trained in a like manner and was told it was "defensive racism."
However, Jones learned to tune out of all that his grandma Maggie taught him. His first independent thinking came after he moved from Missippi to Michigan. He shared in an interview:
"I'd go to school with white kids and Indian kids. I knew they weren't the devils that she said they were. I had to start thinking for myself, and I had to start understanding the extent to which she was right too.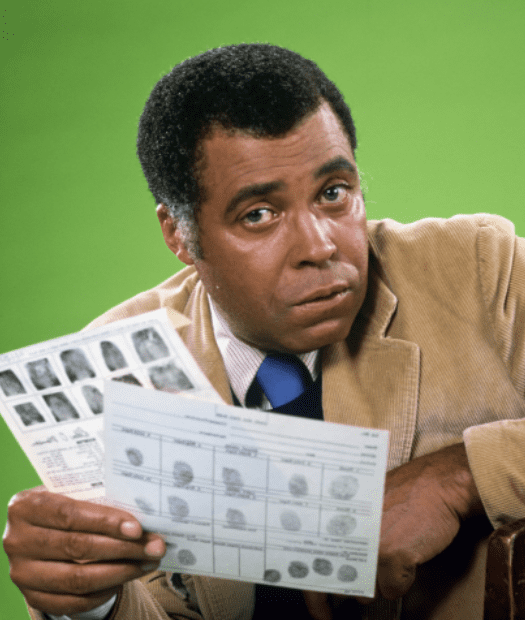 Portrait of actor, James Earl Jones for the pilot of the TV show, "Paris" which aired on September 29, 1979 | Source: Getty Images
Another challenge the actor faced while growing up was his stunted speech. Jones stuttered so badly that he stopped talking and went mute for some years. However, in high school, he met an English teacher who trained him on how to use his voice again.
INSIDE HIS HOLLYWOOD CAREER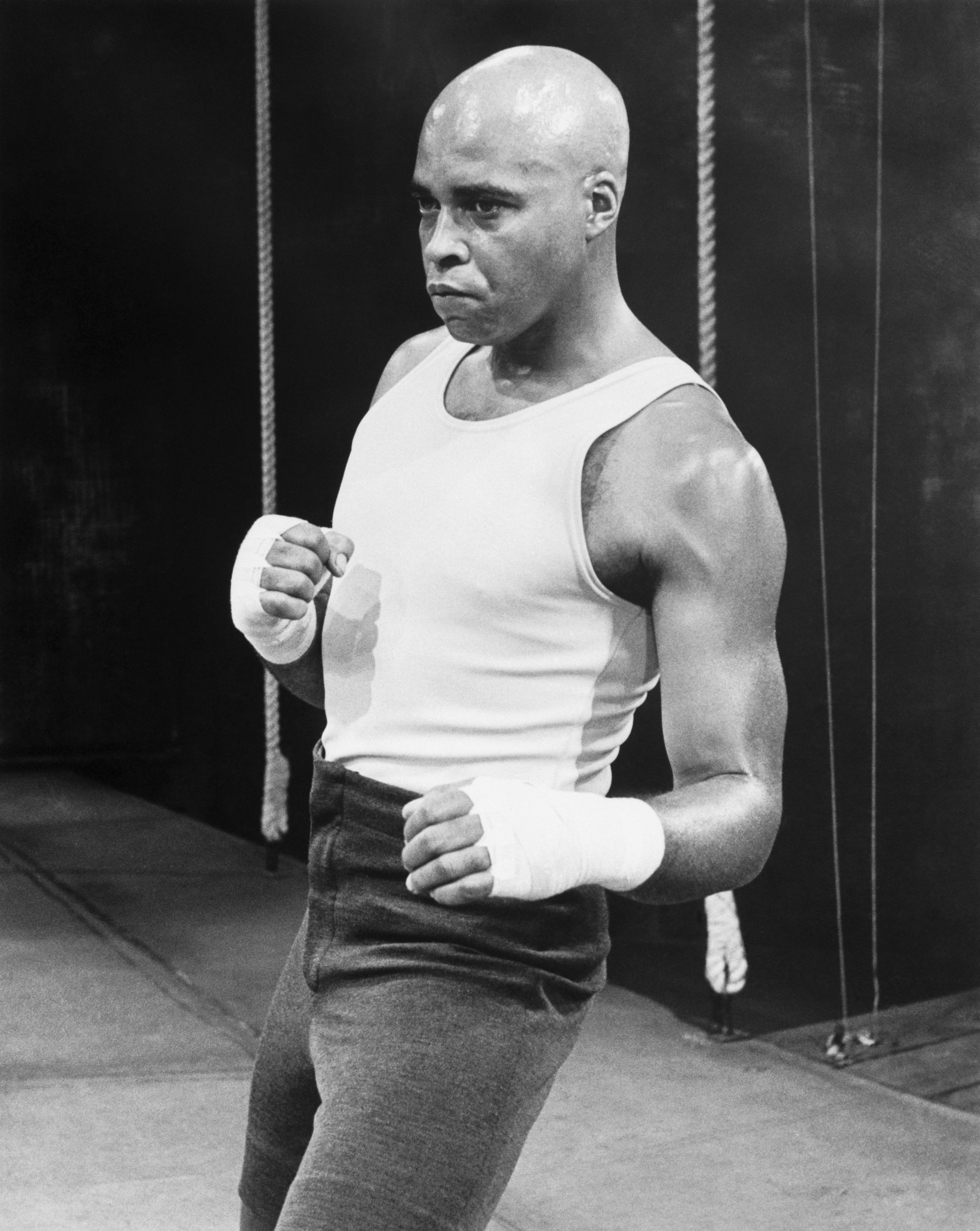 Picture of James Earl Jones dressed in boxing attire | Source: Getty Images
So it became that Jones regained his ability to speak, and it went a long way in expanding his Hollywood artistry. The 92-year-old's acting career kicked off in the 1960s.
Jones appeared in scores of movies, including; "The Sting and Trading Places." "Othello," "Dr. STrangelove," "Egghead," and the "Star Wars" trilogy. Jones is the recipient of several awards, including a Tony and an Academy Award.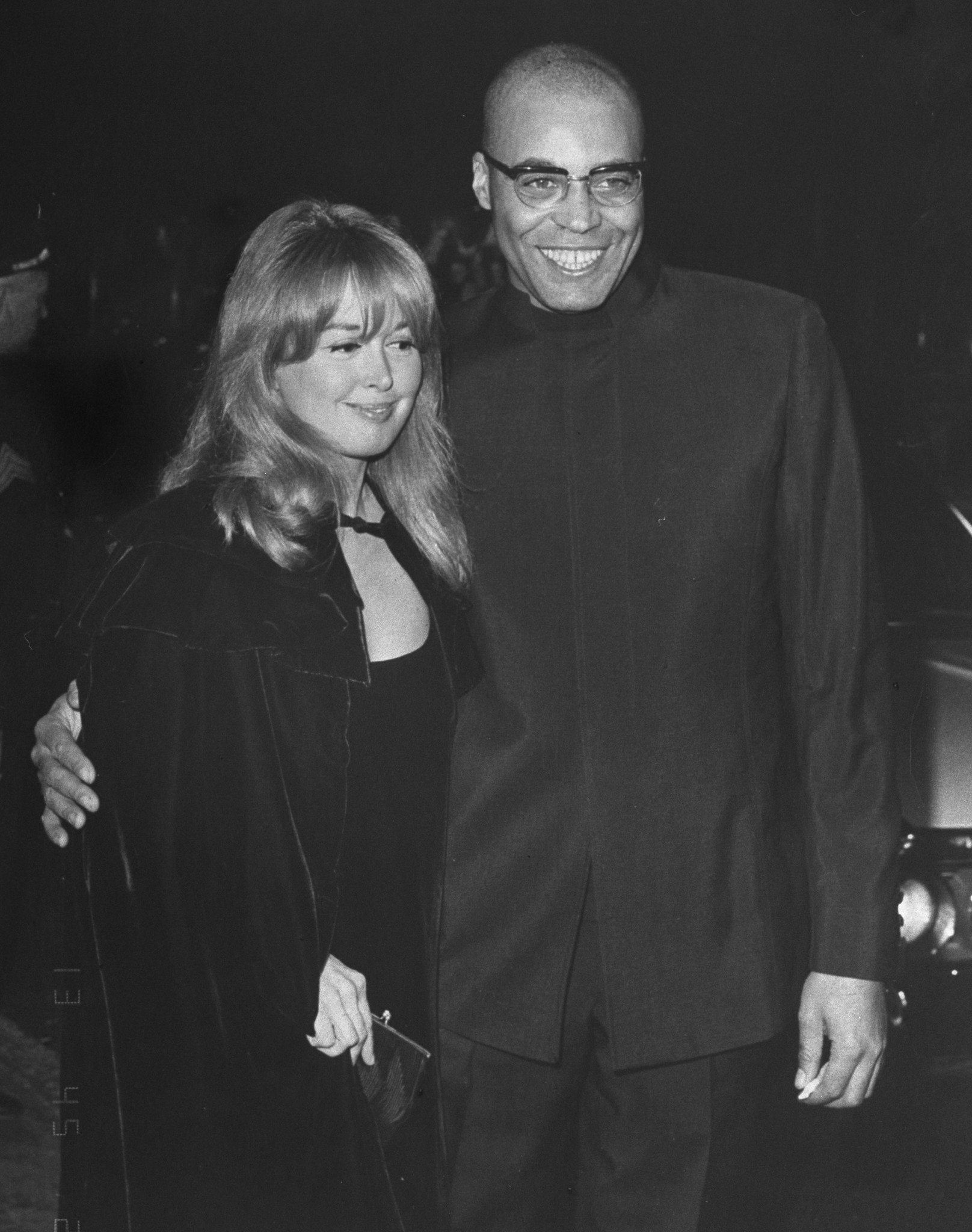 Actor James Earl Jones with his wife, Julienne Marie on October 15, 1968 | Source: Getty Images
Throughout his years in the spotlight, Jones has been married twice. The star was first married to Julienne Marie. The pair tied the knot in 1968 and were together for four years. Although it was Jones' first marriage, it was the second time Marie walked down the aisle.
The couple called it off and went on with their careers. In this period, Jones was known for movies like "Deadly Hero," and "Claudine." Marie is recognized for her roles in "Search For Tomorrow," "Ryan's Hope," and "Our Private World."
Just like her ex-husband, Marie is a Tony-recognized actor. She bagged a nomination in 1959 as Best Featured actress, and in 1964 for her role in "Foxy."
HIS SECOND MARRIAGE WAS DIFFICULT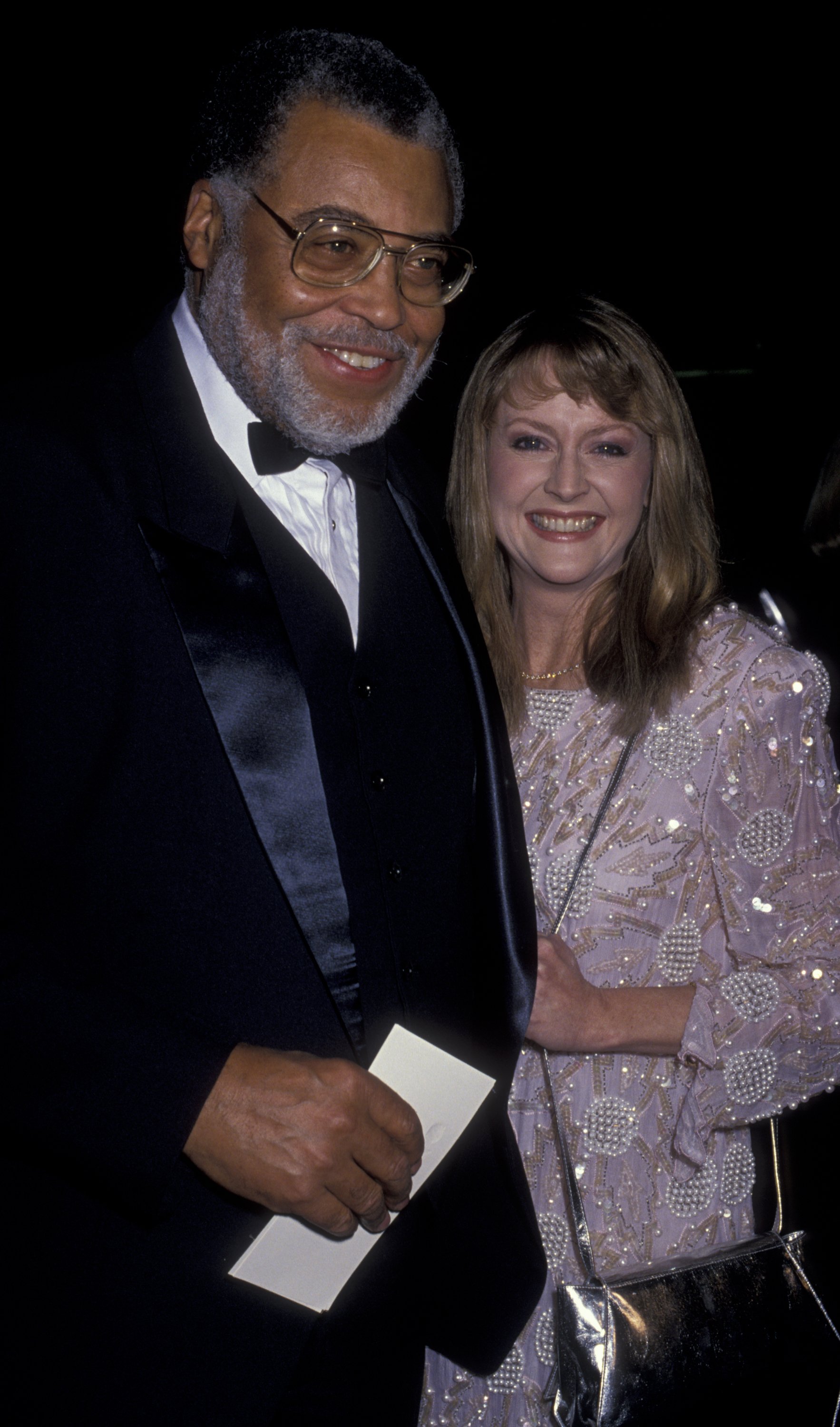 Actor James Earl Jones and wife Cecilia Hart attend 47th Annual Golden Globe Awards on January 20, 1990 at the Beverly Hilton Hotel in Beverly Hills, California | Source: Getty Images
In 1979, Jones became acquainted with Cecilia Hart. The pair had met on the set of 1979's "Paris" and kicked it off right from the start. After working together on a 1982 production of "Othello," Jones and Hart decided to tie the knot the following year.
However, the actor faced some difficulties with his wife's parents. He immediately liked Hart's parents when he met them, but they did not see themselves giving their daughter over to him in marriage.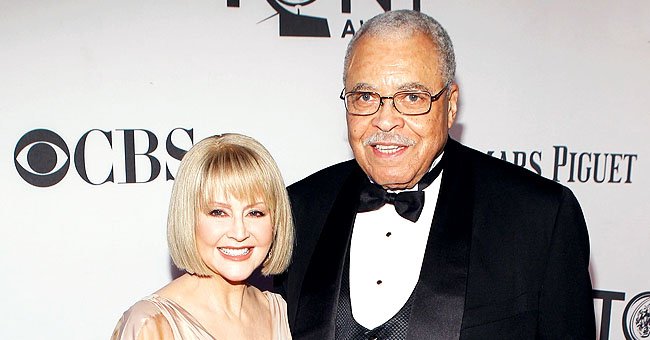 James Earl Jones and Cecilia Hart at the The 65th Annual Tony Awards in New York City | Source: Getty Images
Jones shared that the day he asked for their blessings, he had been taken aback by some of the insinuations. He noted that Hart's mom raised a concern that was still very much rampant– the race issue.
He noted that his wife's mom was worried about the kids' skin color, pointing out that Jones was a black man and her daughter, a white woman. He recalled letting her know that his kids would be black regardless of who he married. Mrs. Hart was worried about what her own grandchildren would look like.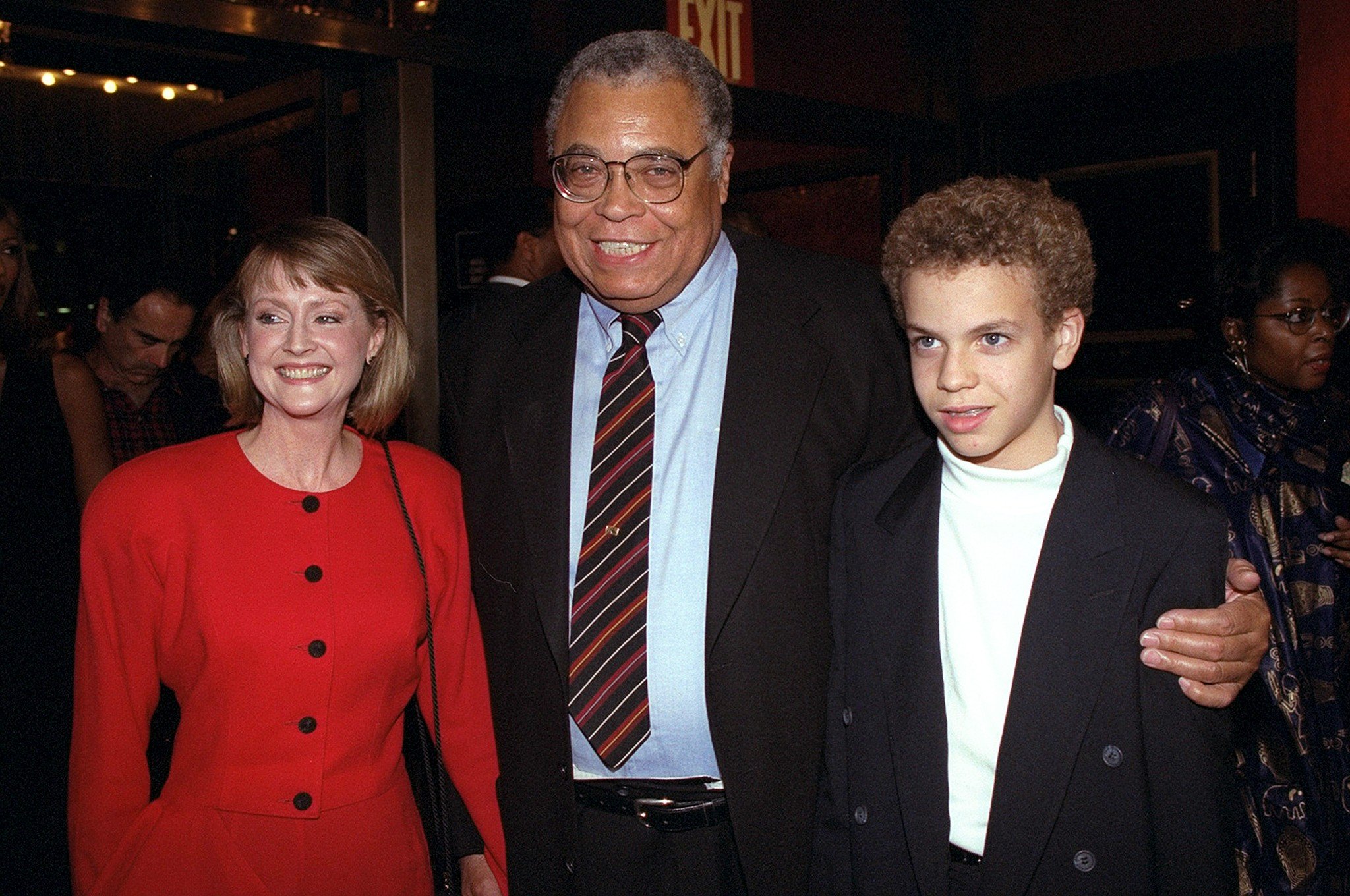 James Earl Jones, his wife Cecilia, and son, Flynn, arrive at the Ziegfeld Theater for the world premiere of ''Cry, The Beloved Country'' on October 24, 1995 | Source: Getty Images
His intelligent take immediately changed the tense atmosphere. The matriarch's skeptical mood became cheerful, and that was how Jones got to marry the love of his life.
JONES AND HART WERE HAPPILY MARRIED UNTIL HER PASSING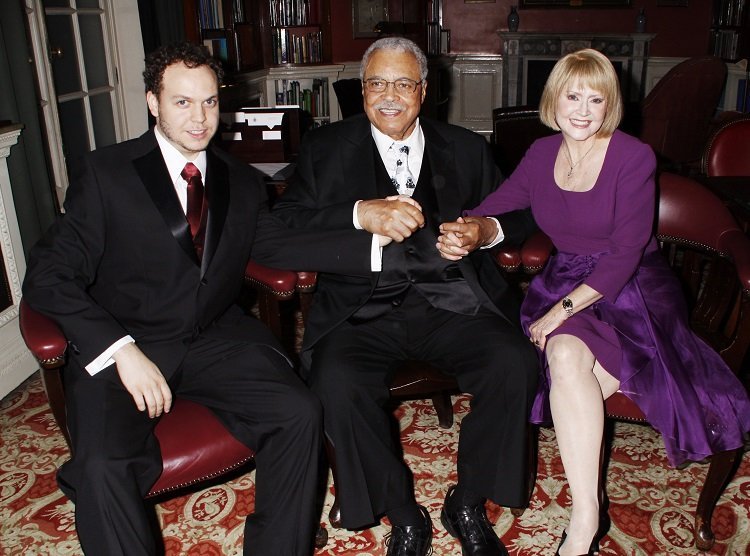 James Earl Jones, wife Cecelia Hart and son Flynn Earl Jones at the RAC Club on October 5, 2011 in London, England | Source: Getty Images
The couple crossed the racism hurdle and married in 1982. They went on to live happily for another 34 years in marital bliss and had a son together. The couple's son, Flynn, grew up to be his father's assistant.
Although Flynn lives a pretty much off-the-spotlight life, he has appeared in several star-studded events with his parents. He accompanied the pair to the premiere of "Cat On A Hot Tin Roof" in Novello Theatre.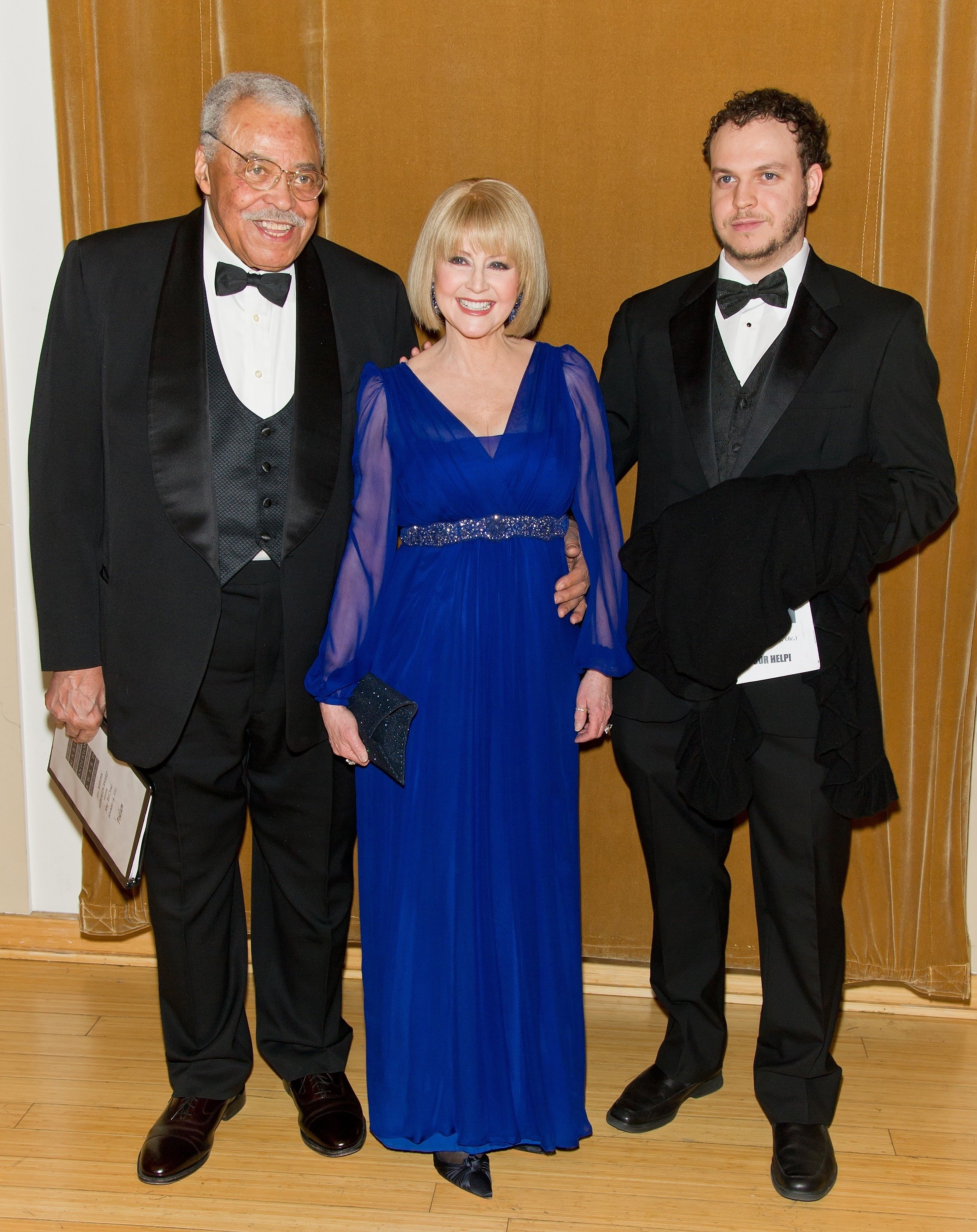 Actor James Earl Jones, wife Cecelia Hart and son Flynn Earl Jones attend the 2012 Marian Anderson awards gala at Kimmel Center for the Performing Arts on November 19, 2012 in Philadelphia, Pennsylvania | Source: Getty Images
He was also seen with them in 2012 at the Marion Anderson Award Gala. All these were before Hart's death in 2016. Hart's death was announced in October of that year with news that she battled ovarian cancer until the time of death.
Hart, who was 68 when she passed on, was as prominent as her spouse in the movie industry. With a career that kicked off in the 1970s, she appeared in "The Heiress," "Design For Loving," and "Dirty Linen & New-Found-Land."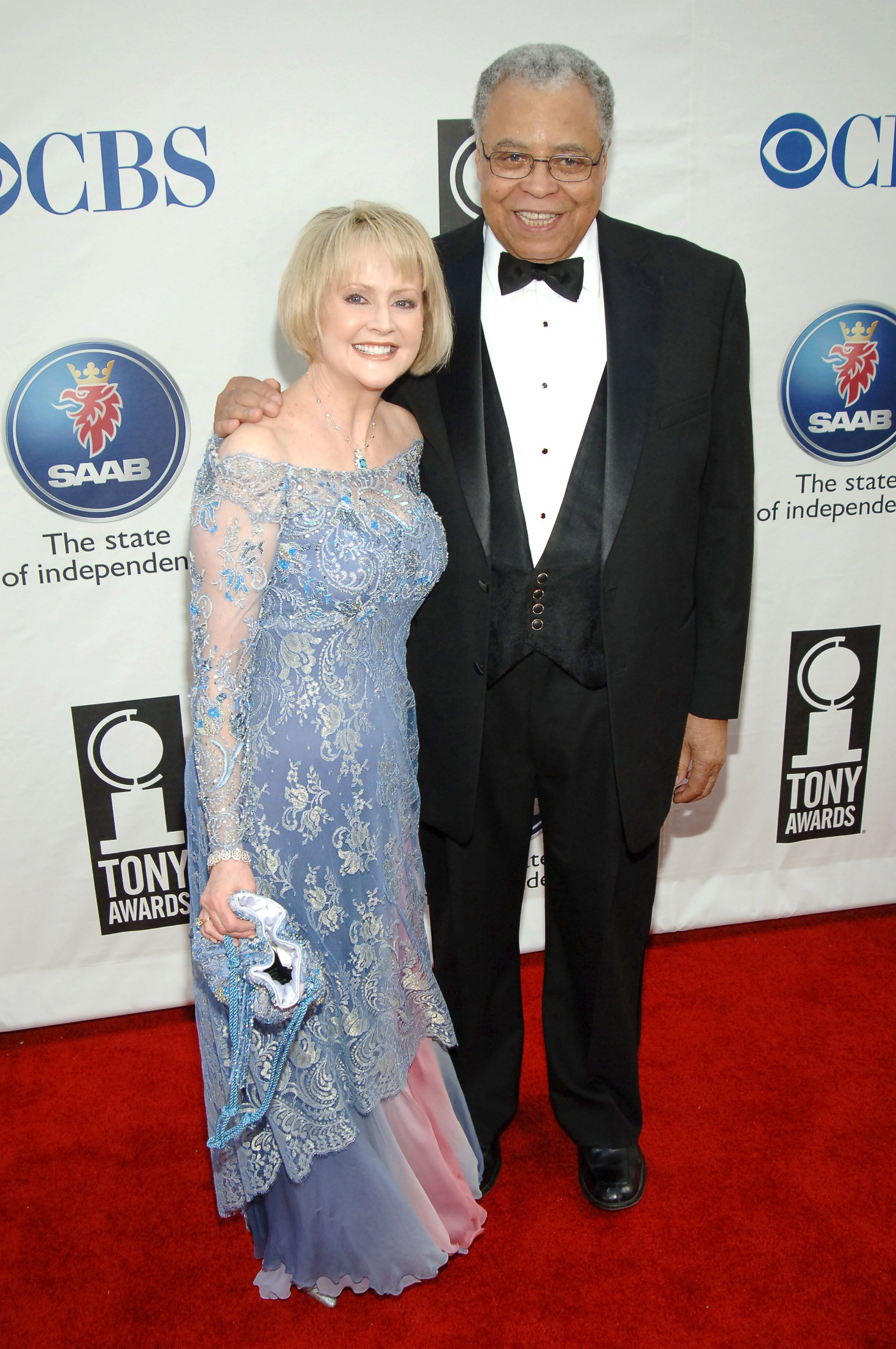 Cecilia Hart and James Earl Jones at the 59th Annual Tony Awards on June 05, 2005 | Source: Getty Images
One of her last roles was in "Law & Order." Hart also starred in "Three's Company," "Quincy M.E," "Charles in Charge," and "MacGyver." Jones and Hart were last seen together at the Tony Awards in June 2016.
The late star was survived by her husband and son. Prior to her marriage to Jones, she was married to actor Bruce Weitz, but they had no kids together. At the time of her death, the family requested that donations be made to two organizations that were dear to Hart in her lifetime.
Please fill in your e-mail so we can share with you our top stories!