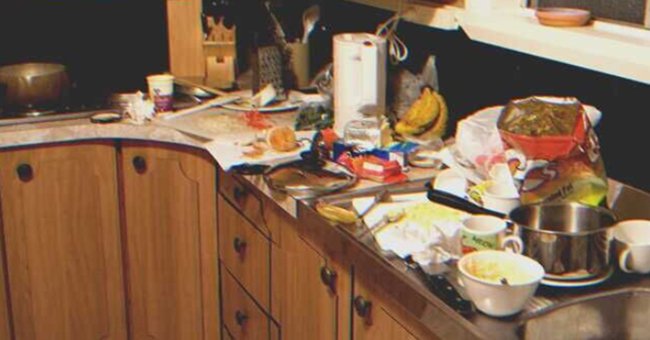 A kitchen full of dirty dishes | Source: Shutterstock
Man Lies on the Couch All Day & Berates Wife over Messy House until Their Mute Son Interferes — Story of the Day
A lazy husband lies on the living room couch all day long and berates his wife for the mess in their home. Then, one day, while he's ranting at his wife again, their 14-year-old son steps in. That day ushers in a slew of changes in the household.
After police officer Zach Ownes suffered a leg injury, he was forced to take sick leave, and his wife, Lydia, had to step in as the family's breadwinner. She worked long hours as a nurse, often working night shifts and up to 18 hours a day, but Zach never bothered to assist her and instead complained about knee pain and spent the entire day resting on the couch.
But Zach wasn't always like that. Initially, he used to help Lydia with household chores and make dinner when she came from work. But recently, he had various excuses for why he couldn't help Lydia around the house, the most notable of which was that he was "injured."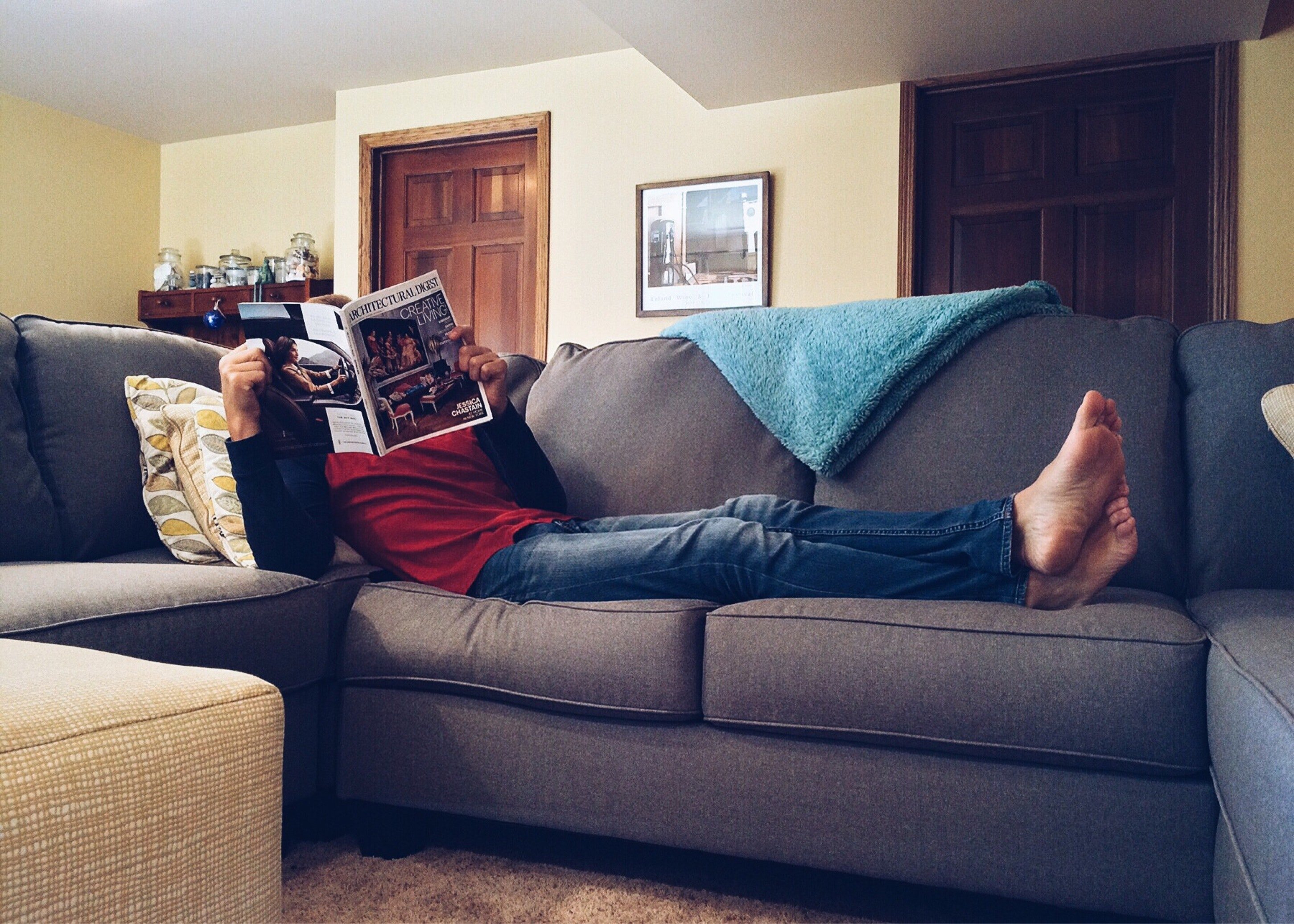 For illustration purposes only | Source: Pexels
Lydia was tired of such a stressful way of life, and she got annoyed when Zach didn't even make an effort to help her. But like every other wife, she kept mum because she didn't want her family to tear apart. But one day, things became too much for her to bear, and she yelled back at Zach.
"Lydia! Come here right now!" Zach yelled at her from the living room while she was busy helping their son Adam with his school project. That day Lydia returned early from work to help Adam, and instead of preparing dinner and cleaning the dirty dishes, she decided to sort out Adam's project first. Zach and his friends were busy watching a soccer game and drinking beer.
"I can't come now, Zach. I'm helping Adam! If it is something important, text me!" she replied.
Zach didn't say anything in return, and Lydia found it odd as he would usually keep yelling at her. Lydia reasoned it wasn't something important and decided to ask Zach about it later. But soon after, he barged into Adam's room and began yelling at the top of his voice.
"Text you? Do you think I am your servant? Have you seen how messy the kitchen is? Who's going to clean it?"
"Excuse me?" Lydia shot back. "Can't you see I'm busy with something? And by the way, the mess was made by you and your friends. So own up to it and stop yelling at me. Also, I'm guessing your friends have already left, Zach. So how about you help me once for a change? You can see I'm busy with Adam's school project."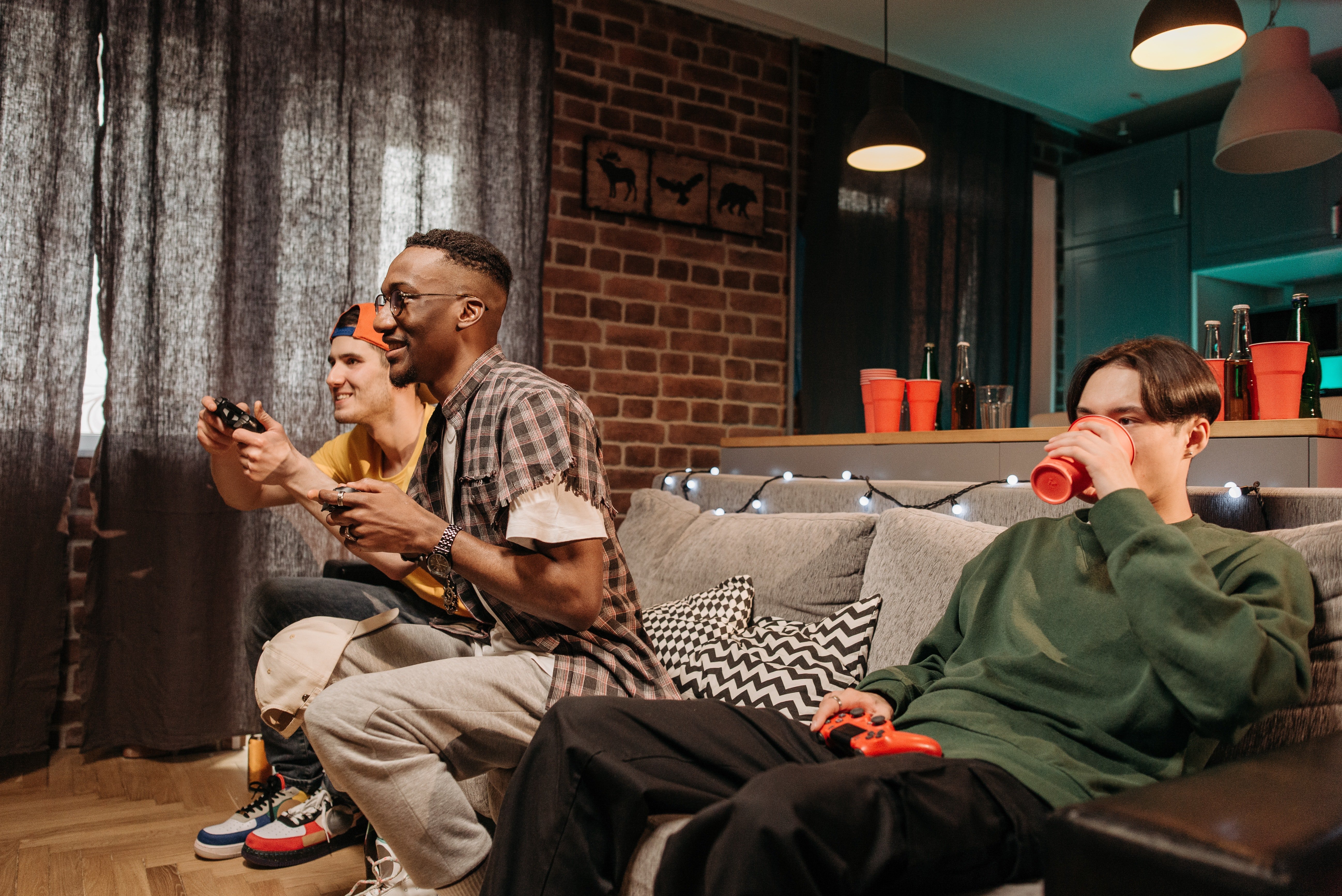 For illustration purposes only | Source: Pexels
"Wow!" Zach glared at her. "Where did you get the guts to yell at me, Lydia? Is someone at work inciting you against me? Are you going there and crying wolf about how awful I am as a husband?"
"STOP IT, ZACH!" Lydia sprang to her feet. "Don't forget our son is watching us! Tell me one thing, what's your problem? I work for freakin' 18 hours a day, then come home and take care of the house. But it's never enough for you! If I make a meat pie, you want pasta. If I freakin' cook the pasta, you'll demand the meat pie! I am helping our son, Zach! He has an upcoming competition at school. At least shut up for his sake. I beg you! You are making the environment toxic for all of us!"
"Stop making me look like the bad guy in this situation, Lydia. You can't do anything right! You go about things half-heartedly, which is why—" Before Zach could finish his sentence, Adam got up from his bed and stormed out of the room. Zach began mocking Lydia again, ridiculing her for being a terrible wife.
Suddenly, Adam returned to the room and pulled Lydia and Zach to the living room, gesturing that he wanted to show them something. Perplexed, Lydia and Zach walked over to the living room, where Adam motioned for them to sit down and switch on the TV.
For illustration purposes only | Source: Pexels
A slideshow of pictures and videos appeared on the TV screen, with the introduction: "My dream: to be like my mother. My life's superhero and role model."
It turned out that Adam was supposed to do a presentation about his role model for an upcoming competition, and he chose Lydia as the subject.
The presentation showed random shots of Lydia working around the house, her returning late from work, and heading straight to the kitchen. Then there was a segment in which Adam adjusted the camera and interviewed Lydia in sign language. "Why do you always work so hard, mom?" was his first question. " Why don't you ask Dad or me to help you?"
Lydia smiled at Adam and responded in sign language, which translated into subtitles as: "It's never difficult to do extra work for the people you love. You are often busy with your studies, Adam, so it's okay. And daddy is injured, so it's fine if he doesn't want to help me."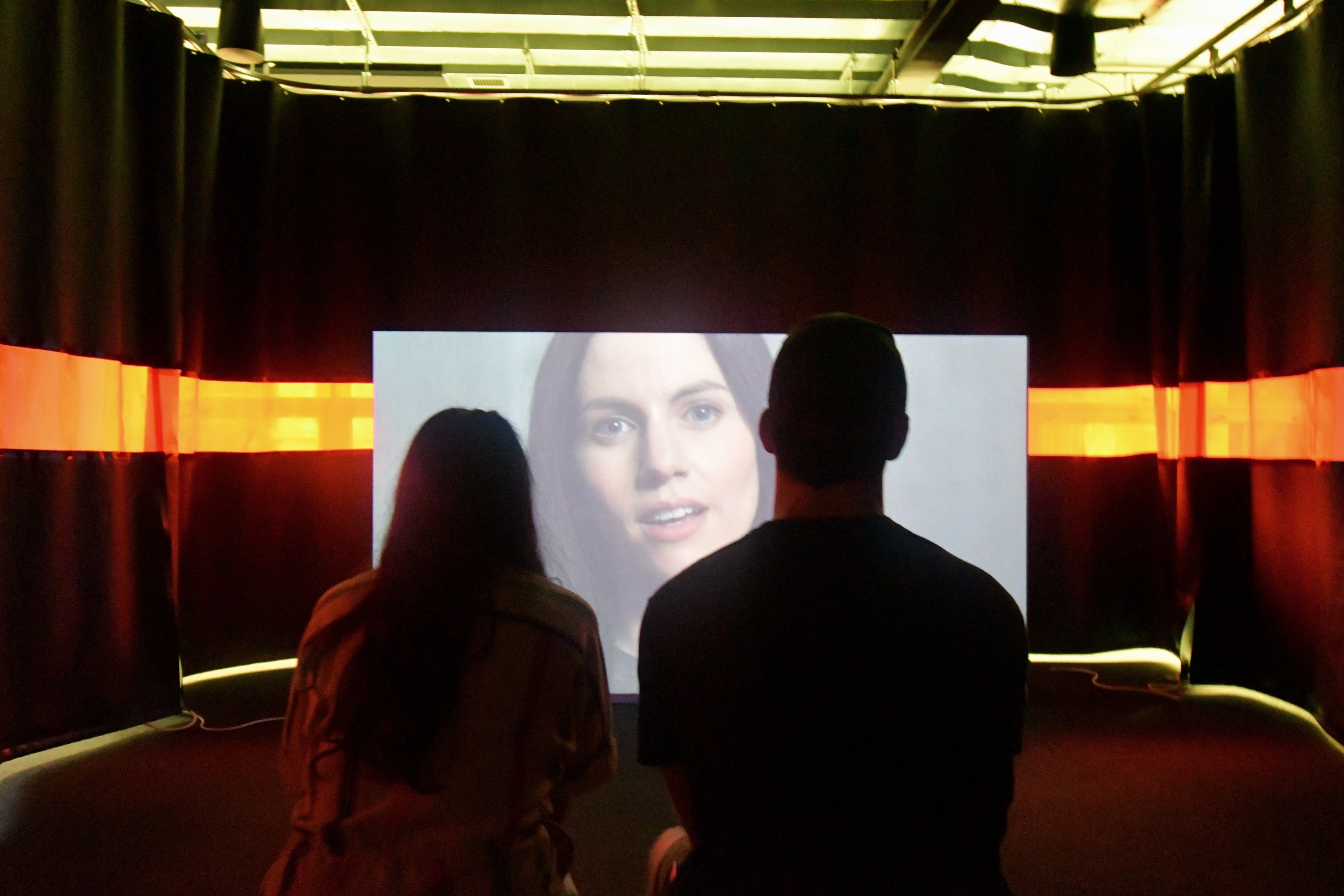 For illustration purposes only | Source: Unsplash
Then the following questions were based on the difficulties she faced while working, managing the house, and caring for a "difficult child" like him since he is mute.
Lydia instantly replied that she loved her family so much that she would do anything for them. She then corrected Adam, stating that he was not a difficult child but rather a specially-abled one and that she loved him as every mother loves their child.
Zach was speechless at this point, and Lydia couldn't fight back her tears. As the presentation ended, photographs of Lydia and Adam appeared on the screen, along with the statement, "Thank you for being such a beautiful mom so that I may be happy. I love you." Zach noticed he wasn't a part of the entire presentation. No pictures of him with Adam. No praises for him. Nothing.
Overwhelmed with guilt, Zach got up and left the room. He felt terrible and wanted to apologize to Lydia, but he was too ashamed of himself. So taking it slow, a few days later, he scheduled a salon appointment for Lydia and asked her to take a day off.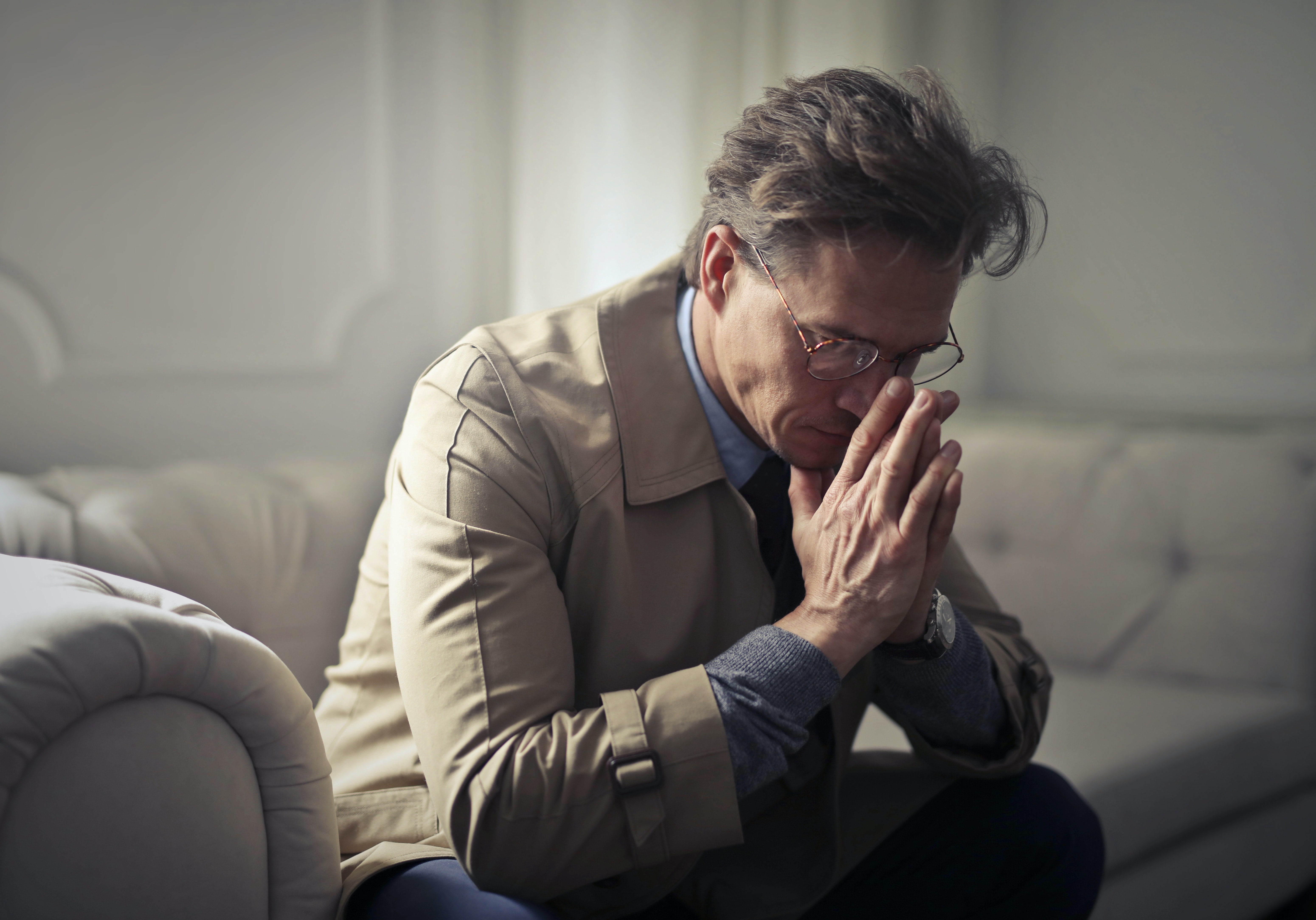 For illustration purposes only | Source: Pexels
Lydia laughed and said, "It's alright, Zach. Thanks for this, but I am busy. I can't make time for this." But Zach insisted she go to the salon, and she eventually agreed.
She got late to the salon that day, and she was frightened that by the time she got home, Zach would be enraged and yell at her. But when she returned home, she saw that the entire living room was dark, with lighted candles leading from the doorway to their living room table and rose petals covering the whole trail.
As soon as she turned the lights on, a booming voice rang out in the room, "HAPPY BIRTHDAY, LYDIA!!"
Lydia noticed her friends, parents, and Zach in the living room and a cake on the table. She was so preoccupied with work that she forgot about her birthday! Then she realized it was Zach's plan to send her to the parlor so he could arrange everything.
Zach approached her with a bouquet of her favorite flowers and sat down on his knees. "To my lovely wife, I hope you liked the surprise. I wish you a very happy birthday, darling," he said. Then he took out a box from his pocket that held a gorgeous diamond pendant.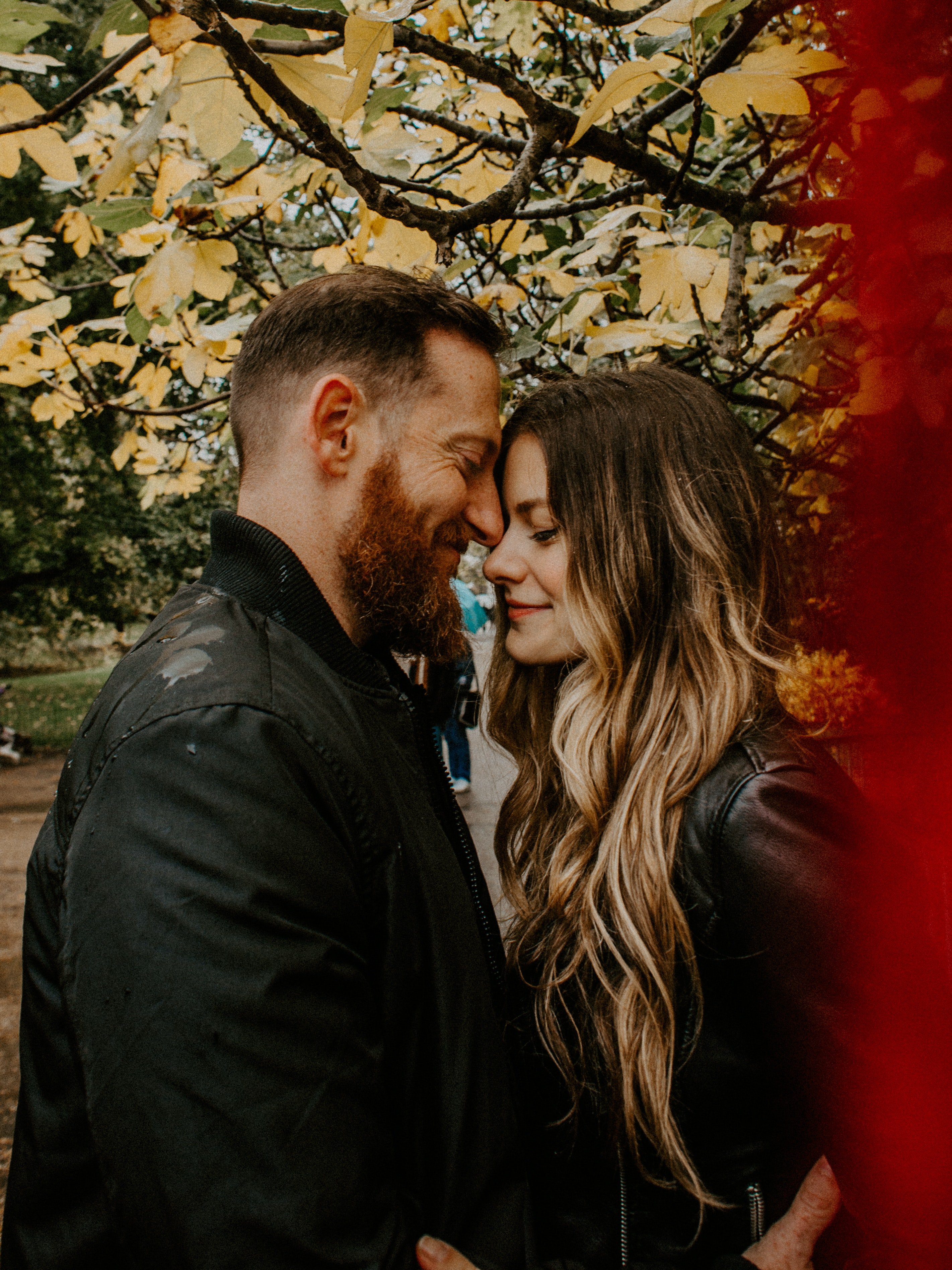 For illustration purposes only | Source: Pexels
"May I?" he asked, and she nodded.
Lydia then opened her gifts after the cake was sliced. She hadn't been this happy in a long time.
Before going to bed that night, Zach helped her clean up the living room and wash the dishes, and he promised her that he would never be harsh on her again. "I will never yell at you, Lydia. I apologize for being so nasty to you all this time!" he said, taking her hand in his, "Also, you no longer need to work. I asked my boss, and he said I can return to work tomorrow."
Lydia hugged Zach, teary-eyed, glad that he'd changed for the better. "Thank you, darling. I'm so happy you owned up to your mistake and fixed it. That's the best birthday gift I could have ever got. I love you."
"I love you, too, honey," Zach said as he wrapped his arms around her. Then as they were about to leave the kitchen, they noticed Adam standing there.
"What happened, honey? Did you need something?" Lydia asked him.
But Adam shook his head and gestured in sign language that he was proud of Zach.
What can we learn from this story?
Always be there for those who love you and care for you. Zach realized how hard Lydia tried to balance everything because she loved him and Adam, and he realized he was wrong to ridicule her.
Be an example for your children. Zach realized how he was ruining his image in Adam's eyes by being a terrible father and husband, and he made amends for it.
If you enjoyed this story, you might like this one about two women whose babies were exchanged at birth and how they found out about it 27 years later.
This account is inspired by our reader's story and written by a professional writer. Any resemblance to actual names or locations is purely coincidental. All images are for illustration purposes only. Share your story with us; maybe it will change someone's life. If you would like to share your story, please send it to info@amomama.com.
Please fill in your e-mail so we can share with you our top stories!